This post will be all about themes for classrooms, but let's be honest. Having a colorful, themed classroom is not as important as classroom organization, classroom management, and research-based teaching practices when it comes to student academic success.
However, that doesn't mean you shouldn't put time and effort into designing your learning environment with purpose and craft. Creating a space for your students that is optimized for student learning is important (and fun)!
Setting up my classroom each year was always something I considered to be a job perk and not a chore. It was a chance to express my creativity before the real work begins at the start of a new school year.
If you are like me and love carefully crafting your space, then keep reading because this post is for you! I dive into everything you need to know about themes for classrooms and suggest resources you may find helpful.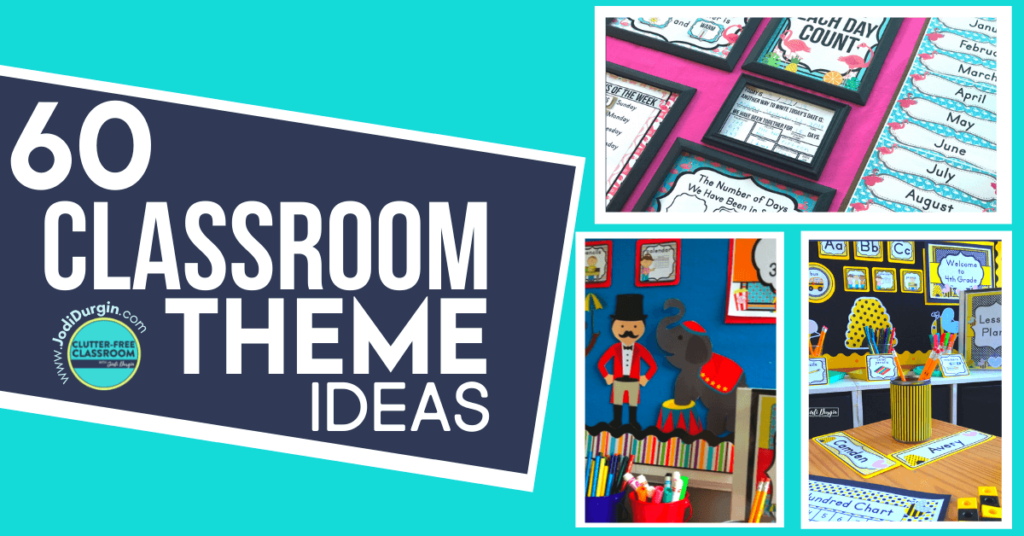 This post will answer the following questions:
What is a classroom theme?
What are the benefits of implementing a classroom theme?
How do I choose a classroom theme?
How do I create a classroom theme?
What are good themes for classrooms?
What is a Classroom Theme?
A classroom theme is a topic or idea that the decorations and components of a learning environment are centered around. The possibilities for a themed party are practically endless and limited only by the teacher's imagination. Some example of classroom themes are a beach theme classroom, camping theme classroom, and jungle theme classroom.
5 Benefits of Implementing a Classroom Theme
Over the years, I have set up classrooms both with and without classroom themes and each had their benefits. Here is what I have found to be beneficial about using a theme:
It enables a teacher to create a cohesive, well-planned look that is exciting to students.
Teachers who use them report that the parents and administrators have taken notice and complimented them on their efforts.
Themes can be developed over time with elements added slowly.
Using a classroom theme as opposed to simply decorating with a color scheme (or no plan at all) enables teachers to incorporate items they may already have at home or items that are readily available at party stores and dollar stores.
A classroom theme shows creativity in a time when it feels like standards and testing are taking over.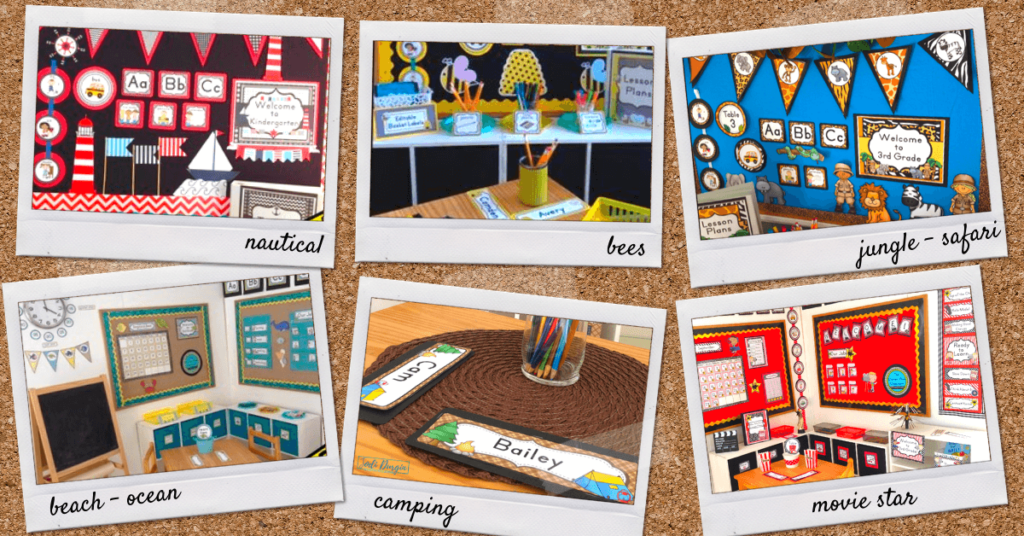 How to Choose the Best Classroom Theme for You
There are many factors that can help you decide what type of theme you want to use in your classroom:
Geographic Area
Teachers on both coasts find that using a beach classroom theme or a nautical classroom theme ties in with the area in which they teach. I've also known a lot of teachers in Texas who implemented a western classroom theme with their design.
Subject Areas
Reading teachers may gravitate towards a genre-based theme such as a fairy tales classroom theme or mysteries classroom theme. Social studies teachers may find a patriotic classroom theme complements their lessons while those setting up computer labs or STEM / STEAM labs find value in a technology classroom theme. Science teachers love a space classroom theme. The rock and roll classroom theme is popular in all classrooms, but especially with music teachers.
School Specific
I've had teachers use my construction classroom theme resource because their schools were remodeling or expanding and they were literally teaching at a construction site. Schools that are focusing on going paperless or simply being more environmentally aware like the recycling classroom theme. School-wide themes such as teamwork or being the best you can be gravitate toward a sports classroom theme or a superhero classroom theme respectively. Another popular, school-specific option is to select a classroom theme based on your school mascot. I often see teachers decorate with a dog classroom theme or even a frog classroom theme for that reason.
Thematic Units or Units of Study
I used to begin each school year by reading Charlotte's Web paired with a non-fiction unit about spiders. A farm classroom theme provided the perfect backdrop. An apple classroom theme or a garden classroom theme are great for a unit on the life cycle of plants depending on what time of year you are teaching it.
Special Events
I often used a specific theme for the annual open house when families would come to view student work. I found it helped to create a cohesive look. Over the years, I did open houses that had camping classroom themes, Hollywood classroom themes, and Wizard of Oz classroom themes.
Just for Fun
You don't need a reason to pick a certain theme. Many teachers pick them just because they sound fun. This is true for things such as a pirate classroom theme, circus classroom theme, monkey classroom theme, owl classroom theme, safari classroom theme or a monster classroom theme. Some base them on student interests such as racing classroom themes or dinosaur classroom themes while other teachers share their own hobbies or passions such as a cooking classroom theme or a travel classroom theme.
To Match The Space
While some classrooms are truly a blank slate, others start off with a less than ideal color backdrop. Teachers have used these to their advantage. I've had teachers use a bee theme because they were given a classroom with black furniture and yellow walls or a ladybug theme because there was so much red in the classroom.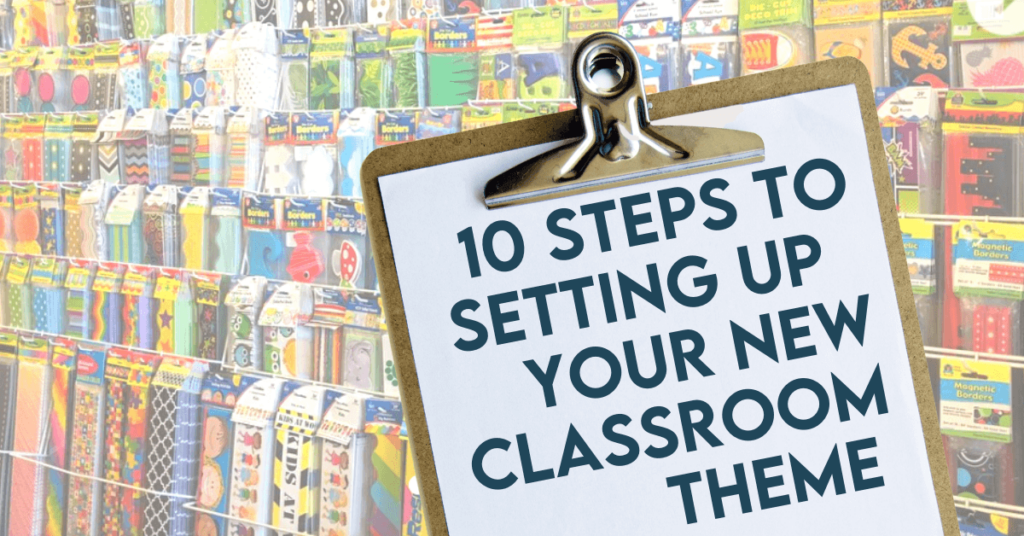 How Do You Create a Classroom Theme?
I suggest following these steps in order to plan and implement a classroom theme of your choice:
1. Pick a theme.
Browse the list of more than 60 classroom themes at the bottom of this post for inspiration!
2. Download the free planning pages.
Download these Clutter-Free Classroom Theme Planning Pages and print the three organizers that are specific to the classroom theme you selected.
3. Check out the blog post related to your theme.
The Clutter-Free Classroom Blog has published over 40 individual posts dedicated to our classroom themes. Visit the blog post pertaining to the theme you chose to find ideas for color schemes, bulletin board trims, decor, bulletin boards and decorative accents, a list of related books to complement the theme, and tons of printable and digital resources to bring the theme to life for you.
4. Fill out the free planning page for your theme.
Use the organizer to make notes of ideas from the post.
5. Visit the Clutter-Free Classroom Pinterest boards.
Check out the Pinterest boards to find additional photos and ideas for inspiration. I have set up separate pin boards for each of the themes featured on the blog. As you look through the pins be sure to make more notes on the planning pages to keep the ideas organized.
6. Inventory what you already own.
Inventory fabrics, trims, and other decor elements you already have available in your classroom to determine what you can repurpose.
7. Make a shopping list and set a budget.
Begin purchasing things as time and money allow and set them aside for when you can get into the classroom to set up. If you are using any of my classroom decor resources you can start printing and preparing them.
8. Reach out to family and friends.
Ask friends and family for items they may be willing to part with that will complement your theme.
9. Set up the essentials in your classroom.
When you can get into your classroom, begin setting up the essentials. Put bulletin board fabric and trim up. Add the essentials and management tools like calendars, job charts, alphabets, and number charts, and assess how the classroom is coming together.
10. Decorate your space.
I caution you not to add too many things just because they "fit the theme." Try to be purposeful in what you select to include and find that perfect balance of beautifully decorated without being cluttered or distracting. Leave plenty of space to display student work and anchor charts for learning.
What are Good Classroom Themes?
Here are some good classroom themes:

Read our Other Classroom Decor Blog Posts
Grab the Free Classroom Decor Guide!
We hope you found this information about themes for classrooms was helpful! Next, we would love for you to download this free classroom decor guide for elementary teachers. It has more helpful tips and ideas to assist you in setting up your classroom!