If you love all things elementary classroom decor, then check out the list of blog posts below. It includes ideas for classroom doors, bulletin boards, themes, and color schemes. Additionally, it offers tips for finding cheap classroom decor, creating a cohesive learning environment, choosing a classroom theme, and decorating the room of your dreams.
The 2021-2022 school year is your opportunity to purposefully and intentionally create a learning environment for your students. One where they feel safe and secure after a year that felt unfamiliar and different. Read below to find blog posts that have tons of classroom decors ideas to help you get started!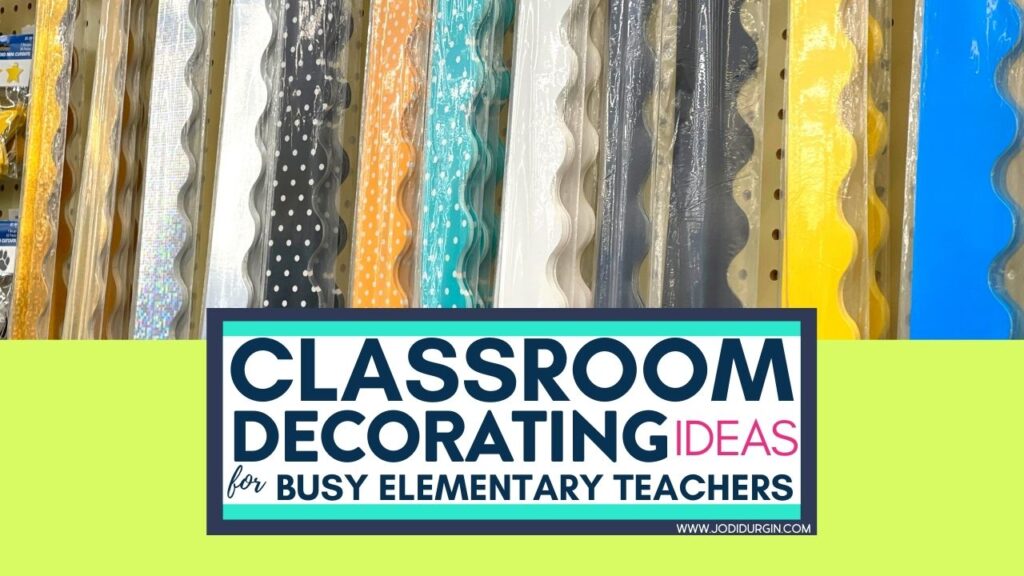 10 Elementary Classroom Decor Blog Posts
Below are 12 elementary classroom decor posts that are packed with decorating ideas to help you create the classroom of your dreams.
50+ Classroom Door Decoration Ideas
This door decor blog post walks you step-by-step with how to decorate a classroom door. It also suggests classroom door decorating ideas to help you get inspired for the new school year. This post is also helpful to teachers looking to host a door decorating contest at their school. Check it out now!
50+ Classroom Bulletin Board Ideas
Read this elementary classroom decor bulletin board blog post to learn everything you need to know about bulletin boards. This post covers the different types, how to use them effectively, how to make them, where to buy materials for them, tons of theme ideas, practical organization tips, and more! It will help you plan out your classroom bulletin board displays for the new school year.
10 Cheap Classroom Decor Ideas
What teacher doesn't want to save money and get a deal? I sure do! This post offers classroom decor ideas that work for any budget, recommendations on where to shop, and suggestions for what to focus on to make the most impact for the smallest amount of money. Read the post to get all of the money-saving tips for elementary classroom decor!
Colorful Classroom Decor Ideas
If you want to geek out over the science behind colors and how they influence our emotions and impact our learning, then head on over to this elementary classroom decor blog post. It explains the benefits of incorporating colors in the classroom, shares how colors impact student learning, and identifies which colors promote memory retention, focus, and attention. Learn all about it here!
How to Decorate the Classroom of Your Dreams
2021-2022 is the year for you to design the classroom of your dreams! You likely spent some time teaching this past year at your kitchen table or small office space. This upcoming school year you and your students will be back! Grab these helpful tips and directions for how to decorate your classroom (no matter the size) for back to school!
How to Create a Cohesive Learning Environment for Your Students
Does your classroom have clunky, mismatched furniture, a color scheme that doesn't quite fit together, or just a space that feels like a hodge podge? This elementary classroom decor blog post explains why it's important to have a cohesive learning environment for students and suggests ideas for how you can create one. Read all about it here!
60+ Themes for Classrooms at the Elementary Level
This blog post explains what a classroom theme is, why you should have one, how to choose one, directions for how to create one, and a massive list of themes to choose from. It also includes resources to help you get started. Learn all about classroom themes in this post!
How to Create a Classroom Decoration Theme on a Budget
Do you think having a classroom theme would be too expensive? This might sound crazy, but having a theme can actually save you money (and time). Read this blog post to get 5 tips on how to create a classroom theme without breaking the bank.
Elementary Classroom Decor Collection
A great way to save money while creating an Instagram-worthy classroom is by becoming a member of the Elementary Classroom Decor Collection. This resource includes ALL of my classroom decor themes and color schemes. Learn more about what it is, what's included, and why you need it in this blog post!
Grab the Free Classroom Decor Guide!
We hope you found these elementary classroom decor blog posts helpful. Don't forget to grab the free Elementary Classroom Decor Guide! It offers creative ideas and practical tips to assist you in decorating your classroom. This will help you create a learning environment you are proud of this year!
Customer Support Page for Teachers
Head on over to my Customer Support Page if you are having trouble accessing, downloading or printing any of your classroom decor resources. Watch the video below if you are finding black boxes are printing around images on your PDF.