If you are a teacher that loves the ocean, swimming, or sea life, an under the sea classroom theme is perfect for you. This theme makes students feel like they are learning underwater each day. This classroom theme is great for science teachers that have a unit on the ocean and sea life. Learn more about an under the sea classroom theme below and scoop up this under the sea classroom theme packet!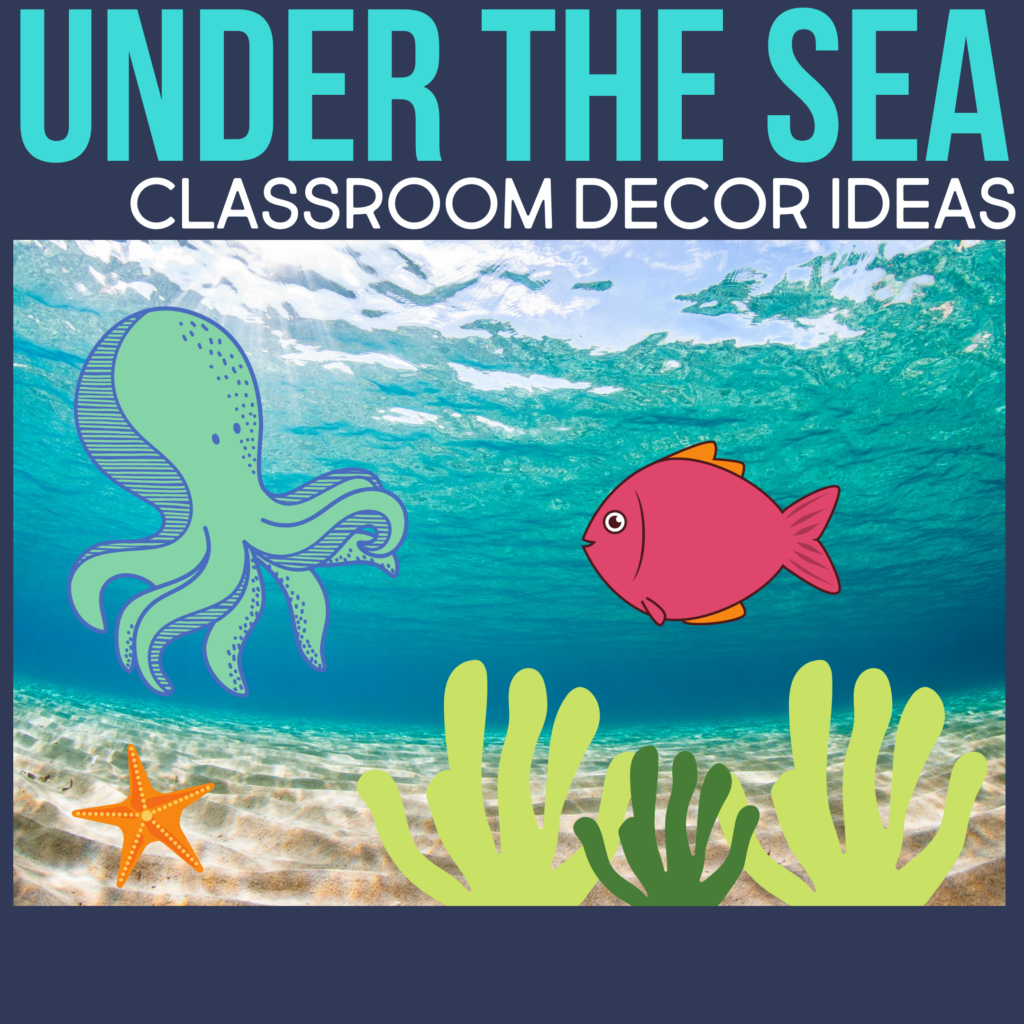 Under the Sea Theme Bulletin Board Ideas
Below are some under the sea theme bulletin board ideas for elementary teachers.
Under the Sea Bulletin Board Backgrounds
Tulle or other mesh fabrics look great as a bulletin board background for an under the sea theme. Stick to different colors of blue to make it look like water. Blue watercolor paper or even paper with a water print on it are an easy way to add color to the background of your bulletin board. Using blue colored tin foil is a great way to create the effect of water on your bulletin board.
Under the Sea Bulletin Board Trim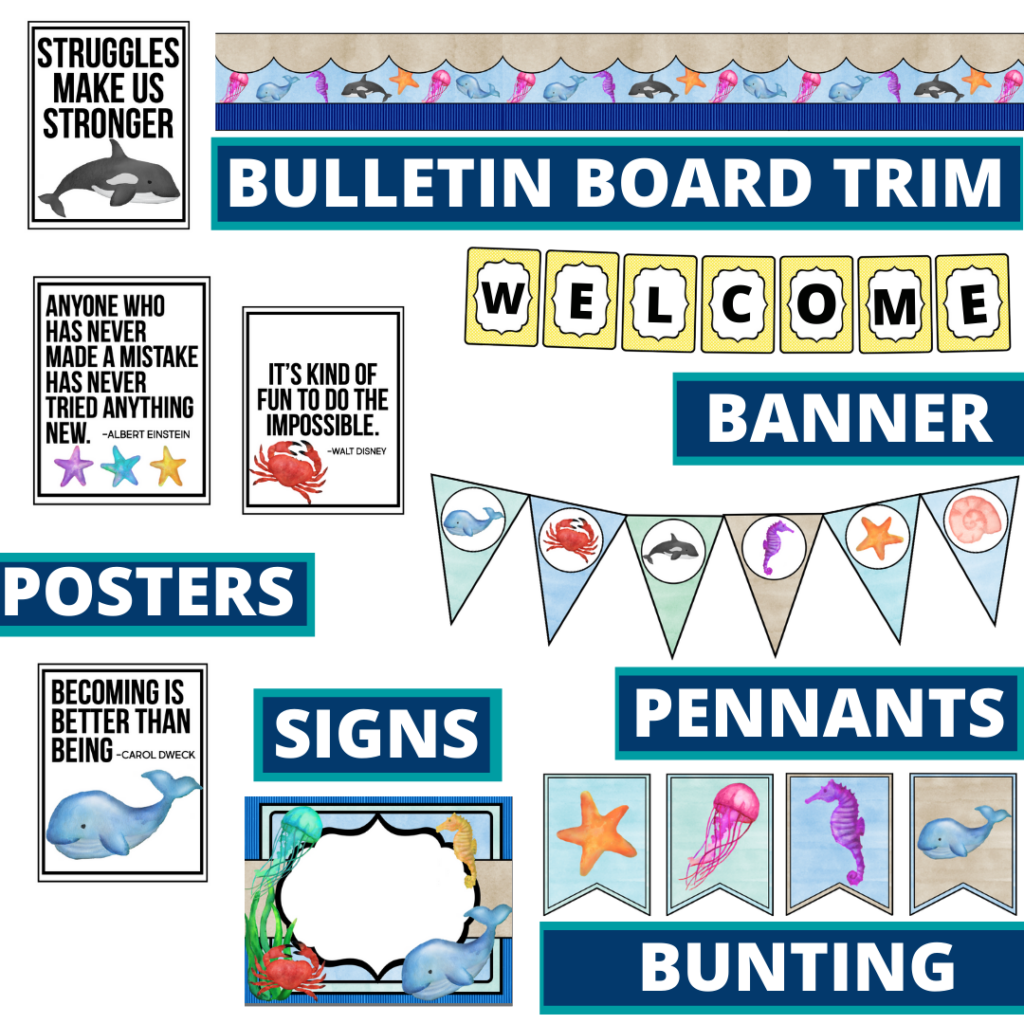 In addition to traditional border, put these items around the perimeter of your board.
Bunched green tissue paper to give the look of seaweed or tan tissue paper to give the look of sand
Fishing net is a great way to add texture to your bulletin board
Cut fish shapes out of paint chips to create a border for your bulletin board
Cut blue paper to look like waves
Small, clear balloon to look like bubbles
Get these under the sea classroom decor printables!
Under the Sea Bulletin Board Title Ideas
Add the phrase "Dive into a Book, Find a Treasure" to your classroom library
Title a bulletin board with student work as "SEA What We're Up To"
Create a back to school bulletin board named "Diving Into a New Year" and have student draw pictures of themselves as divers
Add the phrase "You Are Fin-tastic" to your classroom door or a student work display
Create a bulletin board for Open House that readers "So Happy to Sea You"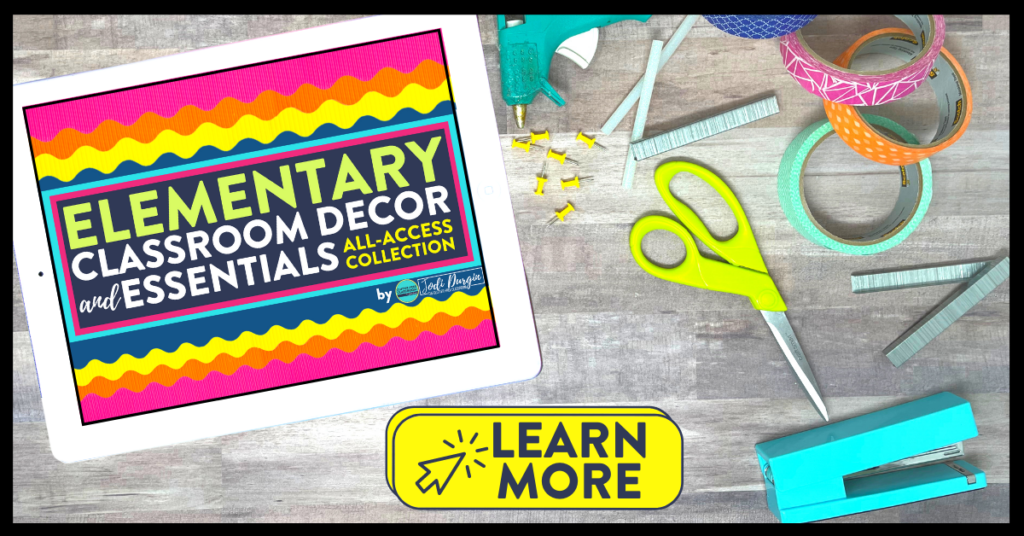 5 Ideas for an Under the Sea Themed Classroom
Hang different colored blue streamers across the ceiling to give the feeling of being underwater
Make jellyfish lanterns using paper lanterns and streams. Hang these from the ceiling.
Cut pool noodles to look like coral reef and seaweed
Hang sheer blue curtains or tulle over the windows to add to the underwater feel
Create garland that looks like bubbles using clear, round ornaments

Themes to Pair Your Under the Sea Theme With
Get access to all of the Clutter-Free Classroom decor themes and color schemes in the Elementary Classroom Decor Collection, including the ones listed below that pair really nicely with an under the sea theme.
Get Access to All 60+ Classroom Decor Packets |OR| Buy The Under The Sea Theme Only
Get Access to All 60+ Classroom Decor Packets |OR| Buy The Under The Sea Theme Only
Get Access to All 60+ Classroom Decor Packets |OR| Buy The Under The Sea Theme Only
In closing, we hope you found these under the sea classroom theme ideas helpful! If you did, then you may also be interested in the free under the sea planning organizer below as well as these classroom decorating posts: