I have had so many requests from teachers who are interested in using a "Dr. Seuss" theme in their classrooms. Because Dr. Seuss is protected by copyright, I am not able to honor those requests and create products using specific images or phrases. Instead, I have compiled ideas that can be used and created a Whimsy-Themed Classroom Essential Bundle that consists solely of colors that will complement a Dr. Seuss themed classroom. You could easily pair the components of this bundle with books and artifacts to create a customized classroom to meet your vision. Check out the Dr. Seuss theme classroom ideas below!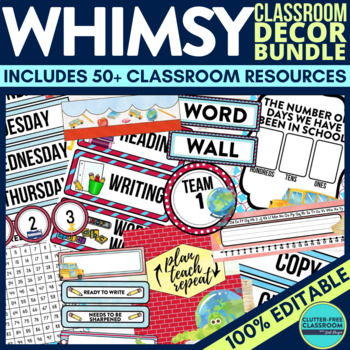 Dr. Seuss Theme Bulletin Board Ideas
Below are some Dr. Seuss theme bulletin board ideas for elementary teachers.
Dr. Seuss Bulletin Board Backgrounds
Primary color butcher paper can be used as a bulletin board background. You can also use primary color fabric as your bulletin board background, which would provide a nice backdrop.
Dr. Seuss Bulletin Board Trim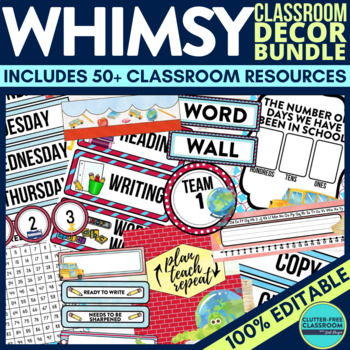 In addition to traditional border, put these items around the perimeter of your board.
red and white striped ribbons
polka dotted ribbons or trims
red and white pom poms
Get these Dr. Seuss classroom decor printables!
Dr. Seuss Bulletin Board Title Ideas
"Hats off to a Great Class!" (with photos of students in red/white striped hats)
"Oh the Places You'll Go!"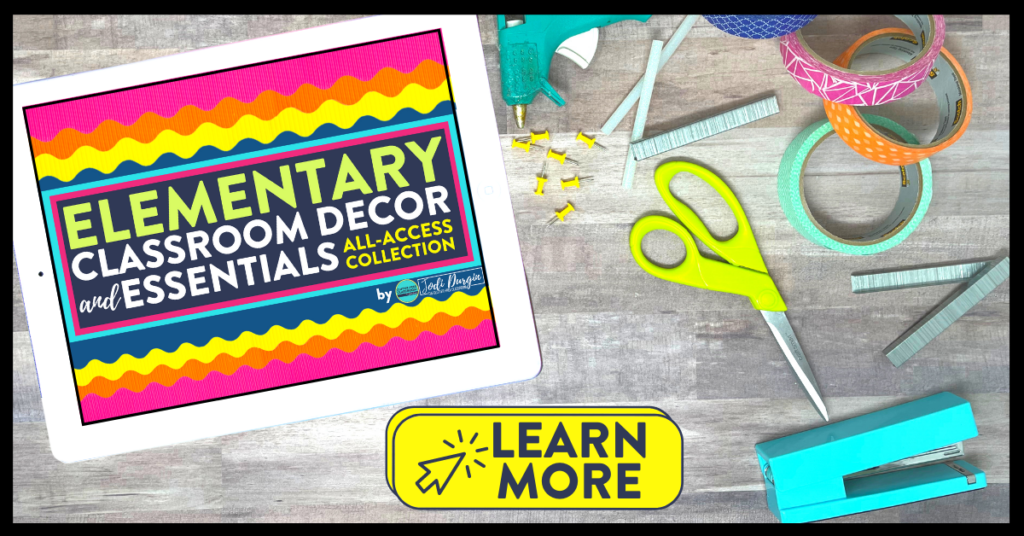 3 Ideas for a Dr. Seuss Themed Classroom
Use actual book covers on bulletin boards as they relate to the topic (i.e. One Fish, Two Fish for math, Happy Birthday to You for a Birthday Board, and If I Ran the Zoo for a Job Board).
Incorporate quotes from Dr. Seuss books throughout the classroom.
Pull in Dr. Seuss stuffed animals and other props.
Themes to Pair Your Dr. Seuss Theme With
Get access to all of the Clutter-Free Classroom decor themes and color schemes in the Elementary Classroom Decor Collection, including the ones listed below that pair really nicely with a Dr. Seuss theme.

Dr. Seuss Themed Classroom Pictures
The Dr. Seuss classroom theme bundle includes BOTH the original version (shown below) and the newly updated version (shown above). In the newer version, we used all new clipart which includes much more diverse characters. Also, we made the entire bundle 100% editable so not only can you customize it with your students' names and details specific to your classroom, you can now translate EVERYTHING into other languages too. This has long been a request from teachers of ELLs and immersion classrooms. Both versions are available in the Elementary Classroom Decor Collection.
Get Access to All 60+ Classroom Decor Packets |OR| Buy The Dr. Seuss Theme Only
Get Access to All 60+ Classroom Decor Packets |OR| Buy the Dr. Seuss Theme Only
In closing, we hope you found these Dr. Seuss classroom theme ideas helpful! If you did, then you may also be interested in the free Dr. Seuss planning organizer below as well as these classroom decorating posts: