If you are a lover of board games like chess, checkers, monopoly and more, consider creating a board game classroom theme. This theme is a fun way to introduce students to all different board games and create a playful feel to the classroom. This is a great choice for teachers that want children to learn through play and hands-on activities. When designing your board game theme, you can choose neutral or bright colors to decorate your space. Teachers love this theme because it's a fun theme that both lower and upper elementary students appreciate. Learn more about a board game classroom theme below and scoop up this board game classroom theme packet!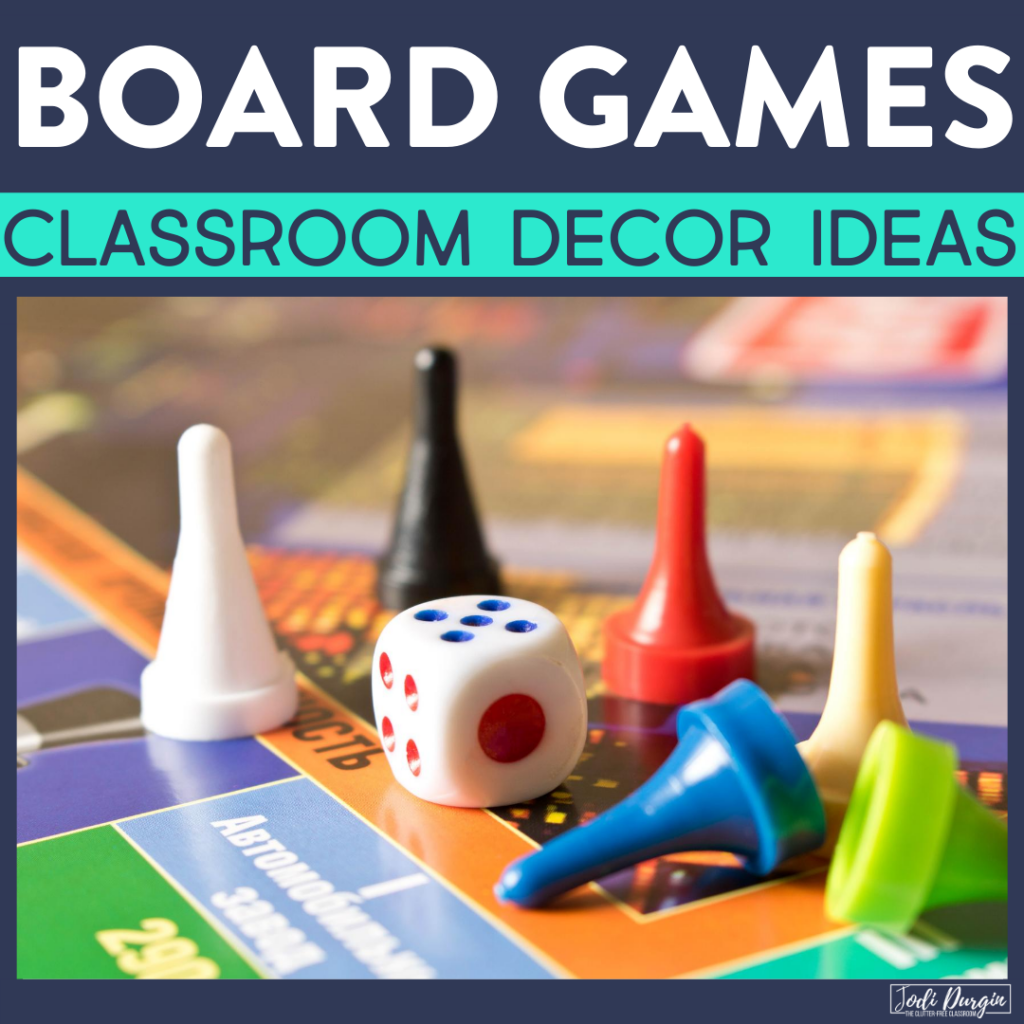 Board Game Theme Bulletin Board Ideas
Below are some board game theme bulletin board ideas for elementary teachers.
Board Game Bulletin Board Backgrounds
When creating a bulletin board for your board game theme room, one option is to use fabric or a tablecloth as your background. Using one that has a red and white or black and white checkered pattern looks great with this theme. Another way to bring the board game theme onto your bulletin board is to use the mat from the game of Twister. Finally, adding black felt to the background of your bulletin board is an easy way to decorate your bulletin board.
Board Game Bulletin Board Trim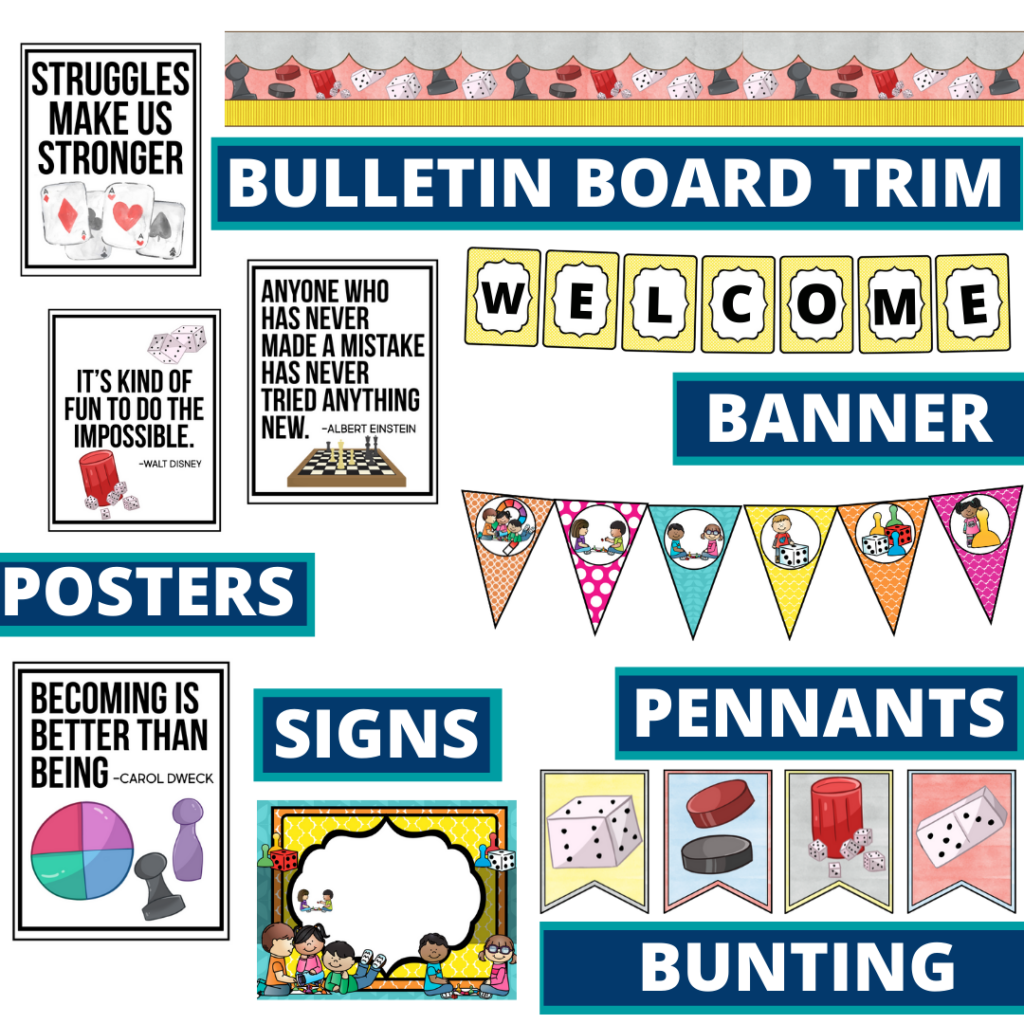 In addition to traditional border, put these items around the perimeter of your board.
covers from board games
pieces from board games
pretend money from popular games
checkerboard trim
dice
Get these board game classroom decor printables!
Board Game Bulletin Board Title Ideas
Create a Twister themed bulletin board for back to school titled "Start Off on the Right Foot."
Label your morning meeting area and schedule as "Our Game Plan."
Create a display of student work with a Hungry Hippos theme titled "Hungry For Success."
Display the words "Each Day is a New Game" above your calendar area.
Display classroom rules titled "Game Rules."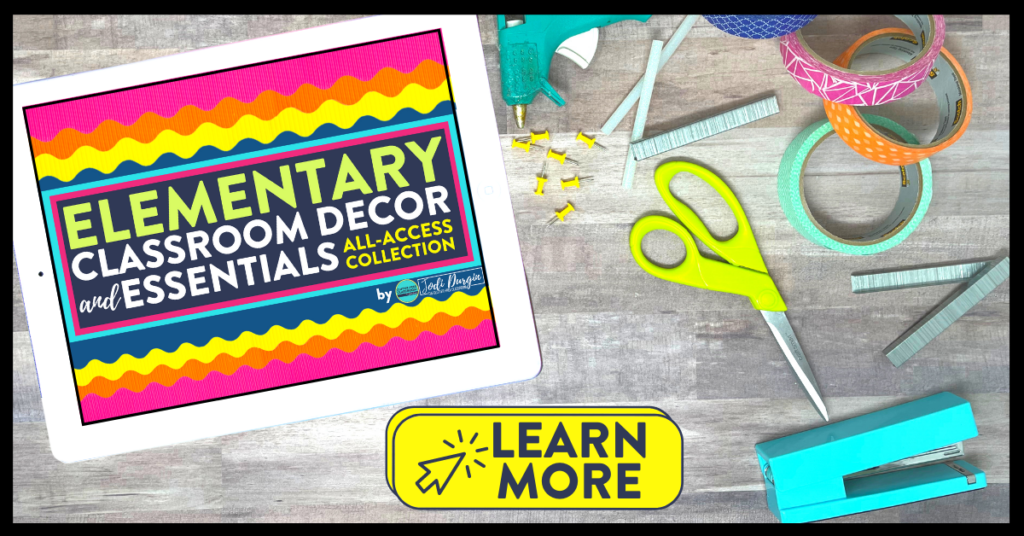 5 Ideas for a Board Game Themed Classroom
Turn a Twister mat into curtains.
Frame the covers from board game boxes as decorations.
Have centers with Scrabble and Boggle for students to play with.
Hang cards for different games from the ceiling.
Use game boxes for storage around the classroom.

Themes to Pair Your Board Game Theme With
Get access to all of the Clutter-Free Classroom decor themes and color schemes in the Elementary Classroom Decor Collection, including the ones listed below that pair really nicely with a board game theme.
Get Access to All 60+ Classroom Decor Packets |OR| Buy The Board Game Theme Only
Get Access to All 60+ Decor Packets |OR| Buy The Board Game Theme Only
Get Access to All 60+ Decor Packets |OR| Buy The Board Game Theme Only
In closing, we hope you found these board game classroom theme ideas helpful! If you did, then you may also be interested in the free board game planning organizer below as well as these classroom decorating posts: