Your learning environment will feel like a tropical paradise when you use a flamingo classroom theme. The bright colors and prints in this theme will make any classroom feel bright, cheerful and fun. Whether you love flamingos themselves or just love the feeling of a tropical island, this classroom theme is sure to put a smile on your face. Teachers love this classroom theme because it makes the learning environment feel warm and bright all throughout the school year. A flamingo classroom theme is great for lower elementary classrooms as well as upper elementary students. Learn more about a flamingo classroom theme below and scoop up this flamingo classroom theme packet!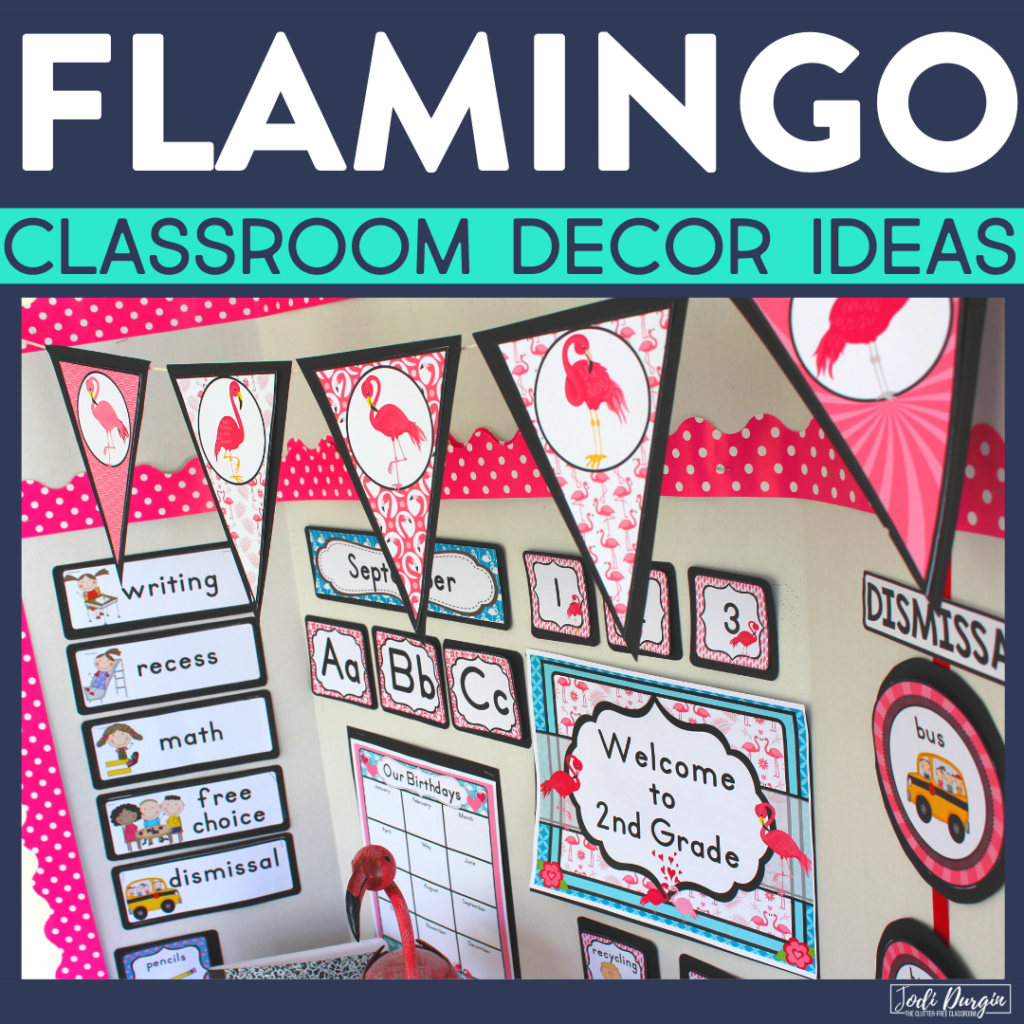 Flamingo Theme Bulletin Board Ideas
Below are some flamingo theme bulletin board ideas for elementary teachers.
Flamingo Bulletin Board Backgrounds
One way to carry your flamingo theme onto your bulletin board is to use a wrapping paper with flamingos on it as your bulletin board background. You can also use pink or aqua cellophane paper as your background to compliment the colors of this theme. Another option is to tie dye a sheet or white fabric with pink dye and hang as your background.
Flamingo Bulletin Board Trim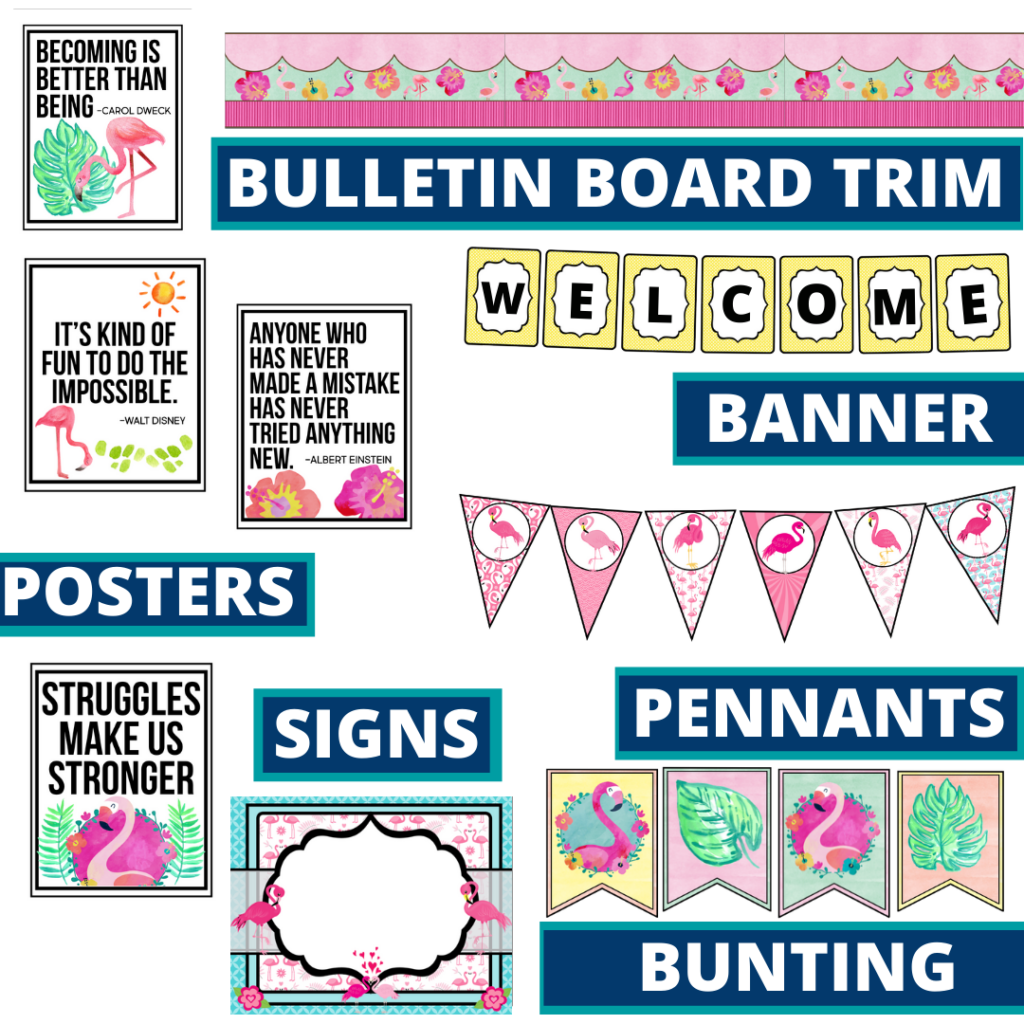 In addition to traditional border, put these items around the perimeter of your board.
pink feather boas
artificial tropical leaves
pink fringe
bunches of pink tissue paper
artificial tropical flowers
Get these flamingo classroom decor printables!
Flamingo Bulletin Board Title Ideas
Name a back to school bulletin board "Welcome to Our Flock"
Display student work on a bulletin board titled "Flamazing Work"
Create a sign for Open House or Meet the Teacher that says "Let's Flamingle"
Add the phrase "Learning in this Class Feels Like Paradise" to your classroom door
Post classroom rules titled "Rules of Our Flock"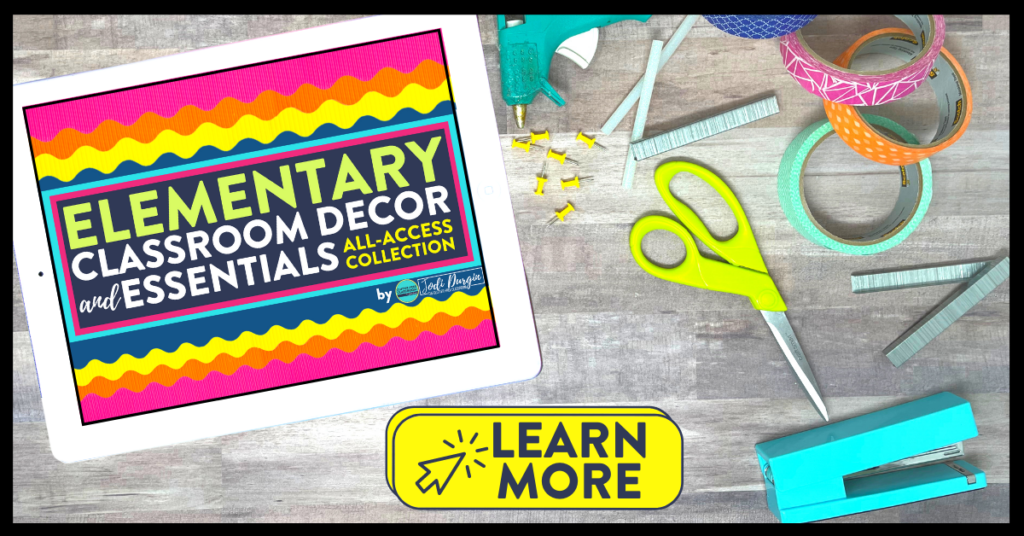 5 Ideas for a Flamingo Themed Classroom
Use flamingo pool floats for flexible seating
Make your own flamingo garland out of paper and tissue paper pom poms
Use pink feather boas to decorate your classroom
Create palm trees out of paper for added decorations
Cut the back off a lawn flamingo and hang in the wall

Themes to Pair Your Flamingo Theme With
Get Access to All 60+ Classroom Decor Packets |OR| Buy The Flamingo Theme Only
Get Access to All 60+ Decor Packets |OR| Buy The Flamingo Theme Only
Get Access to All 60+ Decor Packets |OR| Buy The Flamingo Theme Only
Flamingo Themed Classroom Pictures
The flamingo classroom theme bundle includes BOTH the original version (shown below) and the newly updated version (shown above). In the newer version, we used all new clipart which includes much more diverse characters. Also, we made the entire bundle 100% editable so not only can you customize it with your students' names and details specific to your classroom, you can now translate EVERYTHING into other languages too. This has long been a request from teachers of ELLs and immersion classrooms. Both versions are available in the Elementary Classroom Decor Collection.
Get Access to All 60+ Classroom Decor Packets |OR| Buy The Flamingo Theme Only
Get Access to All 60+ Classroom Decor Packets |OR| Buy The Flamingo Theme Only
In closing, we hope you found these flamingo classroom theme ideas helpful! If you did, then you may also be interested in the free flamingo planning organizer below as well as these classroom decorating posts: