Choosing a lemon classroom theme gives your room a fresh, inviting look. This theme is great if you want to have a rustic, farmhouse vibe, or a fun lemonade stand feel with bright colors. A favorite reason to choose this theme is that lemons are known for being fresh and clean therefore, your classroom will feel that way throughout the school year. The great thing about a lemon classroom theme is that it is fitting from any grade level, whether it's elementary or secondary this theme is appropriate. While this theme can be used throughout the year, it is a great choice for the warmer months to help give a fun, summer feel to your classroom. Learn more about a lemon classroom theme below and scoop up this lemon classroom theme packet!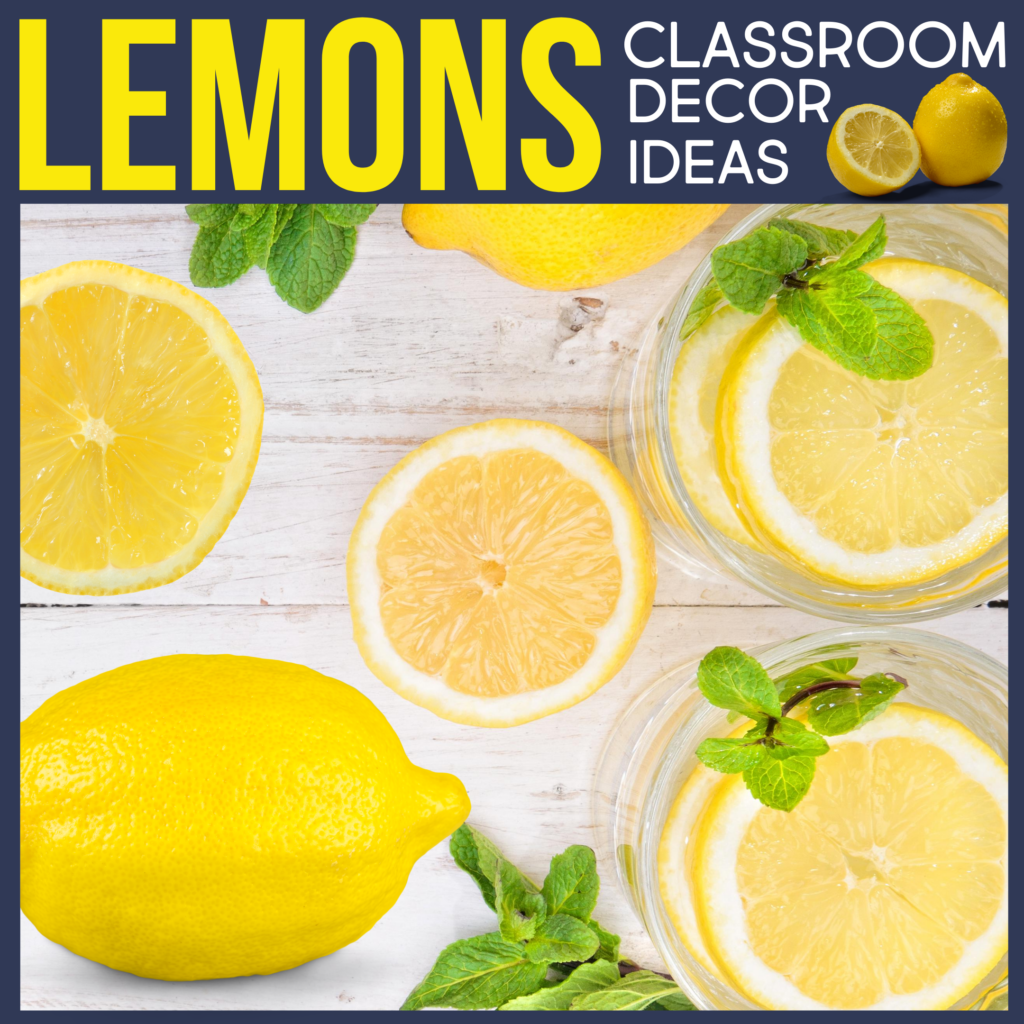 Lemon Theme Bulletin Board Ideas
Below are some lemon theme bulletin board ideas for elementary teachers.
Lemon Bulletin Board Backgrounds
An easy way to decorate your lemon themed bulletin board is by hanging a checkered tablecloth. For a more rustic look, bulletin board paper that looks like wood is a great choice. Other paper choices that compliment this theme are yellow, blue or green watercolors to give a colorful, fresh feel.
Lemon Bulletin Board Trim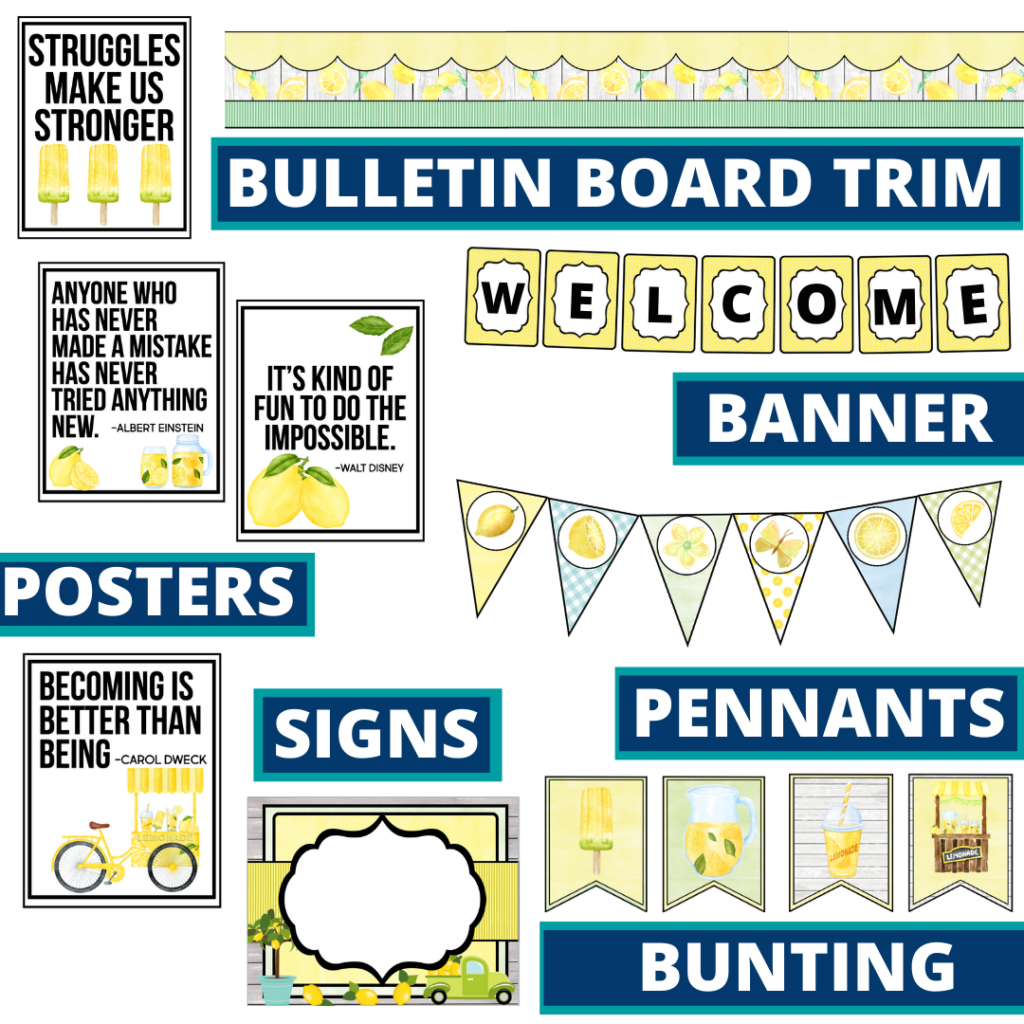 In addition to traditional border, put these items around the perimeter of your board.
Cut yellow paper plates in half to mimic lemon slices
Use garland with green leaves to trim your bulletin board
Buffalo print ribbon
Ribbon with lemons printed on it
Paper lemon cut outs
Get these lemon classroom decor printables!
Lemon Bulletin Board Title Ideas
Add the phrase "Squeeze the Day" above your classroom calendar
Create a display of student work titled "Our Zest Work"
Title your back to school bulletin board "This Year Will Be Sweet"
Add the phrase "Each Day is a Fresh Start" to your classroom door
Create a display of student work that says "Easy Peasy Lemon Squeezy"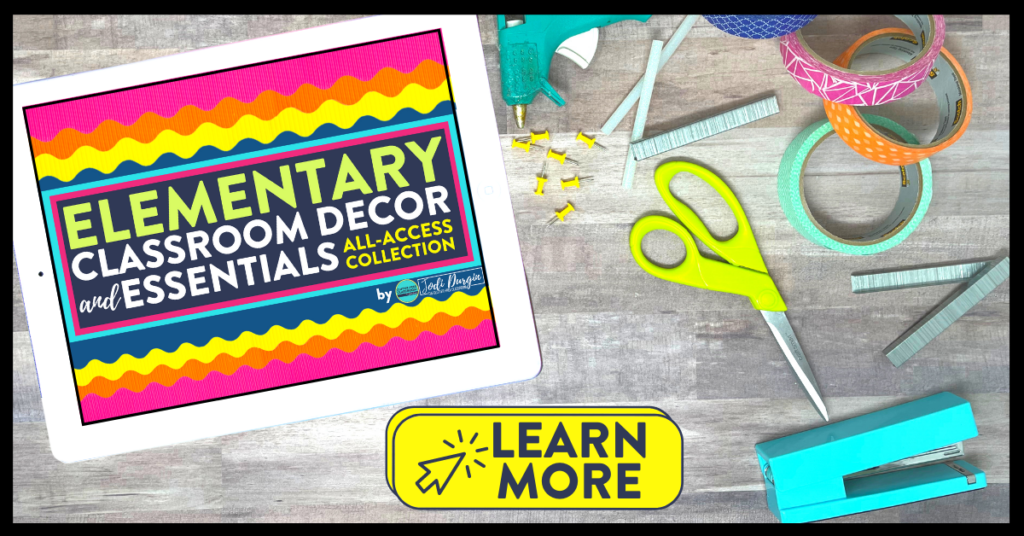 5 Ideas for a Lemon Themed Classroom
Hang a wreath with greenery and lemons on your classroom door.
Freshen up your classroom with a lemon room spray or air freshener.
Place bowls with artificial lemons throughout the classroom for decorations
Put paper awnings about doorways in the classroom to mimic a lemonade stand
Use cute, patterned paper cups to hold supplies like pencils, crayons and markers

Themes to Pair Your Lemon Theme With
Get access to all of the Clutter-Free Classroom decor themes and color schemes in the Elementary Classroom Decor Collection, including the ones listed below that pair really nicely with a lemon theme.
Get Access to All 60+ Classroom Decor Packets |OR| Buy The Lemon Theme Only
Get Access to All 60+ Classroom Decor Packets |OR| Buy The Lemon Theme Only
Get Access to All 60+ Decor Packets |OR| Buy The Lemon Theme Only
In closing, we hope you found these lemon classroom theme ideas helpful! If you did, then you may also be interested in the free lemon planning organizer below as well as these classroom decorating posts: