Having classroom door decorations is a great way to welcome your students, make your learning environment warm and inviting, and show off your creativity! You can tie it into your classroom decorations theme, school-wide theme, or create a classroom door display that stands on its own. You could go with a teacher door decoration that works year round like a sports classroom theme or change up your class door decoration each month or season. The opportunities for your classroom door decorations are truly endless! Below are step-by-step directions for how to decorate a school door, a list of more than 50 classroom door ideas, and door decorating contest ideas. You'll have all of the door decor ideas you need to create a school door decoration you love!
This blog post will offer tons of door decoration ideas for teachers and answer the following questions:
How do you decorate a classroom door?
What are the best classroom door decoration themes for 2021?
How do I host a door decorating contest at my school?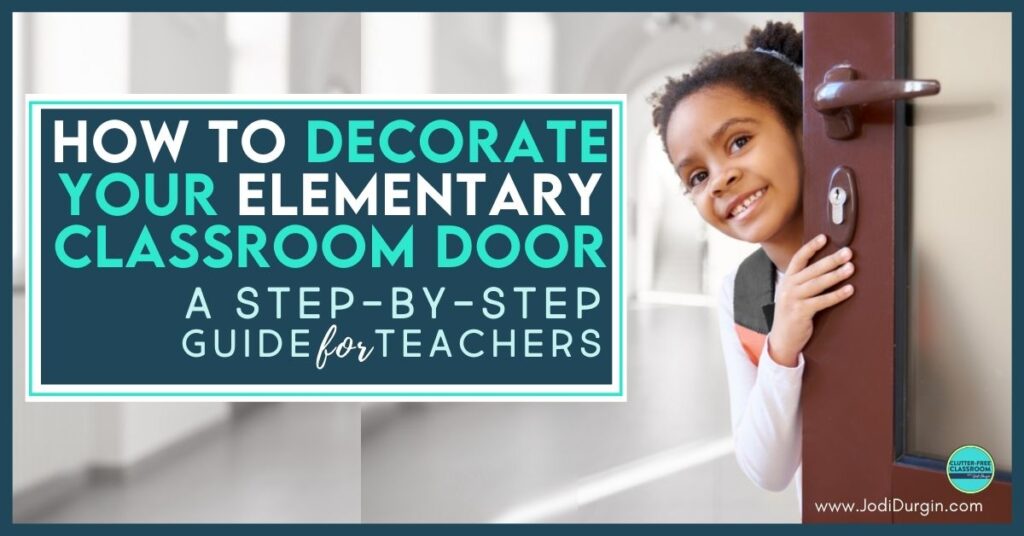 The Best Way to Decorate Your Classroom Door
Here are 7 steps for how to decorate classroom doors:
Step 1: Consult fire codes and school mandates.
It's always best to check with your administrator or colleagues who have been at the school for a long time to see if you are allowed to decorate your door and, if so, what the rules are for doing so.
Step 2: Pick a theme.
There are tons of classroom decoration themes to choose from (e.g. sports classroom theme and superhero classroom theme)! The opportunities are endless!
Step 3: Browse Pinterest, Google, and Instagram for Ideas.
When I was in the classroom, I loved searching to see what other teachers created to help me get ideas that I could get inspiration from. There are tons of creative teachers out there!
Step 4: Measure your door.
It's helpful to measure the length and width of your classroom door, as well as the area around your doorknob and window.
Step 5: Sketch out your design.
Use a piece of paper or create the design on your computer. This will help you visualize what you want to create.
Step 6: Gather all your materials.
Gather all of the materials you will need to create your display. You'll likely need items like scissors, tape, and printed materials.
Step 7: Create your door display.
Use your sketch and the materials you gathered to create your door design.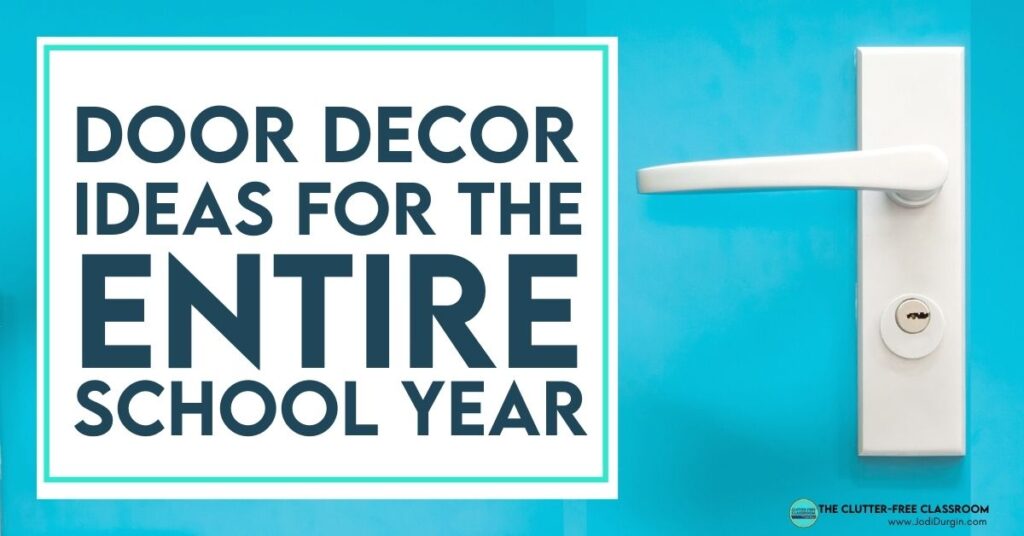 50+ of the Best Classroom Door Decoration Theme Ideas for 2021
Here are the best classroom door decoration theme ideas organized by season and month to help you choose and create the classroom door design of your dreams:
Fall Classroom Door Decoration Ideas
Back to School Classroom Door Ideas
Welcome ("Yay! You're here!", "When you enter this classroom, you are…", "Welcome back to school!", "Who's ready for a great year?", and "Where our adventure begins")
September Classroom Door Ideas
October Classroom Door Ideas
Pumpkins (pumpkin patch)
Halloween (ghosts, witches, monsters, and candy)
Fall leaves
November Classroom Door Ideas
Kindness Day
Veteran's Day
Thanksgiving (turkey and thankfulness)
Winter Classroom Door Decoration Ideas
December Classroom Door Ideas
Christmas (Christmas tree, elves, Rudolph, North Pole, Nutcracker, Reindeer, Reindeer stable, Santa, wreath)
Christmas movies and books (Buddy the Elf, Grinch, Elf on the Shelf, Minion Christmas, Nightmare Before Christmas, Polar Express)
Holidays around the world (lights)
Gingerbread (gingerbread house and gingerbread man)
Ugly sweater
January Classroom Door Ideas
Winter (winter wonderland, snowman, let it snow, Narnia, snow globe, igloo, Frozen, Olaf, fireplace)
Snow animals (penguins, polar bear, arctic fox)
New Year's (goals, fireworks, bells)
February Classroom Door Ideas
Black history (MLK, I have a Dream, Ruby Bridges)
Valentine's Day (Love is in the air, love bug, love letters, hearts)
Mardi gras
Spring Classroom Door Decoration Ideas
March Classroom Door Ideas
St. Patrick's Day (Lucky Charms, pot of Gold, four leaf clovers, rainbow, and leprechauns)
Dr. Seuss (Cat in the Hat, Green Eggs and Ham, If I Ran the Zoo)
March Madness
April Classroom Door Ideas
Bees
Butterflies
Frogs
Ladybugs
Easter (Easter Bunny)
Earth Day (Lorax)
May Classroom Door Ideas
Yoda (yoda one for me)
Flowers
Garden
Gnome
June Classroom Door Ideas
End of the year (oh the places you'll go)
Classroom Door Decoration Ideas that Work for Any Time of Year
Any Time of Year Classroom Door Ideas
Books (Where the Wild Things are, Very Hungry Caterpillar, Harry Potter, Pete the Cat, fairytales)
Movies (Alice in Wonderland, Harry Potter, Wizard of Oz, Up, Disney, Mickey Mouse)
Animals (owls, zebra, giraffe, koala, octopus, llama, dinosaur, unicorn, dogs, flamingos, fox, llamas, monkey, monster)
Games and hobbies (board games, candyland, lego, music, camping, cooking, baking, crayons, magic, racing, recycling, rock and roll, sports, technology)
Places (school, beach, zoo, ocean, jungle, under the sea, school, farm, circus, Hollywood, mountains, space, woodlands, tropical, western)
Plants (cactus, succulents, tree, eucalyptus, sunflower)
Travel (transportation, rocket ship, around the world)
Style (vintage, farmhouse, nautical, patriotic, rainbow)
People (Viking, superhero, pirate, mummy, mermaids, wizard)
Jobs (construction, detective)
Food (cupcakes, lemons)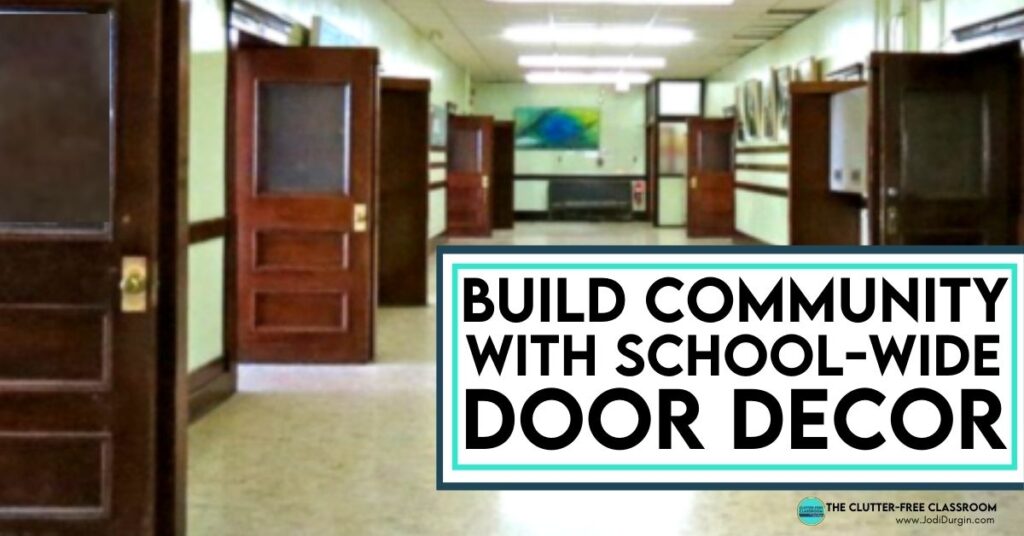 How to Host a Classroom Door Decorating Contest at your School
Here are 10 steps to take to host a classroom door decor contest at your school:
1. Draft a plan.
Be sure to answer the following questions: What is the goal of the event? Who will be able to participate? What will the rules be? When will it take place? Will participants be given supplies? How long will participants have to create their classroom door decoration? Will there be a theme? Will there be a winner or multiple winners? How will you determine who the winner is? What would they win?
2. Check with your admin.
Consult with your school's administration to share your idea, get approval, and ask about fire codes and feedback.
3. Choose a prize.
Some ideas are a gift card, plant, box of thank you notes, or set of flair pens.
4. Create a list of rules for the contest.
For example, determine how long participants will have to work on it, what materials they are allowed to use, and if they can have help.
5. Pick a theme.
Consider the time of year, upcoming holidays, and school events.
6. Create a flyer.
Before sending out your flyer, consider having someone else look at it to ensure it has all of the information needed on it and doesn't have spelling or grammar mistakes.
7. Gather supplies.
Gather supplies for participants and keep them in a space that is easily accessible to everyone like the teacher's room.
8. Tell everyone about it.
Notify the staff by sending out the flyer via email and by putting them in their mailboxes. You could consider also hanging a flyer in the teachers' room.
9. Select a winner.
Select a winner using predetermined criteria. 
10. Announce the winner.
Announce the winner at your next staff meeting and give them his or her prize. Be sure to thank everyone involved for participating.
Grab the Free Classroom Decor Guide!
We hope you found these ideas for classroom decor decorations helpful! Next, we would love for you to download this free Classroom Decor Guide. It offers some additional information that is helpful as you begin planning your classroom design for the start of the school year.