A cactus classroom theme is perfect for any teacher that loves boho style. It adds a fun and cheerful feel to your classroom environment. This classroom theme typically has a calming color palette of greens and pinks that makes students feel comfortable in the room. A favorite reason for choosing a cactus theme is that it is easy to find artificial cacti in many stores to help decorate. Depending on where you live, a cactus theme classroom is a great way to introduce students to different parts of the world. This would be a fun theme to use in your classroom when learning about different biomes. Learn more about a cactus classroom theme below and scoop up this cactus classroom theme packet!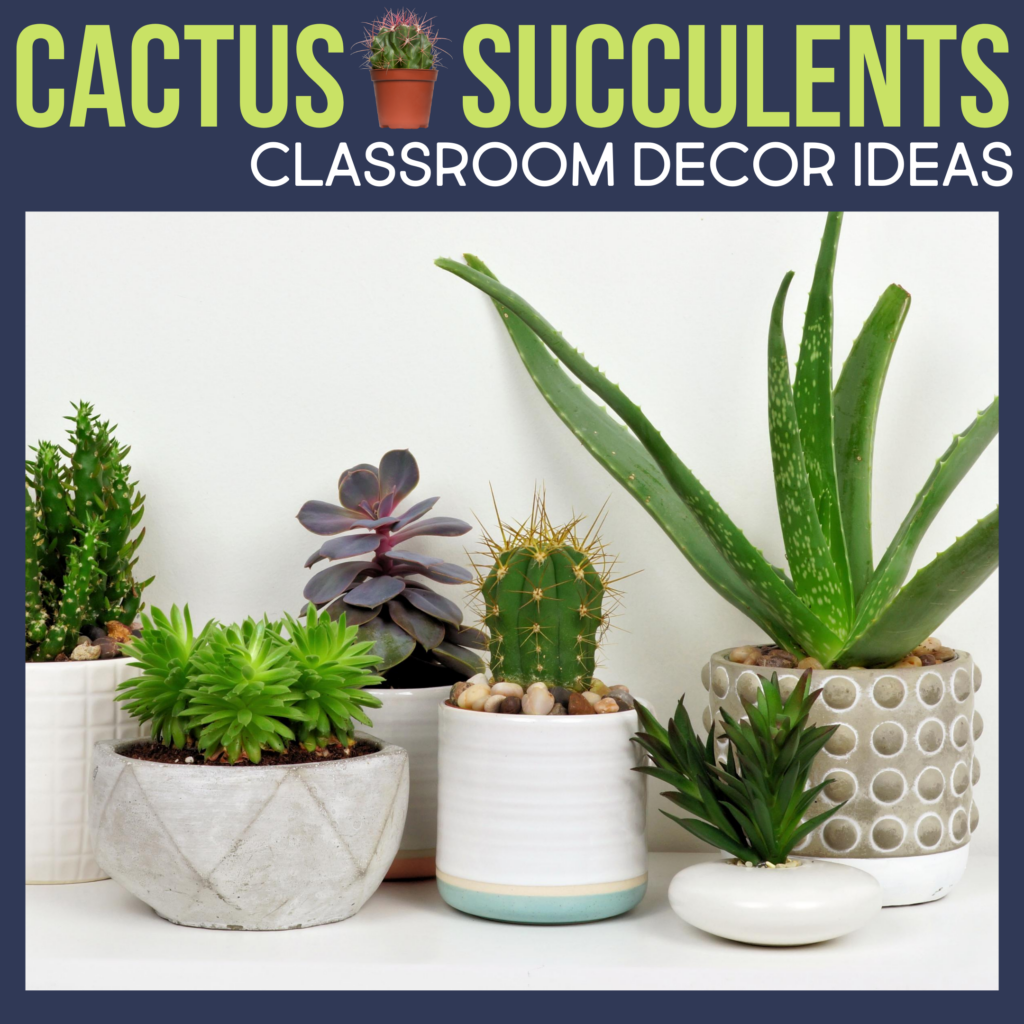 Cactus Theme Bulletin Board Ideas
Below are some cactus theme bulletin board ideas for elementary teachers.
Cactus Bulletin Board Backgrounds
An easy way to add texture to your cactus themed bulletin board is by painting corrugated cardboard green. If you choose to use paper as a background, rustic woods and green watercolor look great with this theme. You might also choose to leave the background as cork or use an orange-brown paper as background to mimic the desert dirt feel.
Cactus Bulletin Board Trim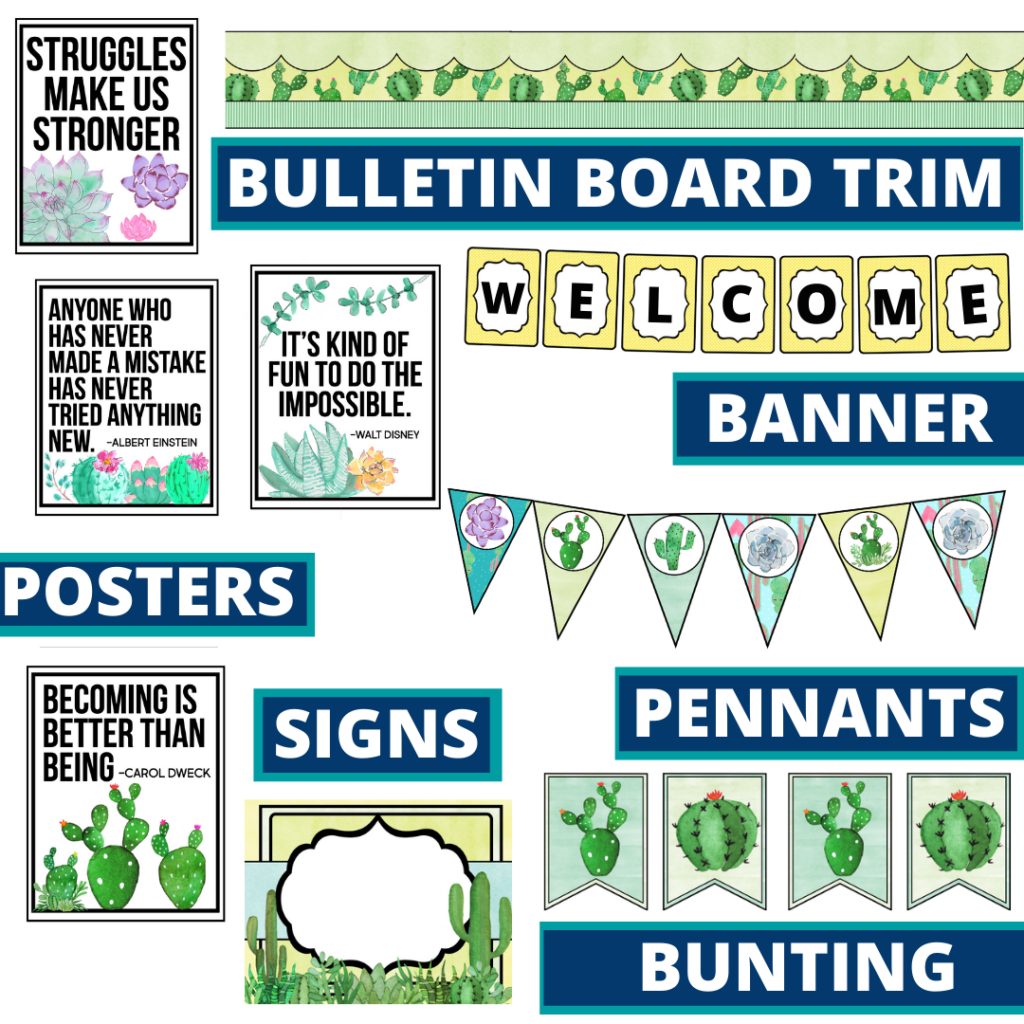 In addition to traditional border, put these items around the perimeter of your board.
green corrugated cardboard
small artificial desert flowers
bunches of green tissue paper
ribbon tassels
paper fans cut in half
Get these cactus classroom decor printables!
Cactus Bulletin Board Title Ideas
Title your back to school bulletin board with "We Are a Sharp Bunch" and student names.
Label your classroom library with a sign that says "Reading Makes You Sharp."
Create a display of student work that says "Fan-cactus Work."
Design your door with a display that says "In This Class We Stick Together."
Title your classroom calendar as "Sharper Everyday."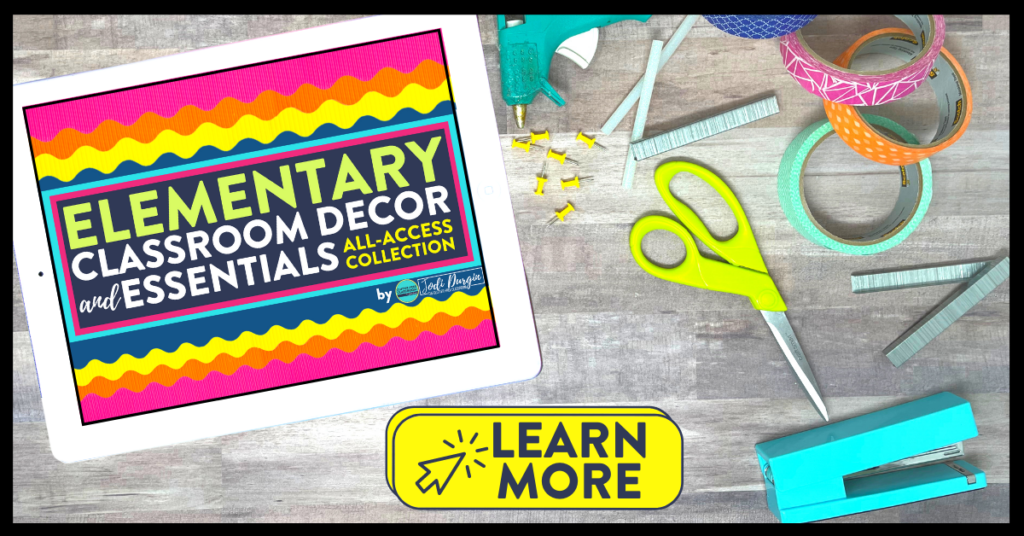 5 Ideas for a Cactus Themed Classroom
Put green balloons in small pots and draw black lines on them to portray a cactus.
Paint popsicle sticks green, draw black lines and place small flowers at the top to use as student name sticks.
Place artificial cactus in pots around the room.
Utilize hanging plant baskets as storage in the classroom.
Create artificial cactus out of green pool noodles and toothpicks.

Themes to Pair Your Cactus Theme With
Get access to all of the Clutter-Free Classroom decor themes and color schemes in the Elementary Classroom Decor Collection, including the ones listed below that pair really nicely with a cactus theme.
Get Access to All 60+ Classroom Decor Packets |OR| Buy The Cactus Theme Only
Get Access to All 60+ Decor Packets |OR| Buy The Cactus Theme Only
Get Access to All 60+ Classroom Decor Packets |OR| Buy The Cactus Theme Only
In closing, we hope you found these cactus classroom theme ideas helpful! If you did, then you may also be interested in the free cactus planning organizer below as well as these classroom decorating posts: