A tropical classroom theme uses bright colors and decorations to create a fun, summer feel in your classroom. Students will feel like they are on vacation everyday when they come to school in a tropical themed room. This theme is perfect for teachers that love flowers, fruit and colorful decorations. While this theme looks great in the classroom year round, it is a fun way to transform your classroom to celebrate the arrival of summer and the end of the school year. Learn more about a tropical classroom theme below and scoop up this tropical classroom theme packet!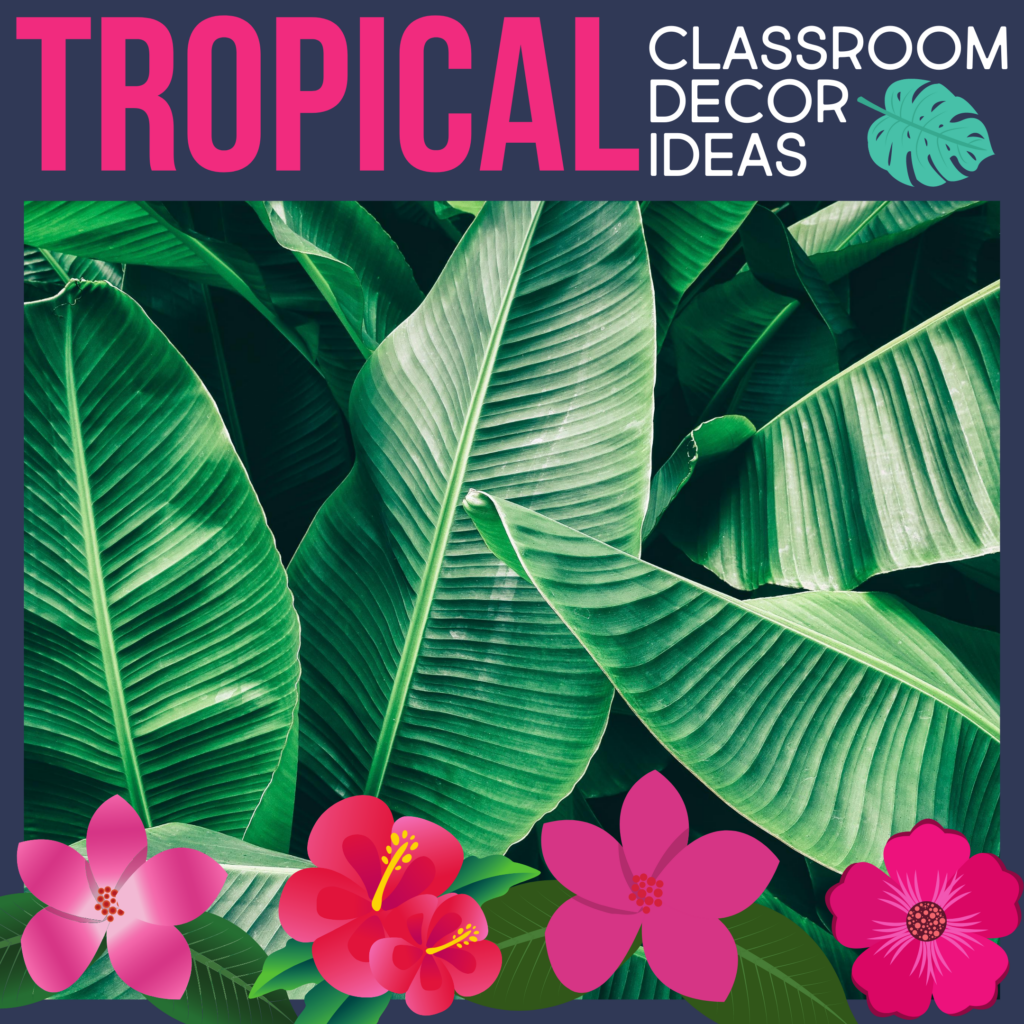 Tropical Theme Bulletin Board Ideas
Below are some tropical theme bulletin board ideas for elementary teachers.
Tropical Bulletin Board Backgrounds
A grass table skirt makes a great bulletin board background for a tropical theme because it adds texture and dimension. You can also cut out large leaves and layer them on top of one another to add a lush feel to the display. A summer tablecloth or fabric with big, tropical flowers or fruit would make a great bulletin board background for this theme.
Tropical Bulletin Board Trim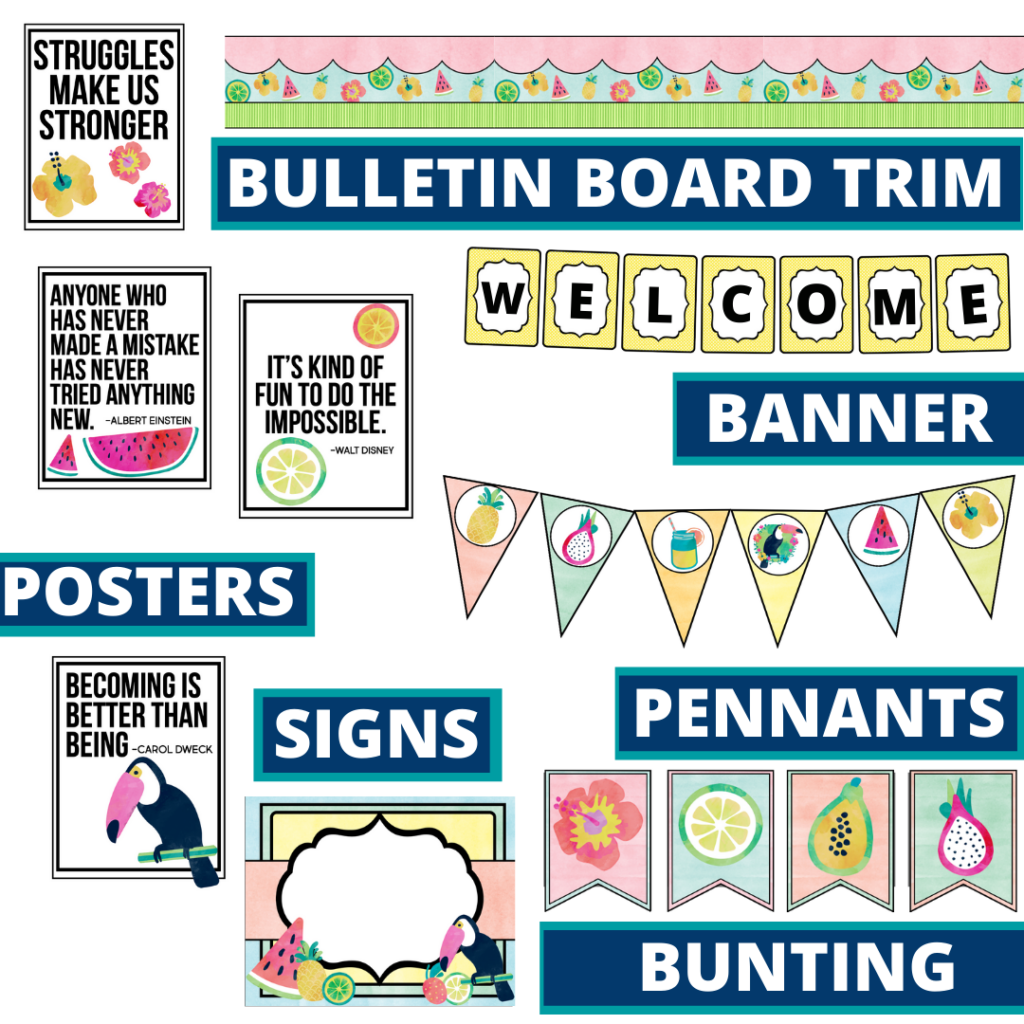 In addition to traditional border, put these items around the perimeter of your board.
Paper or artificial leaves
Flower leis
Paper drink umbrellas
Tissue paper flowers and leaf cut outs
Grass table skirts cut short
Get these tropical classroom decor printables!
Tropical Bulletin Board Title Ideas
Write "Another Day in Paradise" above your calendar area
Create a back to school bulletin board with student named "Say Aloha to Our New Friends"
Display student work with the phrase "Our Work is Sweet" and tropical fruit decorations
Add the words "This Class is One in a Melon" on your door or entryway
Title a bulletin board with student work as "Learning in This Room is like Paradise"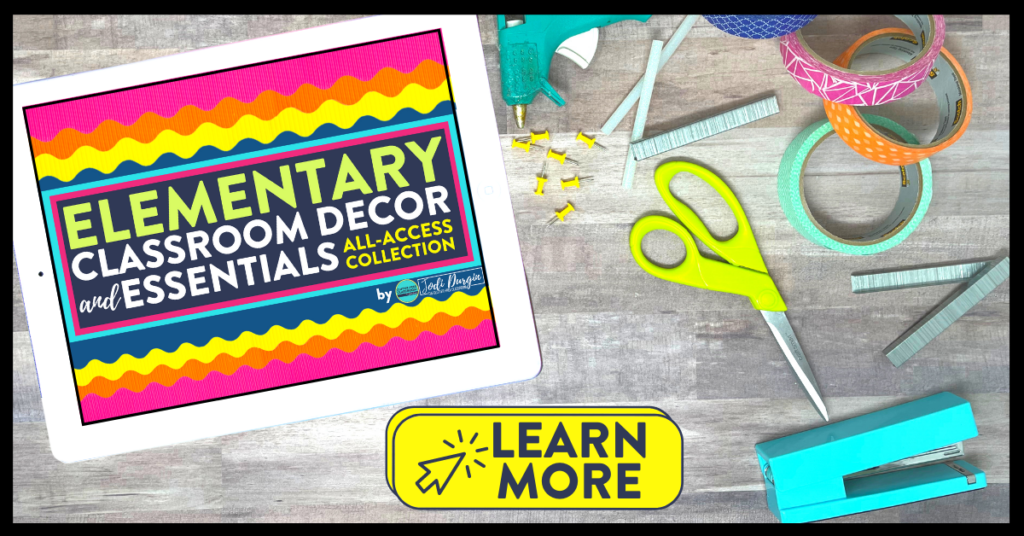 5 Ideas for a Tropical Themed Classroom
Hang a grass skirt around your teacher desk or small group table
Hang colorful paper lanterns from the ceiling
Make tissue paper flowers and place around the room as decorations
Use tropical looking straws as name sticks or pointers
Luau decorations from a party store look great with this theme

Themes to Pair Your Travel Theme With
Get access to all of the Clutter-Free Classroom decor themes and color schemes in the Elementary Classroom Decor Collection, including the ones listed below that pair really nicely with a tropical theme.
Get Access to All 60+ Classroom Decor Packets |OR| Buy The Tropical Theme Only
Get Access to All 60+ Classroom Decor Packets |OR| Buy The Tropical Theme Only
Get Access to All 60+ Classroom Decor Packets |OR| Buy The Tropical Theme Only
In closing, we hope you found these tropical classroom theme ideas helpful! If you did, then you may also be interested in the free tropical planning organizer below as well as these classroom decorating posts: