A dog classroom theme features a lovable pet that many students have at home or are asking their parents for constantly – A dog! Teachers, especially ones who are dog lovers, love this theme because it's simple, fun, and many students can connect to it. They also love it because there are tons of fun DIY decor ideas that are cheap and easy to incorporate that work for any budget! This theme is appropriate for both lower and upper elementary students. Learn more about a dog classroom theme below and scoop up this dog classroom theme packet!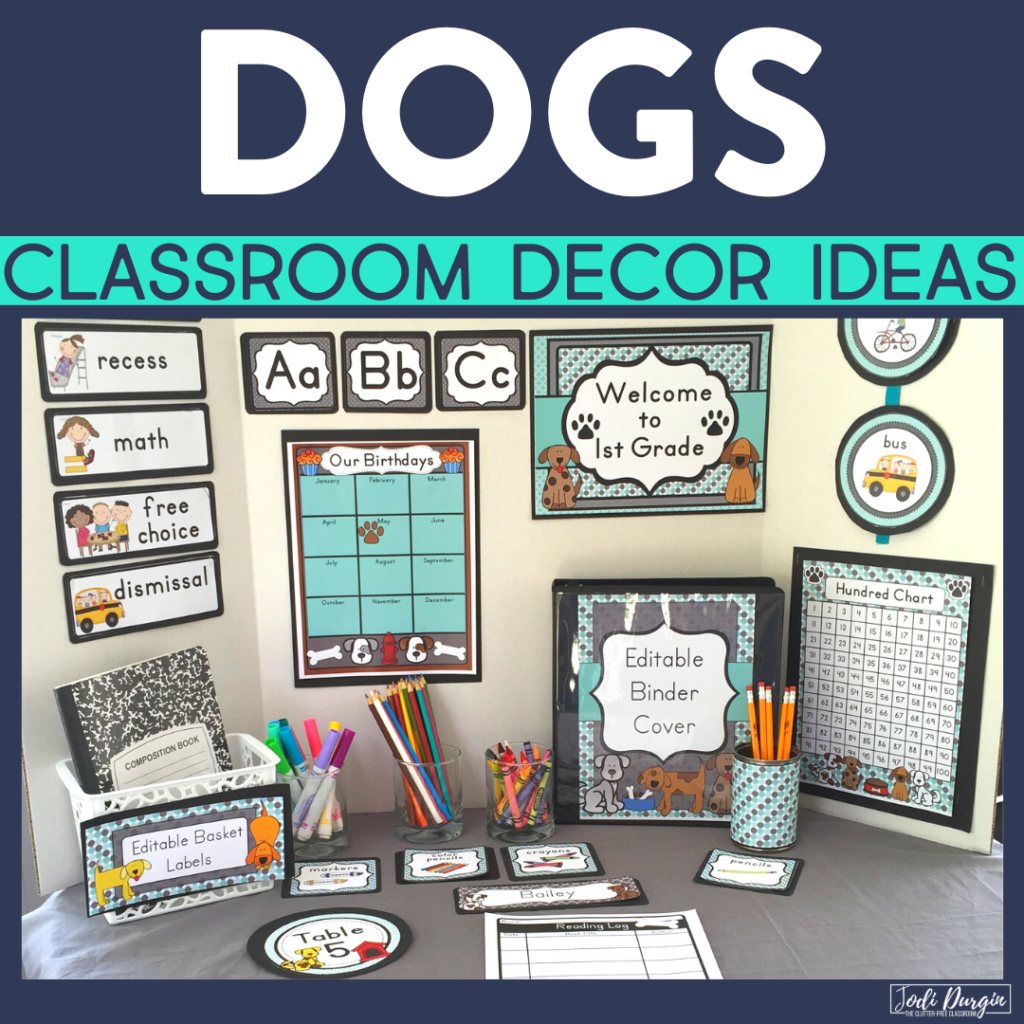 Dog Theme Bulletin Board Ideas
Below are some dog theme bulletin board ideas for elementary teachers.
Dog Bulletin Board Backgrounds
If you prefer solid color fabric or butcher paper for bulletin board backgrounds, consider using the neutral colors black, tan, white, or brown. A fun DIY idea is to glue big black spots on a white background to make it look like a Dalmatian. The options are endless!
Dog Bulletin Board Trim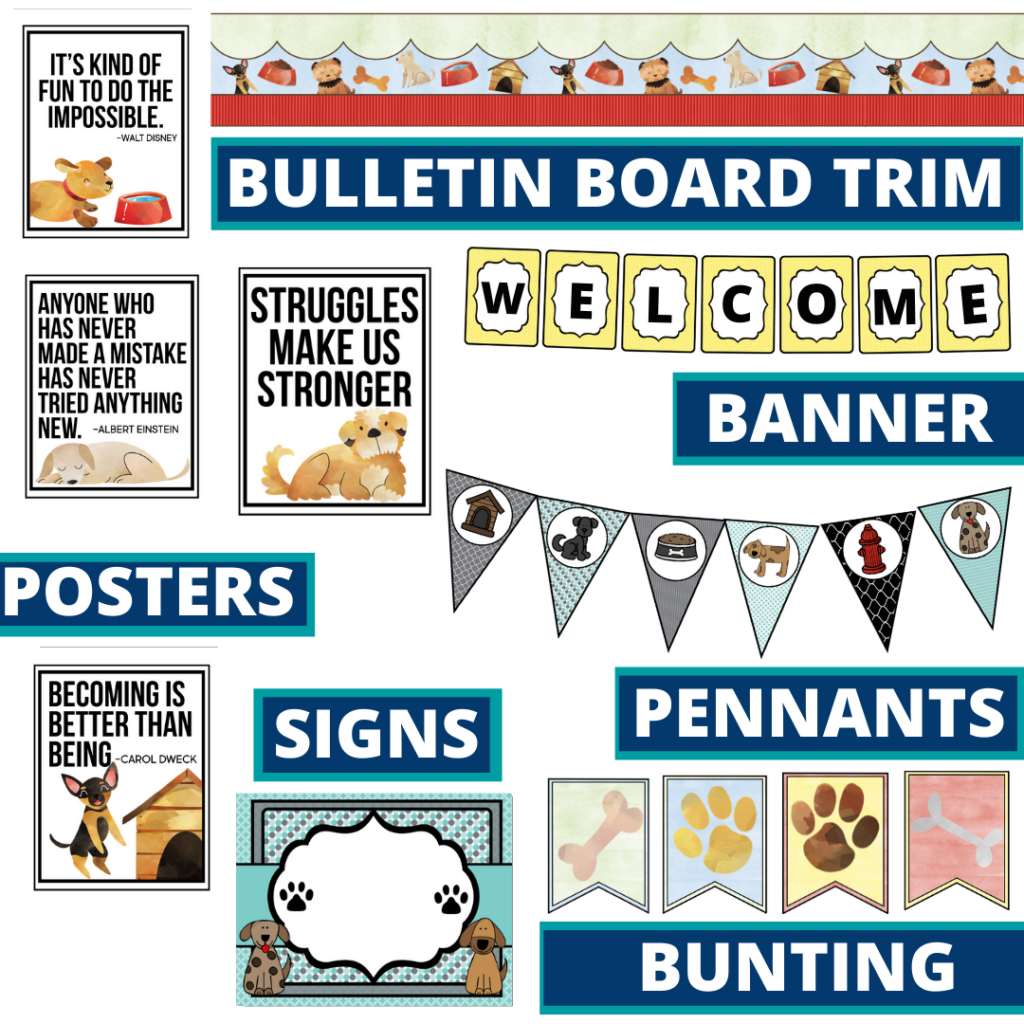 In addition to traditional border, put these items around the perimeter of your board.
dog leashes
dog treats hot-glued to solid color bulletin board border
paw prints
green paper cut like grass
printed-out different breeds of dogs
Get these dog classroom decor printables!
Dog Bulletin Board Title Ideas
"Our Tails Are Wagging Because We're So Excited About Being (Grade) Graders!"
"(Your Name)'s Top Dogs!"
"We'll have a Dog-Gone Good Year!"
"The Dog Days of Summer are Over!"
When creating your own titles, use words like bone, fetch, or treat.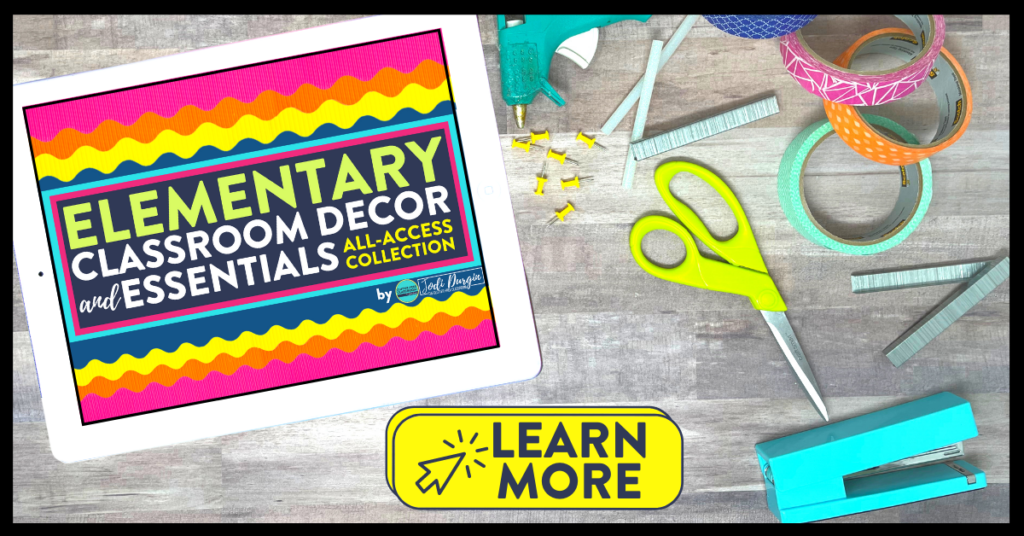 8 Ideas for a Dog Themed Classroom
Take photos of your students holding stuffed animal dogs to display.
Place your bathroom passes or bathroom logs next to a fire hydrant.
Name your guided math teams or reading groups using dog breeds.
Wash out dog food cans to use as pencil holders on tables.
Use dog food dishes (available at the Dollar Store) to hold manipulatives.
If you do a student of the week, you could refer to them as "Top Dog."
Title your student job board as "Helping Hounds."
Set up a display of books that relate to the theme by standing them on a counter or shelf.

Themes to Pair Your Dog Theme With
Get access to all of the Clutter-Free Classroom decor themes and color schemes in the Elementary Classroom Decor Collection, including the ones listed below that pair really nicely with a dog theme.
Get Access to All 60+ Classroom Decor Packets |OR| Buy The Dog Theme Only
Get Access to All 60+ Classroom Decor Packets |OR| Buy The Dog Theme Only
Get Access to All 60+ Classroom Decor Packets |OR| Buy The Dog Theme Only
Dog Classroom Theme Pictures
The dog classroom theme bundle includes BOTH the original version (shown below) and the newly updated version (shown above). In the newer version, we used all new clipart which includes much more diverse characters. Also, we made the entire bundle 100% editable so not only can you customize it with your students' names and details specific to your classroom, you can now translate EVERYTHING into other languages too. This has long been a request from teachers of ELLs and immersion classrooms. Both versions are available in the Elementary Classroom Decor Collection.
Get Access to All 60+ Classroom Decor Packets |OR| Buy The Dog Theme Only
In closing, we hope you found these dog classroom theme ideas helpful! If you did, then you may also be interested in the free dog planning organizer below as well as these classroom decorating posts: