If you are looking for elementary classroom bulletin board ideas, then you found the right place! This post shares tons of information, tips, and ideas to help you as you plan for setting up your classroom for back to school. You'll have what you need to get started with brainstorming your classroom bulletin board ideas and bringing them to life!
This blog post will offer classroom wall decoration ideas and answer the following questions:
What is a bulletin board?
What are the different types of bulletin boards?
How are bulletin boards used in the classroom?
How do you make a classroom wall bulletin board?
What are some tips for how to make a school wall decoration display when I don't have a cork bulletin board?
Where are the best places to buy bulletin board materials?
What are some bulletin board theme ideas I can use for classroom wall decorations?
Do you have some tips for organizing teacher wall decor materials?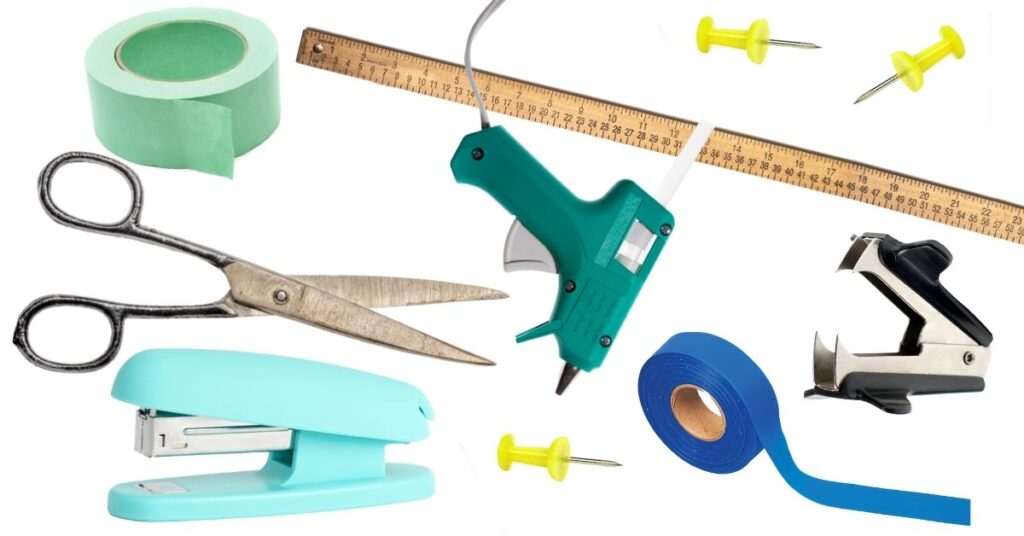 What is a Bulletin Board?
In an elementary classroom, a bulletin board is a visual display located in the learning environment. There are several different types. Learn more about them below and get tons of teacher bulletin board ideas.
What are the Types of Bulletin Boards?
There are 3 main types of bulletin boards: informative, interactive, and decorative. 
Informative Bulletin Boards
Informative bulletin boards provide information to students. They often align to what you are currently teaching. An example of an informative bulletin board is one that is based on science topics. Throughout the year it would change as you changed science topics. If you are teaching a unit on spiders, then you could have related vocabulary on there (e.g. spinnerets) as well as a diagram of a spider with labeled parts, KWL chart, and a can, have, are chart.
Interactive Bulletin Boards
Interactive bulletin boards are learning tools that support students' learning by acting as a toolkit or toolbox. An example is a word wall bulletin board. Students can go up to the bulletin board and pull off the word they need help with spelling and bring it back to their desk. Once they are done using it, they put it back where it belongs.
Decorative Bulletin Boards
Decorative bulletin boards are visually appealing displays that often align with the classroom theme. An example of a decorative bulletin board is one that is located outside of your classroom. At the beginning of the year, it serves as a welcome bulletin board with all of your students' first names on it. Throughout the school year, you can us it to display students' writing projects that are accompanied by a craft project.
How are Bulletin Boards Used in the Classroom?
Bulletin boards are an important component of elementary classrooms. They are used based on their type.
Informative bulletin boards, for example, are used both by teachers and students. Teachers use it as a teaching tool and students use it as a reference tool.
Interactive bulletin boards, on the other hand, are used primarily by students as a learning tool. Students go up to the board and physically engage with the board. For example, students go up to an interactive math bulletin board and touch the numbers on the hundreds chart to help them solve a problem.
Decorative bulletin boards are used to help create a cohesive classroom environment based on a classroom color scheme or classroom theme. An example is a bulletin board in the hallway right outside of the classroom used as a welcome bulletin board.
How do you Make a Bulletin Board?
If you are looking for step-by-step directions on how to design and decorate a bulletin board, then you're in the right place!
1.
Determine the purpose for the bulletin board.
Ask yourself, "What type of bulletin board is this: informative, interactive, or decorative?" This is a great place to start.
2. Look on Pinterest and Instagram for inspiration.
In the Pinterest search bar, you can type in things like "bulletin board ideas for teachers" or "back to school bulletin boards." For Instagram, you can search "#bulletinboard" "#bulletinboards" and "bulletinboardideas" for tons of ideas and inspiration.
3. Measure your space.
Measure both the length and width of the bulletin board. This will help you determine the ratio of the length to the width, which will be helpful for when you do the next step. It will also help you when you figure out how much bulletin board paper and borders you need.
4. Sketch your design on a piece of paper or create it on your computer.
This will help you get the ideas out of your head and onto paper so you can really visualize what you hope to create.
5. Make a list of materials you will need to create your bulletin board design.
You'll need a really good pair of scissors, painter's tape, stapler, yardstick, bulletin board background (don't be afraid to get creative and use things like wrapping paper or bed sheets), bulletin board border, and any other decorative embellishments. When it comes to setting up and decorating a classroom, I typically suggest colorful bed sheets as the background for all my bulletin boards. I like them because they are large, cost-effective and because the color stays vivid, but mostly because they fold up well and can be used again and again. However, if I am decorating a smaller space, covering a door, or hanging the background on a cinderblock wall, I will often use paper. In these situations, I prefer to use a material that will resist fading from the sun or classroom lighting.
6. Purchase and gather materials.
Read below to get a list of my ten favorite places to buy bulletin board materials!
7. Measure, cut, and put up your bulletin board background.
Again, I prefer using colorful bed sheets, but you can also use other materials like bulletin board paper, shower curtains, and wrapping paper.
8. Put up your bulletin board border.
I love to layer bulletin board borders. If you decide to do this, I recommend stapling the borders together before putting them up on your bulletin board.
9. Add decorative embellishments as you see fit.
This could include items that go with your theme. For example, you could add a set of decorative pennants at the top of the bulletin board, which are included in all of my classroom theme collections).
10. Add to it after the start of the school year.
It's totally okay to start the year without having everything up on the wall. Actually, it's better that way in many cases because students are involved in the process of new things being added, which increases the likelihood of students using them independently. I recommend your boards having a background and border for when students return to school. Everything else can be added when students arrive. One bulletin board you could consider having be complete is your welcome bulletin board.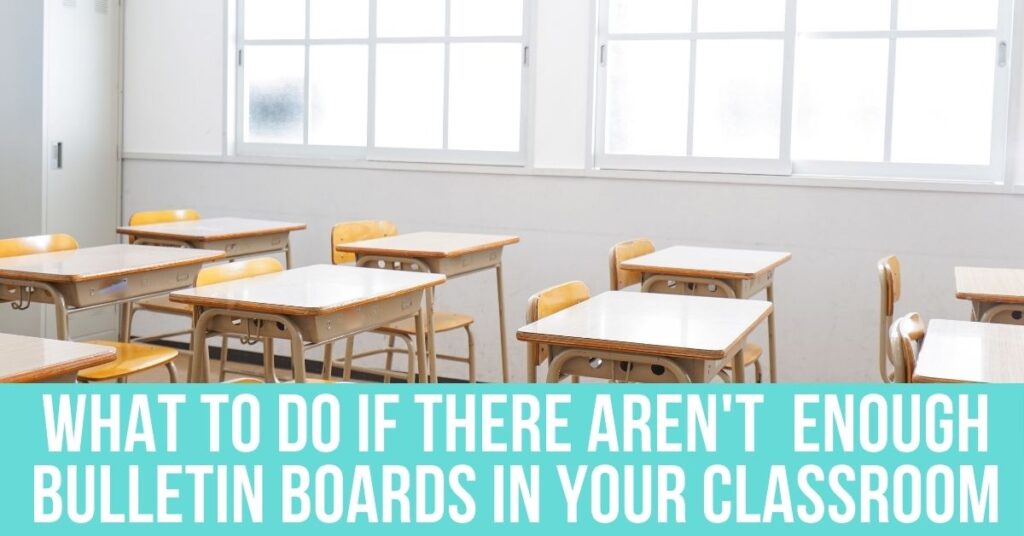 3 Bulletin Board Alternatives
Some elementary classrooms do not come with traditional bulletin boards on the walls. In this case, teachers need to get creative! Classroom walls look different across schools. When choosing a bulletin board alternative, be sure to think about your wall type. Here are 3 ideas to consider if you do not have a cork bulletin board:
1. Poster Board
Tape poster boards on your wall using painter's tape. Consider covering the painter's tape with a pretty board for a finished look.
2. Fabric Board
Tape fabric like a bed sheet on your wall. Be sure to consult with your admin or the fire codes before purchasing the materials for this project.
3. Trifold Board
Set up a trifold board on one of your tables, on top of bookcases, a cluster of extra desks, or another surface. You can even put the trifold board on the floor. This is a great option if it is very difficult to stick things to your walls.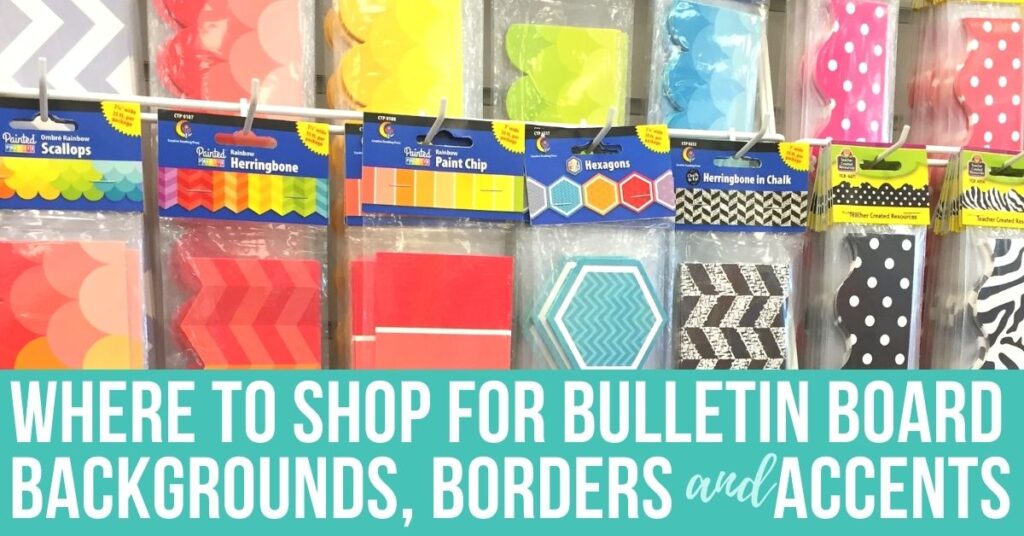 10 Best Places to Buy Bulletin Board Materials
Amazon

Target

Walmart

Hobby Lobby

Michaels

Joann's

A.C. Moore

Staples

Lakeshore

Local teacher shop
50+ Classroom Bulletin Board Ideas
Fall Bulletin Boards
Back to school (welcome, who's who, school theme, chalkboard theme

)

September (scarecrows, apple theme, sunflower theme

)

October (fall leaves, pumpkin, Halloween, monster theme)

November (kindness, gratitude, turkey, Thanksgiving)
Winter Bulletin Boards
December (Christmas, fireplace, gingerbread house, Grinch, reindeer, Elf, Elf on the Shelf, joy, around the world theme)

January (new year, snow, snowman, Olaf, penguin)

February (Black History Month, Valentine's Day)
Spring Bulletin Boards
March (St. Patrick's Day, Read Across America)

April (Easter, Earth Day, recycling theme, rainbow theme, kites, frog theme)
May (flowers, butterfly, bee theme, ladybug theme, garden theme, gnome theme, woodlands theme)
June (end of year, beach theme)
Any Time of Year Bulletin Boards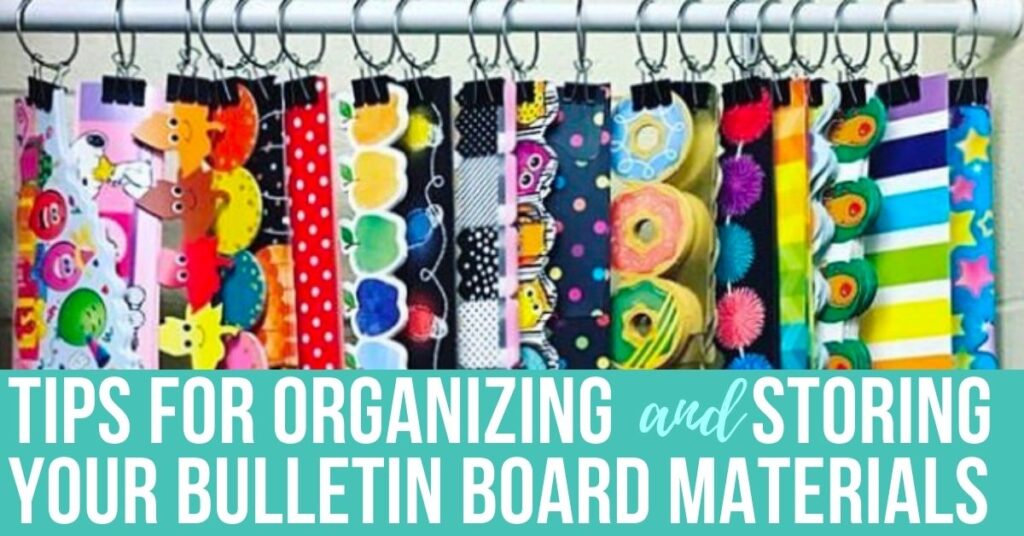 3 Bulletin Board Organization Ideas
Here are 3 bulletin board organization ideas for elementary teachers:
Store all of the reusable bulletin board materials in individual extra large Ziploc bags and label them with which bulletin board each one is for (e.g. spider unit bulletin board) so it can be used year after year. Items you might save are bulletin board letters and decorative accents like pennants.

Hang bulletin board border trim on command hooks on the non-student-facing side of a closet door or cupboard door.

Take pictures of your bulletin boards before taking them down and save them in a folder on your phone or computer so you can reference it when you go to recreate it the following school year.
Grab the Free Classroom Decor Guide!
We hope these classroom bulletin board ideas for school were helpful! Next, we would love for you to download this free Elementary Classroom Decor Guide, which offers more helpful tips and ideas for designing your classroom space!