A llama classroom theme is perfect for the teacher that loves bright colors, a playful feel and a boho vibe. This theme is usually paired with bright, neon colors like pink, aqua and lime green giving it a fun and energetic feel. It is easy to pair with other themes such as cactus and succulents making it easy to find a variety of decorations. This theme would be great for a foreign language classroom or dual language classroom because it allows you to represent different cultural decorations. Learn more about a llama classroom theme below and scoop up this llama classroom theme packet!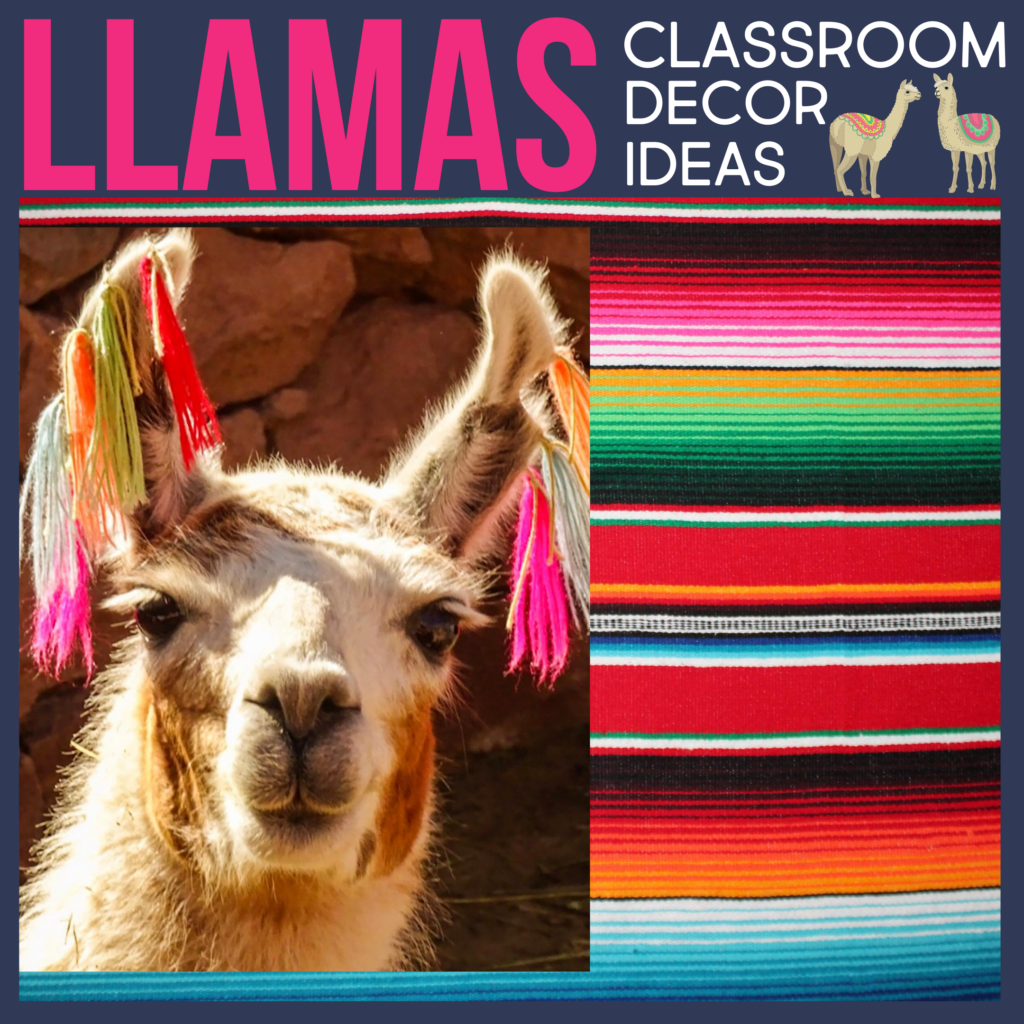 Llama Theme Bulletin Board Ideas
Below are some llama theme bulletin board ideas for elementary teachers.
Llama Bulletin Board Backgrounds
The pattern and colors of serape blankets go perfectly with a llama classroom theme. Considering hanging tablecloths or fabric with this print to decorate your bulletin board background. You could also hang bohemian tapestries. A colorful theme like this one also looks great with any bright colored paper that can be hung as a background.
Llama Bulletin Board Trim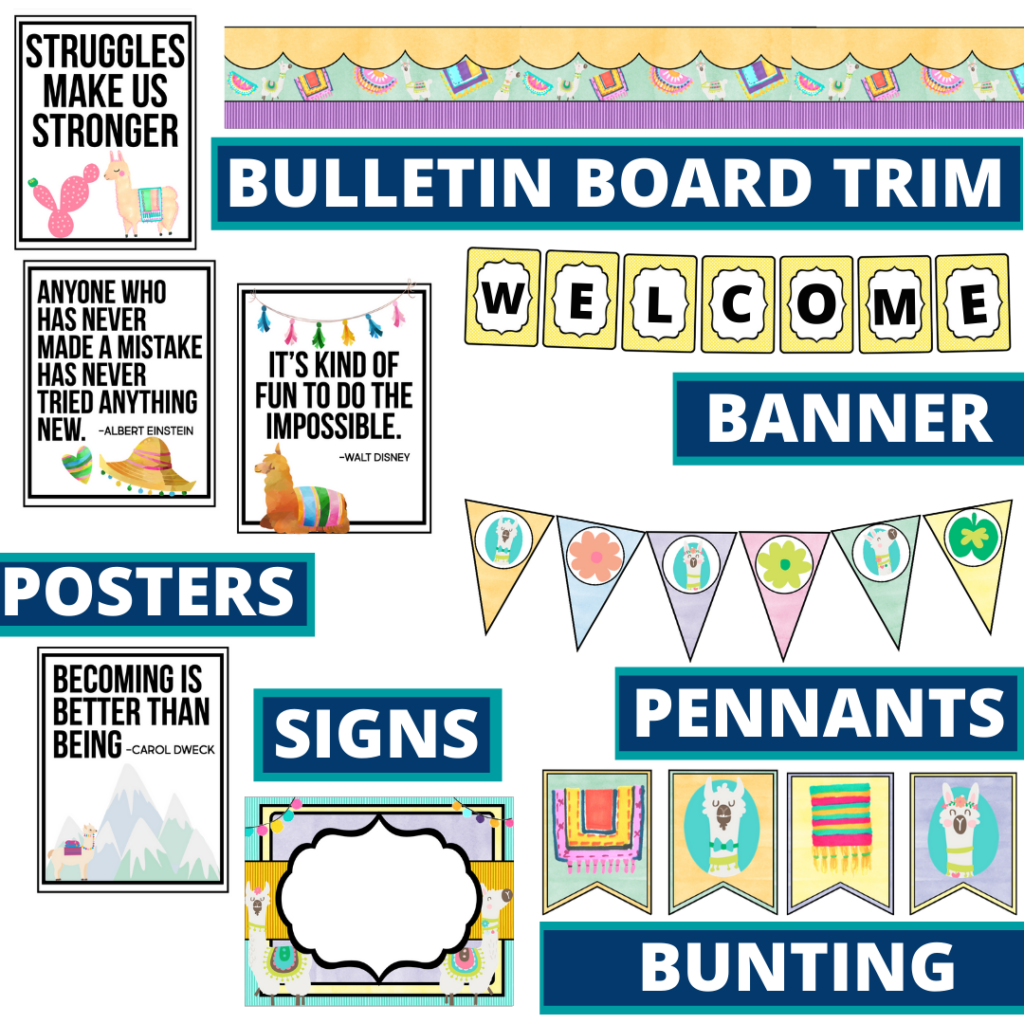 In addition to traditional border, put these items around the perimeter of your board.
Large, colorful pom poms
Colorful ribbon tassels
Create colorful flags out of square of tissue paper and cutting fringe at the bottom
Paper fringe
Strips of serabe fabric or tablecloth
Get these llama classroom decor printables!
Llama Bulletin Board Title Ideas
Put the phrase "A Llama Learning Happens Here" outside your classroom
Create a back to school bulletin board with student names titled "Llama Tell You About My New Friends"
Display student work with the titled "A Llama Great Work"
Create a math bulletin board to display work or vocabulary and name put the phrase "Math Prob-llamas" above
Display student birthdays and write the phrase "Let's Fiesta!"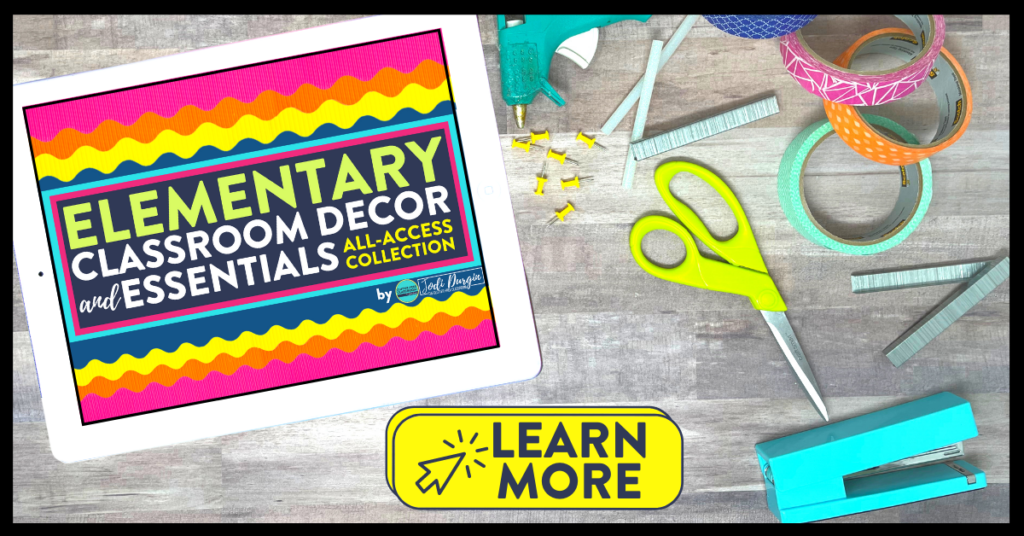 5 Ideas for a Llama Themed Classroom
Hang colorful tassels and bunting throughout the room for added decorations
Hang llama pinatas from the ceiling or place around the room
Place real or artificial cactus throughout the room
Serape blankets can be placed around the room for cozy places to sit with a book or flexible seating options
Hang or place brightly colored tissue paper flowers or pom poms around the room for added color

Themes to Pair Your Llama Theme With
Get access to all of the Clutter-Free Classroom decor themes and color schemes in the Elementary Classroom Decor Collection, including the ones listed below that pair really nicely with a llama theme.
Get Access to All 60+ Classroom Decor Packets |OR| Buy The Llama Theme Only
Get Access to All 60+ Classroom Decor Packets |OR| Buy The Llama Theme Only
Get Access to All 60+ Classroom Decor Packets |OR| Buy The Llama Theme Only
In closing, we hope you found these llamas classroom theme ideas helpful! If you did, then you may also be interested in the free llama planning organizer below as well as these classroom decorating posts: