Teachers love a rainbow classroom theme because it offers so much flexibility. It is each to find storage and decorations for this theme because you have so many color options. A rainbow themed classroom creates a bright, colorful learning environment for students. It is easy to create this theme by simply placing things in rainbow order around the classroom. Learn more about a rainbow classroom theme below and scoop up this rainbow classroom theme packet!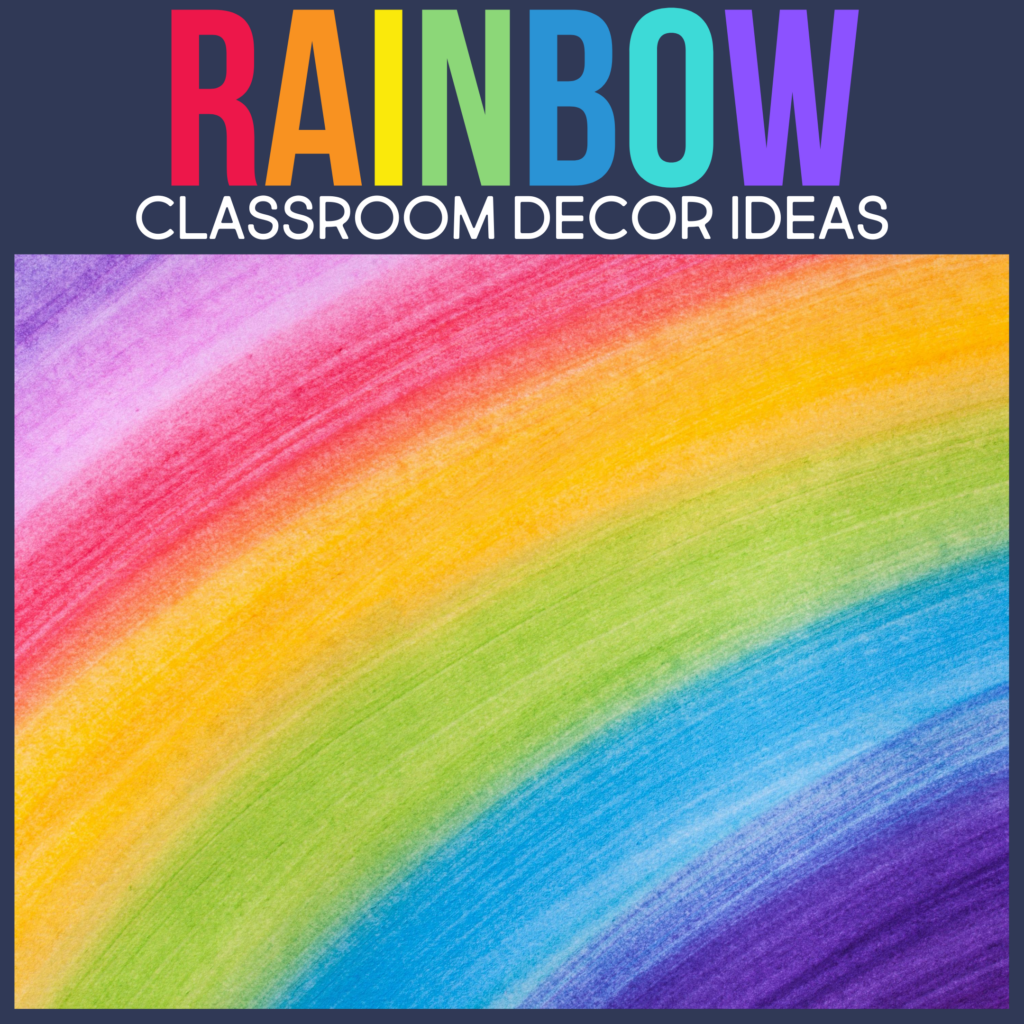 Rainbow Theme Bulletin Board Ideas
Below are some rainbow theme bulletin board ideas for elementary teachers.
Rainbow Bulletin Board Backgrounds
Get a variety of paint chips and create a collage as the background of your bulletin board. Make your own bulletin board paper by adding water colored paint to a roll of white paper. Tie dye a sheet a hang it as your bulletin board background.
Rainbow Bulletin Board Trim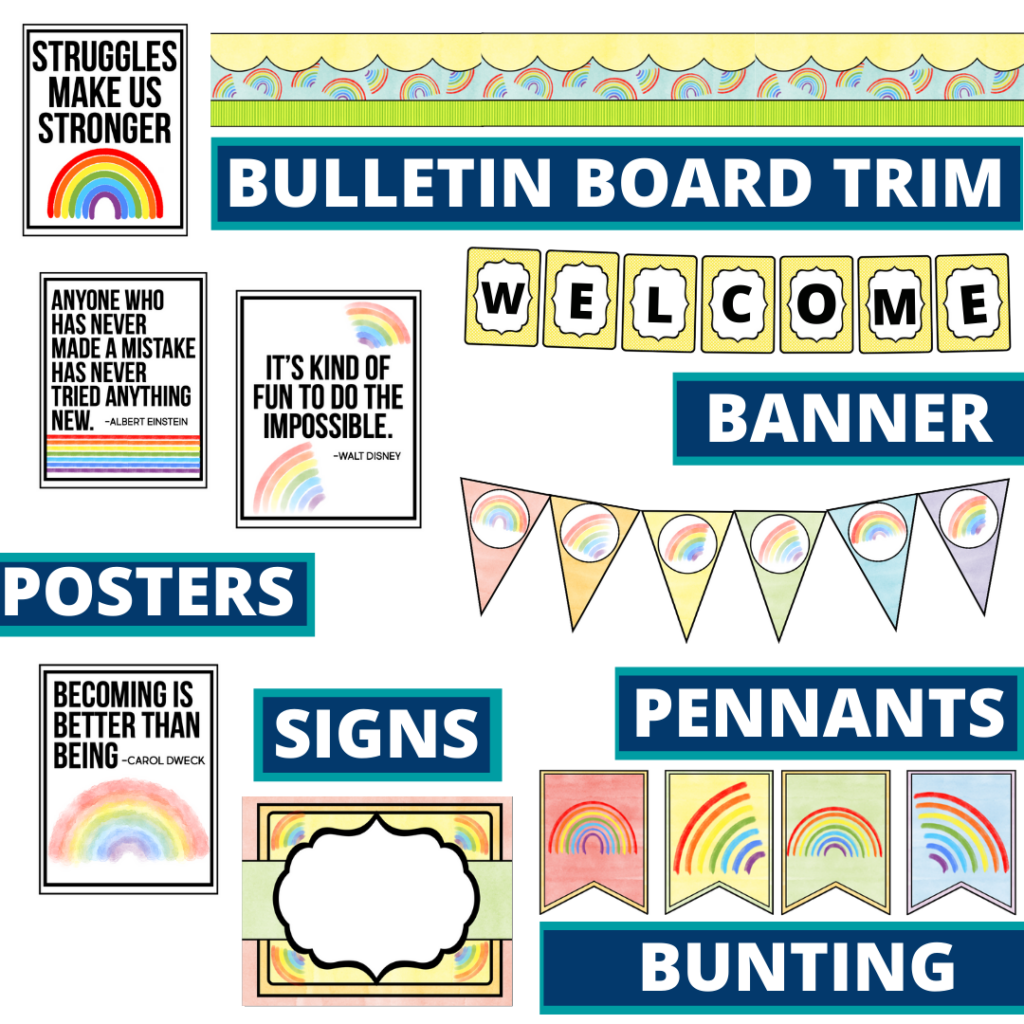 In addition to traditional border, put these items around the perimeter of your board.
use paint chips in a variety of rainbow colors
roll strips of colored paper into rings to add dimension to your border
a variety of different colored artificial flowers
rainbow printed ribbon
cut circles from different colored paper to trim your bulletin board
Get these rainbow classroom decor printables!
Rainbow Bulletin Board Title Ideas
Create a back to school bulletin titled "Get Ready for a Colorful Year"
Create a reading bulletin board display with pictures of different colors of books titled "Read the Rainbow"
Have students draw self portraits and title the display "Paint Your Own Rainbow"
Write the phrase "Learning is a Rainbow of Possibilities" on your door or entry way
Create a bulletin board about kindness titled "Be a Rainbow in Someone Else's Cloud"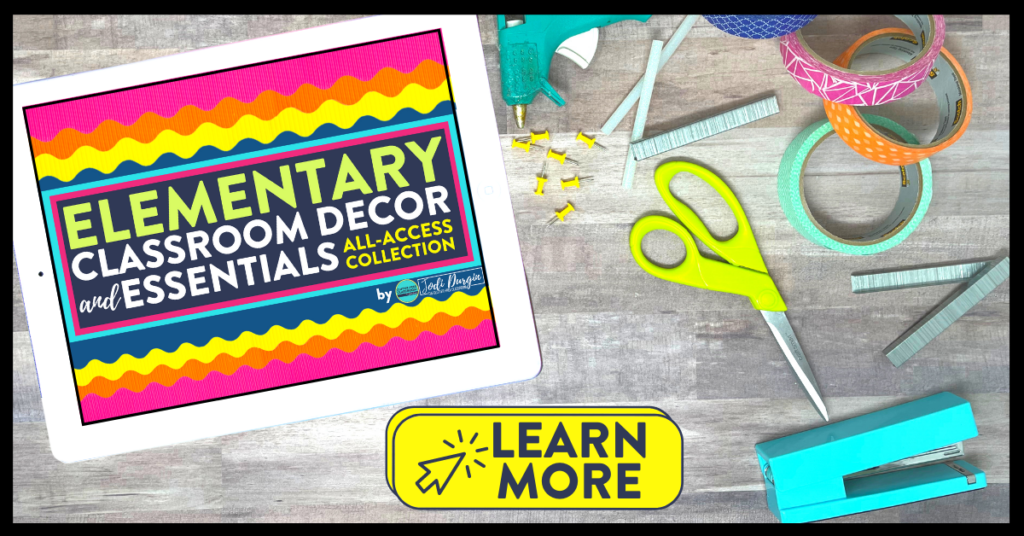 5 Ideas for a Rainbow Themed Classroom
Use colorful containers and put them in rainbow order around the room
Create a large rainbow on the wall using pool noodles
Hang different colored tulle or ribbon from paint buckets to look like color is pouring out
Hang colored streamers from the ceiling
Have students write their name on a paper cloud and write qualities about themselves on rainbow colored strips of paper

Themes to Pair Your Rainbow Theme With
Get access to all of the Clutter-Free Classroom decor themes and color schemes in the Elementary Classroom Decor Collection, including the ones listed below that pair really nicely with a rainbow theme.
Get Access to All 60+ Classroom Decor Packets |OR| Buy This Theme Only
Get Access to All 60+ Classroom Decor Packets |OR| Buy This Theme Only
Get Access to All 60+ Classroom Decor Packets |OR| Buy This Theme Only
In closing, we hope you found these rainbow classroom theme ideas helpful! If you did, then you may also be interested in the free rainbow planning organizer below as well as these classroom decorating posts: