A sports classroom theme is a popular choice for educators looking to create a cohesive and creative learning environment. A sports theme enables teachers to create a beautiful learning environment without being too "cutesy." It promotes teamwork and the sense of collaboration. Here you will find Sports classroom theme ideas and pictures to inspire teachers and homeschool families. You will feel organized and have your learning space looking amazing in no time! Learn more about a sports classroom theme below and scoop up this sports classroom theme packet!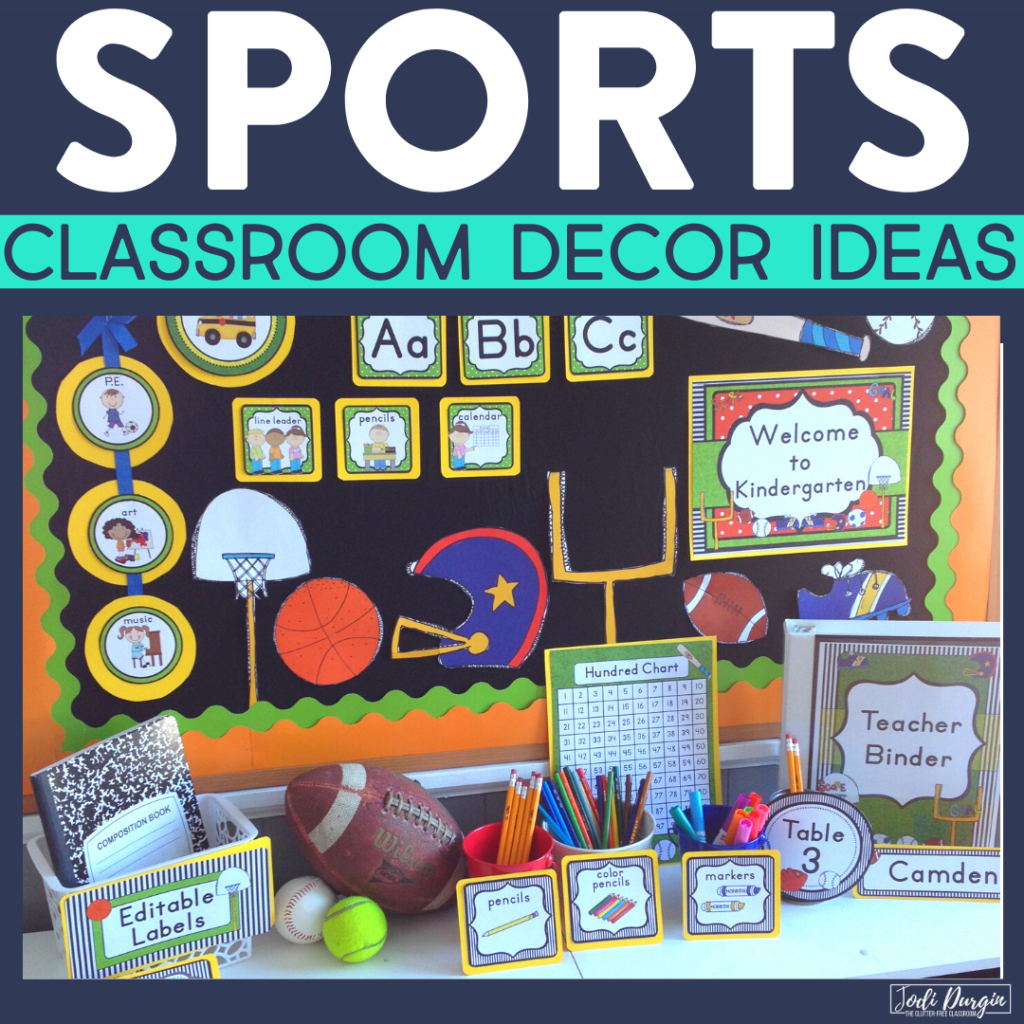 Sports Theme Bulletin Board Ideas
Below are some sports theme bulletin board ideas for elementary teachers.
Sports Bulletin Board Backgrounds
Consider using peel and stick parquet floor tiles to create an amazing looking bulletin board background that resembles a basketball court. Another idea is to use an artificial grass carpet, which looks like athletic fields. If you prefer to keep it simple and use solid color fabric or butcher paper for your bulletin board backgrounds, we recommend going with the colors brown, black, or green.
Sports Bulletin Board Trim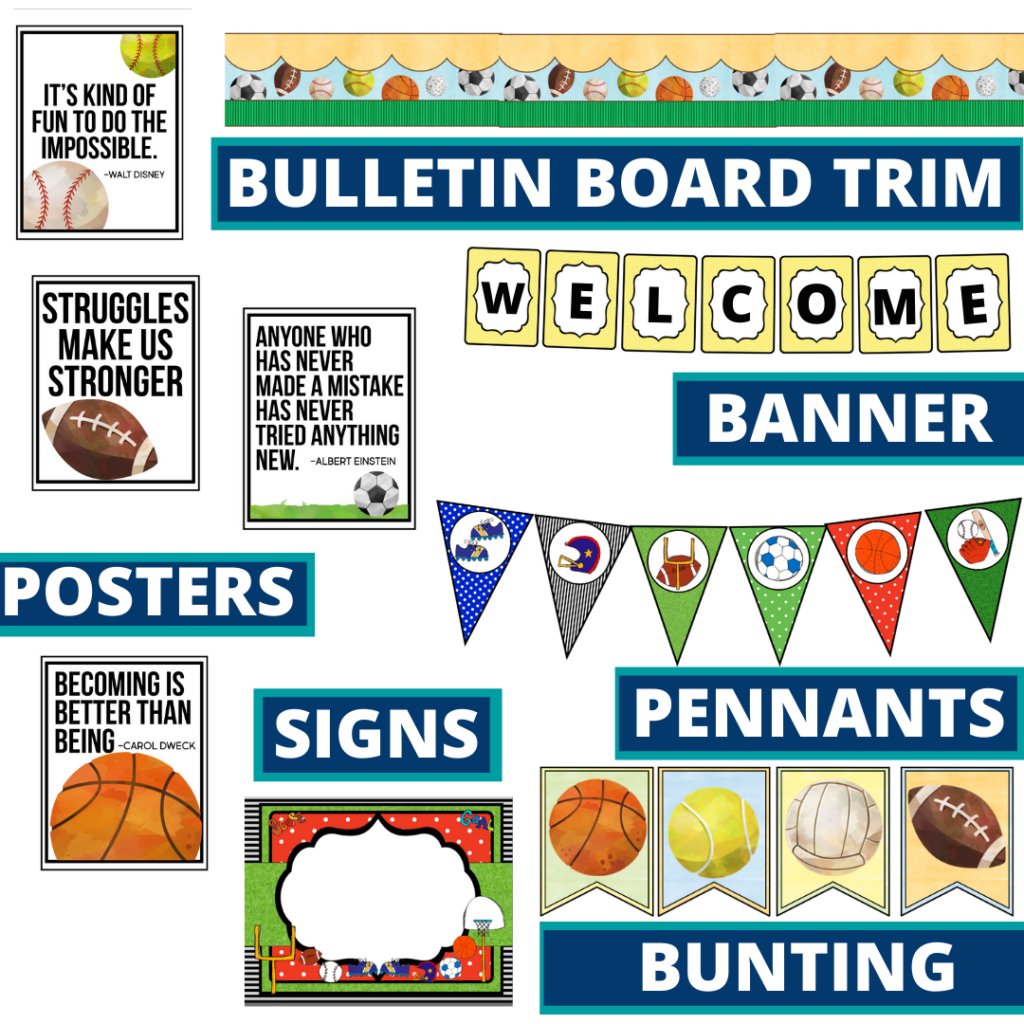 In addition to traditional border, put these items around the perimeter of your board.
green grass
jersey material
award ribbons
different logos of sports teams printed out
black and white referee stripes
Get these sports classroom decor printables!
Sports Bulletin Board Title Ideas
Add baseball accents to your student job board and title it "Pitch In!"
Name your guided math teams or reading groups after local sports teams.
Use the acronym T.E.A.M. (Together Everyone Achieves More) as a class motto.
Title your welcome board "Shoot for Success."
When creating your own titles, use words like park, slide, or homerun.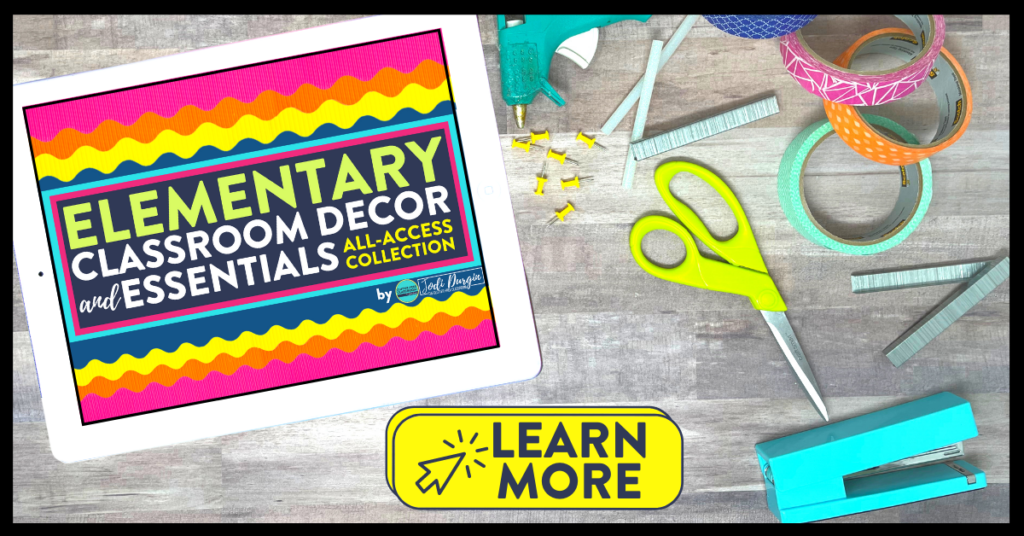 5 Ideas for a Sports Themed Classroom
Sports are a popular birthday party theme so you may have great success looking at your local party store for decorative accents.
Take pictures of the students wearing gear from their favorite sports teams and use those photos as labels for lockers/cubbies, student work boards, or simply display them in your room.
Make a display to post your learning goals that includes hockey and soccer.
Use foam pool noodles to create a football goal post.
Refer to tables or groups of students as teams.

Themes to Pair Your Sports Theme With
Get access to all of the Clutter-Free Classroom decor themes and color schemes in the Elementary Classroom Decor Collection, including the ones listed below that pair really nicely with a sports theme.
Get Access to All 60+ Classroom Decor Packets |OR| Buy The Sports Theme Only
Get Access to All 60+ Classroom Decor Packets |OR| Buy The Sports Theme Only
Get Access to All 60+ Classroom Decor Packets |OR| Buy The Sports Theme Only
Sport Themed Classroom Pictures
The sports theme bundle includes BOTH the original version (shown below) and the newly updated version (shown above). In the newer version, we used all new clipart which includes much more diverse characters. Also, we made the entire bundle 100% editable so not only can you customize it with your students' names and details specific to your classroom, you can now translate EVERYTHING into other languages too. This has long been a request from teachers of ELLs and immersion classrooms. Both versions are available in the Elementary Classroom Decor Collection.
Get Access to All 60+ Classroom Decor Packets |OR| Buy The Sports Theme Only
Get Access to All 60+ Classroom Decor Packets |OR| Buy The Sports Theme Only
In closing, we hope you found these sports classroom theme ideas helpful! If you did, then you may also be interested in the free sports planning organizer below as well as these classroom decorating posts: