Teachers that are looking to create a classroom that has a natural, calm and simple feel will love a eucalyptus classroom theme. This plant is known for promoting relaxation so it is the perfect theme for any teacher that wants to feel relaxed while at school. One reason to love this theme is it can easily be paired with other decorations when you want to change things up. A eucalyptus theme is a great way to make your room feel rustic yet modern. Learn more about a travel classroom theme below and scoop up this eucalyptus classroom theme packet!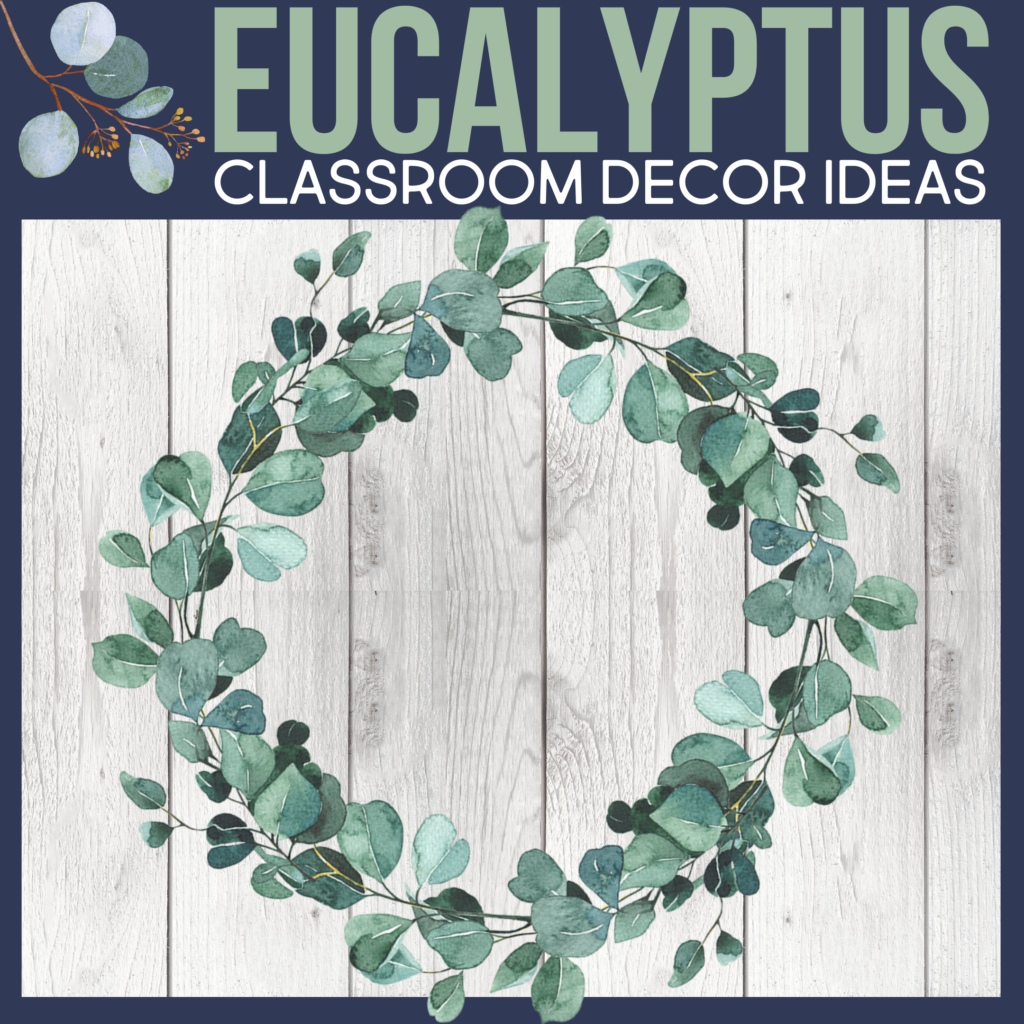 Eucalyptus Theme Bulletin Board Ideas
Below are some eucalyptus theme bulletin board ideas for elementary teachers.
Eucalyptus Bulletin Board Backgrounds
If you are going to use paper as a bulletin board background, consider using a rustic wood paper to compliment this theme. Use a black and white buffalo print fabric to cover your bulletin board. Hanging linen fabric, solid or printed, as a bulletin board background looks great with this theme.
Eucalyptus Bulletin Board Trim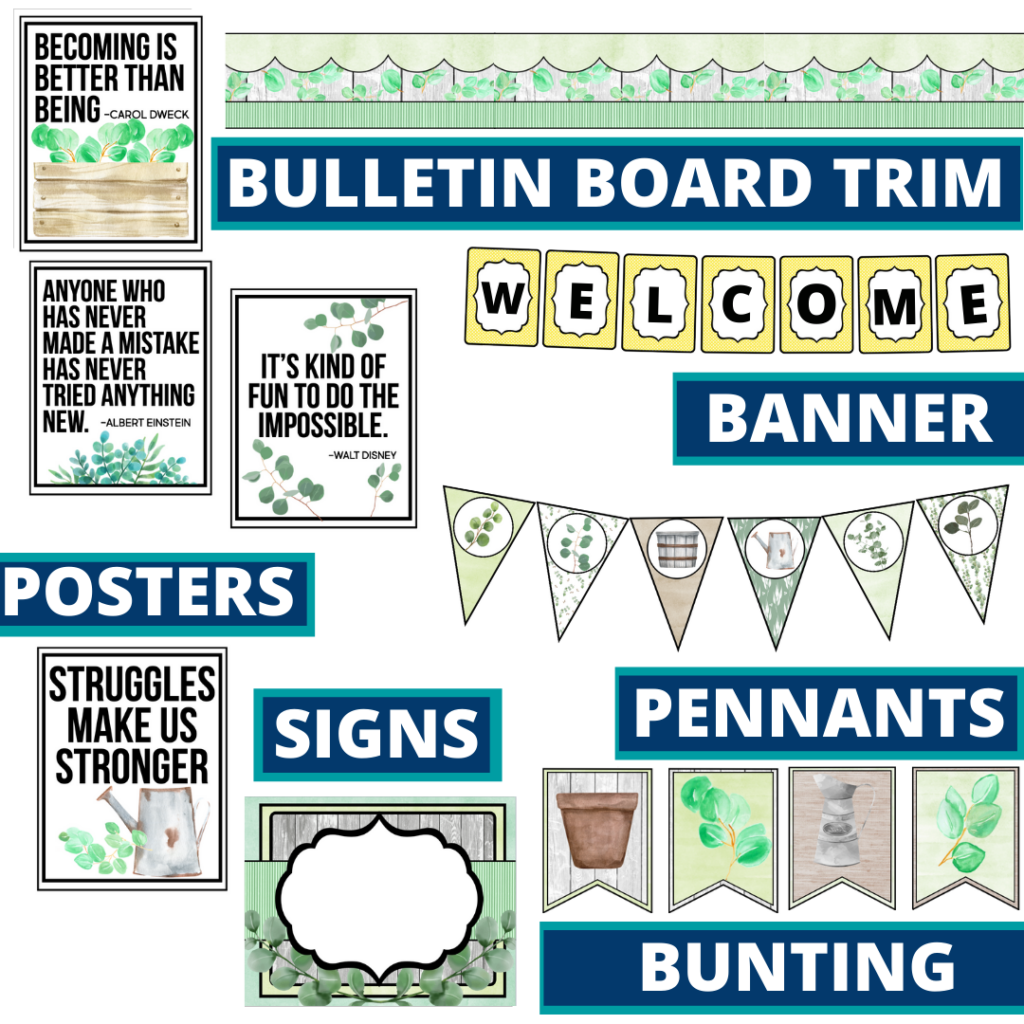 In addition to traditional border, put these items around the perimeter of your board.
eucalyptus garland
buffalo print ribbon
burlap ribbon
natural colored tassels
strips of rustic wood paper
Get these eucalyptus classroom decor printables!
Eucalyptus Bulletin Board Title Ideas
Write the phrase "Welcome to Our Happy Place" on your classroom door
Add the words "Each Day is a Fresh Start" to your classroom calendar area
Write "Learning Blooms Here" on your classroom door
Add the phrase "Branch Out With a New Book" to your classroom library
Create a back to school bulletin titled "Amazing Students Grow Here"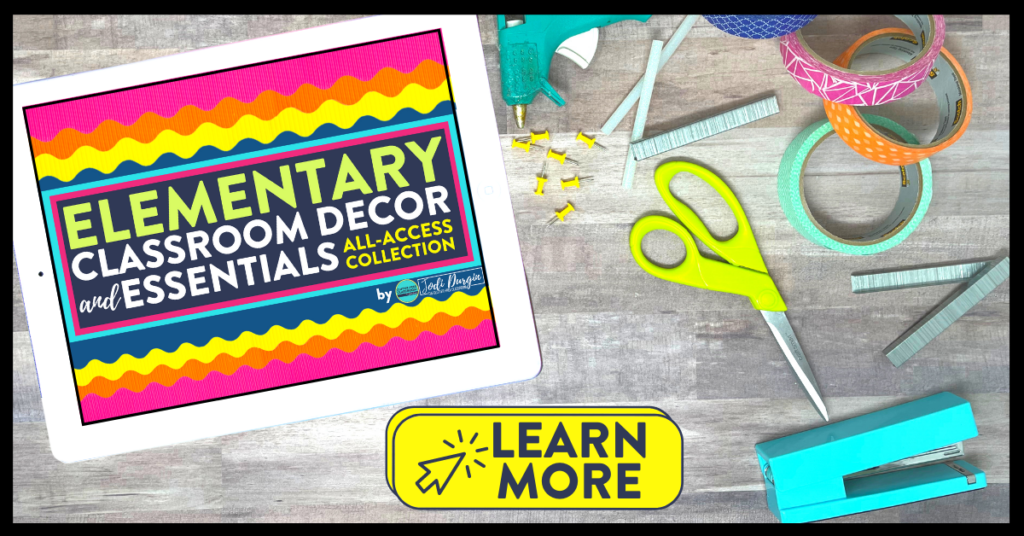 5 Ideas for a Eucalyptus Themed Classroom
Hang a eucalyptus wreath on your classroom door
Place vases with eucalyptus leaves around the room
Keep your room smelling fresh with a eucalyptus room spray
Continue the rustic feel by using galvanized buckets and wooden baskets for storage
Consider using eucalyptus essential oils in your room if your district allows

Themes to Pair Your Eucalyptus Theme With
Get access to all of the Clutter-Free Classroom decor themes and color schemes in the Elementary Classroom Decor Collection, including the ones listed below that pair really nicely with a eucalyptus theme.
Get Access to All 60+ Classroom Decor Packets |OR| Buy The Eucalyptus Theme Only
Get Access to All 60+ Classroom Decor Packets |OR| Buy The Eucalyptus Theme Only
Get Access to All 60+ Classroom Decor Packets |OR| Buy The Eucalyptus Theme Only
In closing, we hope you found these eucalyptus classroom theme ideas helpful! If you did, then you may also be interested in the free eucalyptus planning organizer below as well as these classroom decorating posts: