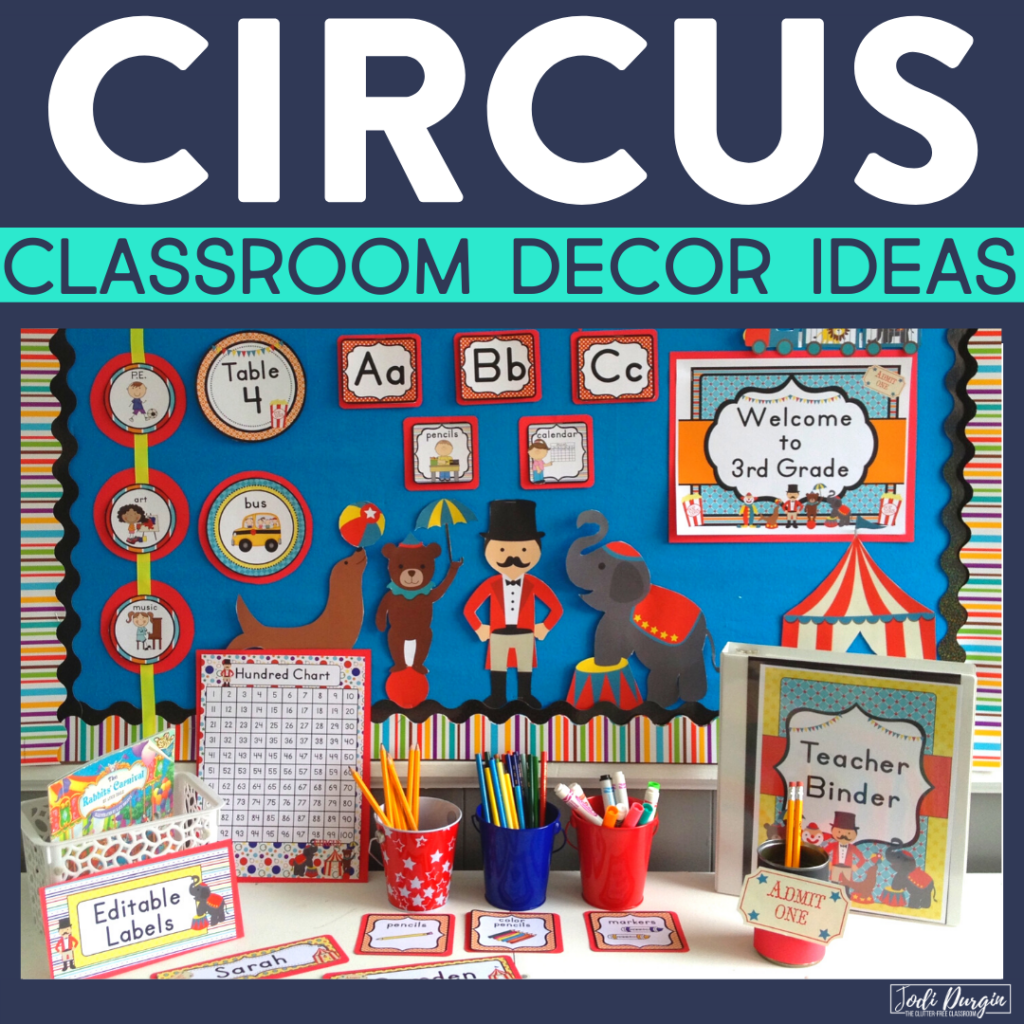 Are you planning a circus themed classroom or thematic unit? This blog post provides great decorating tips and ideas for the best circus theme yet! It has photos, ideas, supplies & printable classroom decor to will make set up easy and affordable. You can create a circus theme on a budget!
A Circus Theme Classroom is a popular choice for educators looking to create a cohesive and creative learning environment. It appeals to both elementary and older students.  Here you will find Circus Classroom Theme ideas and pictures to inspire teachers and homeschool families.  You will feel organized and have your learning spaces looking amazing in no time! Best of all it can be done on a budget. Below you will find:
Circus theme bulletin boards and phrases
a compilation of inspiring Circus classroom theme pictures 
10 tips for setting up a classroom with a Circus theme
quick, easy & editable Circus theme classroom essentials
links to related decor items 
free classroom theme printables to help you get organized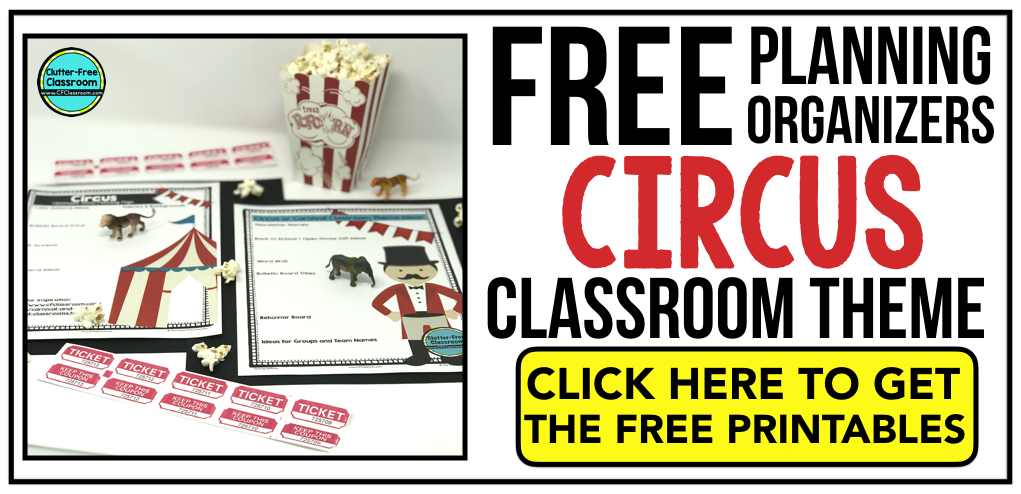 Circus Classroom Theme Pictures
Free Circus Classroom Theme Printables
Items to Complement a Circus Theme Classroom
Clicking on the images below will take you to an affiliate link where you can order any of these items and have them delivered to your door to enhance your themed classroom. If you are an Amazon Prime member you'll even get free shipping!
Related Resources
Circus Themed Books to Read Aloud & Display
Circus Classroom Theme Pictures
Have you visited the Clutter-Free Classroom Theme and Color Scheme page yet? What are you waiting for? Click here to see photos & get ideas for 40 different classroom themes!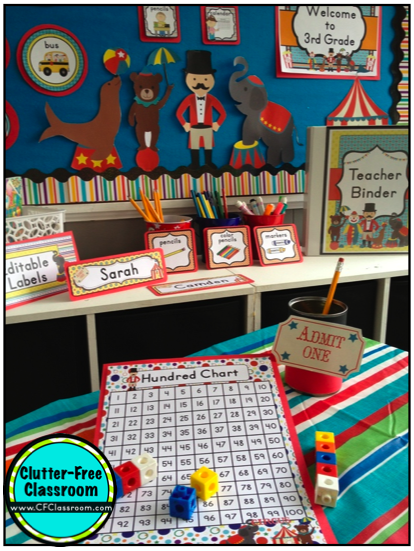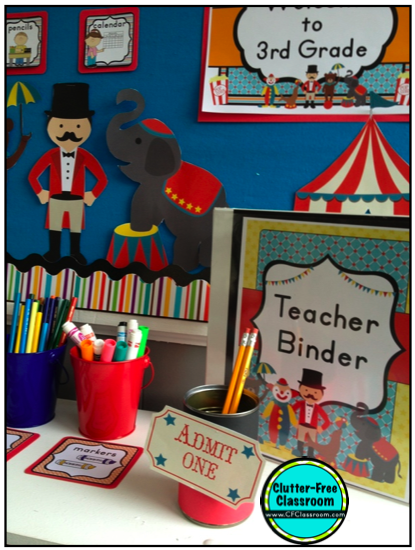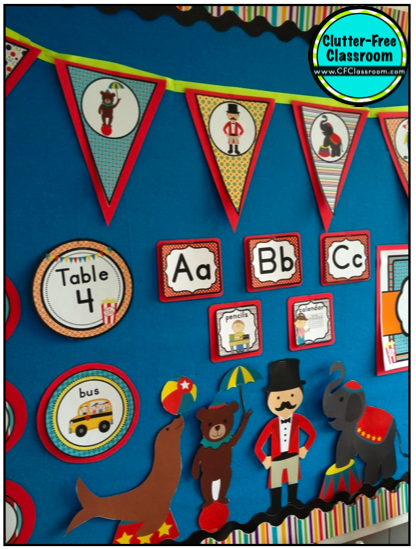 BACKGROUNDS:
use fabrics in fun, bright colors (aqua complements red and white striped accents very nicely without being visually distracting)
BORDERS:
red and white streamers
add clown-looking party hats around the perimeter of a board
tickets
hot glue colorful, fuzzy pom poms to bright, solid-color borders
TITLE SUGGESTIONS:
Step Right Up to ________
Welcome to the Greatest Class on Earth
Class Clowns (with pictures of students in clown hats)
Come One, Come All to ____
Get Your Ticket To ____
Seal of Approval (student work board)
Flying High in ___ with trapeze
___ Grade: A Ride of a Lifetime
Keep Your Eye on the Prize
ADDING ANY OF THE FOLLOWING WILL HELP ENHANCE YOUR THEME:
popcorn buckets
colorful pennant banners
marquee lights
have the students make animal crafts to display around the room
clown wigs
stuffed animals found in a circus
hang a tight rope and trapeze from the ceiling (just not low enough for students to reach)
make a "ring of fire" by attaching fire-colored tissue paper around a hula hoop
paper mache over balloons that have been twisted into balloon animals and paint them bright colors
Use the plastic popcorn buckets readily found at dollar stores to hold classroom library books and supplies.
Use tickets redeemed for carnival-type prizes as a behavior incentive program.
This bundle contains 34 coordinating products that will allow you to design an amazing, personalized beach themed classroom for very little cost. The bundle includes several editable files so you may use your own fonts and colors to customize nameplates, cubby labels, name tags, binder covers, newsletters, dismissal cards, schedule cards and more. You'll receive all of the items shown below:
Click to visit the Classroom Themes Page featuring free ideas for almost 40 of the most popular classroom themes and color schemes.
Improve your classroom organization, management and teaching with: