A camping classroom theme helps you create a nature-inspired elementary classroom. Your students will feel like they are going on a fun adventure in the summer to the forest whenever they enter your classroom! Teachers love this theme because it's simple and can be done on a budget by pulling in natural elements like pinecones, acorns, leaves, and sticks. You can also bring camping items from home, which makes it so you won't need to store your camping gear in your house during the school year. That's a win-win! This theme works well for both lower and upper elementary classroom decor. Learn more about a camping classroom theme below and scoop up this camping classroom theme packet!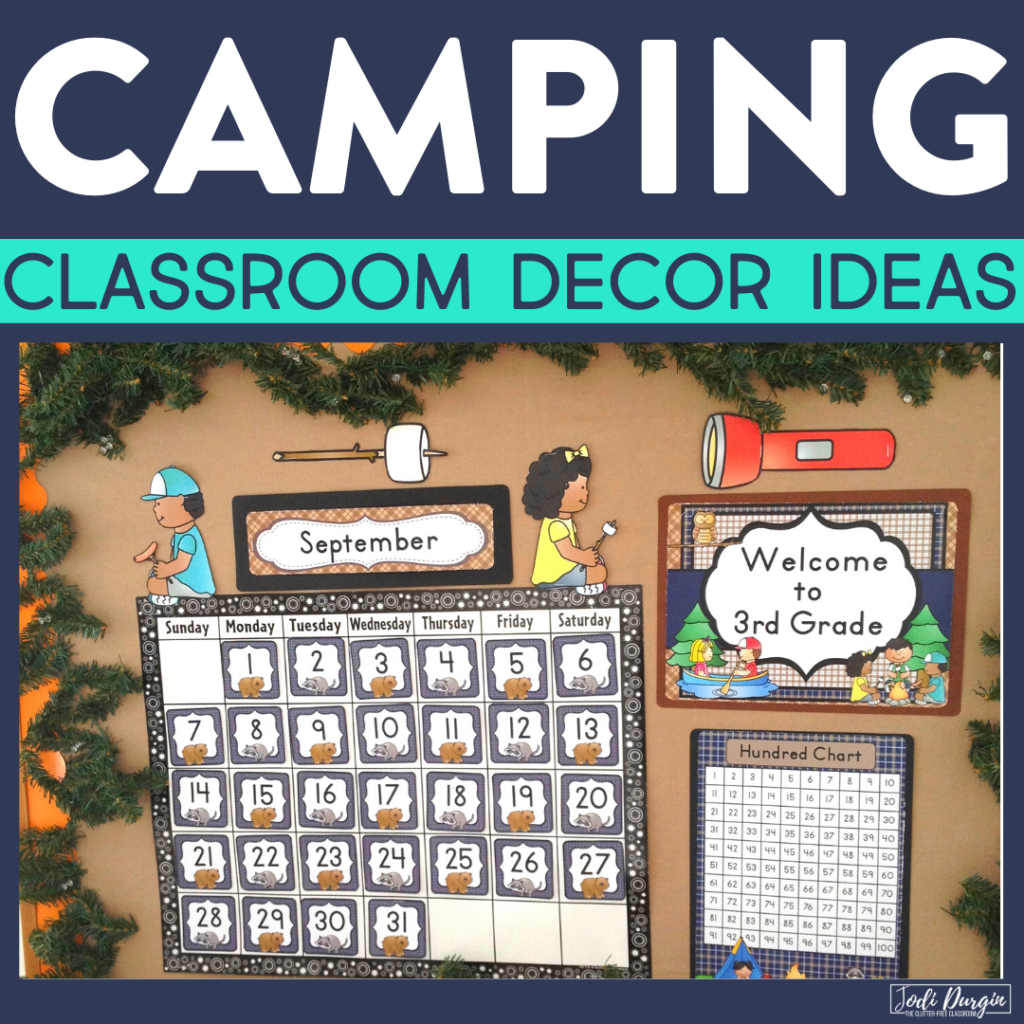 Camping Theme Bulletin Board Ideas
Below are some camping theme bulletin board ideas for elementary teachers.
Camping Bulletin Board Backgrounds
You can contact various parks and request trail maps that you can be used as bulletin board backgrounds. You can also use burlap, flannel and denim as bulletin board backings to create a rustic DIY vibe. If you choose to use fabric as your bulletin board background, natural tones like brown, green and beige provide a nice neutral backdrop.
Camping Bulletin Board Trim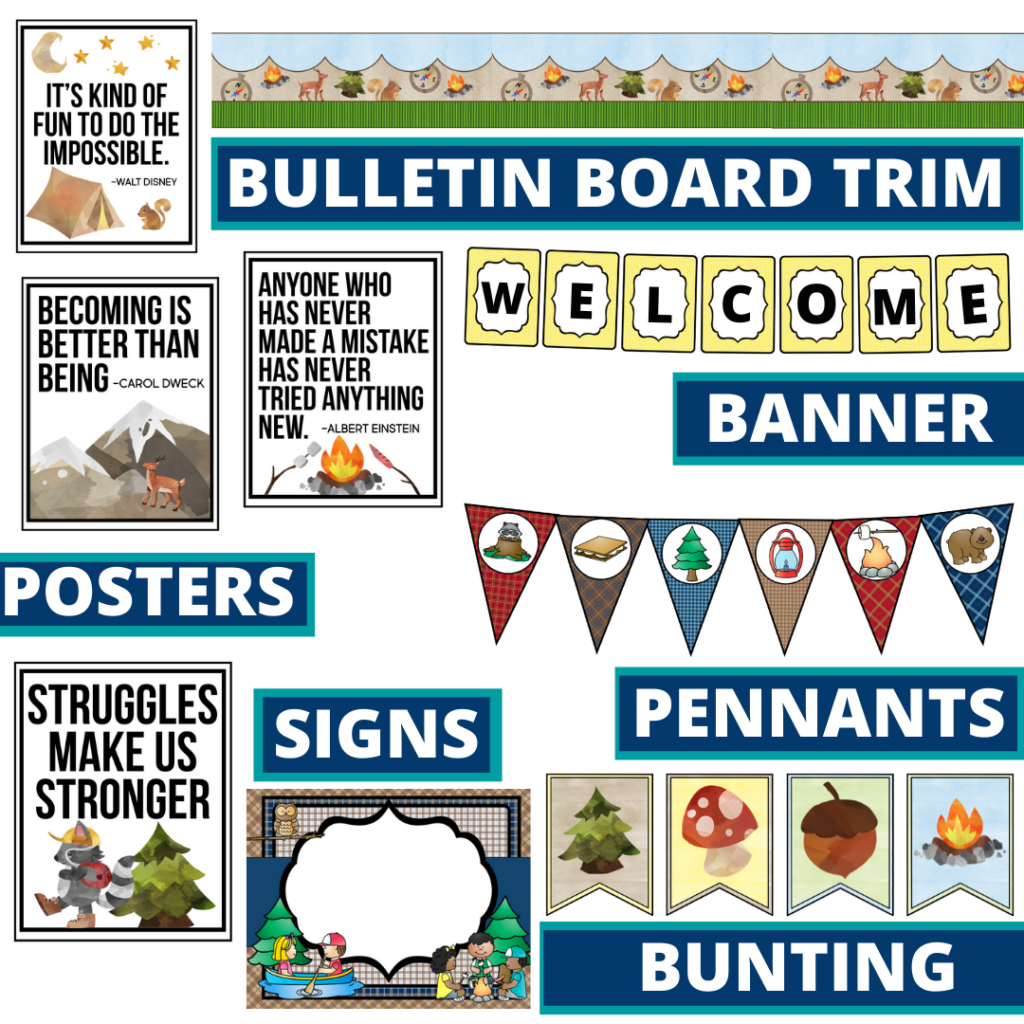 In addition to traditional boarder, put these items around the perimeter of your board.
pine Christmas garland
scrunched-up burlap
wrinkled brown construction paper
green tissue paper
leaves
Get these camping classroom decor printables!
Camping Bulletin Board Title Ideas
"S'more Good Work"
"Camp Out With a Good Book"
"Fired up for (grade)"
"Welcome Happy Campers"
When creating your own titles, use words like s'more, fire or adventure.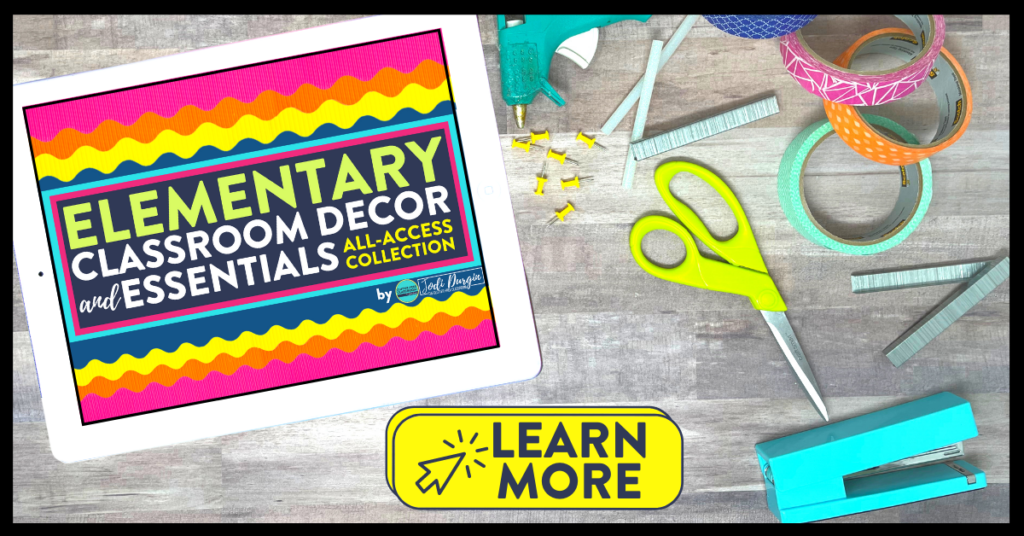 5 Ideas for a Camping Themed Classroom
Hang fishing bobs and fish cutouts from some fishing line attached to the ceiling.
Bring in coolers, artificial Christmas trees, sleeping bags, a small tent and camping chairs.
Set up a display of books that relate to the theme by standing them on a counter or shelf.
Take pictures of the students wearing plaid shirts and tan "camper hats" and use those photos as labels for lockers/cubbies, student work boards, or simply display them in the classroom.
Use fishing buckets to hold supplies.

Themes to Pair Your Camping Theme With
Get access to all of the Clutter-Free Classroom decor themes and color schemes in the Elementary Classroom Decor Collection, including the ones listed below that pair really nicely with a camp theme.
Get Access to All 60+ Classroom Decor Packets |OR| Buy The Camping Theme Only
Get Access to All 60+ Classroom Decor Packets |OR| Buy The Camping Theme Only
Get Access to All 60+ Classroom Decor Packets |OR| Buy The Camping Theme Only
Camping Classroom Theme Pictures
The camping classroom theme bundle includes BOTH the original version (shown below) and the newly updated version (shown above). In the newer version, we used all new clipart which includes much more diverse characters. Also, we made the entire bundle 100% editable so not only can you customize it with your students' names and details specific to your classroom, you can now translate EVERYTHING into other languages too. This has long been a request from teachers of ELLs and immersion classrooms. Both versions are available in the Elementary Classroom Decor Collection.
Get Access to All 60+ Classroom Decor Packets |OR| Buy The Camping Theme Only
Get Access to All 60+ Classroom Decor Packets |OR| Buy The Camping Theme Only
In closing, we hope you found these camping classroom theme ideas helpful! If you did, then you may also be interested in the free camping planning organizer below as well as these classroom decorating posts: