If you are a 2nd, 3rd, or 4th grade teacher looking for a spiders unit or spider activities for elementary students, then you found the right place! This integrated science and literacy thematic unit provides teachers and students with a complete collection of printables for a two-week study of spiders. You will have what you need to plan and deliver an excellent spider unit! More importantly, your students will be highly engaged in their learning. This is especially important during a time of year when their thoughts drift off to their Halloween costume, candy and trick or treating. Who can blame them? Halloween is such a fun time of year of kids!
I use this spider unit in my classroom as a two week unit prior to reading Charlotte's Web. Check out these Charlotte Web activities if you'd like to do the same! This unit is a great option for October. You can use it any time of year though. In October, your students are motivated by anything spooky! If your school does not allow Halloween in the classroom, you will find that this is a great way to keep your students engaged without mentioning the holiday. Learn more about these spider activities for elementary students below!
This post answers the following questions:
What is this spider unit resource?
What is included in this spider unit?
Why should I use this spider unit in my classroom?
What is this Spider Unit Resource?
This spider research unit integrates science, reading, and writing through standards-based lessons and activities. The resources cover topics ranging from parts of a spider to facts about its life cycle. The unit can be used as a stand alone unit or a supplemental resource.
There is little to no prep involved. There are just optional anchor charts. You do not have to make them thought! All you'll need to add to this unit is a collection of books on the topic. Your students will use these for their research. I've even included tips on easily acquiring books and resources in the packet. I tried to make it as easy as possible for you!
What's included in this Integrated Spider Unit?
This spider unit includes tons of resources! You will have everything you need for your planning and instruction. Everything will be at your fingertips! The following components are included in the unit:
Teacher Guide
The teaching guide outlines a two-week pacing plan. Additionally, it details the best way the materials can be used. This is a huge time saver for when you are planning your spider unit!
Sample Charts and Displays
I used the printables included in this packet to create charts with my class. I took photographs of them so you can reference them when you create your own. This takes out all of the guesswork of what they should look like!
Tips for Gathering Resources
This page suggests ways to easily acquire books and other resources to use. This is another big time saver for teachers!
Facts and Information about Spiders
This information will equip you with the background knowledge on the topic that you need to teach it. You won't have to spend hours researching information about spiders. No more Googling and jumping from website to website. It's all there for you! You won't have to look at any gross pictures of spiders either. That's a win in and of itself!
Non-Fiction Scavenger Hunt
The scavenger hunt familiarizes students with the elements of non-fiction that will be helpful to them when conducting research and learning about the topic. Your students will have the opportunity to move around the room. They will love it! It is especially helpful for students who need body breaks!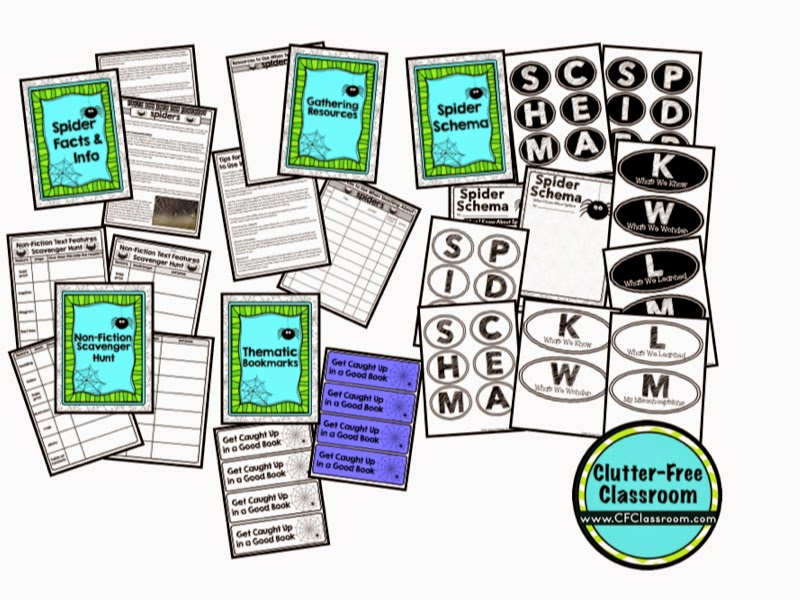 Thematic Bookmarks
There are both color and ink-saving versions of student bookmarks. You can choose which one you like best!
Schema Materials
The schema materials include individual student charts and materials to create collaborative classroom displays. These will help you document what your students know, wonder, and learn. Additionally, it helps address any misconceptions students might have. This makes a great classroom bulletin board display!
Read to Find Out Activity
This activity sets a purpose for reading by having students list their questions prior to beginning the study. They record the answers as they discover them. It helps with reading comprehension!
Nouns, Verbs, and Adjectives Chart
This chart assists students in brainstorming related vocabulary. Your students will really enjoy this activity! It really gets their wheels turning!
Can, Have and Are Charts
These Can, Have and Are charts help students' organize their thinking. Additionally, it assists with their writing. These types of charts are a fun way to look at things.
Vocabulary Activities
The vocabulary activities include word cards with and without definitions for a classroom display, individual student charts, and a student created booklet. They provide students opportunities to illustrate words, use them in context, define them and explain their meaning in their own words. These activities make learning vocabulary fun!
Word Study Activities
These activities invite students to alphabetize and sort the words by syllables to strengthen their dictionary and spelling skills. Your students will really enjoy these activities.
Labeled Diagram Activities
These activities include several options for working with diagrams. Diagrams help students better understand the topic and any related vocabulary. One option is that students can label the images. A second option is that they can illustrate and label them on their own. A third option is to use the materials to create a classroom display. You can choose which option works best for you and your students!
Venn Diagram
This compare and contrast activity encourages students to deepen their understanding of the topic by finding the similarities and differences between the subject and related things. This is a very valuable skill!
Facts and Opinions Activity
This activity is great for independent work or as a center. It provides students with the option of sorting pre-written statements related to the topic or brainstorming and listing their own. You can determine which option works better for your and your students.
Prompt Cards for Discussion or Journaling
Students can use these prompt cards for partner or group discussions on the topic. They will share ideas based on both their own thoughts and opinions and ideas gained from research. The cards are great journal prompts too. You have the flexibility to use them how you think is best.
Life Cycle Activities
Students use these activities to research, illustrate, discuss and write about the life cycle. Your students will really enjoy this portion of the unit!
Informational Writing Printables
These printables include a large collection of differentiated materials to take students through the writing process. They include graphic organizers, two-column notes, top-down webs, drafting paper, planners, and thematic final copy writing paper. You'll have everything you need for your students to go through the full writing process!
The Important Book Activity
This activity is inspired by The Important Book by Margaret Wise Brown. It serves as an informal assessment to evaluate student knowledge of the topic. Additionally, it is ideal for creating a class book.
Digital Resources
The digital resources make it so students can complete the activities at school or home. You can determine what works best for you and your students!
5 Reasons You'll Love These Spider Activities for Elementary Students
This resource is standards-based and integrates multiple subject areas.
The activities were designed to be open-ended for easy differentiation and modification.
It is a great way to celebrate Halloween without actually referencing the holiday. The lesson ideas and activities are purposeful and engaging learning opportunities.
This unit is incredibly comprehensive. You'll have plenty of materials to teach the reading, writing and science concepts and skills addressed in this packet.
It includes digital resources. This makes it so your students can access it at home or in school.
In closing, I hope you found this information about these spider activities for elementary students helpful. This unit is a favorite in my classroom every year. Both my students and I really enjoy it! I look forward to it every October. And I know you will too! You can learn more about this unit by heading over here: Spider Unit.