If you are looking for spring wall display ideas for your elementary classroom, then you found the right place! This post shares some unique ideas to consider when planning out and assembling your spring bulletin board.
I hesitate to write this for fear of jinxing it, but… I think spring has finally sprung in these parts.
I've worn sandals for the past two days. Admittedly, my toes were a bit chilly, but I do think the winter is behind us. If you've been reading my blog throughout the school year you may remember that I've been documenting my students' writing progress with seasonal writing projects. The difference between their fall writing and their winter writing and these spring writing pieces had me grinning from ear to ear. I'm so proud of their progress and this project certainly showcases how much they have grown. I can't wait to see their summer writing!
My completed bulletin board also makes me smile. I had been craving bright and cheerful colors as winter comes to a close. Check out the spring wall display ideas below!
Spring Wall Display Ideas
Below are some ideas to consider for your Spring bulletin board wall display.
1. Use paint chips as a border.
One of my favorite spring wall display ideas is to use pain chips as the border. I used them for my St. Patrick's Day bulletin board as well.
I always feel the need to add in a disclaimer when I suggest anything that involves paint chip samples. If you ask the manager of Home Depot or Lowes, they are typically more than happy to let you have all of the samples you want/need for anything school-related. I've found Home Depot in particular to be very generous with project supplies. Please ask before you take. 🙂
With that being said, I'm really happy with how my latest bulletin board turned out using the paint chips as the border. I've been craving color lately!
I was going to change out the paint chip border that I originally put up for my St. Patrick's Day bulletin board. I then left it up for my 2D Geometry bulletin board. It seemed like it worked well for this display as well so I left it.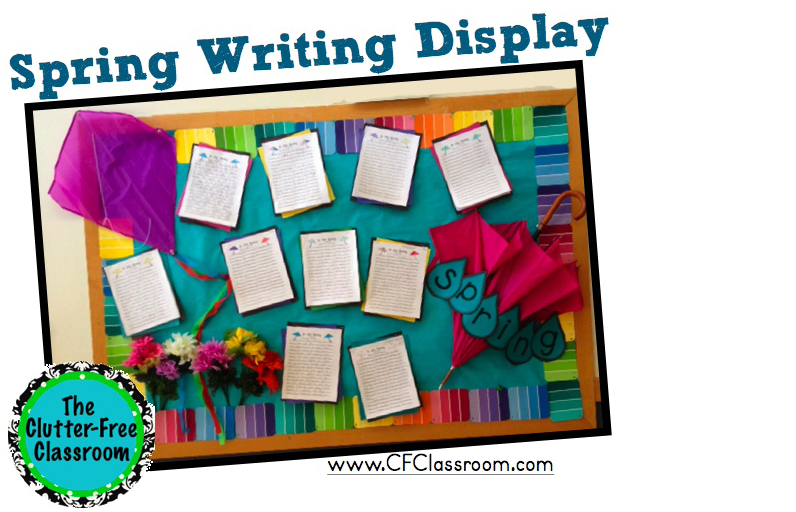 2. Add fun accessories.
The second spring wall display idea on the list is to get creative! Don't be afraid to stray from the ordinary when assembling your bulletin board.
Instead of putting a laminated paper umbrella on my bulletin board, I used a real umbrella. It adds some dimension to my display and totally takes it to the next level. My students went crazy over this! They thought it was so cool that there was a real umbrella on my bulletin board.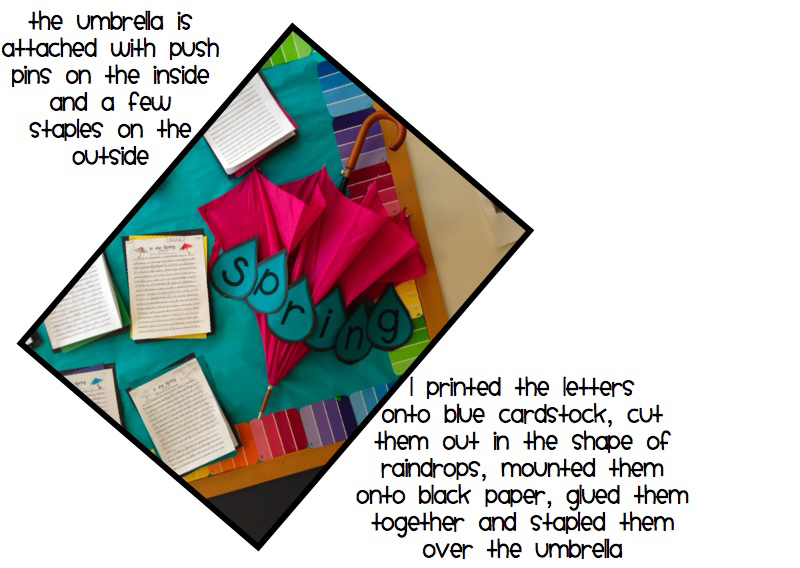 3. Post student writing projects.
Posting student work gives students a sense of pride in their work. This is one of my favorite ways to decorate a bulletin board. Check out my Fall Bulletin Board Ideas post and Winter Bulletin Board Ideas to see how I did this in other parts of the school year. Showcasing student work on my bulletin boards is one of my favorite wall display ideas for spring and really any time of year!
As shown in the pictures above, I posted my students' writing projects on my spring bulletin board. You can replicate this same display using my spring writing packet. I also have fall, winter, and summer versions as well. You can learn more about them below.
We hope you found these spring wall display ideas helpful! If you did, you may find these posts interesting as well: