This list of spring books for kids is filled with quality picture books for the end of March, April, May, and the beginning of June. These children's books about spring will be a big hit in your elementary classroom. Students will love the illustrations in Jan Brett's Mossy, the classic storyline of Make Way for Ducklings, and clever characters in Tops and Bottoms. Check out the full list of the best spring books for kids below!
This post highlights the following spring books:
Make Way for Ducklings
The Curious Garden
Mossy
Cloudette
The Gardener
Little Tree
Tops and Bottoms
Those Pesky Rabbits
One Plastic Bag
Hedgie's Surprise
10 Spring Books for Kids
Below are 10 quality spring books for kids. Your elementary students are going to love these spring picture books! All of them are part of my Starts With a Story collection.
Make Way for Ducklings by Robert McCloskey
Make Way For Ducklings tells the story of two ducks, Mr. and Mrs. Mallard. They are looking for a good place to make a nest and raise ducklings. After flying for a long time, Mr. and Mrs. Mallard are too tired to keep going and land on an island in Boston's Public Garden. They enjoy swimming in the water and eating the peanuts people throw from the swan boat. However, when they are almost run over by a bicycle, Mrs. Mallard decides they need someplace new. After flying around the city, they land on an island in the river and start to make their nest. Soon after, their eggs hatch and Mr. and Mrs. Mallard are busy caring for their ducklings. When Mr. Mallard leaves to explore the river, Mrs. Mallard stays back and teaches the ducklings.

When it is time to start heading back to the Public Garden to meet Mr. Mallard, Mrs. Mallard teaches her ducklings to walk behind her in a line. They try and cross the street but there are too many cars! Thankfully, a police officer comes to stop traffic and let the ducks cross. The family reunites in the pond and decides to live there. This is one of the classic spring-themed books that teachers have been using for decades, and for good reason!
The Curious Garden by Peter Brown
The Curious Garden is about one boy whose actions improve his city. Liam lives in a city that is dark and dreary. He is the only one who ever seems to go outside. Liam enjoys exploring his city and decides one day to explore the old railway. When he reaches the top of the railway, he finds a small garden. Liam realizes the garden needs help so he starts taking care of it. As Liam's gardening skills grow, so does the garden.

Soon, the garden is spreading throughout the city. It ends up in unexpected places like outside people's homes and on stop signs. The community starts to notice the garden, and people even start coming outside. New gardeners appear and plant their own gardens and enjoy the outdoors.
As time passes, the city changes and becomes more colorful. But the original garden will always be Liam's favorite. This book will quickly become one of your favorite spring read alouds!
Mossy by Jan Brett
In Mossy, Mossy is a turtle that lives in Lilypad Pond. She is a special turtle because a garden grows on her back. There are flowers, plants, and berries that grow on her shell, making her look unique and beautiful. One day, Mossy runs into another turtle, Scoot, and the two are amazed by one another. However, before they can get close, Dr. Carolina scoops Mossy up.

Dr. Carolina owns a museum nearby. She and her niece Tory were taking a walk when they noticed Mossy and Dr. Carolina thought she would be perfect for the museum. Mossy becomes a popular attraction at the museum, but Tory notices Mossy seems sad. When Tory's class visits the museum, the classmates wonder if Mossy has friends. This gives Dr. Carolina the idea to have a portrait made of Mossy for everyone to see. This allows them to return Mossy to the pond where she reunites with Scoot. This book is a must-have for your list of spring read aloud books!
Cloudette by Tom Lichtenheld
Cloudette was a small cloud, much smaller than the other clouds. She enjoyed some of the advantages of being small, like fitting in tight places and always finding a spot at the fireworks. However, at times Cloudette wished she was big and important. She watched the other clouds do things like rain, thunder and make rainbows, and wished she could do that. She felt like no one needed a small cloud like her. Cloudette dreamed of creating a waterfall or causing a snow day.

One day, there is a strong wind storm and Cloudette is blown from her neighborhood. She finds herself in a new place and comes upon a small puddle with frogs nearby. Cloudette puffs herself up and rains onto the puddle. She rains so much it turns into a pond and the frogs thank her. Cloudette learns that even though she is small, she can do big important things. You'll definitely want to add this to your list of read aloud books about spring.
The Gardener by Sarah Stewart
Sarah Stewart's book The Gardener takes place during the Great Depression. The story follows a young girl named Lydia Grace whose parents have both lost their jobs. It is decided that she will move to the city to live with her Uncle Jim who owns a bakery. The book is told through the letters she writes home to her family.

Lydia Grace loves gardening and works hard to neaten up the bakery and plant flowers. She also discovers a secret place on the building's rooftop and plans a surprise for her Uncle Jim who never smiles. Lydia Grace and her new friend Emma work to create a beautiful garden on the rooftop and plan to surprise Uncle Jim. When Lydia Grace reveals the garden to Uncle Jim, she learns he has a surprise for her too. Her surprise is cake and a letter announcing her father's new job and that she will return home! This is one of the many children's stories about spring that you have to have in your classroom library!
Little Tree by Loren Long
Another book on this list of springtime children's books is Little Tree. Little Tree lives in a forest surrounded by other trees. He enjoys hearing the morning dove sing and the squirrels climbing his branches. When fall comes, the trees' leaves start to change color. Eventually, the other trees begin to drop their leaves. Little Tree holds onto his leaves tight. He is nervous about what will happen when he drops his leaves. Little Tree keeps his leaves through the winter. When spring comes, the other trees start to grow new leaves, while Little Tree keeps his old, brown leaves.

The seasons continue to change and Little Tree keeps his original leaves. The other trees have grown big and strong. The squirrels and morning dove sit in their branches. Little Tree is still very small and can no longer feel the sunlight. He remembers how he used to be the same as the other trees. When he finally begins to let go of his leaves, Little Tree is able to grow and change like the others. This will become one of your favorite spring books for kids!
Tops and Bottoms by Janet Stevens
In the book Tops and Bottoms, Hare and Bear are neighbors that live on a farm. The land is owned by Bear because his father left him all of his land and wealth. Hare has a wife and children and they are having a hard time with money. He and his wife come up with a plan to trick Bear and feed their children. Hare asks Bear to be partners with him and explains they will split the profit down the middle. Bear just has to decide if he wants the tops or bottoms. When the crops are ready to be harvested, Hare gives Bear his choice of the tops. Bear realizes he is tricked when Hare keeps the vegetables and gives him the stems. Bear tells Hare to plant more crops and this time he wants the bottoms. Again, Hare tricks Bear! In the end, Bear gives up and decides to plant his own crops. Hare is able to sell the vegetables he harvested and buy back his own land. Even though the two are still neighbors, they are no longer business partners. This is one of the best spring picture books!
Those Pesky Rabbits by Ciara Flood
The story Those Pesky Rabbits is about a bear that lives in the middle of nowhere and enjoys being alone. One day, a family of rabbits moves in and they build their house right next to Bear's. This makes Bear very angry. Soon after they move in, the rabbits start visiting Bear at his house.

First, they ask for honey to bake a cake, then they ask for Bear to help them chop wood, and then they asked if he'd like to swap books. Each time Bear gets angry at the rabbits and does not help them. Finally, the rabbits ask if Bear wants to look at the stars with them. Furious, Bear tells the rabbits he just wants to be left alone. One day, Bear hears a soft knock at the door and finds a note and basket from the rabbits. After receiving the basket, Bear realizes he has been feeling lonely and decides to visit the rabbits.
In the end, Bear realizes that he enjoys spending time with his new neighbors. This is one of the many great spring books for children!
One Plastic Bag by Miranda Paul
The book One Plastic Bag teaches readers about Isatou Ceesay and the women of Gambia. For a while in Gambia, people were littering. They would throw plastic bags on the ground and the pile of trash was getting bigger and bigger. Time passed and Isatou grew up. One day, she learned that the goats were eating the plastic bags and dying. She realized she needed to do something. Isatou picked up the bags and she and a group of other women washed them. As Isatou watched her sister crochet, she had an idea. They decided to make the plastic bags into string and crochet bags out of the trash. At first, everyone laughed at the women. But over time, people started to buy their creations. The trash pile started to get smaller and eventually Gambia was beautiful and trash free once more. This really is one of the best spring read alouds!
Hedgie's Surprise by Jan Brett
One day, the Tomten on the farm got tired of eating porridge for breakfast in Hedgie's Surprise. He started going into the hen house each morning and taking one of Henny's eggs. At first, Henny didn't mind, but then she realized she could never have babies if this kept happening. Thankfully, her friend Hedgie offered to help her trick the Tomten.

When the Tomten came to Henny's nest each morning, she and Hedgie left a different food for the Tomten. These foods were never enough and left the Tomten feeling hungry. He demanded Henny leave him an egg or he would eat her. The next morning, when the Tomten reached into the nest, he grabbed Hedgie and was stuck by his quills. When the Tomten runs aways, Henny starts to hear peeping. She realizes that Hedgie hid her eggs in his nest and now they've hatched into chicks! This story is one of the many great spring books for elementary students.
Reading Activities
If you are looking for resources for teaching using picture books, then check out the Starts With a Story resources below. They include reading comprehension questions, writing prompts, digital student activities, SEL lesson ideas, and much more!
Grab the Free Reading Resources!
We hope you found this list of spring books for kids helpful! These really are the best picture books about spring! If you want to get more book ideas to read aloud to your elementary students, then grab this reading freebie. It includes read aloud books lists, reading logs, and reading challenges for 1st, 2nd, 3rd, 4th, and 5th grade classroom teachers. It will have you covered for the entire school year, as well as the summer months! Grab this free elementary reading packet now!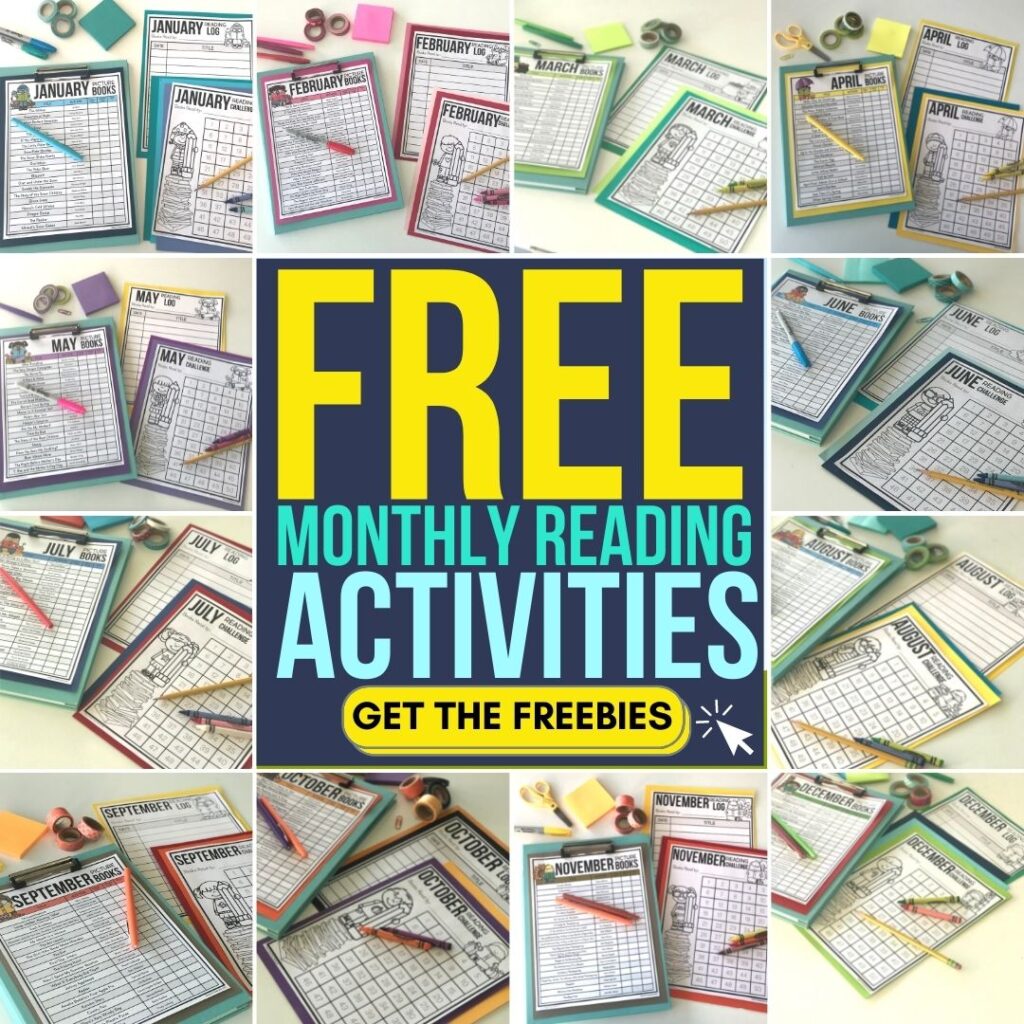 If you found this list of spring books for kids helpful, you might also enjoy these posts: