These fall books for kids are great read alouds for the months of September, October, and November. Your elementary students will love listening to and discussing these fall read alouds as a class. You may also find these first day of school books, back to school read alouds, Grandparents Day books, books about apples, September 11 books, and Constitution Day read alouds helpful. They are other great choices for Autumn read alouds! Check out the fall books below!
This book list post highlights the following fall picture books: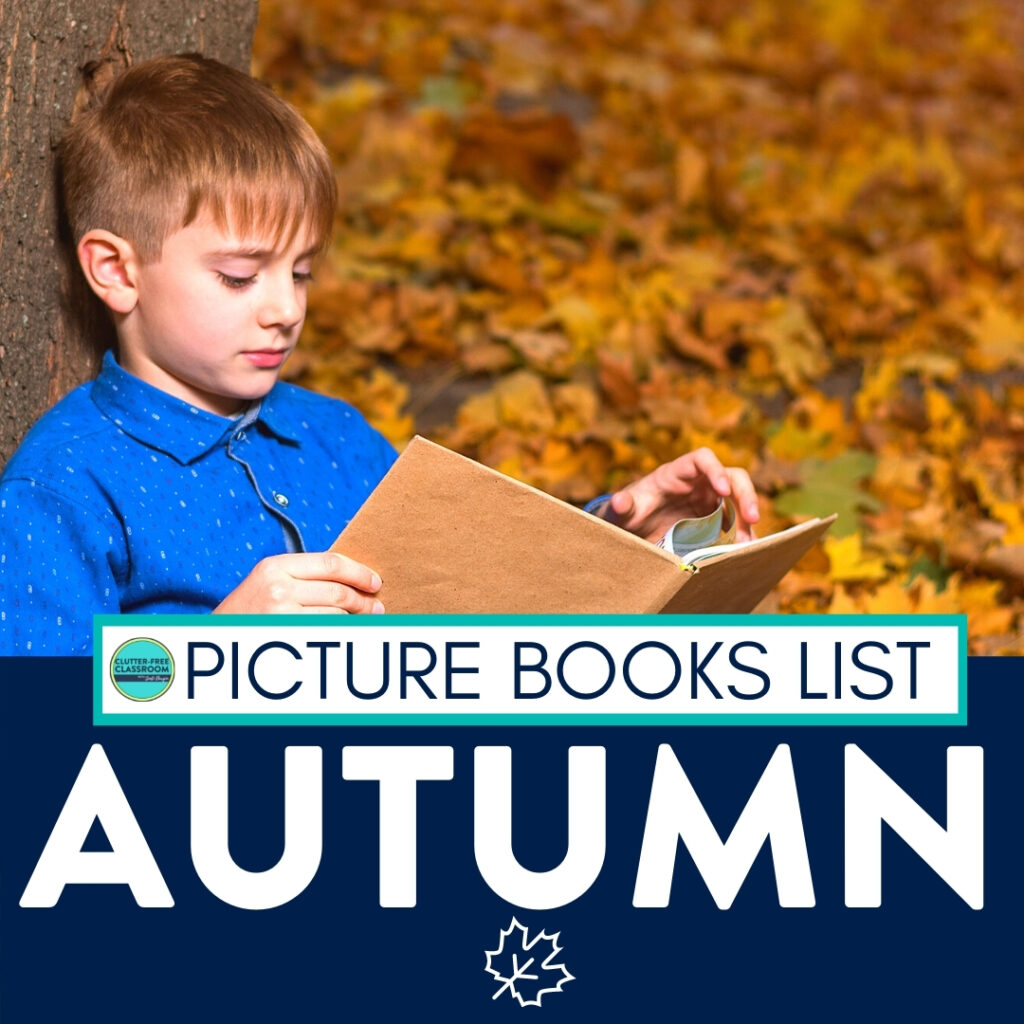 5 Fall Books for Kids
Below are 5 great fall books for kids.
1. Little Tree by Loren Long
In the story Little Tree, Little Tree lives in a forest surrounded by other trees. He enjoys hearing the morning dove sing and the squirrels climbing his branches. When fall comes, the trees' leaves start to change color. Eventually, the other trees begin to drop their leaves. Little Tree holds onto his leaves tight. He is nervous about what will happen when he drops his leaves. Little Tree keeps his leaves through the winter. When spring comes, the other trees start to grow new leaves, while Little Tree keeps his old, brown leaves.

The seasons continue to change and Little Tree keeps his original leaves. The other trees have grown big and strong. The squirrels and morning dove sit in their branches. Little Tree is still very small and can no longer feel the sunlight. He remembers how he used to be the same as the other trees. When he finally begins to let go of his leaves, Little Tree is able to grow and change like the others. This is one of the sweetest fall books for kids! Check out these Little Tree activities!
2. Fletcher and the Falling Leaves by Julia Rawlinson
In the book Fletcher and the Falling Leaves, fall has made its way to the forest and the trees are starting to change. Fletcher, a young fox, is very concerned about what is happening to his tree. The leaves have turned brown and dry. When the wind blows, leaves start to fall off the tree. Fletcher tries to help the tree by tying the leaf back onto the branch, but it doesn't work.
As the wind continues to blow, more and more leaves fall off the tree. Fletcher gets upset when some of the forest animals start taking the leaves for their nests. Soon enough, his tree is bare despite Fletcher's efforts to save the leaves. When he wakes up early one morning, he finds the tree covered in icicles looking more beautiful than ever. This sight helps him to go back to his den and stop worrying. Check out these Fletcher and The Falling Leaves activities!
3. Tidy by Emily Gravett
Deep in the forest lives a badger named Pete. In this humorous, rhyming story, Pete likes everything to be organized and clean. He tidies the flowers, grooms the animals, and bathes the birds.
Once fall comes, Pete tries his best to keep the forest floor clean. Despite the effect he has on others, he cleans the forest to a point where there is nothing left! He bags the leaves, takes down the trees, and even pours concrete over the land. This helps Pete come to the realization that maybe everything cannot be tidied and clean. He has to lose some control in order to maintain happiness across the forest.
This beautiful story lends itself nicely to teaching about self-management, responsibility, and letting go of some control. Check out these Tidy activities!
4. Goodbye Summer, Hello Autumn by Kenard Pak
In the story Goodbye Summer, Hello Autumn, a young girl is going on a walk through her community. She notices the new winds that are cool, making the trees move in the wind. Animals are preparing for the colder weather as they search for food and make homes. The girl notices the changes in plants, some of them are blooming for the first time, changing color, or reaching for the last bit of sunlight.

The wind has started to blow the leaves off of the trees. These leaves have changed color too: Red, brown, gold and yellow. As the season changes, there is less daylight. The sun sets earlier and summer is coming to an end.

This is one of the best fall books for kids for starting a conversation with students about the changing seasons. Check out these Goodbye Summer, Hello Autumn activities!
5. Sweep by Louise Greig
Ed was outside sweeping leaves, but there was a problem: he was in a bad mood. This was not just a regular bad mood that goes away quickly, Ed was in a really bad mood. While he was sweeping the leaves and his bad mood got bigger, Ed started taking everything with him. He swept up a cat, a dog, bicycles and even cars. Even when Ed thought about trying to stop his bad mood, it just got worse. Eventually, the whole town had been taken over by Ed's bad mood.
Finally, a new wind came. This new wind caused Ed to look up. He was finally able to see all of the beautiful things around him. He even noticed a kite had shown up. As Ed flew the kite, he felt better and better. Now, when Ed is in a bad mood he takes a moment to stop and think. He tries not to let his bad mood take over. Check out these Sweep activities!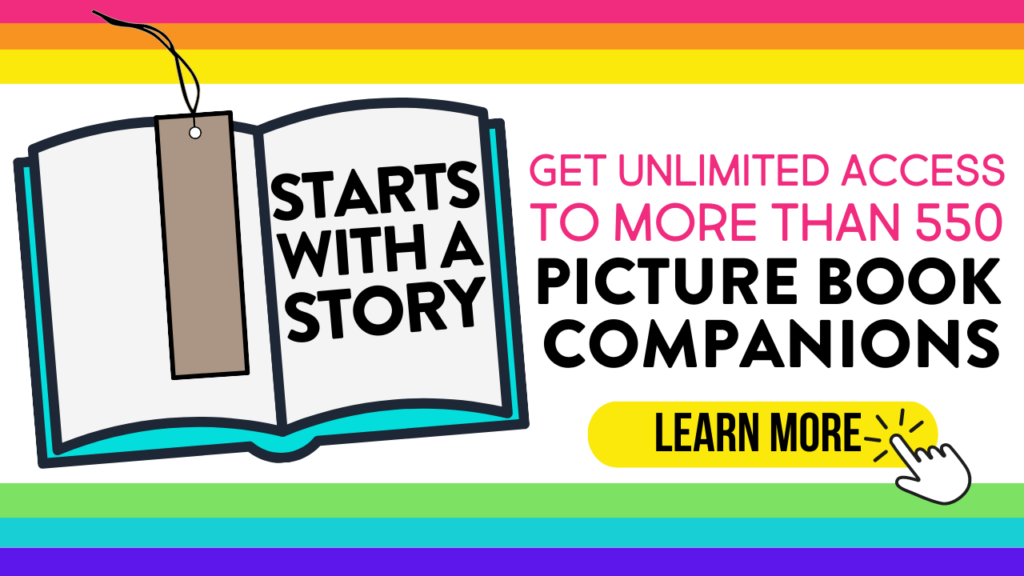 Get All of the Autumn Book Companions
Save money by scooping up all of the Autumn book companions!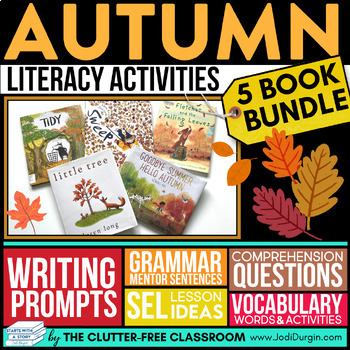 Grab the Free Reading Resources!
We hope you found this list of fall books for kids helpful! We really think your students will loves these fall children's books! If you want to get more book ideas to read aloud to your elementary students, then grab this reading freebie. It includes read aloud books lists, reading logs, and reading challenges for 1st, 2nd, 3rd, 4th, and 5th grade classroom teachers. It will have you covered for the entire school year, as well as the summer months! Grab this free elementary reading packet now!