As elementary teachers, we know children will never be inspired to be curious lifelong learners by picking books from leveled bins, annotating close reading passages, or filling in bubbles to prove their reading comprehension skills. The Starts with a Story collection, however, invites students into the world of reading and guides them through exploring high quality children's literature. Learn more about this book companion resource collection below!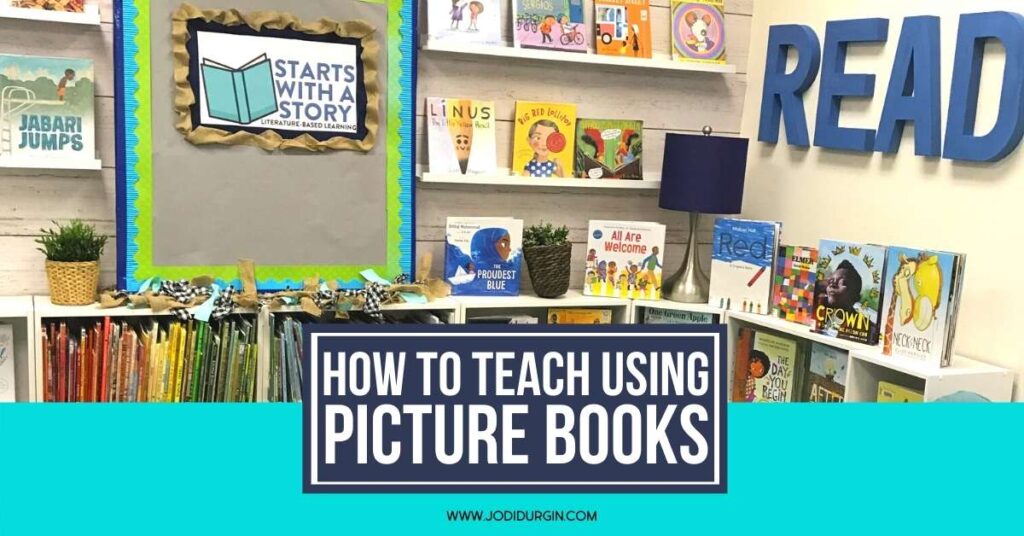 What is Starts With a Story?
Starts with a Story is a collection of more than 500 book companions based on high quality children's literature that support you in delivering highly-engaging interactive read alouds with follow up activities. Each book companion includes reading comprehension questions with sample student responses, 30 writing prompts targeting 10 different types of writing, SEL lesson ideas based on character and events from each story, printable student activities, editable teaching slides with book-based clipart, and more.
Does this sound like something you're interested in? If so, click the button below to learn more about the Starts With a Story Collection!
Check Out All 550+ Books We Have Created Lessons and Printable Activity Packets for:
You can get a better view of the list of books by clicking "view larger version" in the bottom right hand corner.
How to Use the Alignment Guide
Watch the video below to learn how to manipulate the alignment guide so you can locate exactly what you need.
Why Teachers Love Starts With a Story
Teachers love Starts With a Story because of the following reasons:
The book companions follow a consistent format, which makes planning quick and easy.
The student activities are print and go, so you can prep them in a moment's notice.
You have access to a list of high quality children's literature, as well as what they best lend themselves for teaching, so you don't have to hunt for book titles on your own.
Sharing read alouds with your class strengthens your class community as it forms connections and relationships through shared experiences and discussion.
They are great for sub plans, time fillers, and last minute lesson plans.
They don't have to spend time finding resources that relate to a story they want to read.
Students are engaged during the read aloud because they love to be read to and are asked questions.
It exposes students to new genres, authors, and texts that they may not have selected on their own.
The resources help you facilitate learning experiences that help students build a love of reading, view books in a positive way, and become lifelong readers.
They reduce stress and anxiety by creating successful learning opportunities for all.
Each book companion includes a list of key vocabulary from the story with kid-friendly definitions that helps students build a stronger vocabulary.
They help students improve as writers by having them study mentor texts and discuss authors' choices.
They improve students' reading comprehension skills because they include reading comprehension questions and activities related to the story.
They help expand students' world view and schema and build awareness and empathy by exposing them to other geographical areas and cultures.
It includes literature where students can see themselves represented, which helps build confidence.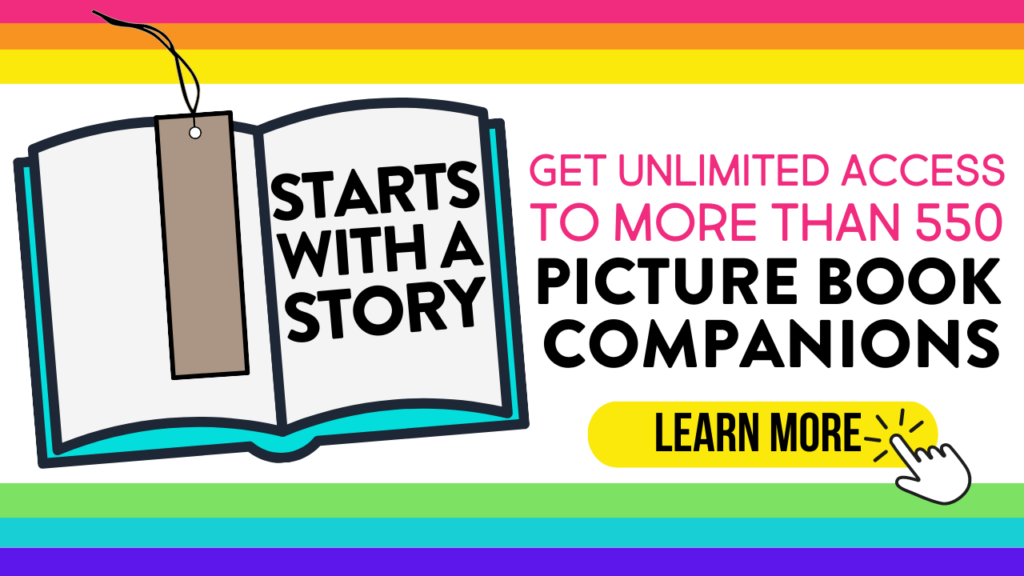 What is an Interactive Read Aloud?
An interactive read aloud is an instructional practice where a teacher (or other experienced reader) models reading fluency and expression, thinking strategies, reading strategies, a love of reading, and more while reading aloud a fiction or non-fiction text. Students actively listen and discuss the book being read aloud throughout the duration of the reading.
Why are Interactive Read Alouds Important?
Reading aloud books to children is one of the most valuable experiences parents and teachers can provide to young learners. Implementing interactive read alouds has the following benefits:
Builds important foundational reading and writing skills
Models reading fluency and expression
Builds a love of reading and learning
Develops an interest in books
Demonstrates that written words carry meaning
Equips students with book handling skills
Exposes them to rich vocabulary above their independent reading ability
Makes challenging books accessible
Motivates them to practice reading independently to improve reading skills
Strengthens auditory processing skills
Increases reading comprehension skills
Models good thinking and problem-solving strategies
Shows how to apply reading strategies to books
Improves self-regulation
Promotes critical thinking and higher level thinking skills
Creates a sense of community in the classroom
Provides opportunities to apply and build upon background knowledge
Exposes them to a variety of genres
Promotes curiosity and inquiry
Provides a framework to teach important skills, information, and lessons
What is a Book Companion?
A book companion is a resource that helps you deliver lessons based on a story by identifying key teaching points that the book best lends itself for, as well as a collection of related activities. It's a helpful tool for when you are delivering an interactive read aloud.
How to Access the Starts with a Story Resources
Below are 3 ways you can access the resources.
1. The Starts With a Story All-Access Collection
What is the Starts With a Story All-Access Collection?
The Starts With a Story All-Access Collection is a library of all 500+ of our book companions. That's more than 20,000 pages! All new Starts With a Story book companions we create in the future will be added to this comprehensive library.
Benefits of Accessing the Resources through the All-Access Collection
The all-access collection is the best value. You are paying about a quarter for each book companion.
It gives you access to the whole collection of book companions at your finger tips.
The resources are organized in an easy-to-navigate digital library.
2. The Clutter-Free Classroom Teacher Store
Benefits of Accessing the Resources through the CFC Teacher Store
You get a 10% off discount on the resources when you use the code CFCBLOG.
The resources are emailed directly to you.
You can purchase as many or as little book companions as you'd like.
3. The Clutter-Free Classroom TPT Store
Benefits of Accessing the Resources through the CFC TPT Store
Your purchased book companion are available in your TPT purchases folder along with any other resources you purchase from TPT.
The resources are available in cost-saving thematic bundles.
You can purchase as many or as little book companions as you'd like.
Where Can I Learn More about Starts With a Story?
Head on over to www.StartsWithAStory.com to learn more!
Try Our Book Companion Activities for Free!
We are beyond thrilled about the launch of our literacy resource line, Starts with a Story! We know you will love it! Try a complete Starts With a Story book companion packet for free!
Get the Free Reading Resource Bundle!
When you download these free reading resources, you will receive:
a list of seasonal picture books for each month of the year
blank book lists for you to record your own titles
printable reading logs for your students
print and go monthly reading challenge charts