If you are looking for a list of the best children's books about winter, then you found the right place! These winter read alouds for kids will be a big hit in your elementary classroom this year. They all feature snowy settings with interesting storylines and relatable characters. Some are classic winter books for kids like Owl Moon and The Mitten, but you might find a couple that are new to you. Check out the full list of children's books about winter below to find the best winter picture books!
This post highlights the following books:
The Mitten
Snowmen at Night
Snowflake Bentley
The Three Snow Bears by Jan Brett
Snow Globe Family
Snow Day
Owl Moon
Little Tree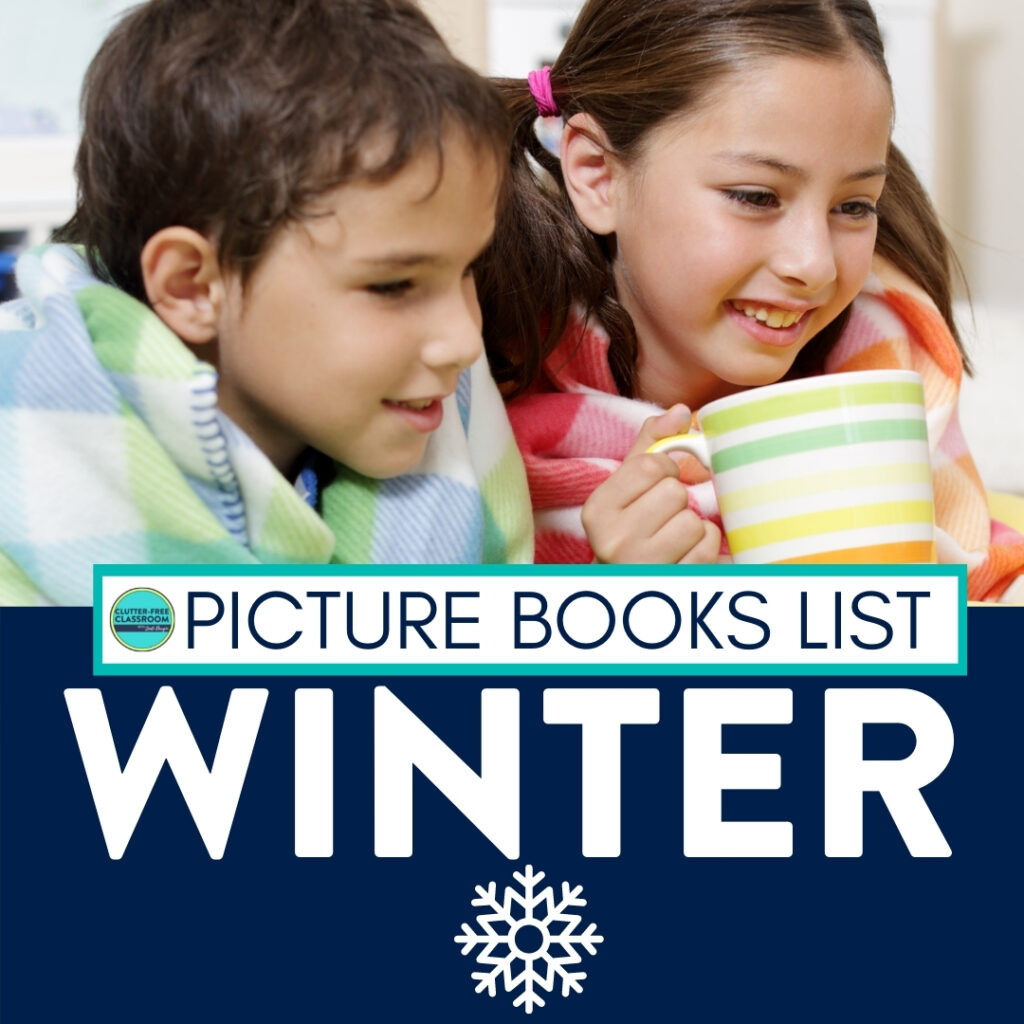 8 Children's Books about Winter
Below are 8 quality children's books about winter. Your students are going to love these winter picture books! They truly are the best winter books for kids!
The Mitten by Jan Brett
You can't have a list of the best winter children's books without mentioning the author, Jan Brett.
In Jan Brett's The Mitten, a young boy named Nicki wants his grandmother to knit him snow white mittens. Although she warns him they could get lost in the snow, she makes the mittens anyway. When Nicki goes out to play, he drops one of the mittens in the snow and does not realize it. Soon a mole comes by and decides the mitten is a warm cozy place to stay. Eventually, more and more animals (rabbit, owl, fox, bear, mouse, hedgehog) move inside the mitten.

It is crowded inside the mitten and it continues to stretch bigger and bigger. When the mouse climbs on top of the bears nose, it tickles and the bear sneezes. All of the animals go flying out of the mitten! As Nicki walks home he sees his mitten flying through the sky. He returns home and Baba is confused about the large, stretched out mitten.
Snowmen at Night by Caralyn Buehner
In Snowmen at Night, a young boy makes a snowman and realizes it looks different the next day. He starts to imagine all the things that snowmen do at night. Snowmen come alive at night and make their way to the park. They drink hot cocoa, go ice skating and play baseball. The boy imagines the snowmen having snowball fights and sledding down a hill. Once the sun starts to rise and the snowmen are tired, they make their way back to their home. This cute rhyming story explains why children's snowmen might look different overtime.
Snowflake Bentley by Jacqueline Briggs Martin
Snowflake Bentley tells the story of a real person, Willie Bentley. Ever since he was a young boy, Willie Bentley was fascinated by snowflakes. He spent his winters catching snowflakes and studying them. When he got older, his parents bought him a microscope camera so he could photograph the snowflakes. Willie wanted to share the beauty and uniqueness of snowflakes with others. It was not easy to photograph the snowflakes and people in Willie's town thought he was silly.

Willie Bentley dedicated his life to studying and learning about snowflakes. Eventually, he published a book with all of his photographs and scientists around the world were interested in his work. When he passed, the children in his community dedicated a monument and museum to his work.
The Three Snow Bears by Jan Brett
Jan Brett's The Three Snow Bears is a different take on Goldilocks and the Three Bears. The book takes place in the arctic and the main characters in this story is a little girl named Aloo-ki and three polar bears. While out on a walk, Aloo-ki's huskies start floating out to sea on an ice floe. At the same time, the three polar bears head out on a walk while their soup cools, back home in their igloo. As Aloo-ki chases her dogs, she comes across the igloo and makes her way inside. Aloo-ki tastes the three soups and tries on the different boots before falling asleep in the baby bear's bed. When the bears return home, they are surprised to see evidence that someone had been inside. Baby Bear finds Aloo-ki sleeping in her bed! When Aloo-ki awakes and notices the bears, she runs out of the igloo and away with her huskies. Students will love hearing a different version of the famous story.
Snow Globe Family by Jane O'Connor
The book Snow Globe Family tells the story of two families. The big family, lives inside a real house and they have a snow globe on their mantel. Inside the globe lives a little family, very similar to the big family. Long ago, there used to be many snow storms inside the snow globe but now it hardly ever snows. However, the baby in the big family is very interested in the snow globe. One day, while some members of the big family are out sledding, the baby makes his way over to the snow globe. He gives it several big shakes, creating a huge snow storm inside the snow globe. In the end, both families get to go outside and have fun sledding in the snow. Students will love this imaginative story about the little family living inside a snow globe.
Snow Day by Lester L. Laminack
In Snow Day, a father and his two kids hear the weather reporter say it's going to snow. The family gets excited about the possibility of a snow day and begin planning. They can't wait to build a snow fort, drink hot chocolate, and go sledding. Everyone heads off to bed in anticipation of the big snow storm and a day at home.

However, when they wake up they are surprised to see no snow outside and children walking down the street with their backpacks on! It didn't snow after all, and now they are going to be late for school. The family rushes to get ready and into the car. The dad mentions that he cannot be late for school and surprises readers by saying he is the teacher! Students will love this book about a snow day and learn that teachers like them, too!
Owl Moon by Jane Yolen
Owl Moon by Jane Yolen tells the story of a young girl who goes owling with her father one night. The girl has been looking forward to this for a long time. As they walk through the cold, dark night, she knows that she must be quiet. The two make their ways through the woods, keeping their eyes open for owls in the night sky. Her father makes owl calls every so often as they walk along.

As they make their way deeper into the woods, Pa makes another call. Soon after, they hear a call back through the trees. The two wait patiently as the call gets closer and then an owl lands above them on a tree branch. Pa shines his flashlight at the owl and they all stare at one another until the owl flies off. Now that they had found an owl, the girl and her Pa could talk, and made their way home.
Little Tree by Loren Long
Little Tree is about a tree that lives in a forest surrounded by other trees. He enjoys hearing the morning dove sing and the squirrels climbing his branches. When fall comes, the trees' leaves start to change color. Eventually, the other trees begin to drop their leaves. Little Tree holds onto his leaves tight, he is nervous about what will happen when he drops his leaves. Little Tree keeps his leaves through the winter. When spring comes, the other trees start to grow new leaves, while Little Tree keeps his old, brown leaves.

The seasons continue to change and Little Tree keeps his original leaves. The other trees have grown big and strong. The squirrels and morning dove sit in their branches. Little Tree is still very small and can no longer feel the sunlight. He remembers how he used to be the same as the other trees. When he finally begins to let go of his leaves, Little Tree is able to grow and change like the others.
If you are looking for worksheets and activities based on the books above, then check out these Starts With a Story resources below!
Grab the Free Reading Resources!
We hope you found this list of children's books about winter helpful! Your students are going to love these winter children's books! If you want to get more book ideas to read aloud to your elementary students, then grab this reading freebie. It includes read aloud books lists, reading logs, and reading challenges for 1st, 2nd, 3rd, 4th, and 5th grade classroom teachers. It will have you covered for the entire school year, as well as the summer months! Grab this free elementary reading packet now!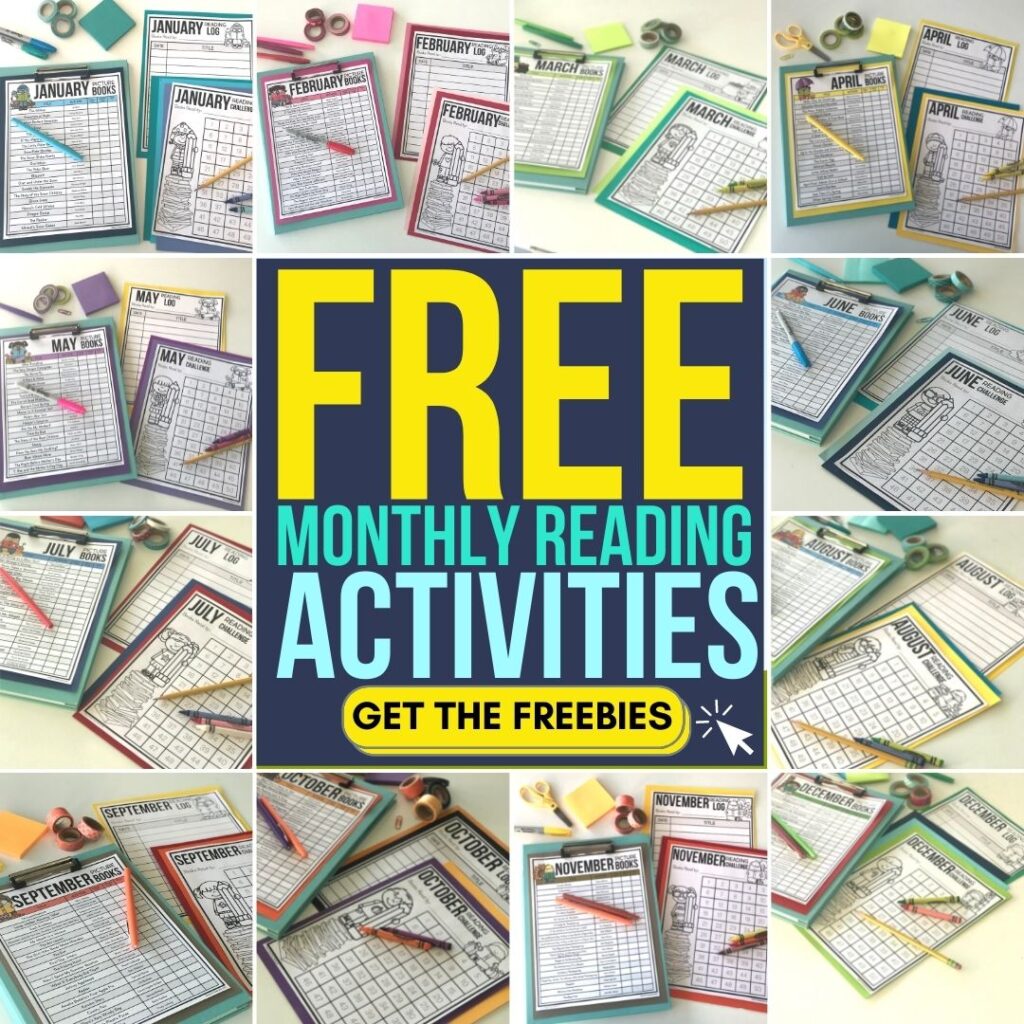 If you enjoyed this post, you may also find these posts helpful: