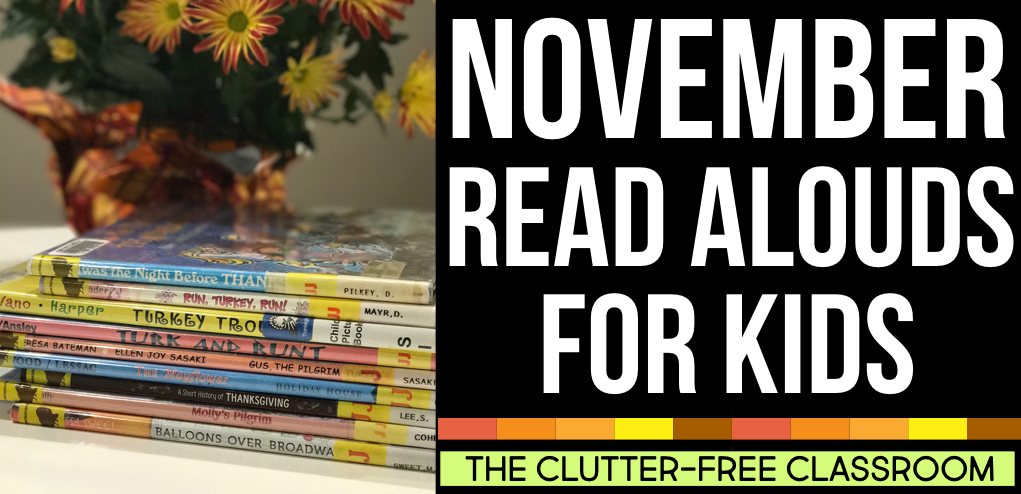 Are you looking for some new ideas for November read alouds? Below you will find some wonderful titles of November books for kids that I have enjoyed reading to my K-3 students as well as my own children at home.
10 Fat Turkeys
is a simple rhyming book that I think is best for Preschool through 1st grade. It's funny and they enjoy predicting the numbers as the turkeys fall off the fence based on the rhyming text. It could easily be tied in with a math lesson for our littlest learners.
Thanksgiving Rules
by Laurie Friedman is also geared toward younger students, but can absolutely by used with older kids as well. BECAUSE…it lends itself to teaching the writing trait of organization AND it makes a great springboard for having the children write their own pieces inspired by the book. The finished result makes a great class book. I'll be sharing ours soon.
Pin this image to help other educators like yourself: Click to Pin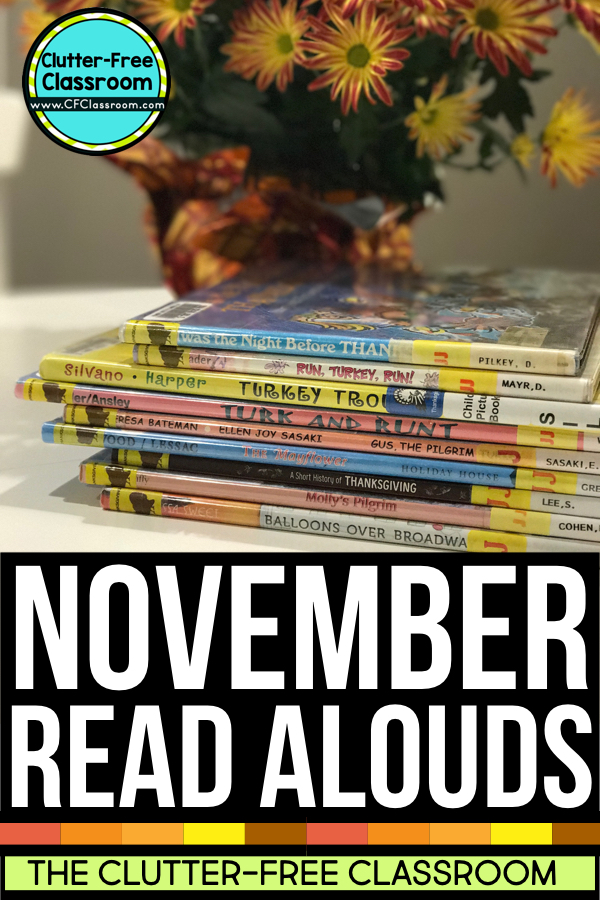 Admittedly, I am biased aboutThe Thankful Book
because I absolutely LOVE all thingsTodd Parr
. I love how happy they make my own children at home and I love how fun they are to use in the classroom (check out the great writing/bulletin board/anti-bullying lessonI did with my class last year using Todd's book, "It's Okay To Be Different
.") TheThe Thankful Book
also lends itself to a great writing project for all ages and abilities...and one that is sure to be a keepsake by the moms and dads who receive the finished copies.
I simply can not do justice to Balloons over Broadway
by Melissa Sweet in words. Please do yourself a favor and hop on over to it's page on Amazon and click on the "search inside this book" link under the image of the cover. It's a beautifully designed book that is put together with collages and illustrations. I'm in the process of planning an awesome integrated unit using this book during our short Thanksgiving week. I know my third graders will love it!
I was so excited to see that Cranberry Thanksgiving
was once again available for purchase. We had this book when I was little and I remember reading it over and over with my mom and baking the cranberry bread recipe that is part of the story for Thanksgiving every year. I am also looking forward to sharing it with my class. They really enjoy when I read them books "from when I was a kid," but more importantly the book's theme about not judging someone by how they look will be a great addition to our weekly anti-bullying class meeting and will make for a great follow-up discussion.
So those are 5 of my favorite Thanksgiving Books. As part of my social studies curriculum, I do a HUGE project based on the Pilgrims and Wampanoags and shared a collection of book titles I like to use on that topic in a blog post specifically about teaching about The Pilgrims, Wampanoags and the First Thanksgiving. I welcome you to check that out as well.
Click any book cover below to view more details about that book.