Elementary School Teachers looking for October Read Aloud Books & Activities for their 1st grade, 2nd grade, or 3rd grade students will love the pumpkin picture books for kids and links to resources with reading comprehension questions, writing prompts and paper, vocabulary, social skills lessons, and more. Reading texts from our pumpkin books for kids list below and using educational book companion activities is a great alternative when you want to engage the children in your classroom with fun October projects without focusing on Halloween.
This post includes the following pumpkin books for kids:
The Runaway Pumpkin
The Ugly Pumpkin
Too Many Pumpkins
Pumpkin Soup
Big Pumpkin
Pumpkin Town
Pumpkin Jack
Little Boo
Stumpkin
The Biggest Pumpkin Ever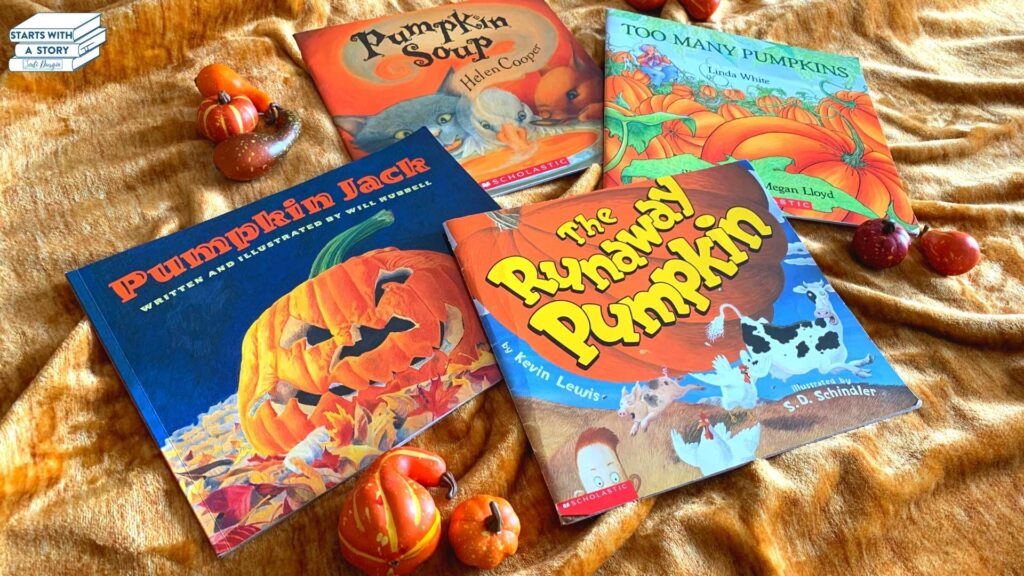 10 Pumpkin Picture Books to Read Aloud
Below are 10 quality pumpkin books for kids that are great read alouds.
The Runaway Pumpkin by Kevin Lewis
In The Runaway Pumpkin, the Baxter boys find a huge pumpkin that they decide they need to have. However, once they cut the stem the pumpkin starts to roll down the hillside almost into the Baxter farm! It crashes through the pig sty, knocks Grandpa Baxter for a loop and finally ends up resting in the bed that Poppa Baxter plows for it.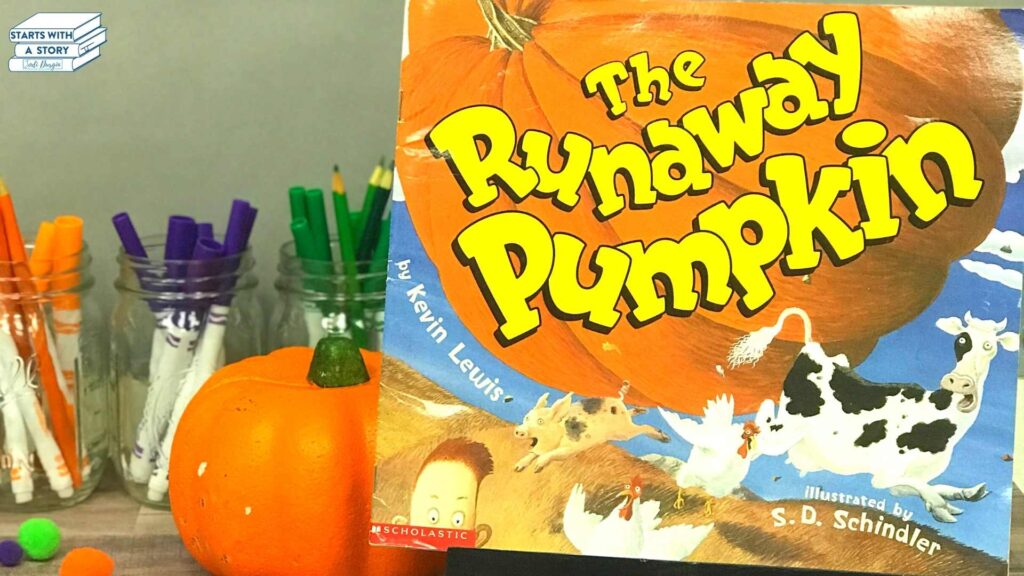 Once the pumpkin comes to a stop, the Baxters get excited about all the food that Granny can make from such a huge pumpkin. Come dinner time, she places all sorts of food on the table and sets up the giant jack-o-lantern she has made.
Visit our blog post specifically for this book: The Runaway Pumpkin Lesson Ideas and Teaching Activities
The Ugly Pumpkin by Dave Horowitz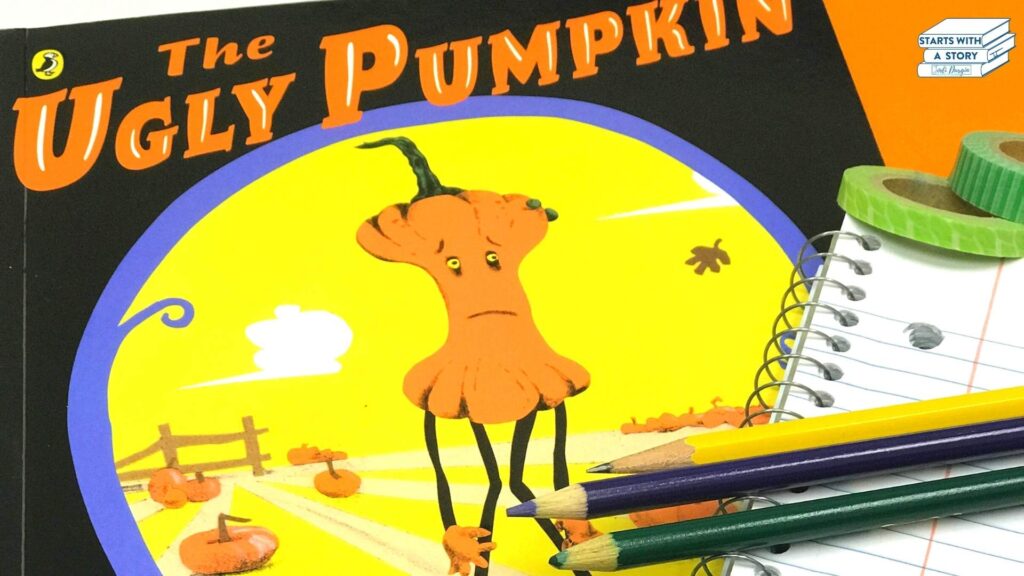 The Ugly Pumpkin is a heartwarming story about a squash that thinks he is a pumpkin. He looks different than all the other pumpkins and is teased for the way he looks. No one will pick him up from the patch, he is kicked, and trees throw apples at him. As a result, he considers himself to be the ugly pumpkin and feels very lonely.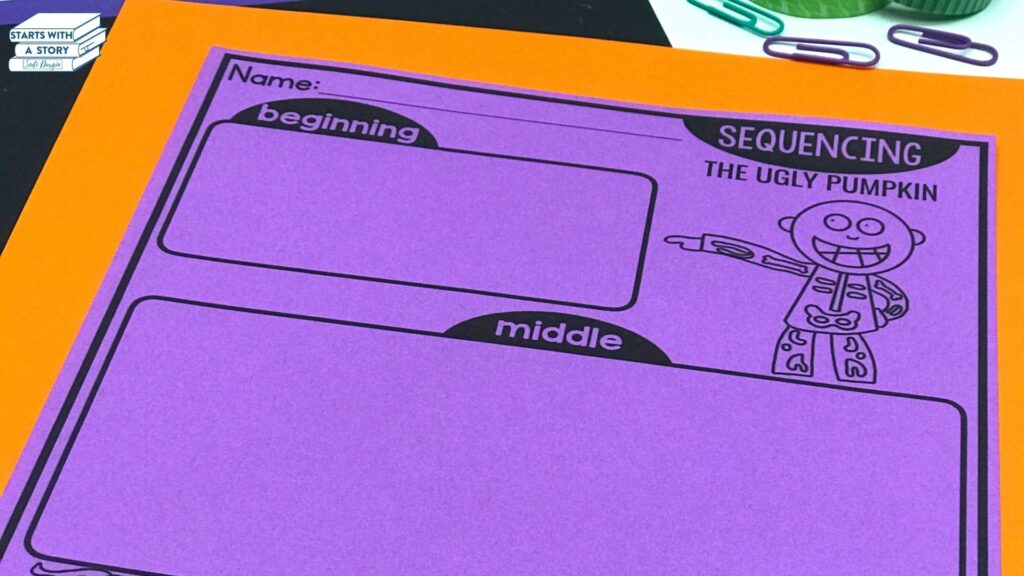 One day, the Ugly Pumpkin found his way into a garden and realized he was a squash! He found a group that looked just like him and he fit right in! In this happy ending, the ugly pumpkin, now a squash, enjoys a feast with his new family.
Students will love this rhyming story about a pumpkin that doesn't know he is actually a squash.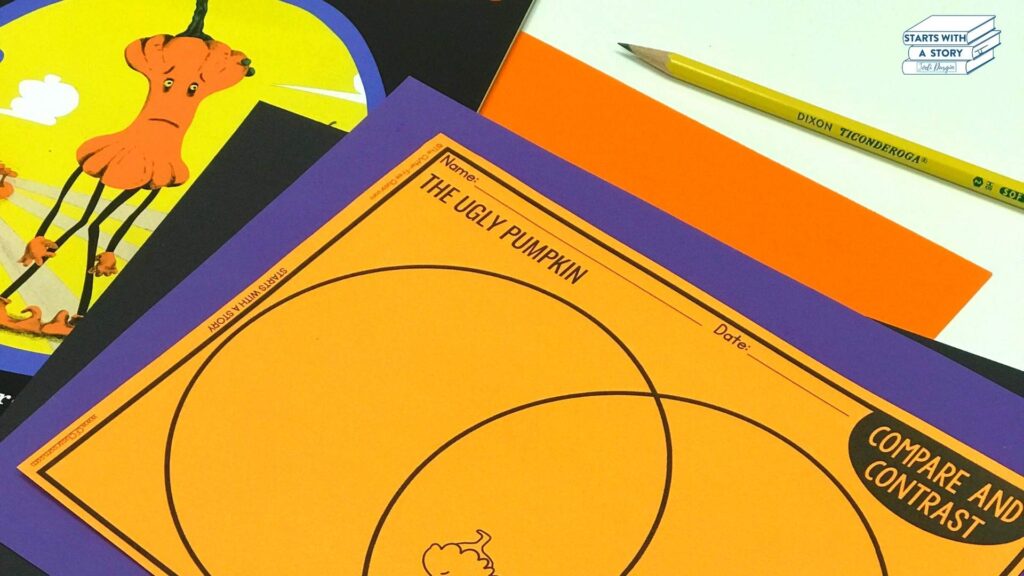 Visit our blog post specifically for this book: The Ugly Pumpkin Lesson Ideas and Teaching Activities
Too Many Pumpkins by Linda White
The story of Too Many Pumpkins is about a woman named Rebecca Estelle. As a child, Rebecca's family did not have a lot of money and they had to eat pumpkin all the time. As a result, Rebecca grew to hate pumpkins and never wanted to eat them again.
On her farm, Rebecca grew many different vegetables, but no pumpkins. One day, a truck drove by and a giant pumpkin fell into Rebecca's yard.
First, she tried to bury it, but come spring it started to grow vines. She tried to ignore the growing vines until she discovered that many pumpkins had grown in her yard. She decided to share the pumpkins with those that might be struggling. Eventually, Rebecca carved some of the pumpkins to attract her community, and was able to share all the pumpkin treats she had made.
Visit our blog post specifically for this book: Too Many Pumpkins Lesson Ideas and Teaching Activities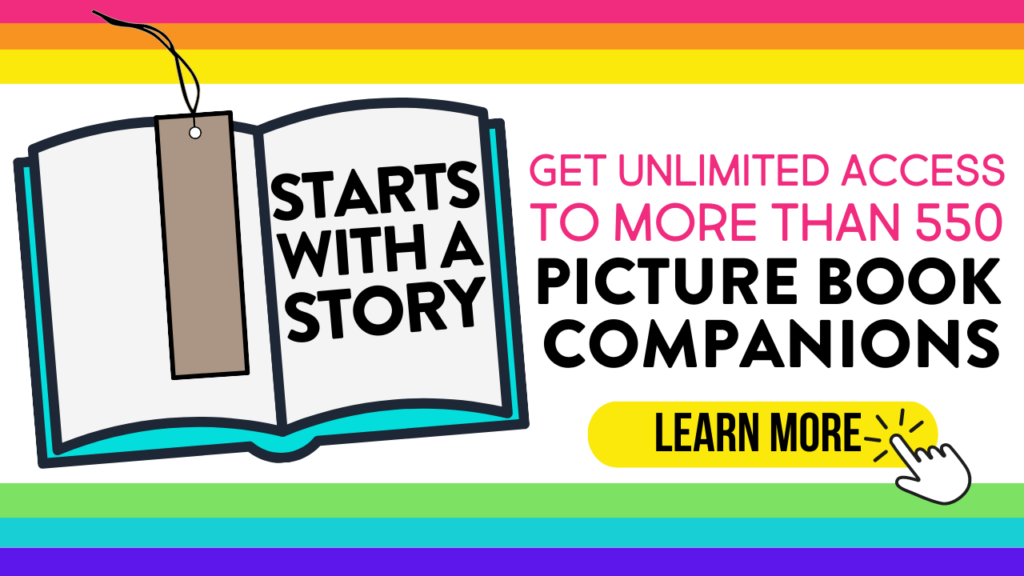 Pumpkin Soup by Helen Cooper
The story Pumpkin Soup is about three friends, Cat, Squirrel, and Duck. They live together in an old, white cabin, and always make pumpkin soup. Each character has a specific role in creating the soup. The Cat slices the pumpkin, Squirrel stirs in the water, and Duck adds the salt. One day, Duck decides that he would like a turn at stirring. This causes a huge fight between the three friends, and Duck leaves the cabin.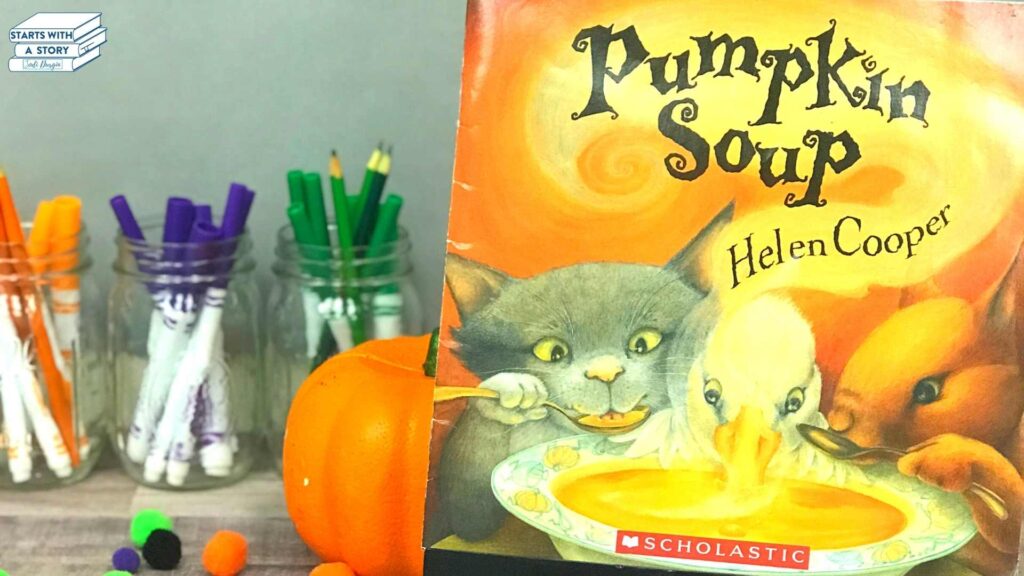 At first, Squirrel and Cat are angry at the Duck. Eventually, they grow sad and miss their friend, and go out to look for him. As they look for him, they reflect on what kind of friends they were to him. They even worry that he found better friends that would let him help and have a turn. When they return to the cabin, they see that Duck is there! They let him have a turn at stirring and have delicious pumpkin soup.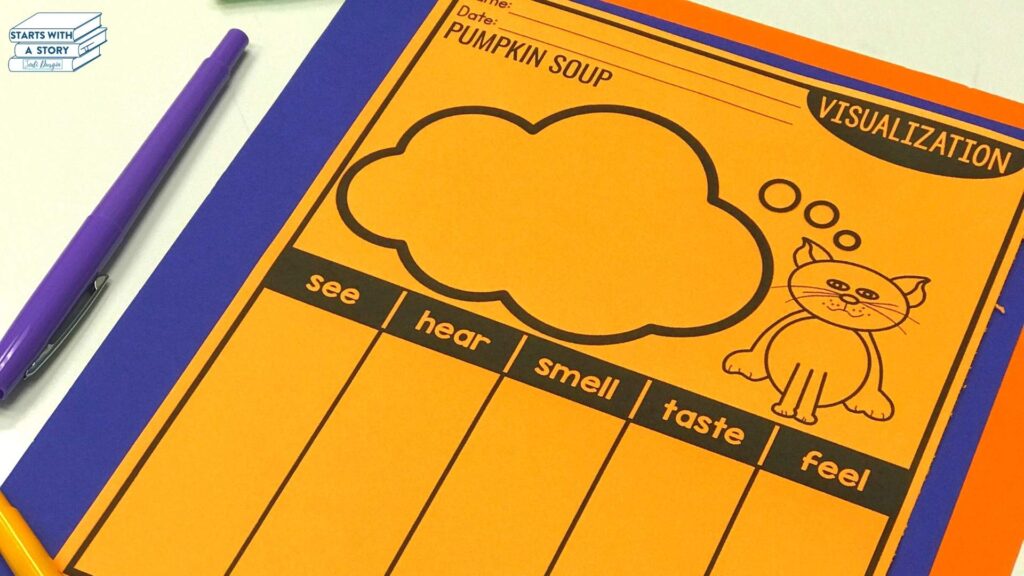 Visit our blog post specifically for this book: Pumpkin Soup Lesson Ideas and Teaching Activities
Big Pumpkin by Erica Silverman
The book Big Pumpkin tells the story of a witch who was growing a pumpkin. She wanted to use the pumpkin to make a pumpkin pie for Halloween. However, when she tries to get the pumpkin off the vine, she finds out it is stuck! Several characters, the mummy, ghost and vampire all try to help pull it off. Each one is bigger and stronger than the character before, but no one can get the pumpkin out. When a bat comes along, she suggests that they all work together to pull the pumpkin off the vine. Once everyone pulls the pumpkin together, they are able to free the pumpkin. The witch races home to make her pumpkin pie and shares it with everyone who helped.
Students will enjoy listening to this rhyming book with repeated phrases.
Visit our blog post specifically for this book: Big Pumpkin Lesson Ideas and Teaching Activities
Pumpkin Town by Katie McKy
Pumpkin Town is about pumpkins that take over a town. One fall day, Jose and his brothers picked out the best pumpkins seeds, and threw the smaller ones into the field at the edge of their farm. A gust of wind blew the seeds off the hill, and onto the town below. When spring came, vines started growing all around the town and soon enough pumpkins started growing everywhere around the town, even on rooftops. It was becoming difficult to move about the town.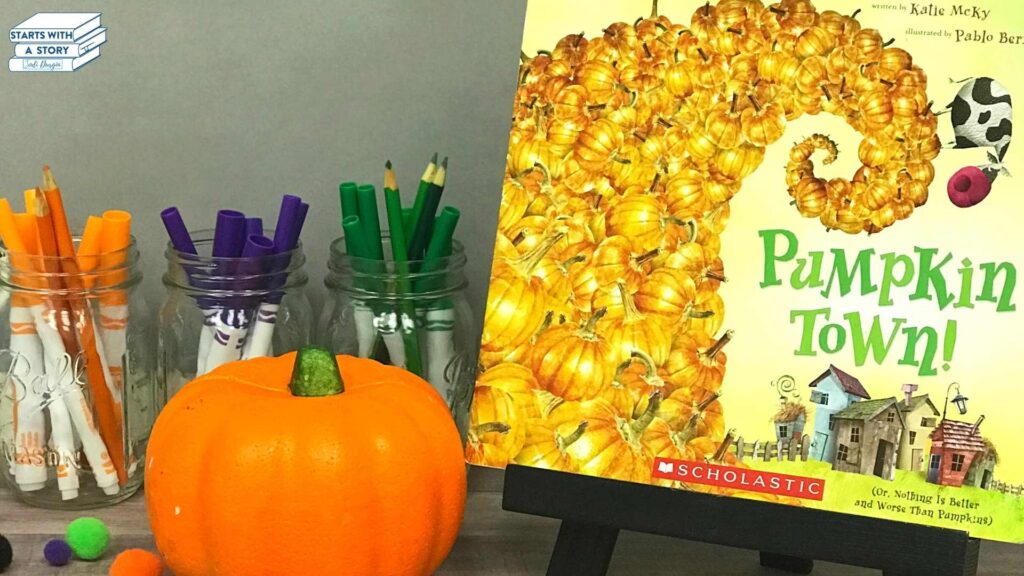 Jose and his brothers saw that the town looked different and went down to investigate. When they saw all the pumpkins, they realized what had happened and they returned to the town at night and removed all of the pumpkins and vines. When the townspeople found the tired brothers, they sent them home with 5 watermelons as a reward for their hard work. The townspeople were able to sell all of the pumpkins and build a statue to remember the 5 boys. Jose and his family enjoyed the watermelon and collected the seeds. Worried that the seeds would land in his fields, Jose threw the watermelon seeds over the hill and they settled all over the town.
Visit our blog post specifically for this book: Pumpkin Town Lesson Ideas and Teaching Activities
Pumpkin Jack by Will Hubbell
In the story Pumpkin Jack, Tim carved his jack-o-lantern one day before Halloween. It had a big silly smile and Tim thought it was perfect. He decided to name the pumpkin Jack, and it stayed in his room long after Halloween. Eventually, Tim's mother told him it was time to get rid of the pumpkin as it was starting to rot. Rather than throwing it in the garbage, Tim left it outside in the garden. As the seasons changed, the pumpkin rotted and shriveled up into the ground.
By the time spring came, all that was left was some pumpkin skin and seeds. Tim buried the seeds and soon a plant started to grow. Tim spent months weeding and watering his pumpkin plant. As Halloween got closer again, Tim had pumpkins growing in his garden! There were so many he was able to share them with his friends. Tim picked his own pumpkin and carved it into a jack-o-lantern. Once again, he named his Pumpkin Jack.
Visit our blog post specifically for this book: Pumpkin Jack Lesson Ideas and Teaching Activities
Little Boo by Stephen Wunderli
Little Boo is the story of a small pumpkin seed who just wants to be scary! He tries to scare leaves, a grub, and snowflakes with no success. As winter comes, the wind tells the seed that it is not time to scare just yet, he must be patient. She buries him in the dirt and the seed sleeps through the winter.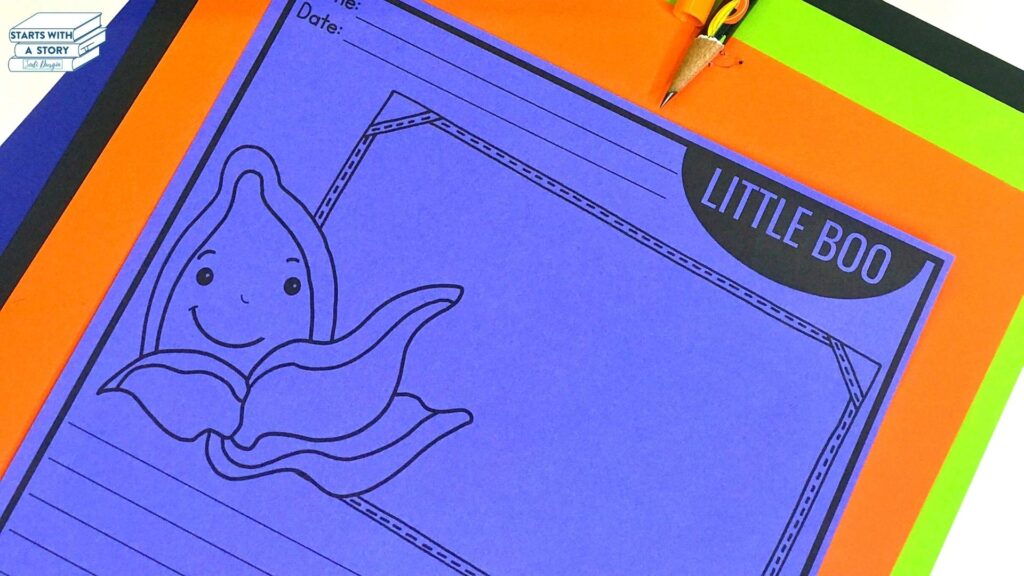 He awakens to find that he has a sprout, but the wind reminds him to be patient. As he continues to grow from a seed, to a flower, and to a fruit, he is anxious to start scaring. The wind is always there to remind him it is not time yet. Finally, the seed has grown into a pumpkin. He is picked from the field and taken inside. Before long, he has been turned into a jack o'lantern and tries to scare a cat. The wind encourages him and tells him to keep trying. Finally, the pumpkin that used to be a seed was ready to be scary.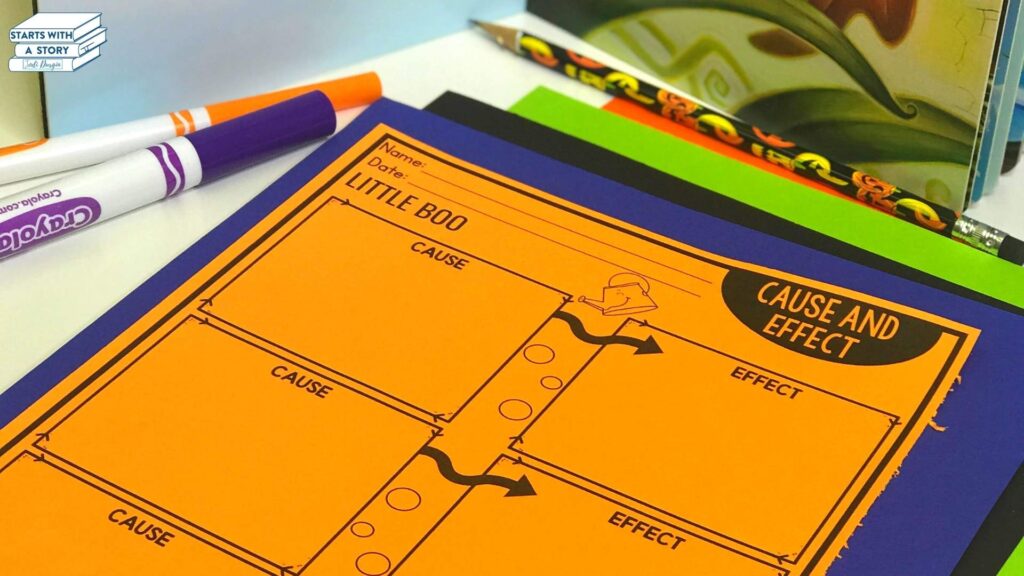 Visit our blog post specifically for this book: Little Boo Lesson Ideas and Teaching Activities
Stumpkin by Lucy Ruth Cummins
It was almost Halloween and the shopkeeper had his shelves filled with pumpkins. One day, a girl came into the shop and picked out a pumpkin to take home. At first, the pumpkins worried about their friend. But then they saw the pumpkin perched high in a window across the street. It had been carved into a jack o'lantern. All the other pumpkins dreamed of being chosen and turned into a special jack o'lantern. But then one of the pumpkins noticed a problem. Stumpkin did not have a stem like the others, it was just a stump! He had many other great qualities like roundness, color and size.
However, as it got closer to Halloween, Stumpkin was still on the shelf. The other pumpkins were being taken to new homes and placed in windows across the street. On the day of Halloween it was only Stumpkin and a gourd. Soon, even the gourd was taken to a new home. By the end of the day on Halloween, Stumpkin was the only pumpkin left. Suddenly, the shopkeeper picked up Stumpkin and carved him into a jack o'lantern. He was placed back on the shelf in the shop for all to see. That's when Stumpkin realized he was in his home all along.
The Biggest Pumpkin Ever by Steven Kroll
There were once two mice who fell in love with the same pumpkin, not knowing about each other. One mouse took care of the pumpkin so he would win the Pumpkin Contest. The other mouse took care of the pumpkin so he could create the best jack-o-lantern ever.
Once they find out about each other, they make a deal to enter the contest, then have the pumpkin be used as a jack-o-lantern for the town. Working together, they make a great team and are able to come to a compromise!
PUMPKIN BOOKS FOR KIDS FREEBIE
In addition to this list of pumpkin books for kids, we have lots of other book lists with suggestions and activities for elementary teachers in 1st grade, 2nd grade, 3rd grade. You can get the book lists, monthly reading challenges and printable reading logs for free!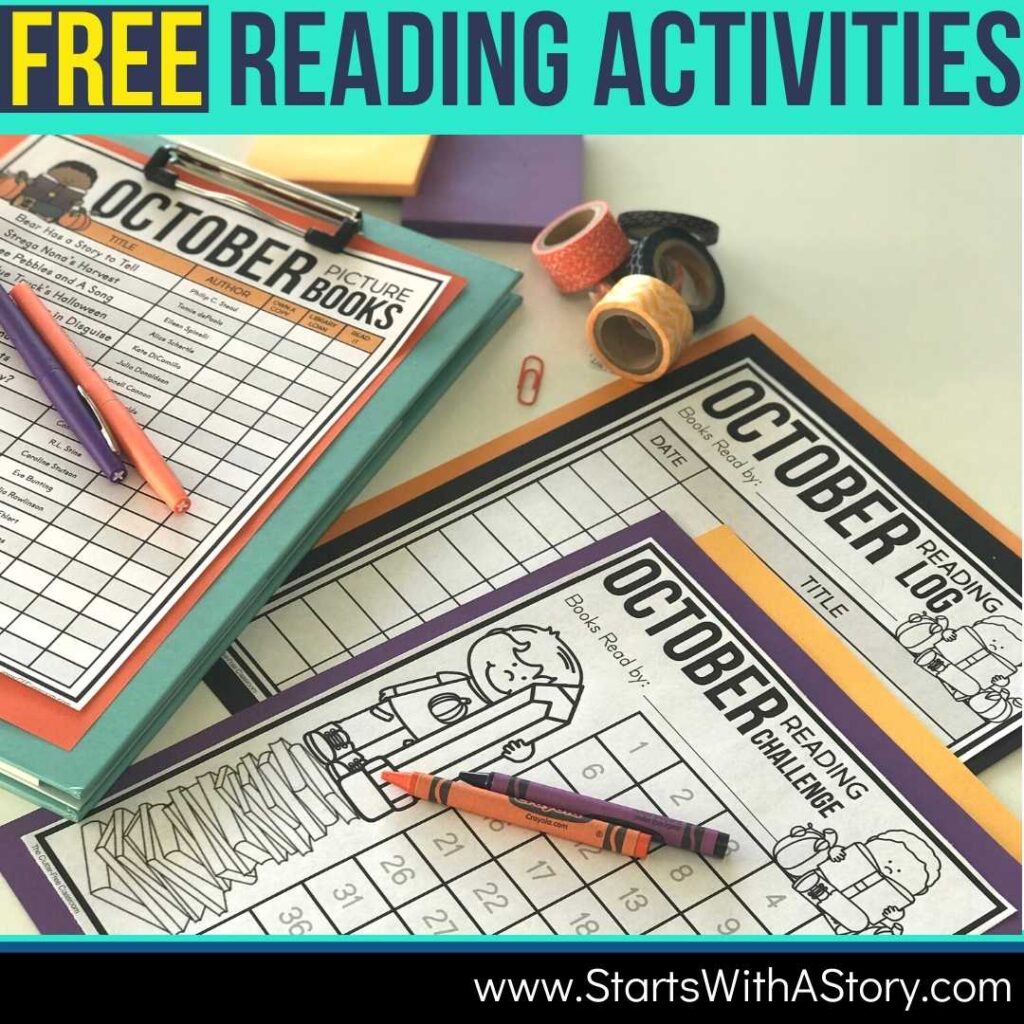 PUMPKIN BOOK ACTIVITIES
If you're excited about teaching using pumpkin books for kids, Halloween read aloud stories, October children's literature or fall picture books we have you covered with this October read aloud bundle from the Starts With a Story Collection.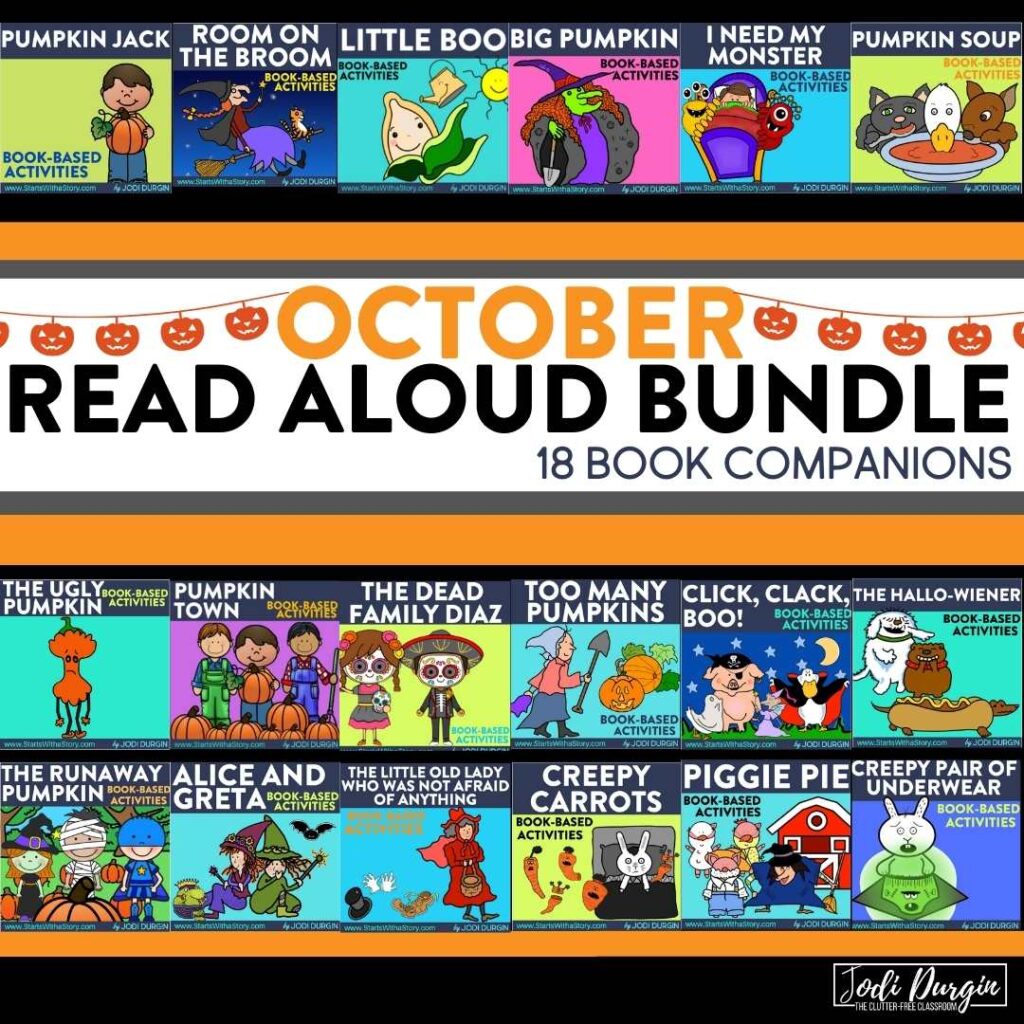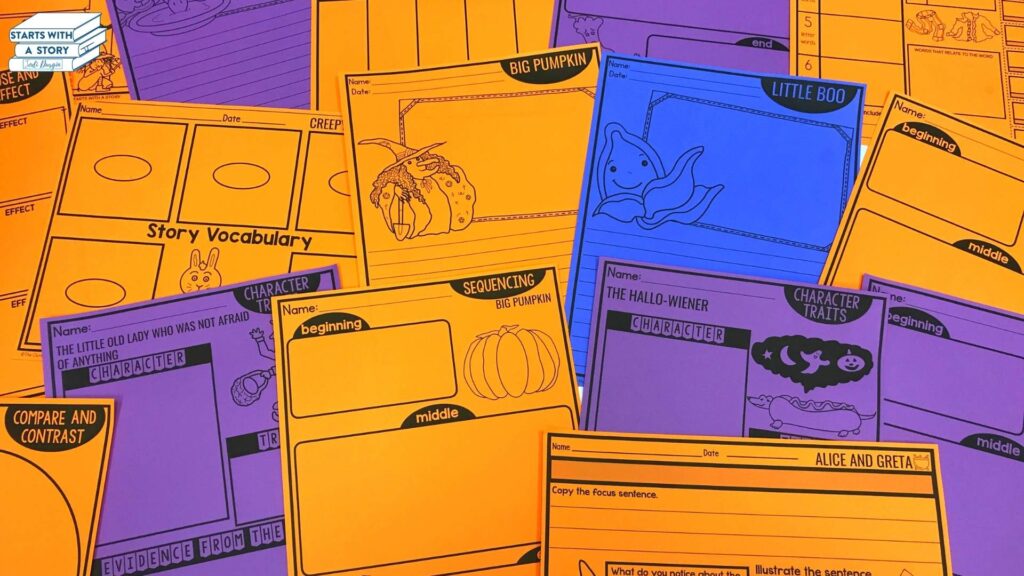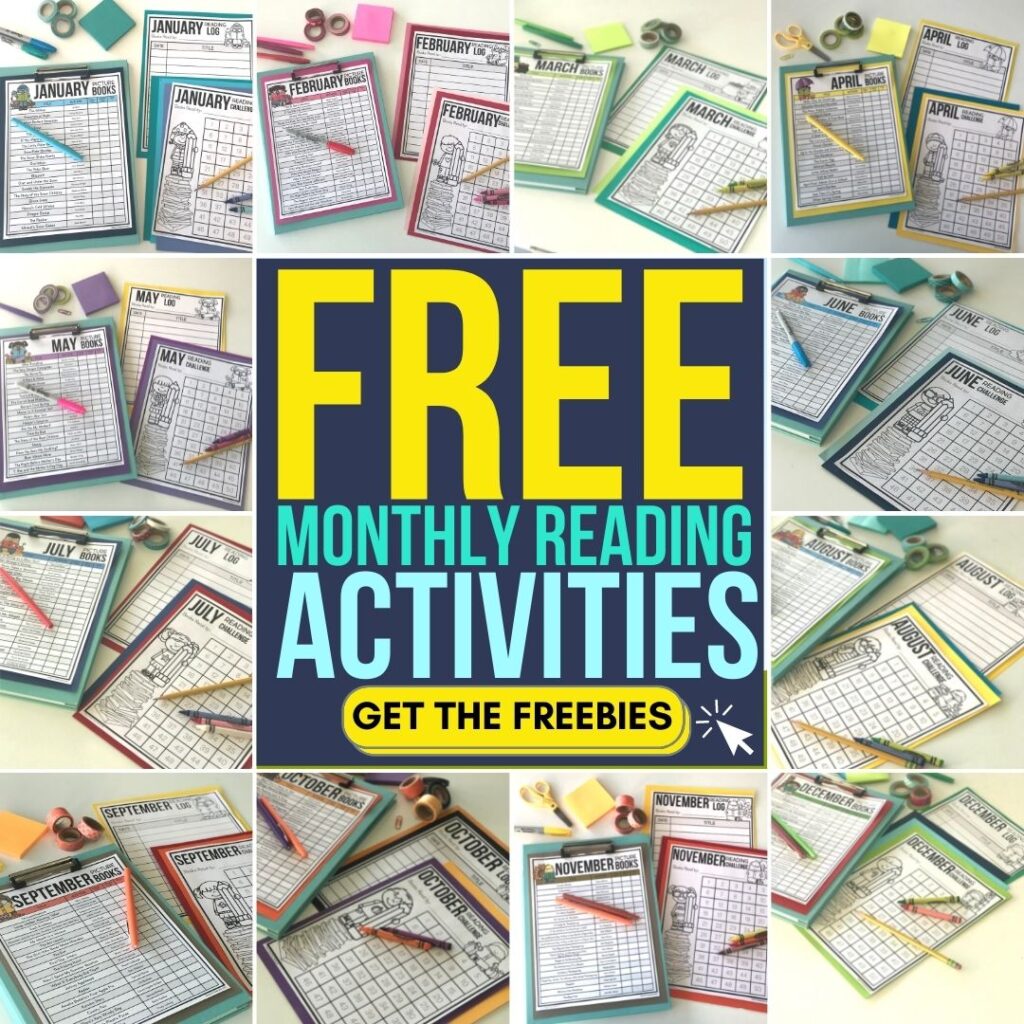 You may also be interested in the elementary teaching ideas these other October blog posts:
Haunted House for Sale Writing and Craft Projects