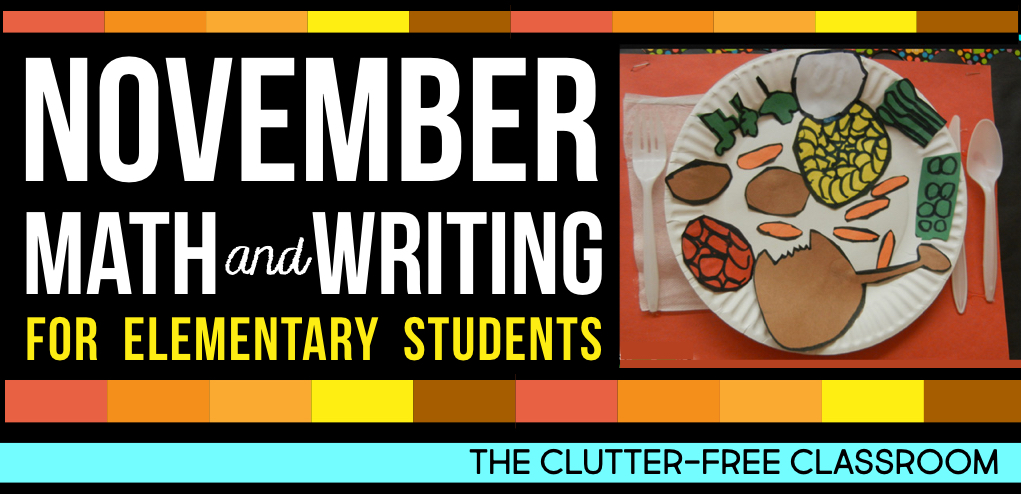 If you are looking for fun November activities that are also educational, I have some great math and writing lessons that I did with my own students as well as some favorite November books for kids that I think you will enjoy.
How to Cook a Turkey
It doesn't matter what grade you teach…if do not have your students write "How to Cook a Turkey," you are missing out. It is so much fun to read how kids think Thanksgiving dinner is prepared.
Favorite Thanksgiving Food
Speaking of Thanksgiving dinner, do you have a favorite food? Is it the mashed potatoes or the stuffing? Perhaps it is the cranberry sauce. Favorite foods make great topics for descriptive writing practice…and it pairs so well with a math activity graphing that data as a class.
I would highly suggest NOT doing these lessons right before lunch. All that talk about Thanksgiving deliciousness had my mouth watering. I created these activities to give the students some exposure and practice with data in math. It is not a unit that come up in our curriculum until later in the year, however, I put great value into the importance of spiral review and this is a really fun way to make sure they are engaged in the concept of data and graphing multiple time throughout the year. This simple project has them collecting, sorting, and representing data based on favorite Thanksgiving foods. I did it with 3rd graders, but because I've included differentiated versions within each resource the activities have been used successfully by teachers in all elementary grade levels.


Here's how it looked in my classroom: I began by having the children each write their favorite Thanksgiving Day food item onto one of the cards and illustrating their selection. After reviewing the cards we brainstormed categories we could use to sort the cards. I've included several options in the printable resources as well as the numbers to create a large bar graph to display. I set up the intervals and had the class sit around a table to help sort. After we sorted and placed data, we discussed our observations.


I also had the students complete a November descriptive writing project describing their favorite Thanksgiving Day foods. These were displayed with the adorable craft project shown in the photo below. Each student creates a Thanksgiving meal using construction paper on a paper plate.
The completed favorite food writing and Thanksgiving dinner crafts were displayed on my November bulletin board next to the students Turkey in Disguise projects which is ALWAYS an annual favorite.
TURKEY IN DISGUISE:

The TURKEY IN DISGUISE writing project also has a craft project to complement it. I have used this resource every year throughout my entire career and it makes me smile every time I see how excited the kids get about it.

I personally have used it both as an in class project and as our November homework project for families. Both options had their own benefits so really it depends on what works best for your class of students.

I go into much greater detail about all the different steps I take when teaching a Disguise a Turkey lesson and I encourage you to read the Turkey in Disguise blog post to get lots of tips and ideas for teaching it to your students.
I've even created a printable resource packet that includes everything you need to rock this activity in your classroom. I always differentiate my printables so they can meet the varied needs of all the learners in one classroom or be used across grade levels. Teachers love the flexibility this resource provides. Because there are so many differentiated pages enclosed you can use it year after year even if you switch grades.

This Disguise a Turkey resource can be used in a variety of ways:
Have the students write a persuasive paragraph from the perspective of the turkey.
Have the students write an opinion paragraph about if the turkey should be eaten.
Have the students write a descriptive paragraph describing the turkey in disguise.
Younger learners can even use the printable pages to draw the turkey.
NOVEMBER WRITING ACTIVITIES:
In addition to our weekly opinion/persuasive and personal narrative Paragraph of the Week that is part of our homework and writer's workshop routine, my students also LOVE the monthly thematic writing prompts. They really look forward to the first of the month when I debut the new writing journals and introduce the choices of writing topics specific to the new month. November is no different.
I print a thematic cover for each student (they really enjoy coloring them during snack or indoor recess) along with the themed paper. I print a copy of all the November journal prompts to include in their journal, but some teachers elect to print just a color version to display in the classroom. I make the writing prompt cards available in a writing center and give them a lot of freedom in picking their own topics from the included prompts.
At the end of the month, I put each student's writing into a booklet with the cover on top. They select one piece from the month to edit and publish. These are such a great way to show how much progress they are making as writers throughout the year and the parents really appreciate the keepsake of their work.
Pilgrims, Wampanoag Native Americans, and the First Thanksgiving
For obvious reasons, many teachers like to focus on early American history and the settling of Plymouth Colony. In Massachusetts, it was one of social studies requirements and was something I really enjoyed teaching every year. If you plan to teach about that topic, or really even brush upon it with your students, I invite you to read my Pilgrims, Wampanoag, and The First Thanksgiving Facts blog post that touches upon some very important misconceptions and key details all teachers should know.
If you would like to have your students learn more about the topic, it makes a wonderful thematic unit for November. I think you will really enjoy the learning portfolio (also known as an interactive notebook or a Pilgrim lapbook).
I really like how self-contained all of the students' work is as they learn about the Pilgrims voyage on to the New World on the Mayflower, the settling of Plimouth Colony, the first winter, the Pilgrims relationship with Squanto and the Wamapnoags and the Harvest Feast (now often referred to as The First Thanksgiving).
Here are a few other fun November ideas I have curated for you…
Surprise your students with a fun treat at snack time:
Love the idea of making this wreath as a class project to display on a classroom door.
I plan to make this a choice activity for the many indoor recesses I anticipate we'll have this month. I think the best way to do this would be to make ink pads and baby wipes available to keep the mess to a minimum.
This 3D turkey would be the perfect addition to a November bulletin board. I plan to have each student create one of their own and will attach their How to Cook a Turkey writing project to the top.
Plimoth Rock Around the Clock – A Performance Based Time Telling Activity