If you are an elementary teacher looking for Thanksgiving read alouds to share with your students during the month of November, then you found the right place! This post includes a comprehensive list of the best Thanksgiving picture books. You will find a ton of great read alouds for Thanksgiving. Some are funny and others are informational. There are plenty to choose from! Check out the full list of Thanksgiving read alouds below!
This post highlights the following fall picture books:
A Plump And Perky Turkey
If You Were at the First Thanksgiving
The Pilgrims' First Thanksgiving
Turkey Trouble
Cranberry Thanksgiving
Sarah Morton's Day
Thanksgiving At The Tappletons'
Balloons Over Broadway
A Turkey for Thanksgiving
Squanto's Journey: The Story of the First Thanksgiving
Thank You, Sarah
Turk and Runt
How Many Days to America?
One is a Feast for Mouse
Samuel Eaton's Day
Sarah gives Thanks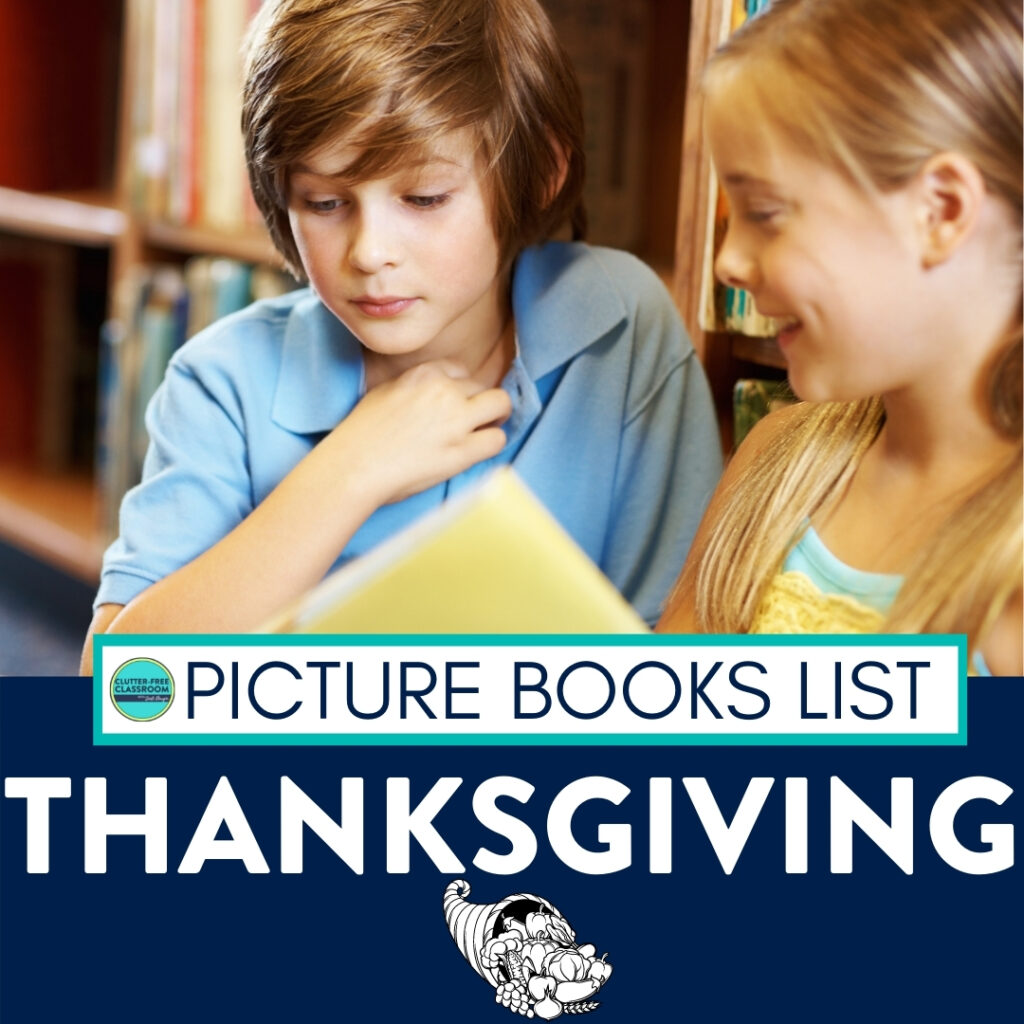 16 Thanksgiving Read Alouds
Below are 16 quality Thanksgiving read alouds. Your elementary students will really enjoy listening to these children's books about Thanksgiving!
A Plump And Perky Turkey by Teresa Bateman
The first of many Thanksgiving books for kids on this list is A Plump and Perky Turkey. As the townspeople are preparing for their Thanksgiving feast, they suddenly realize there are no turkeys in sight. They come up with a plan to lure the turkeys into town by advertising for a "model" turkey to pose for their arts and crafts fair. When Pete the turkey arrives he seems perfect for the job. They plan to use him as their model and when they are finished, he will become their Thanksgiving feast. However, Pete is much more clever then the townspeople expect. He finds a way to outsmart them and makes his escape leaving nothing but shredded wheat to eat for the Thanksgiving feast. This is one of the best Thanksgiving read alouds!
If You Were at the First Thanksgiving by Anne Kamma
Written from the perspective of a child, If You Were at the First Thanksgiving compares and contrasts what they did at the first Thanksgiving to the things we do today when we celebrate. From the type of clothes Pilgrims wore to what kinds of things kids did to help prepare for the feast, this story details the lives of those who participated in the first Thanksgiving long ago, as well as what life was like in Plymouth. Written in a question-and-answer format, students will be able to learn about the first Thanksgiving, and how the way we celebrate today is both similar and different. As far as informational texts, this is one of the best Thanksgiving books for kids!
The Pilgrims' First Thanksgiving by Ann McGovern
The Pilgrims' First Thanksgiving tells the story of the first Thanksgiving, starting with the journey the pilgrims took on the Mayflower. From the cramped quarters on the ship to the lack of food, water, and basic hygiene, the settlers' experience on the Mayflower was painful and difficult. When the pilgrims finally landed on the coast of Plymouth, it was November and the weather was much colder than it had been at the beginning of their journey.
After an arduous first winter in America, the pilgrims met Squanto, who taught them about the land and how to find food. Eventually, the settlers and Native Americans had the first Thanksgiving, which lasted for three days. They ate things from the forest, from the waters, and from their gardens. After their meal, the Native Americans and pilgrims played games and enjoyed each other's company. Students will love the details that this book provides about the pilgrims' first year in America.
Turkey Trouble by Wendi Silvano
In the story Turkey Trouble, Farmer Jake is starting to plan his Thanksgiving dinner and Turkey knows that he is in trouble. He decides that he is going to avoid being the main course this year. Turkey disguises himself as various farm animals to avoid being eaten. Each time Turkey dresses up as another animal, the other animals on the farm recognize him.

Turkey becomes discouraged. He knows that he needs a new plan. He finds himself in the middle of the vegetable patch on the farm. Turkey dresses up as a pizza delivery man and delivers a pizza to Farmer Jake. Turkey solves his problem and has his best Thanksgiving ever. This is one of those Thanksgiving kids books that will have your whole class giggling! It will quickly become one of your favorite Thanksgiving read alouds!
Cranberry Thanksgiving by Wende Devlin
Cranberry Thanksgiving tells the story of a young girl named Maggie and her Grandmother. In preparation for Thanksgiving, Grandmother prepares her famous cranberry bread. Her bread is so famous that she must hide the recipe so others can't use it. Each Thanksgiving, Maggie and Grandmother each invite someone to dinner. Grandmother chose to invite a well dressed man staying at the local hotel. Maggie decided to invite her friend Mr. Whiskers, who Grandmother is not fond of. At dinner, Maggie sees that one of the men has found the recipe. Grandmother assumes it is Mr. Whiskers and is shocked to learn it was her guest, Mr. Horace. She is surprised to learn that Mr. Whiskers was actually invited to help keep an eye on Mr. Horace. In the end, Grandmother has a change of heart towards Mr. Whiskers and they enjoy the rest of their Thanksgiving feast. This story is one of the classic children's Thanksgiving books!
Sarah Morton's Day by Kate Waters
Sarah Morton's Day shows a typical day in Sarah's life from when she wakes up at sunrise to when she goes to bed at sunset. Sarah Morton traveled from England to Plimoth Plantation four years ago, and lives with her mother and step-father after her father's death. Throughout her day, Sarah does chores like making her bed, feeding the chickens, and milking the animals. She also enjoys spending time with her friend, Elizabeth, and having writing lessons. Students will love how this book brings details about a girl's day-to-day experience at Plimoth Plantation to life!
Thanksgiving At The Tappletons' by Eileen Spinelli
Thanksgiving at the Tappletons' tells the story of the Tappleton family's Thanksgiving. Each family member is in charge of getting part of the meal ready. However, everyone makes a mistake with their part of the meal. Mrs. Tappleton dropped the turkey, Mr. Tappleton couldn't get pie, and Kenny fed the salad to his class pet. Each member of the family keeps their mistake a secret. When it is time to eat, everyone is surprised to find that there is no food! Everyone must admit to the mistakes they made. The Tappleton family must come together to make a meal out of food that is in the house. The children learn that Thanksgiving is not about the food but instead about being with family. Students will enjoy this silly Thanksgiving read while learning the importance of family and honesty.
Balloons Over Broadway by Melissa Sweet
Balloons Over Broadway tells the true story of Tony Sarg, the original puppeteer of the Macy's Thanksgiving Day Parade. Even when he was a young child, Tony enjoyed making and creating things. As he grew up, he started to make marionettes when he noticed people were no longer making them for children. He became known for his puppets and Macy's asked Tony to help with their window displays. They liked his work so much they asked Tony to help them create a parade. Tony worked to design parade floats that everyone on the streets could see and enjoy. His work became so popular that Macy's decided to have the parade each year, what we now know as the Macy's Thanksgiving Day Parade. Students will love this nonfiction book that teaches the history behind this popular parade. This story will quickly become one of your favorite books to read around thanksgiving.
A Turkey For Thanksgiving by Eve Bunting
In the book A Turkey for Thanksgiving, Mr. and Mrs. Moose are getting ready to have their friends over for Thanksgiving dinner. When everything is set up, Mrs. Moose is disappointed that she does not have a turkey at dinner, so Mr. Moose decides to go out and find her one. As Mr. Moose wanders around looking for a turkey, he runs into friends along the way. Each friend joins him in the search. When they come upon a turkey's nest, the friends try to catch the turkey. Mr. Moose pushes the frightened turkey home to Mrs. Moose. When they return home, Mrs. Moose is so happy to have Turkey at dinner. She makes sure there is food he likes to eat and sits him right next to her. Turkey is relieved to find that he is sitting at the table and not on it. All of the friends enjoy eating their Thanksgiving dinner together. This is one of my favorite Thanksgiving books for children!
Squanto's Journey: The Story of the First Thanksgiving by Joseph Bruchac
The book Squanto's Journey tells the story of the Native American named Squanto who befriended the English settler of Plymouth. After being kidnapped by an English captain and sold as a slave to the Spanish, Squanto was finally able to return to his homeland. When he did, he was saddened to find that most of his people had been killed due to the disease that European settlers brought to America. Despite this, Squanto still felt that there was a possibility of peace between Native Americans and the settlers, so he decided to help those in Plymouth.

Students will love this biography of Squanto because it provides a more historically accurate tale of the events surrounding the first Thanksgiving and shows why it is something that Americans still celebrate today. This story is a great children's book about Thanksgiving Day.
Thank You, Sarah by Laurie Halse Anderson
Can you imagine what life would be like if Americans didn't celebrate Thanksgiving? The book Thank You, Sarah details the life of Sarah Hale, a woman who fought for playgrounds for kids, schools for girls, and historical monuments for everyone. On top of that, Sarah was also an accomplished writer and was the first female magazine editor in America.

Sarah was disappointed when she noticed that people had started to ignore Thanksgiving. So, she began writing letters to politicians, asking them to make Thanksgiving a national holiday. Following her lead, more women began writing letters of their own. Eventually, Sarah had written to four different presidents, but they all refused. After the Civil War started, Sarah wrote one more letter to President Abraham Lincoln, and finally, in 1863, Thanksgiving was made a national holiday.

This book will teach students that, without Sarah's determination, Thanksgiving might not be as widely celebrated in America today! This is one of my favorite Thanksgiving books for elementary students!
Turk And Runt by Lisa Wheeler
Turk and Runt tells the story of two turkeys that are brothers. Turk's parents are so proud of him because he is big and strong. They imagine that he will be a dancer or football player. Runt however, is much smaller and no one in the family ever listens to him. As Thanksgiving approaches, people visit the farm to pick out their turkey. The parents think the visitors admiring Turk want him to perform in a ballet or join a football team. No one listens to Runt's warnings about Turk becoming someone's dinner. He acts wildly and sickly to scare the visitors away and protect his brother. When an older woman arrives and decides Runt is the perfect size for her, Runt and Turk must work together to stop the old lady from taking him home. This story will quickly become one of your students' favorite Thanksgiving children's books!
How Many Days to America? by Eve Bunting
In How Many Days to America?, after soldiers arrive at a family's home on a Carribean island, they must leave everything they have and get on a small fishing boat to America. Just an hour from the shore, the boat breaks down and leaves the group stranded. However, hope is not lost because the women work together to make a sail so that the boat will be able to move again.

After encountering thieves, hunger, sickness and more soldiers, the family finally makes it to America, and are greeted by a huge feast! They discover that they have arrived on Thanksgiving. Students will love this story of the determination of a family as they face many challenges on their long journey.
One Is a Feast For Mouse by Judy Cox
One is a Feast For Mouse is a Thanksgiving story about a mouse living in a family's home. After Thanksgiving dinner, when the family is resting and playing, the mouse makes his way to the dinner table. He finds all the leftover food and is happy to see a pea and thinks a pea is a feast for a mouse. However, as he makes his way home across the table, he is enticed by all the other delicious foods. Each time he tries to carry more food his pile grows bigger and bigger. Eventually, the mouse has a run in with the family's cat and ends up dropping all the food! There is a big crash and the mouse runs back to his house. After all the excitement, the mouse finds a pea made its way into his home. He is grateful for the pea and considers it a feast. Students will love this silly and heart-warming tale about a mouse's Thanksgiving feast. This is one of the best kids' Thanksgiving books!
Samuel Eaton's Day by Kate Waters
In Samuel Eaton's Day, Samuel Eaton, a seven-year-old boy who lives on Plimoth Plantation, is excited because today, he gets to work with his father in the rye harvest! As he goes about his day, Samuel enjoys playing with his stepsister and spending time with his stepmother. While out gathering food, Samuel stops to greet two of his Native American friends.
Students will love this book because it shows what life was like for a young boy living at Plimoth Plantation. I recommend reading both this story and Sarah Morton's Day because it lends itself nicely to comparing and contrasting what it was like to be a young girl and young boy during that time period. These two books are on the list of the best children's Thanksgiving books.
Sarah Gives Thanks by Mike Allegra
In Sarah Gives Thanks, on Thanksgiving in 1822, Sarah Morton and her five children were solemn as they had just come from mourning Sarah's husband, David. In an attempt to cheer everyone up, Sarah encouraged those at the dinner to tell stories of David and share why they were thankful that he had been in their lives. From that day on, Thanksgiving would hold a special place in Sarah's heart.

Later, as she became a successful author and editor of two different women's magazines, Sarah began to write letters to politicians asking for Thanksgiving to be made into a national holiday. After being rejected by four different presidents, Abraham Lincoln finally accepted her request and Thanksgiving became a national holiday! Students will love this heartwarming story about how one determined woman made a difference. This story is one of the best picture books about Thanksgiving!
If you are looking for standards-based worksheets and activities that go with these books, then check out these Starts With a Story resources shown below!
Grab the Free Reading Resources!
We hope you found this list of Thanksgiving read alouds helpful! You might also like these turkey children's books. They are great for this time of year as well! If you want to get more book ideas to read aloud to your elementary students, then grab this reading freebie. It includes read aloud books lists, reading logs, and reading challenges for 1st, 2nd, 3rd, 4th, and 5th grade classroom teachers. It will have you covered for the entire school year, as well as the summer months! Grab this free elementary reading packet now!