If you are an elementary teacher looking for Thanksgiving read alouds to share with your students during the month of November, then you found the right place! This post includes a comprehensive list of the best Thanksgiving picture books. You will find a ton of great read alouds for Thanksgiving. Check out the full list of Thanksgiving read alouds below!
This book list post highlights the following fall picture books that are perfect for celebrating Thanksgiving with your class of students: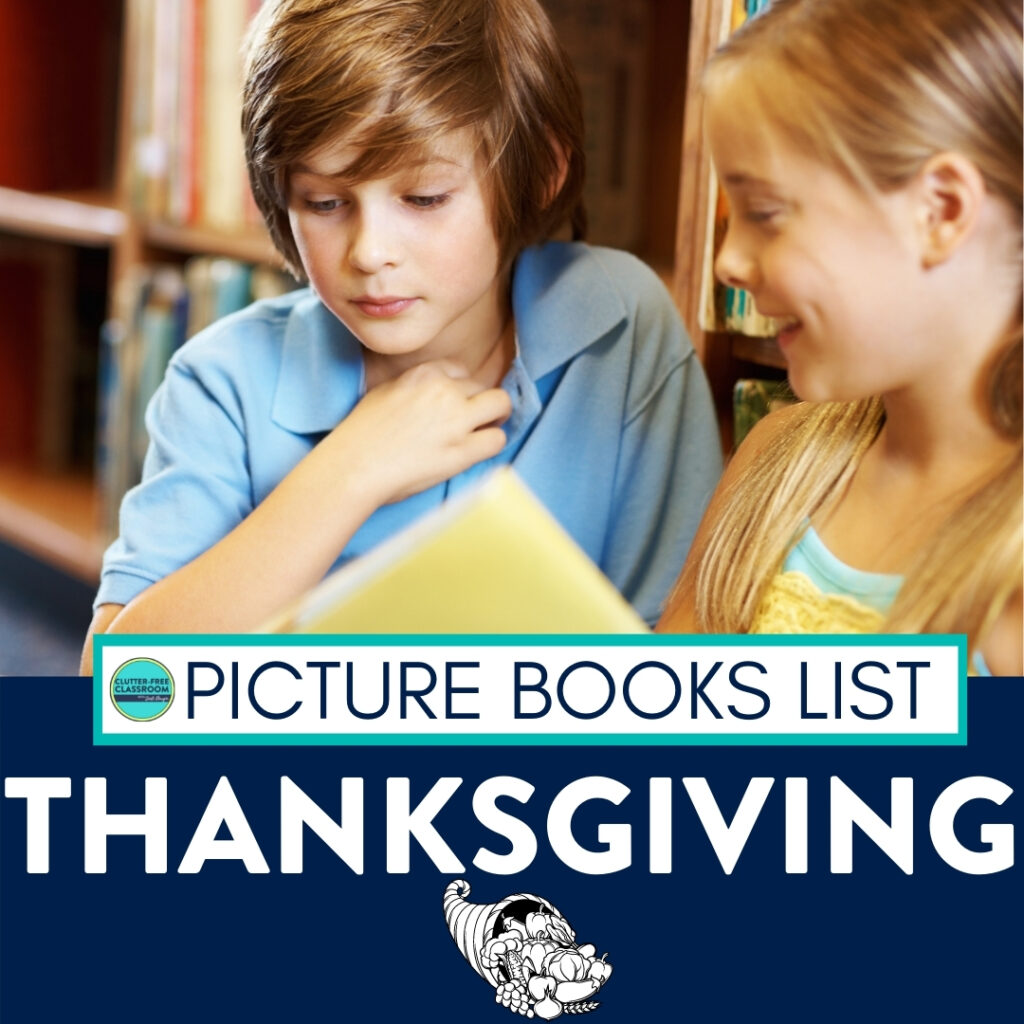 5 Thanksgiving Read Alouds
Below are quality Thanksgiving read alouds. Your elementary students will really enjoy listening to these children's books about Thanksgiving!
1. Cranberry Thanksgiving by Wende Devlin
Cranberry Thanksgiving tells the story of a young girl named Maggie and her Grandmother. In preparation for Thanksgiving, Grandmother prepares her famous cranberry bread. Her bread is so famous that she must hide the recipe so others can't use it. Each Thanksgiving, Maggie and Grandmother each invite someone to dinner. Grandmother chose to invite a well dressed man staying at the local hotel. Maggie decided to invite her friend Mr. Whiskers, who Grandmother is not fond of.
At dinner, Maggie sees that one of the men has found the recipe. Grandmother assumes it is Mr. Whiskers and is shocked to learn it was her guest, Mr. Horace. She is surprised to learn that Mr. Whiskers was actually invited to help keep an eye on Mr. Horace. In the end, Grandmother has a change of heart towards Mr. Whiskers and they enjoy the rest of their Thanksgiving feast. This story is one of the classic children's Thanksgiving books!
Check out these Cranberry Thanksgiving activities!
2. Thanksgiving at The Tappletons' by Eileen Spinelli
Thanksgiving at the Tappletons' tells the story of the Tappleton family's Thanksgiving. Each family member is in charge of getting part of the meal ready. However, everyone makes a mistake with their part of the meal. Mrs. Tappleton dropped the turkey, Mr. Tappleton couldn't get pie, and Kenny fed the salad to his class pet. Each member of the family keeps their mistake a secret.
When it is time to eat, everyone is surprised to find that there is no food! Everyone must admit to the mistakes they made. The Tappleton family must come together to make a meal out of food that is in the house. The children learn that Thanksgiving is not about the food but instead about being with family. Students will enjoy this silly Thanksgiving read while learning the importance of family and honesty.
Check out these Thanksgiving at The Tappleton's activities!
3. Balloons Over Broadway by Melissa Sweet
Balloons Over Broadway tells the true story of Tony Sarg, the original puppeteer of the Macy's Thanksgiving Day Parade. Even when he was a young child, Tony enjoyed making and creating things. As he grew up, he started to make marionettes when he noticed people were no longer making them for children. He became known for his puppets and Macy's asked Tony to help with their window displays. They liked his work so much they asked Tony to help them create a parade.
Tony worked to design parade floats that everyone on the streets could see and enjoy. His work became so popular that Macy's decided to have the parade each year, what we now know as the Macy's Thanksgiving Day Parade. Students will love this nonfiction book that teaches the history behind this popular parade. This story will quickly become one of your favorite books to read around thanksgiving. Check out these Balloons Over Broadway activities!
4. One Is a Feast For Mouse by Judy Cox
One is a Feast For Mouse is a Thanksgiving story about a mouse living in a family's home. After Thanksgiving dinner, when the family is resting and playing, the mouse makes his way to the dinner table. He finds all the leftover food and is happy to see a pea and thinks a pea is a feast for a mouse. However, as he makes his way home across the table, he is enticed by all the other delicious foods. Each time he tries to carry more food his pile grows bigger and bigger.
Eventually, the mouse has a run in with the family's cat and ends up dropping all the food! There is a big crash and the mouse runs back to his house. After all the excitement, the mouse finds a pea made its way into his home. He is grateful for the pea and considers it a feast. Students will love this silly and heart-warming tale about a mouse's Thanksgiving feast. This is one of the best kids' Thanksgiving books! Check out these One is a Feast for Mouse activities!
5. Bear Says Thanks by Karma Wilson
It is a cold day and Bear is alone in his cave feeling bored. He decides he would like to invite all of his friends over for a feast! However, when Bear opens his cupboard he is disappointed to find that it is empty! That's when Bear's friend Mouse arrives with a pie to share with Bear! He thanks her for sharing the pie.
Throughout the book, Bear's different friends arrive, each with a different food to share. Hare brought muffins, Badger brought fish, Gopher and Mole brought honey nuts, and Owl, Raven and Wren brought pears and herbs. Every time a new friend arrives with food, Bear says thanks.
Once all of his friends are there, Bear realizes he has nothing to share! He feels bad that they've all brought food and his cupboards are bare. His friends reassure him that it is okay, he has his stories to share. The friends enjoy sitting around the fire eating the feast and chatting with one another. All the friends are grateful for the food and company.
Check out these Bear Says Thanks activities!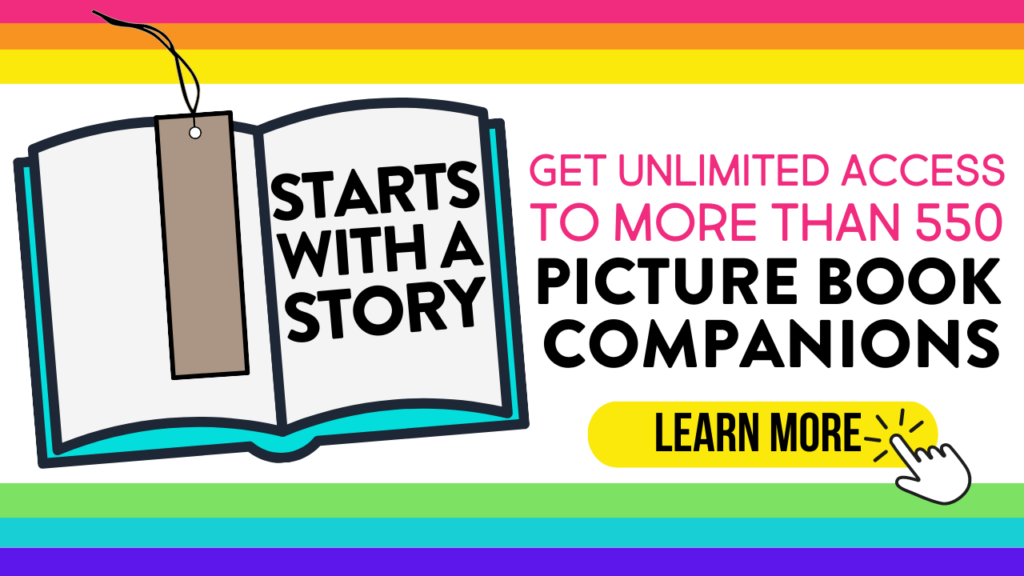 Get All of the Thanksgiving Book Companions
Save money by scooping up all of the Thanksgiving book companions!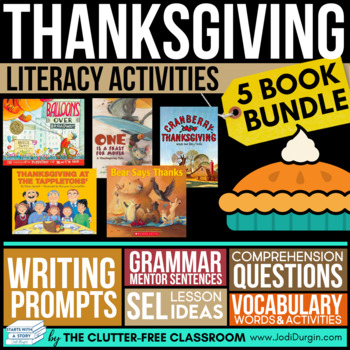 Grab the Free Reading Resources!
We hope you found this list of Thanksgiving read alouds helpful! You might also like these turkey children's books. They are great for this time of year as well! If you want to get more book ideas to read aloud to your elementary students, then grab this reading freebie. It includes read aloud books lists, reading logs, and reading challenges for 1st, 2nd, 3rd, 4th, and 5th grade classroom teachers. It will have you covered for the entire school year, as well as the summer months! Grab this free elementary reading packet now!