These kids books about Native Americans are great read alouds for the month of November for National American Indian and Alaska Native Heritage Month. These Native American picture books would tie in nicely with a Thanksgiving social studies unit during this time, but can really be used any time of the school year.
If you are looking for any of the following, then you will find the list of the best Native American books for kids below helpful.
picture books about Native American culture
children's books with Native American characters
books for Native American Heritage Month
best children's books about Native American history
children's books about Native American heritage
Check out the full list of kids books about Native Americans below!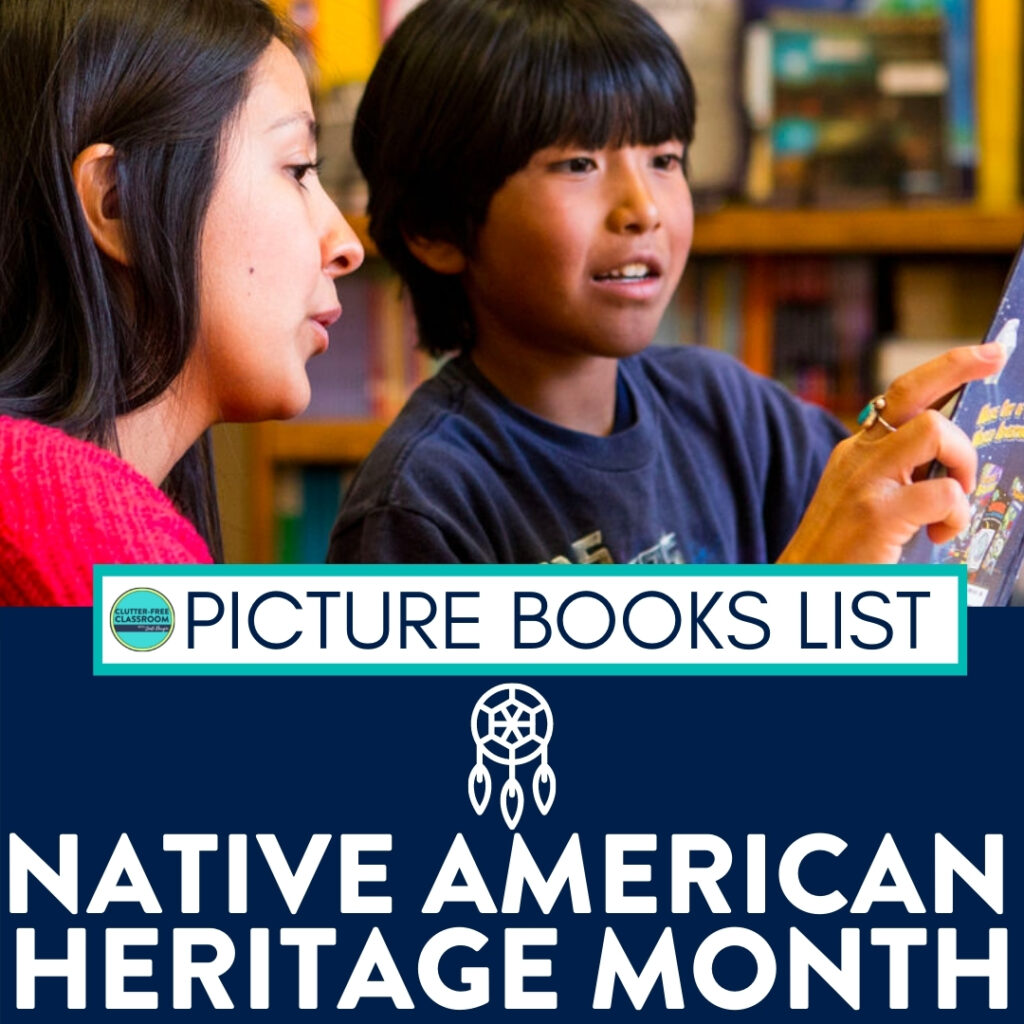 6 Kids Books about Native Americans
Below are 6 quality kids books about Native Americans that are great Native American Heritage Month books and fall read alouds. Your elementary students will love listening to these Native American read alouds and learning about this group of people!
Fry Bread by Kevin Noble Maillard
One of the best Native American children's books is Kevin Noble Maillard's book, Fry Bread. It teaches readers about the Native American tradition of making fry bread. This book is rich with figurative language as the author describes what fry bread is, what it looks like and what it tastes like.

Readers will learn how making fry bread is an important part of the Native American culture. It shows how it is a way for them to gather as a family and community. This is one of my favorite children's books about Native American culture, which is why I added it to my Starts With a Story collection.
Squanto's Journey: The Story of the First Thanksgiving by Joseph Bruchac
The second title on the list of children's books about Native Americans is Squanto's Journey. This book tells the story of Squanto, whose people were the Patuxet people. When he was younger, he was abducted and enslaved in Spain. When he finally made the long journey back to America, he found that his people had been decimated by illness.
Upon the settlers of Plimoth's arrival, however, Squanto helps them. He shows them when and how to plant crops and acts as a peacemaker and interpreter between the Native Americans and settlers. When a good harvest is gathered in the fall, a huge feast is held with both groups of people.
We are Water Protectors by Carole Lindstrom
This is one of the most popular children's books on Native American culture. We are Water Protectors is about a girl and her people who live in a village. They are water protectors, and they honor and appreciate everything water has done for them. It is the first medicine, it nourishes all life, and it is sacred. When a black snake threatens her people's land, the girl rallies her village to stand against the threat.
Stolen Words by Melanie Florence
The book Stolen Words teaches about residential schools, which forced Indigenous students to attend in order to strip them of their culture. It is estimated that these practices, due to neglect within the schools, caused between 4,000 and 6,000 deaths.
On a walk home from school one day, a young girl asks her grandfather to say something in his Cree language. He responds that he can't, because his time at residential school took those words of his language from him. At residential school, students were forced to assimilate certain beliefs, and they were punished for speaking their native languages. After hearing this, the girl decides to help her grandfather find his language again. The next day, she skips out of school with a book, which introduces the Cree language. She presents it to her grandfather, who is grateful for her kindness.
The Star People: A Lakota Story by S. D. Nelson
In The Star People, when Sister Girl and Young Wolf of the Lakota tribe leave their village to gaze at the clouds, they get caught up in a prairie fire. They find safety in a stream, where they watch the fire pass. They realize they do not know how to get back home. They see the spirit of their grandmother among many other spirits in the stars, who guides the two children back home.
Wilma's Way Home: The Life of Wilma Mankiller by Doreen Rappaport
Wilma's Way Home: The Life of Wilma Mankiller is a true story about a Cherokee woman who showed courage and determination to return to the community she was raised in. Born in Oklahoma in 1945, Wilma Pearl Mankiller was an activist, social worker, and community developer who was the first woman to serve as the Principal Chief of the Cherokee Nation. Growing up, she experienced the Cherokee practice of Gadugi, or helping each other, even when times got tough. When she is uprooted by the federal government in 1956, her family is forced away from their community to California. Wilma finds refuge and community in the Indian Center in San Francisco. Eventually, Wilma returns to Oklahoma with a family of her own and takes part in Cherokee government. Her courageous dedication to her community eventually leads her to become the first female chief of the Cherokee Nation!
If you are looking for lesson ideas, worksheets, or activities based on a book about Native Americans, then check out this Fry Bread book companion or this We are Water Protectors book companion. It includes reading comprehension questions, writing prompts, SEL lesson ideas, and more.
Grab the Free Reading Resources!
We hope you found this list of kids books about Native Americans helpful! As I mentioned above, these are great children's books for Native American Heritage Month, but can be used any time of the year. If you want to get more book ideas to read aloud to your elementary students, then grab this reading freebie. It includes read aloud books lists, reading logs, and reading challenges for 1st, 2nd, 3rd, 4th, and 5th grade classroom teachers. It will have you covered for the entire school year, as well as the summer months! Grab this free elementary reading packet now!