Grandparents' Day is always celebrated on the first Sunday after Labor Day, which makes it a great holiday to celebrate during back to school time in the classroom. This list of Grandparents' Day books can be used as read alouds throughout the year as well. They all highlight grandparent-grandchild relationships and don't speak directly to the holiday. Instead, these children's books about grandparents open up opportunities for students to think about and discuss their relationships with their grandparents. This post includes the following Grandparents' Day books:
The Hello, Goodbye Window
Last Stop on Market Street
Where Are You From?
The Mitten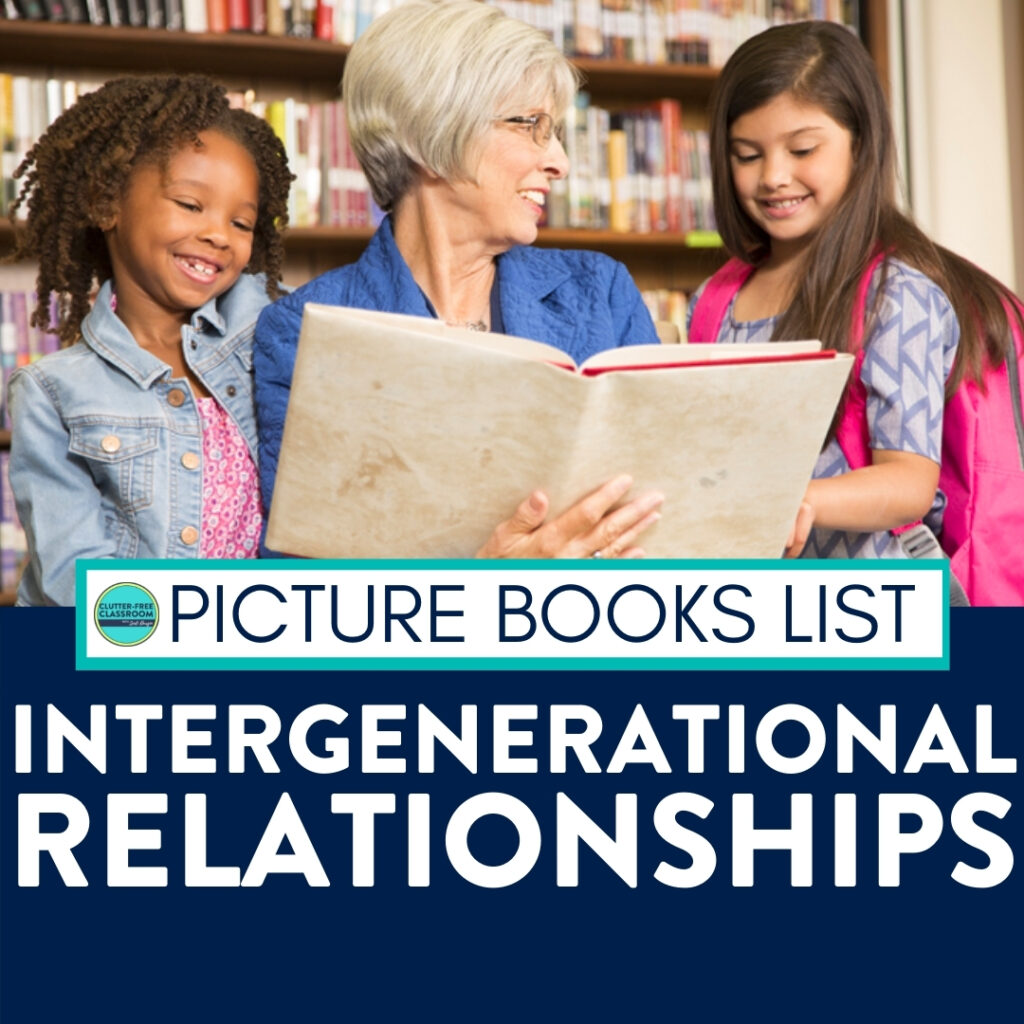 4 Grandparents' Day Books
Below are 4 great books about grandparents for kids.
1. Last Stop on Market Street by Matt de la Peña
In the story Last Stop on Market Street, CJ and his Nana ride bus to get around their town. CJ enjoys his bus ride on most days. He does start to question his Nana about why they have to ride the bus, why they wait in the rain, why they do not have a car, and why they always need to visit with the passengers on the bus.

CJ asks many questions and Nana is always happy to answer him with an honest response. He wondered how his Nan always found beauty where he never even thought to look. CJ realizes that his Nana helps him see the beauty in all they do and he finally realizes that Nana knows best!
This Grandparents' Day book is great for highlighting grandmother-grandchild relationships.
2. Where Are You From? by Yamile Saied Méndez
In the book Where Are You From?, the main character in this book is always asked where she is from. She tries to explain that she is from here, just like everyone else. However, that answer doesn't seem to satisfy the people asking. She decides to ask her Abuelo where she is from because he knows everything. He tells her all about the places her ancestors lived and the things they used to do. She is from the Pampas, gauchos, and brown river. She learns she is from the blue ocean and hurricanes.

When she presses for the name of a specific place, he tells her that she comes from his heart and the heart of all of the family members that came before them. The little girl is happy with this answer and proud to know more about where she is from.
This Grandparents' Day book is great for highlighting grandfather-grandchild relationships.
3. The Mitten by Jan Brett
In Jan Brett's The Mitten, a young boy named Nicki wants his grandmother to knit him snow white mittens. Although she warns him they could get lost in the snow, she makes the mittens anyway. When Nicki goes out to play, he drops one of the mittens in the snow and does not realize it. Soon, a mole comes by and decides the mitten is a warm cozy place to stay. Eventually, more and more animals, a rabbit, owl, fox, bear, mouse, and hedgehog, move inside the mitten.

It is crowded inside the mitten and it continues to stretch bigger and bigger. When the mouse climbs on top of the bear's nose, it tickles and the bear sneezes. All of the animals go flying out of the mitten! As Nicki walks home he sees his mitten flying through the sky. He returns home and Baba is confused about the large, stretched out mitten.
4. The Hello, Goodbye Window by Norton Juster
In The Hello, Goodbye Window, a little girl describes what visits to her Nanna and Poppy's house are like. She tells readers all the different things she likes to do at their house: look at the stars, work in her Nanna's garden, and eat dinner by the window.

The girl's favorite part of their house is the big window inside their kitchen, she calls it the Hello, Goodbye Window. This is where she stops first when visiting their house. She peeks inside the window and makes funny faces through the glass with her Nanna and Poppy. When it is time to go home, she always makes sure to look in the window and wave goodbye. The main character shares all of her special memories from time spent at her grandparents house. When she grows up, she hopes to have a house with a window just like theirs.
If you are looking for resources to go with these picture books about grandparents, then click the images below! They are book companions based on these 4 children's stories about grandparents that include reading comprehension questions, writing prompts, printable and digital student activities, teaching ideas, and much more. They are part of my Starts With a Story collection.
Grab the Free Reading Resources!
We hope you found this list of grandparents' day books helpful! If you want to get more book ideas to read aloud to your elementary students, then grab this reading freebie. It includes read aloud books lists, reading logs, and reading challenges for 1st, 2nd, 3rd, 4th, and 5th grade classroom teachers. It will have you covered for the entire school year, as well as the summer months! Grab this free elementary reading packet now!