The first day of school is a very exciting and nerve-wracking time for students. Read alouds are a great way to welcome students, help them acclimate back to the school environment, and begin to build a classroom community. This list of first day of school books will help you do just that! Some of first day of school read alouds on this list are really sweet like The Kissing Hand and others are really funny like You're Finally Here. You can select which first day of school picture books are best for your classroom. You may also find this list of back to school read alouds helpful too as you plan for the new school year!
This post includes the following great first day of school books:
You're Finally Here
First Day Jitters
The Day You Begin
The Kissing Hand
A Tiger Tail
School's First Day of School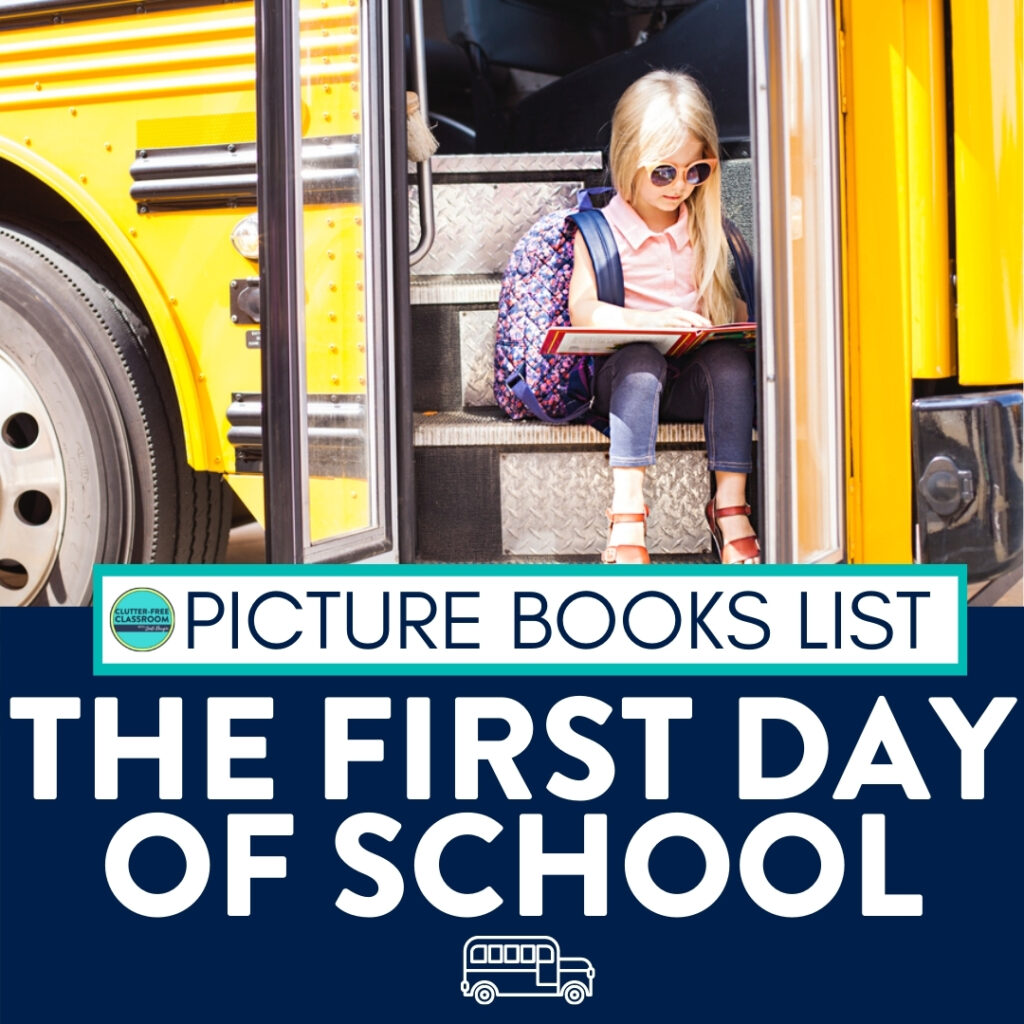 6 First Day of School Books
Below are 6 of the best first day of school books your students will love!
1. You're Finally Here by Mélanie Watt
The narrator and main character of the book You're Finally Here is an energetic rabbit. As soon as the book starts, readers learn he is excited they have finally arrived. The rabbit explains he has been waiting a long time for the reader and asks where they have been. Throughout the book the rabbit explains how rude and annoying it was that he had to wait so long, but is sure to show readers just how happy he is to have them in the book. The rabbit even asks the reader to sign a contract saying they will stay and give him their undivided attention.
2. First Day Jitters by Julie Danneberg
The story First Day Jitters tells the story of Sarah, who is very nervous for her first day of school. Her dad tries to get her out of bed and Sarah says she is not going. She is worried about starting her new school and not knowing anyone. As Sarah gets ready for school, she becomes more nervous. Even her hands are clammy.
Sarah's dad drives her to school and she begins to feel sick with nerves. When they arrive at the school, Sarah's principal is there to greet her and show her where to go. The principal leads Sarah through the crowded halls to her new class. When the principal enters the room she introduces the students to their new teacher, Mrs. Sarah Jane Hartwell!
Students will love the surprise at the end of the story, when they discover that teachers also get nervous on the first day of school!
3. The Day You Begin by Jacqueline Woodson
The Day You Begin follows different students as they spend time at school. Each student feels different from their classmates, and shys away from what makes them unique. One student spent the summer reading books and taking care of her sister, one student speaks another language and is from another country, and another student enjoys a lunch that is unfamiliar to her classmates. The day that each student begins is the day they share their stories about who they are and what makes them special. Students will enjoy this story that explores diversity and the importance of owning who we are.
4. The Kissing Hand by Audrey Penn
In the story The Kissing Hand, Chester the raccoon does not want to go to school. He wants to stay at home and be with his mother, play with his friends, play with toys, read his books, and swing on his swing. Mrs. Raccoon tells Chester that sometimes we have to do things that we don't want to do and can be scary, but that he will love school once he starts.
Chester's mother teaches him about the kissing hand. She kisses the palm of his hand and says that whenever he feels lonely at school he can hold his palm to his cheek and think 'Mommy loves you.' This makes Chester feel a lot better and know that his mother's love will always be with him. When it is time to go to school, Chester is ready. He gives his mother her own kissing hand and dances away to school. This is one of the classic first day of school books for lower elementary students!
5. A Tiger Tail by Mike Boldt
In the book A Tiger Tail, Anya is shocked when she wakes up to find she has grown a tiger tail, and it's the first day of school. She worries what her classmates will think. Anya's parents are supportive and encouraging about her appearance, but Anya is still upset. She tries everything to pull off the tail and cover it up, but nothing words. Anya tries to act sick and miss the bus to get out of going to school, but her parents catch on.
When Anya gets to school, she bumps into another classmate named Ben. She is surprised to see that Ben has bunny ears. When the two enter the classroom, everyone in class is unique. There is one student in a wheelchair, someone wearing headphones, a student that has ears like a mouse, and even the teacher has very big teeth. When Anya realizes the diversity in her classroom, she finally feels better about her tiger tail.
6. School's First Day of School by Adam Rex
The story School's First Day of School is about a school that is nervous about its first day hosting students. Over the summer a brand new school was built, it was named Frederick Douglass Elementary. While the janitor cleaned, School was happy it was just the two of them. However, the janitor explained that soon the teachers and students would come for the first day and School did not know how to feel about that.

When the children came, they were everywhere. They played on the playground, used the lockers and opened all the doors. School felt sad when he heard some students say they hated school and a little girl had to be carried in by her mother. As the day goes on, School starts to enjoy himself. He hears a funny joke at lunch and learns about shapes in a kindergarten class. At the end of the day, School asks the janitor if he can invite everyone to come back again tomorrow.
Check out these book companion resources that go with these 6 first day of school children's books by clicking the images below. These 1st day of school books include reading comprehension questions, writing prompts, grammar and vocabulary lesson ideas, printable student activities, digital resources, and much more! All 6 of these first day of school story books are part of my Start With a Story collection.
Grab the Free Reading Resources!
We hope you found this list of first day of school books helpful! If you want to get more book ideas to read aloud to your elementary students, then grab this reading freebie. It includes read aloud books lists, reading logs, and reading challenges for 1st, 2nd, 3rd, 4th, and 5th grade classroom teachers. It will have you covered for the entire school year, as well as the summer months! Grab this free elementary reading packet now!