December is a great time of year for celebrating and learning about holidays around the world for kids. Elementary students can learn about how different countries celebrate Christmas, Hanukkah, Kwanzaa, Diwali, Las Posadas, Three Kings Day, St. Lucia Day, Epiphany, and Chinese New Year using these lists of holidays around the world books.
You may also find this comprehensive holidays around the world unit to be helpful! It is packed with holidays around the world activities, holiday lesson plans, festive holiday crafts from around the world, and more! In addition to exploring all of the holidays celebrated this time of year, it does a deep dive into Christmas around the world for kids. It's a great way to celebrate a festive time of year without focusing on one or two popular holidays and by using activities that are meaningful and academic. Learn more about these quality picture books for teaching holidays around the world for kids below!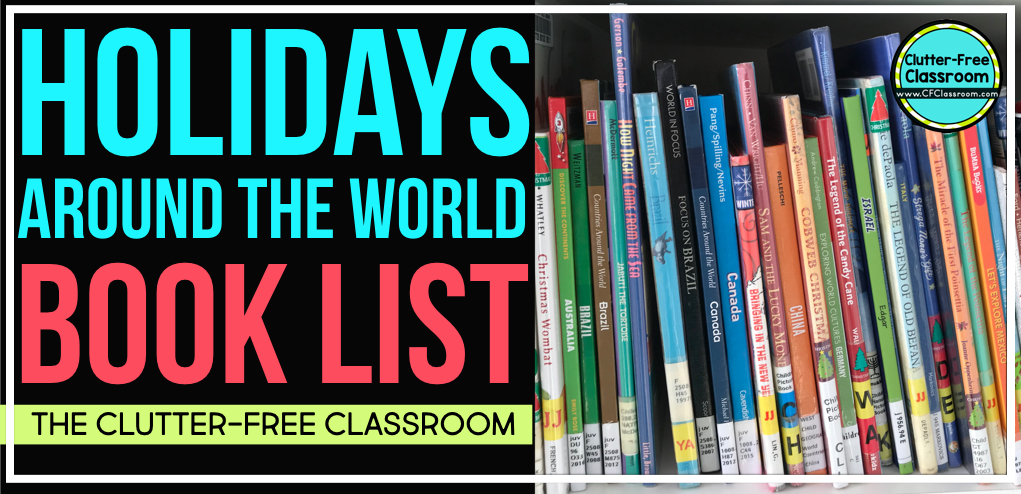 Holidays Around the World Books
Using holidays around the world books as read alouds will equip you to share multicultural celebrations and diverse traditions with your students. This book list includes quality picture books that show diversity, cultures, and winter holidays in the global world.
The list below goes beyond "Christmas Around the World" to include:
Use the time-saving book list below to decide which titles are a good match for your students. Clicking on any of the covers will take you to full descriptions and summaries as well as reader reviews via an Amazon affiliate link. While you may want to build up your personal collection of books by purchasing them you could also use the list to request copies from your local library or even search online for video of the books being read aloud at no cost.
Below are some of my favorite holidays around the world books to share with elementary students!
Chinese New Year Books
You can't have a list of holidays around the world books without mentioning Chinese New Year! Check out the list of books below!
Ruby's Chinese New Year by Vickie Lee
Chinese New Year was a special celebration for Ruby. Her grandmother always came, but this year, she was not well enough to travel. Ruby made her a beautiful card and put it in a red envelope for good luck. As she went to deliver the letter, she passed a variety of animals who all contributed and helped in some way during the journey. Along the way, she swam and ruined the letter. The animals reminded her of all the other goodies they have, and that seeing family was more important regardless. Ruby and her grandmother had a wonderful celebration together in the end!
Goldy Luck and the Three Pandas by Natasha Yim
Chinese New Year has quickly arrived, and young Goldy is awoken to her mom asking for errands. Goldy is to go to her neighbor's house with turnip cakes and wish the Chen family a Happy New Year.
When she goes over, no one answers the door. Walking in, she trips and drops all of the cakes! Goldy then goes looking for a broom, but she comes upon congee. Being so hungry, she just had to eat some! With a full belly, Goldy needs to rest, but she breaks the rocking chair. Feeling even more exhausted, Goldy goes and lays on a perfectly sized futon.
When the Chen family walk in, they find their home in disarray! Goldy runs out of the house and quickly returns to help clean up the mess.
Ruby's Wish by Shirin Yim Bridges
The story Ruby's Wish takes place in China a long time ago. Ruby lived in a big house with her wealthy grandfather. He had many wives and therefore had many grandchildren. Unlike other girls in China, Ruby was able to take classes because her grandfather had hired a teacher to come to the house. Ruby was always an impressive student, and even continued with her classes when the other girls stopped going. It was not easy for her to keep up with the boys because she had household duties after school, while the boys were able to play.
One day, Ruby wrote a poem about how the boys in the house are treated differently. Ruby's grandfather was concerned and asked her to explain the poem to him. He learned that Ruby wanted to go to university just like the boys. Later, on Chinese New Year, Ruby's grandfather handed her a large envelope. Inside was an invitation from a university inviting Ruby to be their first female student. Ruby's dream of attending university finally came true!
Christmas Around the World Books
These Christmas read alouds are great holidays around the world books because they highlight how Christmas is celebrated in Australia, Germany, Sweden, and France. See the full list of book below!
Christmas Wombat by Jackie French
The book, Christmas Wombat, is a short and funny Australian story told from the perspective of a wombat. In the book, the wombat is describing his day, almost like a journal. He comes across some carrots and excitedly eats them. However, there are some strange creatures, Santa's reindeer, eating his carrots! The wombat continues to follow Santa and the reindeer, eating all of the reindeer's carrots. He has never seen so many carrots in his life! By the time he returns home is he too full to eat the delicious grass he sees. Students will love this funny story about a wombat that thinks the reindeer's carrots are for him!
Cobweb Christmas by Shirley Climo
Cobweb Christmas is a German folktale that explains why people decorate their Christmas tree with tinsel. It tells the story of an old woman fondly called Tante by those in her village. Each year, Tante gets her home ready for Christmas by cleaning and going out to get a Christmas tree. Tante would make her own decorations for the tree, covering it in treats for the animals. Once everything was ready, she would share her tree with the children and animals. When Tante finally fell asleep, Christkindel was off delivering presents. He saw hundreds of spiders outside Tante's house, hoping to view the tree.
Christkindel let them in and discovered they'd woven webs all over the tree. Not wanting to upset Tante, he turned the webs into tinsel. Tante was awoke to the marvelous tree and continued to decorate her tree that way year after year.
The Tomten by Astrid Lindgren
The Tomten by Astrid Lindgren tells the Scandinavian story of a gnome. In this book, the Tomten lives on an old farm and visits the people and animals during the night. While humans have never seen him, they know he is there because of his little footprints in the snow. It takes place during the long, frigid winter while everyone is wishing for spring. As the Tomten visits the cows, sheep, dogs, and children, he offers words of hope and reminds them to be grateful. He speaks his own, silent language that the animals can understand. Students will enjoy listening to this sweet folktale from another country.
Madeline's Christmas by Ludwig Bemelmans
Madeline's Christmas is a story about a little girl named Madeline who embarks on an adventure. It's the night before Christmas and everyone is sick in bed except for Madeline. She is taking care of the other eleven little girls and Miss Clavel. It's a lot of hard work! When Madeline finds help from a magical merchant, the girls go on a Christmas journey.
Hanukkah Books
These Hanukkah books are great holidays around the world books to share with elementary students. Check out the book below!
Latke, The Lucky Dog by Ellen Fischer
Latke, The Lucky Dog is a story about how Zoe and Zach got to pick out a dog as a Hanukkah present. They chose a medium, playful dog and named him Latke. When Latke makes it home, he is very excited about his new house. He thinks he is so lucky to live with Zoe and Zach. When Latke sees treats on the table, he thinks he can eat them because it is his home. Latke is curious about candles so he chews them. He keeps chewing and slobbering on things and his family starts to get angry and upset. Latke worries that his family will bring him back to the shelter.
Eventually, Latke learned that he should only be eating his food, and his family gave him a chew toy as a Hanukkah gift. Students will love this story about a puppy adjusting to his new home. This book is a great way to teach students about Hanukkah traditions.
Kwanzaa Books
You can't forget about Kwanzaa when you are collecting holidays around the world books to read aloud aloud to your elementary students. Check out the book below!
Seven Spools of Thread by Angela Shelf Medearis
The Seven Spools of Thread is a folktale that takes place in Ghana. There are seven brothers that live in a village and they argue day and night. When their father passes away, the village Chief tells them that their father has left them his inheritance. However, in order to receive it they must do two things: turn seven spools of thread into gold, and do so without arguing. The brothers return home and come up with a plan together.
Eventually, they decide to try creating something with the thread to sell in exchange for gold. The brothers create a colorful fabric, which is different than the single colored fabric in their village. A treasurer for the King gives the brothers gold for the fabric and they earn the inheritance. The brothers show compassion to their village by teaching others to turn thread into gold. The seven threads in this story symbolize the seven principles of Kwanzaa.
Epiphany Books
Epiphany often gets overlooked when elementary teachers are looking for holidays around the world books. Check out the book below for celebrating this festive holiday!
The Legend of Old Befana by Tomie Depaola
The Legend of Old Befana is the story of an old woman living in a small Italian village. Befana is not friendly and the people in the village do not like her very much. She spends her days baking and sweeping her house, steps, and walkway.
One night, Befana is awakened by a bright light outside, it is a star. The star shines so brightly that Befana cannot sleep. The next day as Befana sweeps the walk, she sees an amazing procession of people. She learns that they are in search of the new Baby King that was just born. Eventually, Befana decides that she too will go in search of the king. She bakes treats too, and brings her broom to sweep for the tired mother.
Befana runs as fast as she can to try and catch up to the group. However, she never finds the king. To this day, Old Befana spends each night running from house to house looking for the Baby King and sweeping children's rooms.
Las Posadas Books
Las Posadas is another holiday that often gets overlooked when teachers are looking for holidays around the world books. Check out the list of books below!
The Legend of the Poinsettia by Tomie Depaola
The Legend of the Poinsettia takes place in a village in Mexico. The main character is a young girl named Lucida. As the village prepares for Christmas, Lucida's mother is asked to weave a new blanket for the manger scene. They are very proud to do this and Lucida is happy to help. However, as it gets closer to Christmas Eve, Lucida's mother becomes sick and must stay in the hospital. Everyone is disappointed that the blanket will not be completed in time. Lucida tries to fix the blanket but it just gets tangled. She is so upset that she has nothing to bring to the church so she hides outside.
An old woman approaches Lucida and tells her everything will be okay. She teaches Lucida that the gift she brings does not matter, it is the thought that is important. Lucida gathers a bundle of weeds and brings them to the church. Everyone is surprised to see the weeds bloom into poinsettia. From that day forward the poinsettia flowers bloom every Christmas Eve in Mexico.
Too Many Tamales by Gary Soto
It's Christmas and Maria is helping her mother make tamales. She feels very grown-up wearing her mother's apron, perfume and lipstick. Maria admires her mother's diamond ring sitting on the counter. When her mother leaves the room to get the phone, Maria decides to try the ring on. She watches it shine as she kneads the dough for the tamales.
Maria and her parents finish making the tamales and the family arrives. The children go upstairs to play. While Maria and her cousins clip pictures of toys in the newspaper, a picture of a necklace reminds Maria of the ring. She realizes it is not on her hand anymore! She runs downstairs and realizes it must be inside one of the tamales.
Maria and her cousins start eating the tamales, hoping to find the ring. When they've eaten the last one without finding the ring, they realize someone must have swallowed the ring. Maria must confess to her mother.
As Maria is talking to her mother, she realizes the ring is on her finger! It wasn't missing after all. Maria is still upset that she almost lost the ring but her aunt tries to comfort her. The family works together in the kitchen to make a second batch of tamales. Maria feels better when Aunt Rosa jokes that the second batch is always better.
These holidays around the world books serve as great read alouds for the month of December. Your elementary students will love learning about these different holidays and making connections between the stories and their own experiences. If you are looking for book lessons and activities, check out the resources below!
Holidays Around the World Unit
Holidays around the world is an extremely popular unit in elementary schools and homeschool classrooms throughout the month of December. If you are teaching a holidays around the world unit, check out these tips for teaching a holidays around the world. It also showcases a comprehensive, jam-packed resource I created that includes all of the holidays around the world activities that I've used over the years.
Grab the Free Book Lists!
Download the free book lists and activities by clicking the image below.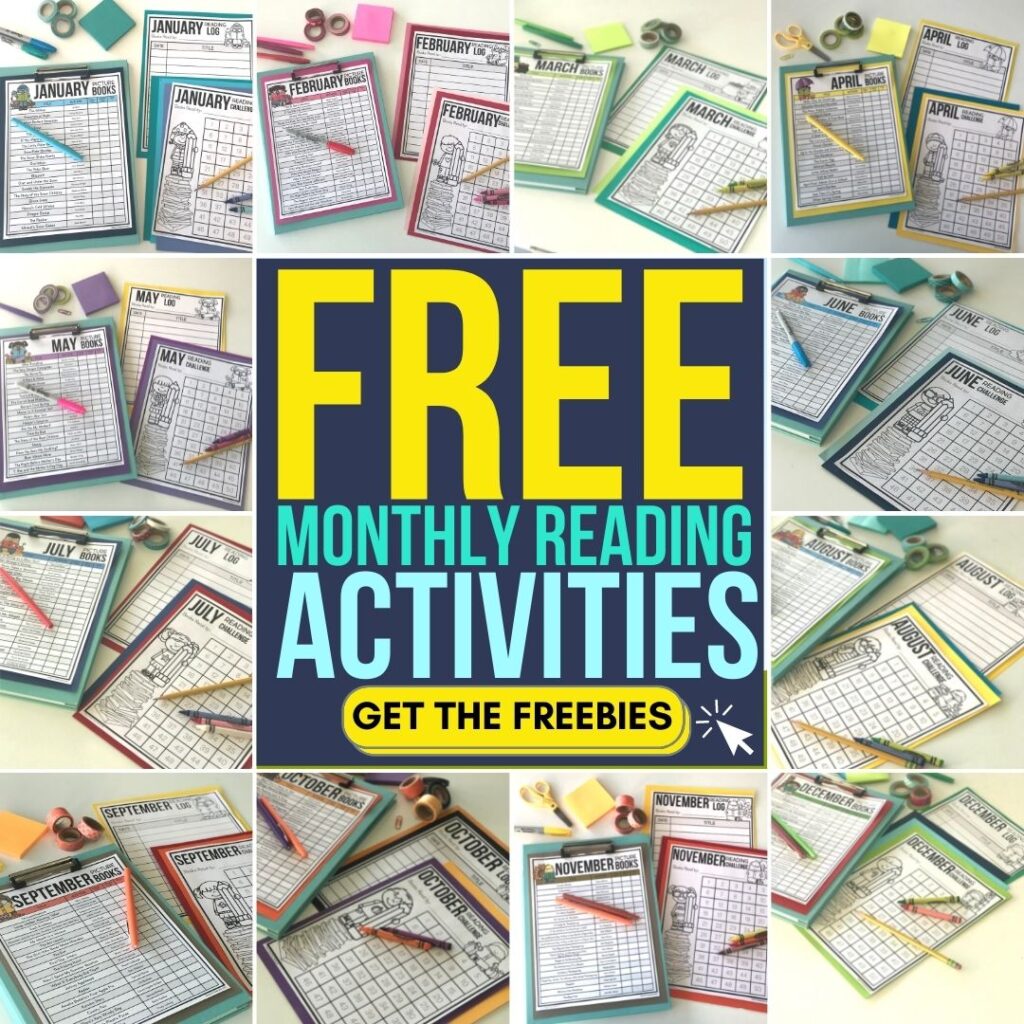 If you liked this post about holidays around the world books, you may also find these posts helpful: