Holidays around the world activities are perfect for the month of December. While many schools encourage teachers not to focus on Christmas or Santa, the children are often hyper-focused on the holidays that they celebrate. Students everywhere tend to check out a bit as the winter break draws near and they crave classroom activities they perceive as being "fun" as opposed to the typical routines. Teachers are busier than ever and need to keep the students learning and engaged. A holidays around the world unit is the ideal solution because it allows you to integrate reading and writing skill practice with so many other learning opportunities … all while your students enjoy what they think are fun, seasonal activities.
Many teachers think a holidays around the world unit will be expensive, messy, chaotic and require a lot of planning and prepping. I have good news! That doesn't need to be the case at all.
This blog post will…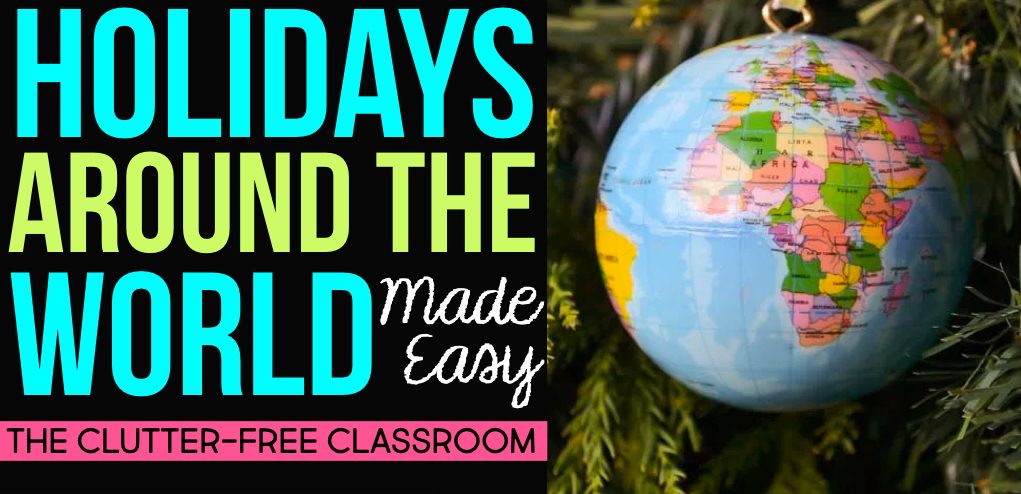 What is a Holidays Around the World Unit?
A holidays around the world unit is a study of how different countries and cultures celebrate different holidays.
Why is a Holidays around the World Unit Important?
A holidays around the world unit is important at the elementary level because it exposes students to a variety of cultures and traditions in other countries (as well as their own). The experiences help them identify the similarities and differences, so they can grow a deeper level of appreciation and respect for others.
5 Steps for Planning a Holidays Around the World Unit
Below are 5 steps for planning a holidays around the world unit in your classroom.
Step 1: Pick the Countries and Holidays You Wish to Include
There are so many interesting ones to choose from. Some years I include more than others depending on when the winter break begins. Here is the list of the ones I included in the resource I created to get you started.
Countries
Australia
Brazil
China
France
Germany
India
Israel
Italy
Mexico
Netherlands
Spain
Sweden
United States
Holidays
St. Lucia Day
Kwanzaa
Christmas
Chinese New Year
Diwali
Hanukkah
Las Posadas
Epiphany
Boxing Day
Step 2: Gather Your Resources
Some teachers avoid taking on a holidays around the world unit because they worry that it will be expensive to buy all of the necessary resources to teach the students about the different holidays. This doesn't need to be an obstacle.
The resource I created includes printable close reading activities chock full of information. They can be assembled into a book for students or used one at a time. You can enhance your unit with more great resources for free.
Take a look at this holidays around the world book list for titles of read alouds you may want to use. You'll find many of those books at your local library as well as by searching online for videos of them being read aloud.
Check out these holidays around the world videos that include a great collection of the holiday storytellers I curated after a recent trip to Disney World. They are the perfect complement to your unit and your students will learn so much from them.
Consider scooping up this holidays around the world unit, which has been jam-packed with a collection of activities. The packet as a whole is perfect for grades 2-5 and the majority of it is also great for first graders as well. Younger learners will especially love the passports and stamps, luggage craft, postcards, journal, travel scrapbook and Venn diagrams. Older learners will not only enjoy those but will also feel great pride completing research organizers and writing reports and presenting information. Take a look at all that is included!
This holidays around the world resource includes:
resource overview that identifies all of the printables included in the product
teaching ideas that offer suggestions for how to implement the resources in your classroom
organizational tools to help you keep track of the resources you add to this thematic unit
book suggestions to help you find relevant read alouds you might like to use as part of your unit
close reading passage for both teachers and students to learn more about the holiday
printable book for students to use to learn about the holiday
two-column notes graphic organizer so your students can organize their ideas and the research they collect
top-down web graphic organizer so your students can take the information they collected and transfer it into a paragraph framework
cover pages that students can color in or design their own illustration
geography map to help students make sense of where the country is in relation to themselves
flag bunting that looks great displayed on a bulletin board
flag coloring page that pairs well with the writing project and makes a great bulletin board
postcards so students can show what they learned in a fun and creative way
travel scrapbook so students can show what they learned in a fun and creative way
travel journal so students can show what they learned in a fun and creative way
art project to engage your students in a fun learning experience based on an academic topic
recipe for students to bring home, share with their families, and enjoy a hands-on learning extension
digital version of the product so students can access the materials in school and at home
And also these bonus materials:
access to a digital portal for easy planning
passports and country stamps
luggage craft activity
boarding passes
travel map
compare and contrast countries with Venn diagrams
craft ideas
scrapbook cover
recipes
These printable and digital holidays around the world activities are a great way to engage your learners in fun, timely learning experiences where they practice literacy skills and broaden their understanding of the diverse cultures and traditions around the world.
Step 3: Determine How You Will Implement the Unit
One of my favorite ways to bring the unit to life is to team up with colleagues. This lightens your workload during a busy time of year when your plate is extra full. Have each person take responsibility for a different holiday and rotate your students "Around the World." Consider working with teachers in other grade levels and mixing your students up into groups.
Another option is to set up research centers for independent or small group learning. Designate an area for each country or holiday and stock it with resources, printable activities, and art supplies. Let your students travel around the room to complete the activities.
Some teachers prefer to use whole group lessons. Gather the students together for read alouds, videos, discussions, and instructions. Then, have them use that information to make scrapbooks or write about what they've learned as a follow-up activity.
Step 4: Choose the Holidays Around the World Activities You Want the Students to Do
You can do as many or as few holidays around the world activities you want. Here is what worked well for me over the years.
I always start with a quick map skills lesson. This elementary map skills blog post may be helpful. I introduce the countries we'll be "visiting" and we find them on the map.
To keep all of the materials organized throughout the unit, we make "suitcases" which become learning portfolios. The kids love decorating them and the parents always rave about what a nice keepsake they are when they get sent home.
Next, I give each student a passport and explain how they will be filling them with stamps as we learn about the winter holidays celebrated by other cultures. Then it is time to begin our study of Holidays Around the World.
For each holiday, the students complete a graphic organizer noting the traditions, clothing, foods, and activities associated with the holiday. Using this format allows them to see the similarities between cultures as well as the things that are unique to each. They fill in the organizers as they gather info when watching videos, listening to stories and reading the close reading passages They then use the organizers to write in their travel journals and create a scrapbook page.
My favorite activity is the scrapbook. The open-ended aspect makes it perfect for all ability levels. I've had the students add drawings, images, words, etc. They really get creative and showcase all they've learned. They start each one after we have learned about the holiday through books, videos, and storytelling and add to them as an independent project as time allows.
Finally, I have them create a postcard for each of the countries we visit. Some years I do this in conjunction with the travel journal and other years I've done it in place of the journal. They write a brief note filled with facts to a family member and then decorate the front to show what they've learned in pictures. These make a great informal assessment of their learning.
Step 5: Enlist the Help of Others
Consider collaborating with your art, PE and/or music teacher to turn this into a truly interdisciplinary unit. Your colleagues in those specialist areas could work on cultural crafts, games, and music during their classes to complement the work you are doing in the classroom.
No doubt this is a busy time of year. Save yourself time by asking parent volunteers to help with this unit. They can gather resources for you, come in to read stories aloud, share their family traditions, prep materials at home or just lend an extra set of hands in the classroom. To save even more time, I encourage you to download the Holidays Around the World Resources I've already made for you.
Other Holidays Around the World Blog Posts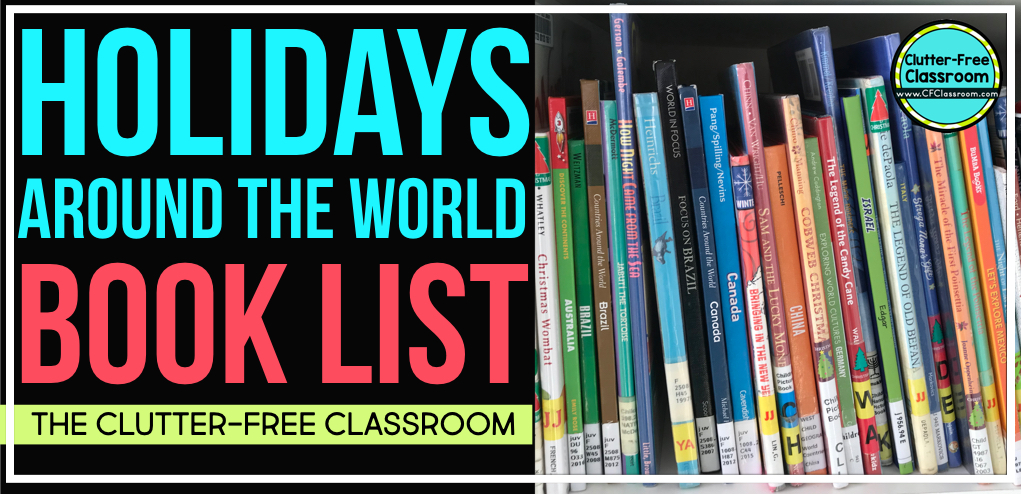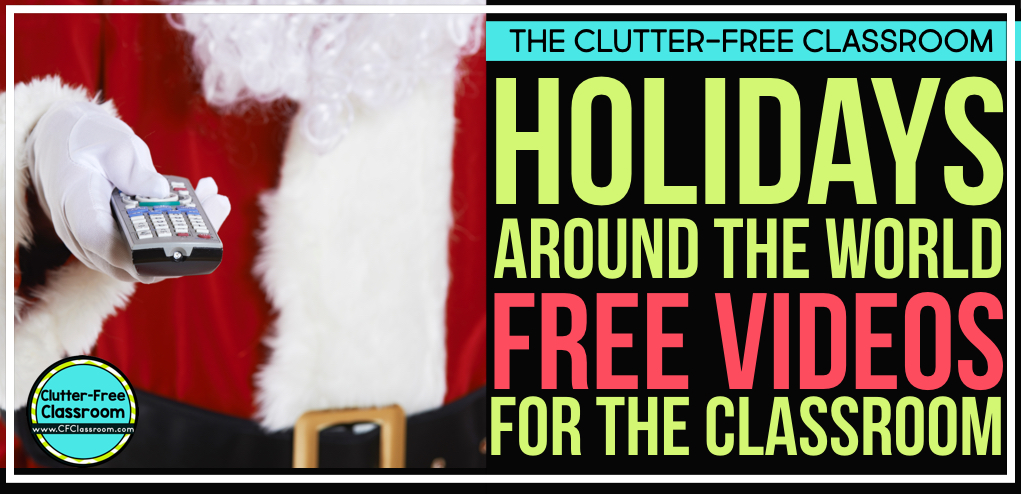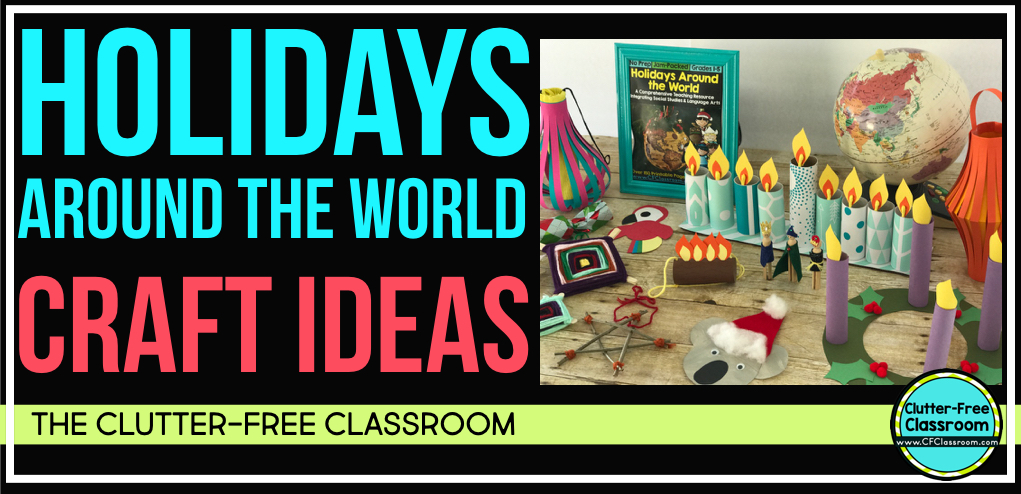 Other Related Blog Posts