As soon as the calendar switches over to the month of December, your elementary students' brains move into Christmas mode. Many of them have an elf on the shelf arrive at their home, they help their families decorate their Christmas tree, they enjoy gingerbread cookies and hot chocolate in cozy pajamas, and they diligently write their Christmas list. It can feel impossible to keep students learning and engaged with all of this excitement going on! Luckily, there is a solution: bringing the holiday season into your classroom! One great way to do this is through Christmas read alouds.
There are tons of great Christmas-themed books that can be used as winter read alouds to teach essential reading comprehension strategies like identifying the author's purpose, making connections, and analyzing characters. Students learn important skills while listening to a topic of high interest. That sounds like a double win!
Will you pick out some of the newer Christmas read aloud books like Dasher: How a Brave Little Doe Changed Christmas Forever by Matt Tavares, or stick with the classic Christmas stories to share with your kids? Both the classic children's Christmas books and new Christmas stories for children are valuable and can all be used during what can feel like a very long month. Luckily, picking out a Christmas story to read is easy with the help of this list of Christmas read alouds below!
This post highlights the following Christmas books:
Memoirs of an Elf
Santa Bruce
The Animals' Santa
The Night Tree
Red and Lulu
Pick a Pine Tree
The Great Spruce
Llama Llama Holiday Drama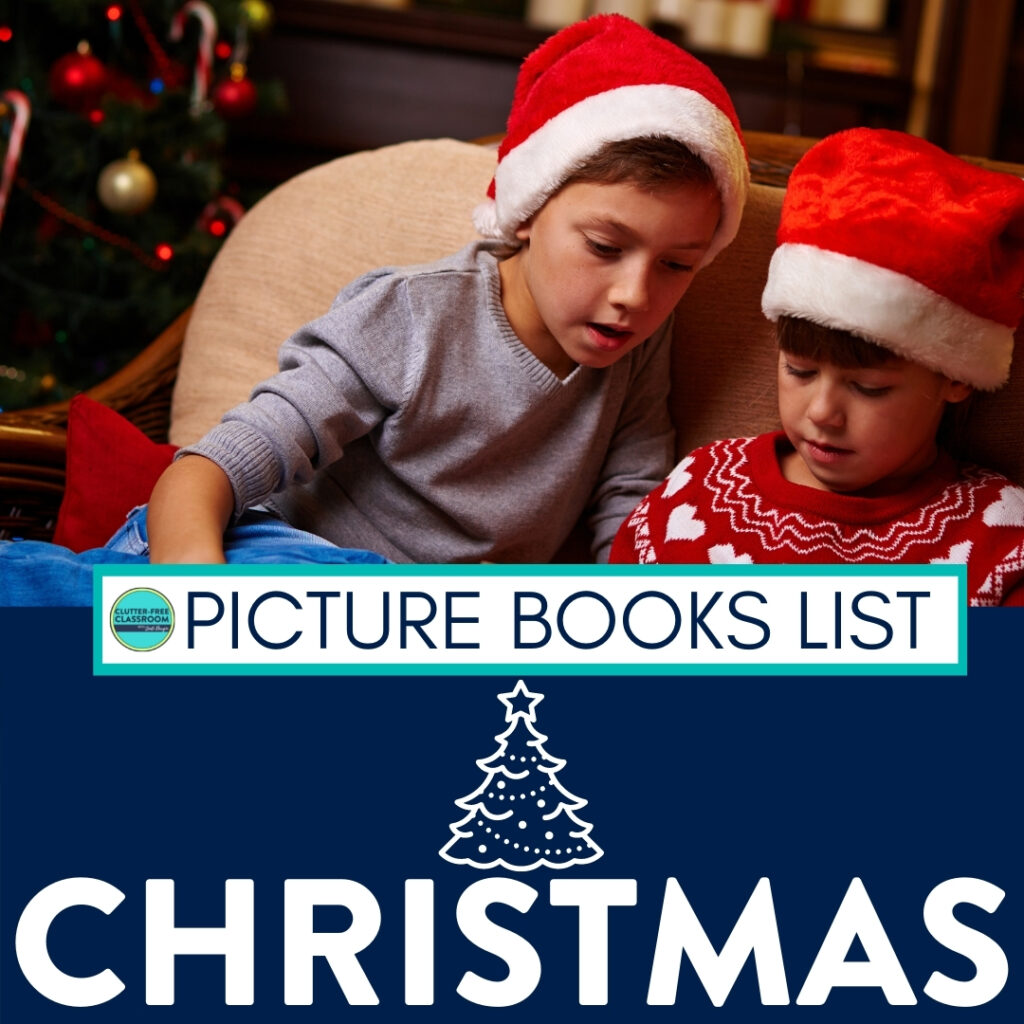 15 Christmas Read Alouds
Here are 15 Christmas read alouds that are great for elementary students!
Memoirs of an Elf by Devin Scillian
Memoirs of an Elf is told from the point of view of one of Santa's elves. It is Christmas Eve and Santa and the elves are getting ready to go deliver presents. It's the elves' jobs to keep Santa on schedule. Santa tends to get a little distracted by all the cookies, dogs and toys. Despite running behind schedule in the beginning, Santa and the elves deliver all the toys in time and head back to the North Pole to celebrate.
As the elves unload the sleigh, they discover that something was left in Santa's bag. It was Tugboat, someone's dog! The group must figure out how to get Tugboat back to his family without being seen during the day. Eventually, Santa and the elves return Tugboat to his family and save Christmas!
Santa Bruce by Ryan T. Higgins
Santa Bruce is the hilarious story about a bear with a mistaken identity. Bruce the bear does not like winter or the holidays. He wants to stay inside and sleep, but his family wants to celebrate Christmas. When Bruce is outside with his long underwear and hat, a racoon mistakes him for Santa! Within no time, all the critters in the forest are at Bruce's house wanting to sit on Santa's lap. The mice in Bruce's house even promise that Bruce will deliver presents to everyone. Despite all his protests, Bruce is stuck acting as Santa and must give out presents all around town. Students will laugh out loud during this fun Christmas read aloud about a bear that doesn't like Christmas.
The Animals' Santa by Jan Brett
The Animals' Santa by Jan Brett takes place on Christmas Eve when all the forest animals are talking about the animals' Santa. However, Little Snow does not believe he is real because no one has ever seen him. Despite his brother trying to convince him, Little Snow gets mad and breaks the ice. That night, Big Snowshoe thinks about the broken ice and decides to make a chime. When everyone is sleeping, the chime sounds and the animals come out of their homes. All of a sudden, clover lands at the rabbits' feet and each animal gets a present! The animals wonder if it could be the animals' Santa. When a snowy owl flies through the sky and wishes everyone a Merry Christmas, Little Snow truly believes!
The Night Tree by Eve Bunting
In the story The Night Tree by Eve Bunting, a family sets out into the forest on Christmas Eve. They have a box and lantern with them as they make their way through the dark, cold forest. Eventually, they arrive at a tree and realize it has grown since last year. The two children begin decorating the tree with popcorn string, fruits and seeds they have made. Once the tree has been decorated, the family sits down on a blanket and warms up with hot chocolate as they admire the tree. They've decorated the tree in hopes that animals will come and eat off of it. Students will love hearing about this family's unique Christmas Eve tradition!
Red and Lulu by Matt Tavares
Red and Lulu tells the sweet story of two cardinals that live happily in an evergreen tree. One day, when Red is out in search of food, he returns to find the tree cut down and on the back of a moving truck. He frantically tries to follow the tree because Lulu is still in it, however he can't keep up. Red does not give up and keeps flying in search of his friend. He arrives in a strange new place, New York City. He follows a familiar song and chirping to find Lulu in their tree in Rockefeller Center. The cardinals are amazed by the crowd of thousands admiring the tree and singing carols. Eventually, the two birds must find a new home in Central Park, but make it a tradition to visit their beloved evergreen each year. This heartwarming story about the friendship between two birds is sure to be loved by all!
Pick a Pine Tree by Patricia Toht
Pick a Pine Tree highlights a tradition that many families enjoy during the holiday season: picking a Christmas tree for their homes! In the book, a family goes to a Christmas tree farm to choose their pine tree. From short trees, tall trees, trees with spiky needles and trees with long limbs, they must look at many different options before they make their decision. After taking the tree home, the family sets it up in their living room, then they decorate their tree with friends. Students will love this book which highlights an important Christmas tradition for many families.
The Great Spruce by John Duvall
The Great Spruce is about a tradition shared between a boy and his grandfather. Many years before a young boy named Alec was born, his grandfather planted a great spruce, and now, the tree reaches high into the sky. Every year, Alec and his grandpa enjoy decorating the tree for the holidays. This year, people from the city arrive and want to take the tree with them to decorate and use as a Christmas tree in the city's celebration. Although it is a great honor, Alec wants to find a way to let the city borrow the tree without cutting it down. Eventually, he comes up with a plan that will keep both parties happy. Is it really worth it to cut down a new tree every year for a month's worth of enjoyment? This book introduces an important discussion about alternative solutions to cutting down trees for our homes.
Llama Llama Holiday Drama by Anna Dewdney
Llama Llama Holiday Drama is about how Llama Llama can't wait for Christmas! He and Mama shop for presents and make Christmas cookies, but Llama Llama finds it hard to be patient. In class, he does holiday crafts and makes a present for Mama, but time seems to move very slowly. Finally, Mama and Llama Llama decorate the house in preparation for the big day, which is right around the corner! When the morning arrives, Llama Llama becomes overwhelmed, but his Mama shows him what is even more important than gifts on Christmas. Students will love this rhyming Christmas read aloud story about the excitement preceding a holiday!
How Santa Got His Job by Stephen Krensky
The book How Santa Got His Job shows what Santa did before he began delivering presents to children. As a young man, Santa tried out many other jobs, like cleaning chimneys, delivering packages, and working at a zoo, but none of them seemed quite right. One day, he met some elves and eventually he ended up in the North Pole with a group of reindeer. Finally, he began his career as Santa and he found that this job was just right!
Olive, the Other Reindeer by J.Otto Seibold
Olive, the Other Reindeer is a story about a dog named Olive. After mishearing the lyrics to the song "Rudolph the Red-Nosed Reindeer", Olive mistakenly figures that she is a reindeer so she heads to the North Pole to help Santa. When Olive arrives and tries to join the reindeer, Santa notices the little dog and decides to give her a chance. He fashions a ribbon to her body and fastens her to Comet so that she will be safe in the air. During their journey, the crew encounters some troubles, but Olive saves the day again and again. Ultimately, they find that, although she is not actually a reindeer, Olive is a great addition to the team!
The Smallest Gift of Christmas by Peter H. Reynolds
The Smallest Gift of Christmas is about how Roland can't wait for Christmas to arrive, and when it finally does he races downstairs. He is quickly unimpressed because there is only one small gift waiting for him. He closes his eyes to wish for a bigger gift, and when he opens them, the gift has grown, but it still isn't big enough, so Roland closes his eyes again. This time, the gift is taller than him, but he wants something even bigger. The gift then grows to the size of his house, but still isn't big enough! Roland stomps off to the city where he sees a huge gift as tall as the city buildings, but even that isn't big enough for him, so he hops into a rocket ship to search the universe for something even bigger. When he looks back to Earth, he realizes that sometimes the best gifts are not necessarily the biggest ones.
The Nutcracker in Harlem by T.E. McMorrow
The Nutcracker in Harlem sets the classic story of The Nutcracker in Sugar Hill during the Harlem Renaissance. Marie loves the jazz musicians who are playing at her parents' Christmas party, but she is too shy to sing with them. After her uncle gives her a toy nutcracker, Marie has a dream where the Nutcracker fights with an intimidating Mouse King. During the battle, Marie discovers that she, too, can play an important role as a drummer. When she wakes up, Marie is no longer afraid to realize her passion for music. Students will love this retelling of a classic tale that will help them learn more about the Harlem Renaissance.
The Little Reindeer by Nicola Killen
In the book The Little Reindeer, it is Christmas Eve night and Ollie had just drifted off to sleep when she heard a jingle outside her window. Ollie grabbed her sled and headed outside to follow the sound. She followed it into the forest and soon came across the source of the jingling: a collar circled with silver bells. As Ollie was wondering who the collar could belong to, she began to hear a new sound, and soon a reindeer appeared in front of her! Ollie returned the collar, then hopped atop the reindeer's back and they soared into the air. When they returned back to her house, Ollie drifted off to sleep while the reindeer rejoined Santa's team and continued his journey through the night sky!
These Christmas read alouds are a great way to celebrate the holiday season with your 1st, 2nd, 3rd, 4th, or 5th grade students! Use them as a short read aloud lesson or as part of a holidays around the world unit. These Christmas read alouds are sure to engage your learners during a month when that can feel nearly impossible! Check out the Start With a Story book companions below based on some of these books!