I have been using resources from TpT as a 3rd grade teacher and homeschool mom for over a decade. I've proudly run the Clutter-Free Classroom Teacher Store for that same amount of time. Therefore, I have quite a bit of experience dealing with what sometimes seems like a Teachers Pay Teachers technical problem. When that happens, I've been quick to assume that a specific product or seller error was to blame.
Turns out neither is usually the cause.
Usually the cause of the problem is related to something technical on the teacher's end. Often, the resource has been created or updated recently. That means the newer resource may not be compatible with a computer, program or software that needs updating.
This blog post will help you troubleshoot issues you may be having with your Teachers Pay Teachers resources. You'll get answers to the following questions:
GENERAL QUESTIONS
PRINTING PROBLEMS
DOWNLOADING OR FILE-RELATED QUESTIONS
ALL OTHER QUESTIONS
Troubleshooting Your TpT Tech Issues
Different teachers have come to us asking some similar questions. We created this page to provide more detailed support, more efficient trouble-shooting and guidance on how to resolve issues.
If you're not able to find the answer to your question on this page, you should contact TpT customer support. We've added links for you to easily reach out to them in one of the sections below.
Disclaimer: I'm Not "Techie!"
I fully embrace my inner nerd, but I'm not qualified to drive around in a Geek Squad car.
I like to think I am a smart person. However, Steve Jobs never invited me to work at the Genius Bar in the Apple Store.
I've never been to Silicon Valley.
To be completely honest, the number of buttons on the TV remotes in my house intimidated me.
Using a Computer to Create Resources ≠ Tech Guru
I use my education, passion, and life experiences to create resources for teachers to use in their classroom. I use a computer to do this.
This does not make me a tech expert in any way, shape or form. I love to design beautiful, high-quality activities for elementary teachers and am very confident in my ability to do that. However, when it comes to tech issues, I typically resort to frantically hitting the return key 40 times in a row. Sometimes I try unplugging the device and then plugging it back in. If that doesn't work, I mutter a string of profanities and stare sternly (you know the classic teacher look) at whatever piece of technology is causing me stress to resolve said issue.
I've tried to explain this to my mother. She still calls to tell me, "Your father did something to the iPad again so I need you to…" or "I clicked a link in an email and now my computer is… (insert: frozen, making a noise, etc)."
My coworkers would often come to me because "I was the techie one."
I repeatedly told them the computer lab teacher or the district's tech coordinator would be a better choice. I was not the one to seek out when printers weren't working or servers were down. Certainly, I didn't know why the gadget was no longer connecting to the gizmo. I had no more insight into wires, coding, or installing than they did.
All of That to Say…
When you reach out to me with a downloading issue, a problem with a file, a printing challenge or a question about a specific platform you're trying to use the resource on, I will always try my very best to help you find a solution as quickly as possible.
However, with that being said, resource creators may not be your best option when it comes to diagnosing and troubleshooting technical problems. Teachers are super busy and time is always an obstacle. When you need to troubleshoot a tech issue, you want that problem solved yesterday.
Let's talk about the best course of action to follow to more rapidly resolve a technical problem you may experience with a TpT file. Teacher Authors partner with Teachers Pay Teachers so that we can provide you with the best possible resources for your classroom while highly-qualified and trained members of Team TpT are there to support you with finding, purchasing, licensing, (insert a million other wonderful things they do for teachers) and troubleshooting.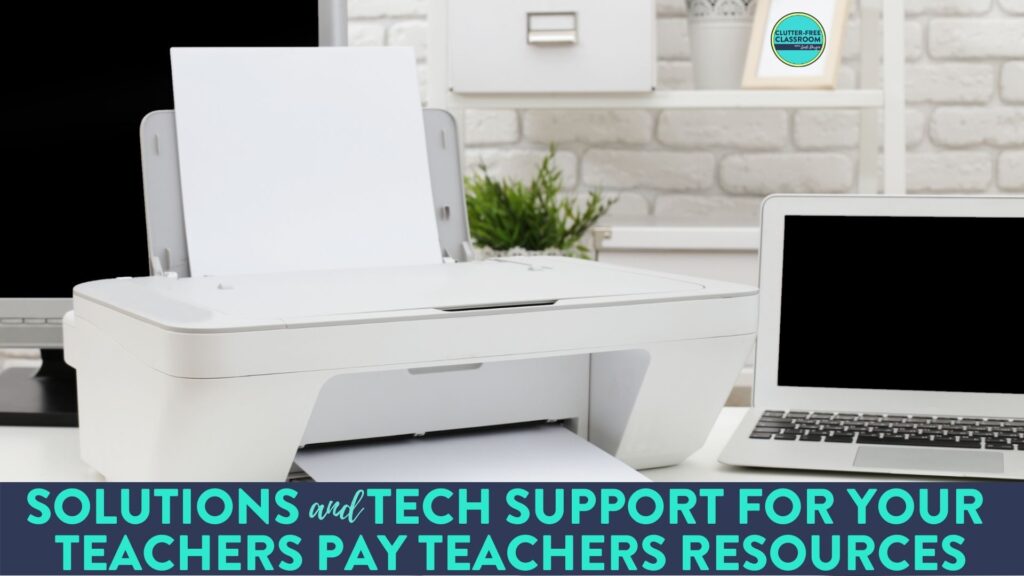 Who Should Teachers Reach Out to for Product Tech Support?
I will periodically receive a message from a teacher who purchased a resource from our Clutter-Free Classroom Store on Teachers Pay Teachers asking for help with a tech issue like downloading a PDF, opening a zipped file, troubleshooting printing problems or inquiring about how to use a resource with specific platforms like Canvas, Google Classroom, Seesaw, etc.
I am passionate about supporting teachers. However, like most TpT teacher authors, my areas of expertise are curriculum development and best teaching practices. Most Teachers Pay Teachers store owners are happy to answer questions as best we can. But, most tech issues are typically not directly related to our resources. Usually, the problem is not with the file. Instead, the issue is rooted in something out of our control. In those cases, the Teachers Pay Teachers Customer Experience Team are there to support you.
When you fill out a support ticket, you will receive confirmation that it was received.
They will investigate the situation and respond to you via email.
If they determine the seller needs to do something to fix the problem, they'll reach out to that Teacher Author on your behalf.
CONTACT A TPT STORE OWNER WHEN…
there is a spelling mistake or error with the content
a link within a product takes you to the wrong place
you come across a broken link
CONTACT THE TPT CUSTOMER EXPERIENCE TEAM IF…
you're having trouble downloading a file
there is a technical issue with a downloaded file
you are not able to open a file
you experience any issues that are not related to the creation of or the content within a resource
How to Contact Teachers Pay Teachers
You can contact the Teachers Pay Teachers Customer Experience Team by filling out a support ticket at: https://www.teacherspayteachers.com/Contact
Searching within the Teachers Pay Teachers Help Center may also be beneficial.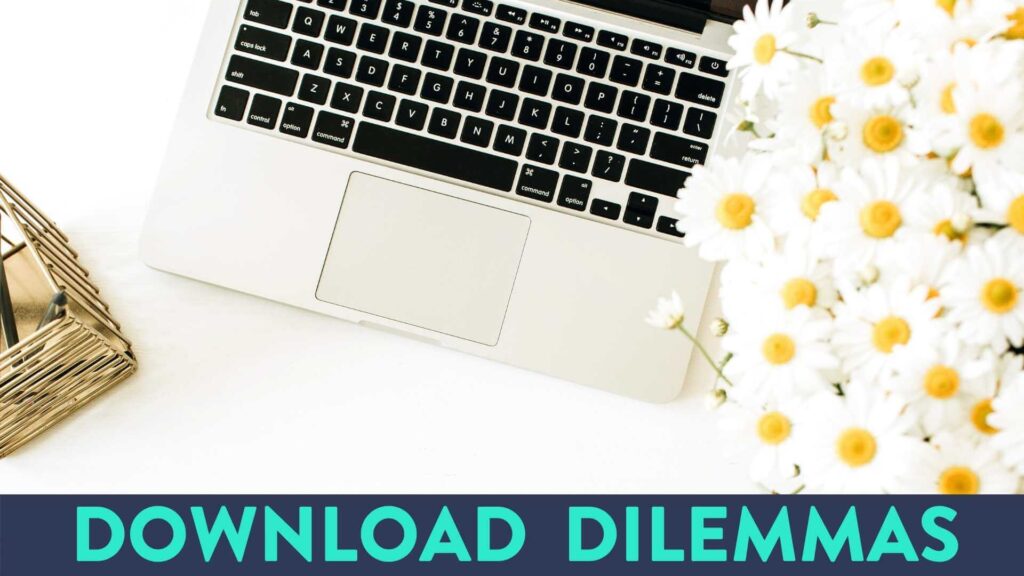 My Zip File is Empty or The PDF File is Empty
Some Windows users may receive an error message stating the contents of the ZIP file are empty. This may also occur when opening PDF files within a ZIP file. The cause seems to be when the default program for downloading and extracting ZIP files on your device has changed or needs to be updated.
TpT has shared information about this on their site. They wrote…
To avoid any issues with downloading the ZIP file to your device, right click on the TpT download link and choose 'Save as…' to save the ZIP file to your desktop instead of clicking the 'Download' button on TpT.

Please be sure that your default ZIP file extraction software is correct. For example, you will not want to try extracting a ZIP file with a web browser such as Microsoft Edge as it won't work properly. You can find more information on how to change your default software for ZIP files here:

After extracting the files within the ZIP, we recommend opening PDF files with Adobe Reader, which can be downloaded for free here: Adobe Reader

Teachers Pay Teachers, General Technical FAQ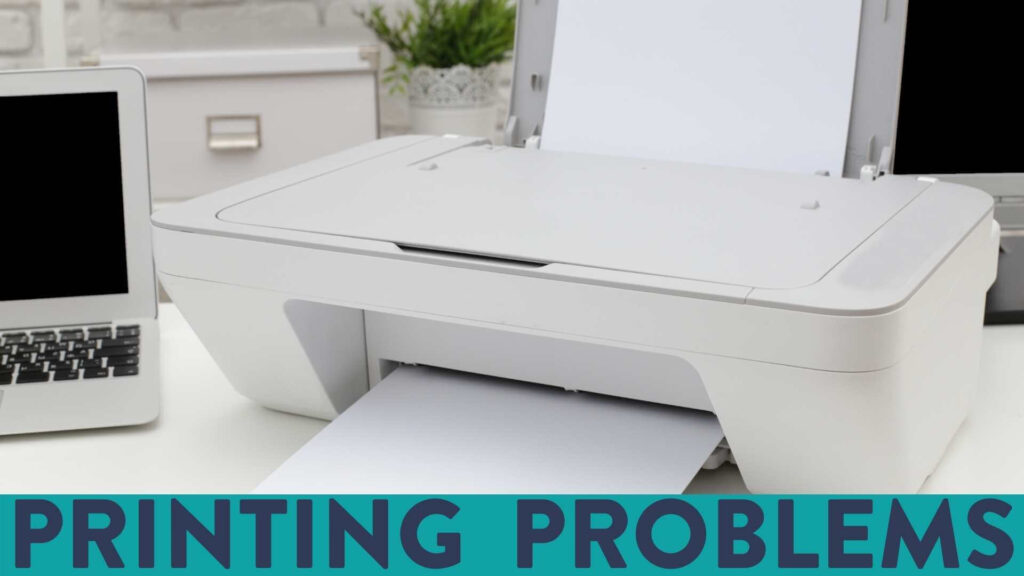 It Says I Need a Password to Print My TpT File
Prior to uploading teaching resources to Teachers Pay Teachers, sellers "secure the files". This is a requirement of the terms of use of the font designers and clipart creators. A password is only needed to make changes (copying or editing) to the protected PDF. Teachers will NEVER need a password to print a TpT resource.
However, there are times when teachers will get a message asking them to enter a password. One example is when they try to print a resource downloaded from Teachers Pay Teachers. It may seem like we have added unnecessary obstacles to your already busy day. I assure we are not withholding top secret codes. Let's solve that problem.
ARE YOU USING PREVIEW ON A MAC INSTEAD OF A READER?
IMACs, Macbooks, Macbook pros, etc. default to opening PDF teaching resources in Preview. Preview is the default application in macOS. Image files (examples: JPG, PNG, and PDF files) may automatically open in it. Preview offers Mac users a quick and easy way to see various documents. However, its not the best option for your Teachers Pay Teachers resources.
If you're asked for a password when printing a TpT product it's most likely because the file automatically opened in Preview. Opening it in Adobe Reader should solve the problem.
Adobe Reader is free and quick and easy to install. Here's a link: Download Adobe Reader
ARE YOU TRYING TO OPEN THE PDF IN A DOCUMENT PROGRAM?
Microsoft Word can convert a PDF into a Word doc. To do so it must have the security disabled on the file. In this situation, a password would be needed to alter the security of the PDF file. If this is the case, simply be sure to download and open the file in a PDF reader instead of Microsoft Word.
Adobe Reader is free and quick and easy to install. Here's a link: Download Adobe Reader
ARE YOU PRINTING IT YOURSELF OR SENDING IT TO A COPY CENTER?
Some school districts use copy centers that need to manipulate files to accommodate their methods of printing.
First, it is important to note that there is a difference between when a print shop refuses to print because of copyright and when they cannot print because a password box pops up. If they refuse to print because they feel there is a copyright issue, following the directions I wrote about accessing your printing authorization certificate will solve that problem.
However, if they are telling you they cannot print because of the password popup box, that is a different issue. It may be that the district printing process copies the file and re-formats it into a type of file their printing equipment uses. It could also be that they are trying to extract pages which is not allowed in a secured file. Since this is a problem that stems directly from the copy center, you will need to address it with them.
One possible workaround I can offer is to print the file yourself and provide them with a scanned copy of your printed resource.
I Can't Print The Resource, But I'm Not Sure Why
It's frustrating enough when you know why something isn't working and need to figure out how to fix it. It's even worse when you don't know what is wrong and therefore have no idea how to overcome the obstacle. When it comes to printing issues, here are a few of the common problems…and their solutions!
THE FILE IS TOO BIG OR HAS TOO MANY GRAPHICS
I ran into this a lot when I would print resources I bought on TpT at school. The printer would try to take in the info it needed, but usually would just decide it wasn't going to do the job.
We do secure and reduce all of our files before we upload them to Teachers Pay teachers. By creating this smaller file size for you it not only takes less space on your computer's hard drive, but it should also avoid the problems I used to have when printing large files.
If you do seem to have a problem printing (and you know you have properly downloaded and opened the file), these steps* may be helpful:
Click print as you normally would. This will open the printing window.
Instead of clicking OK/Print in that window as you normally would, select the advanced printing option.
Choose "print as image."
Click OK.
Click print.
*These steps may vary slightly based on your printer. If the above does not work, I recommend Googling "how to print to image + (your specific printer make and model).
ARE YOU LOOKING AT THE FILE IN AN ONLINE VIEWER?
When I download a PDF from TpT and click on it right after it downloads, I will see the PDF in an online viewer. This means I can see the PDF and there are icons to download and to print. There is also a location bar at the top that reads something like…
file:///Users/my name/Downloads/product-file-name-1.pdf
This is an online viewer or browser window. I have tried printing from here before and it doesn't always go well.
This is a simple fix. You just need to close out of that, find the file in your download folder and open it using the appropriate application (Adobe Reader for PDS, iWork Pages or MS Word for Word Documents, etc).
DID YOU OPEN THE FILE IN PREVIEW?
For most Mac users, files open in Preview by default instead of a Reader. This can cause printing problems. I wrote about Preview vs. Reader in a section above. That same info will help you if this is your situation. Jump to the info in the section titled: ARE YOU USING PREVIEW ON A MAC INSTEAD OF A READER?
ARE YOU USING AN OUTDATED VERSION OF ADOBE READER?
Like all software, Adobe Reader does need to be updated from time to time. If you're able to open and print some TpT products, but others are giving you problems, this may very likely be the reason why. This is especially true if the resource you are experiencing issues with is a new or recently updated file.
WHAT ELSE CAN I TRY?
When using a search engine to seek a solution, use keywords related to your problem + the model of your printer. I also always start my searches by adding the current year in hopes of getting the most recent information.
If you are attempting to print an entire file, instead try printing smaller page ranges.
Make sure your computer and printer are communicating by printing another item as a test.
There Are Black Boxes Printing Where Images and Clipart Should Be
Of all the tech issues I have encountered over the years, this one is definitely my biggest pet peeve. It not only wastes time, it also wastes ink, which means it wastes money.
I made a video that explains the problem and the solution.
I Was Told I Couldn't Print a Product Because it is Protected by Copyright.
To protect their intellectual property, most Teacher Authors will add a a copyright symbol and their information to the bottom of each page. If a teacher wants to have resources printed at commercial places like Office Max, Staples, etc, this can sometimes be problematic.
If the clerk is doing his or her job properly, you'll be told you need permission to print the file. No worries. You already have it.
HOW TO PROVIDE PROOF OF PERMISSION TO PRINT & COPY RESOURCES
Go to your purchases folder on TpT and locate the resource you want to print.
Next to the purchase date you will find links to your receipt as well as a Printable Printing Authorization.
Click on the latter to open a certificate granting you permission to print and copy. Specifically it reads, "The holder of this receipt is authorized by the owner(s) or author(s) of the materials listed below, to print and/or make copies of these materials for personal use and/or classroom instruction." It also shows your proof of purchase.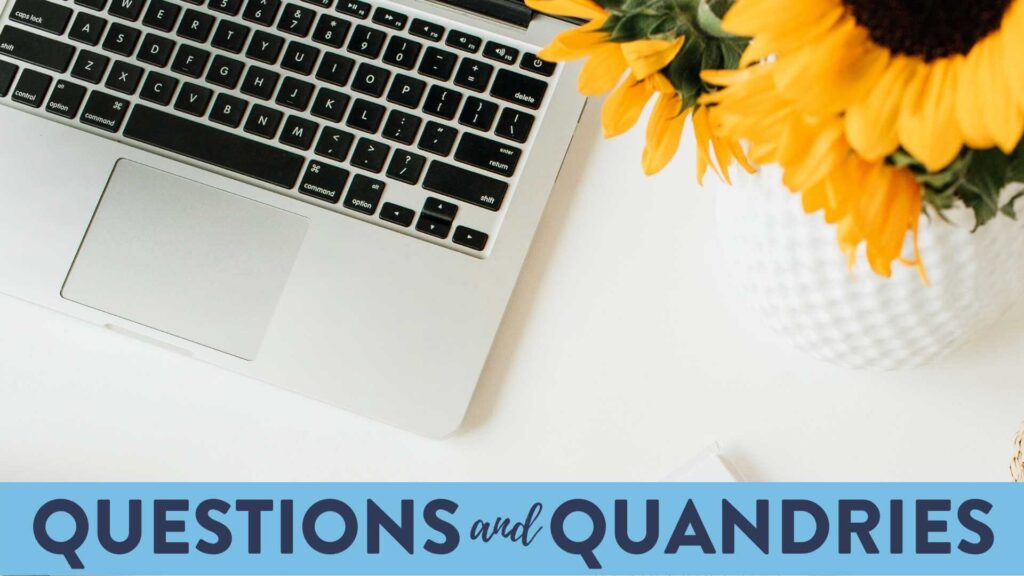 The Links to The Digital Resources Are Not Working
Let's start by identifying what you mean when you say, "the links aren't working."
I CAN'T OPEN THE FILE WITH THE LINK INSIDE:
In the past, we placed the links to digital resources into PDFs. However, we found not everyone was able to access the links this way.
In our more recently created or updated resources, we've been placing the links into Word docs and have found that to be a good fit for most teachers because the link remains clickable.
You do not need to have MS Word installed on your computer to open the document. iWork is an office suite of applications created by Apple Inc. for its macOS and iOS operating systems. It is free for all users and should already be installed on most Apple products. In this case, the Word Doc will automatically be converted when you open it to Pages without needing to have MSWord installed on your computer and the links should then be clickable for you.
I CAN'T CLICK ON THE LINK:
Once you have opened the PDF or the document that houses the link, you should be able to click onto it and be taken directly to your destination.
If the link does not seem clickable to you, try one of these troubleshooting options:
If you are referring to a link in a Microsoft Word (or Pages) Document, place your cursor at the end of the URL. Press the return/enter key. Sometimes if a link appears to not work this will reactivate it.
If this doesn't solve the problem and you can't access the digital resources by clicking the link, I recommend your next step be to highlight the entire URL (link). Copy the highlighted text. Paste that link into your Google Chrome browser.
Type the URL into a Google Chrome browser window.
THE LINK DOESN'T TAKE ME TO DIGITAL RESOURCES:
All of our digital resources are available via Google Drive. The link will not take you directly to the digital resources themselves, but rather to a page where you will make a copy of the resource in your own Drive.
As soon as you make the copy, it will open the digital resource for you in either Google Slides or Google Docs. You should rename it to make it easier for you to locate in your Google Drive in the future.
Now you can use this file within Google. You can also download it as a Powerpoint file, as a PDF or as image files (JPGs or PNGs). This will give you the flexibility of using the resource on platforms other than Google Classroom.
Please note that you do need a free Google/Gmail account and an active internet connection for the link to open.