When I first started teaching, I never liked hearing that infamous nine-word phrase that teachers all too often hear from jealous folks who are not in the profession. They say, "It must be nice to have your summers off." Of course it's nice to have the summers off… in theory. Who wouldn't want to spend their days sleeping in, lying on a beach, sitting poolside or watching Netflix all day? But the reality was that I wasn't actually doing those things. It seemed I was always busy spending the months of July and August preparing for the upcoming school year. This was true until I started doing the five tasks that I now recommend for the end of school year for teachers everywhere.
As I gained more experience as a teacher, I put a lot of effort into finding ways to work smarter and not harder. Teaching is challenging. There will always be a list of things to do. However, over the years, I came to realize the importance of recharging and the value it had in making me a more effective educator. I found lots of strategies that helped me to reclaim my personal time. This helped me find a much better work and home life balance.
The end of the school year for teachers is very busy, but you'll want to squeeze in the five things listed below. They will have you feeling more prepared for the next school year so you can enjoy your summer days more.
5 Things to Do at the End of the Year
Below are five things I started to do during my contracted teaching hours each spring. I used to do them during my summer vacations. Not anymore! They had me super prepared for the new school year in the fall.
1. Plan and Prep for the First Few Weeks
The first end of school year task for teachers to do is to plan and prep for the first few weeks of school. It's important to collaborate with your teammates so that you are providing your students with similar experiences. This is not easy to coordinate when you are all on different schedules and spread out in different locations throughout the summer. As the school year winds down and you have all of your activities for the end of the school year ready to go (including this adorable classroom memory book), work together to set your sights on planning and prepping for the new year.
We always planned our first two read alouds and related activities. My favorites in 3rd grade were Judy Moody followed by Charlotte's Web. Scoop up these Judy Moody activities and Charlotte's Web activities! I love the message of friendship as we build our classroom community and focus on developing a growth mindset. Scoop up these growth mindset activities too! We also would copy and staple our writing journals, spiral review morning work and homework, and a back to school booklet of activities. They were perfect for filling those random moments that pop up in the first few weeks.
The best part of planning as a team is that each teacher can take responsibility for copying and prepping a specific activity for the entire grade level. I placed everything into a copy paper box and placed it on a shelf in my closet and was ready to go in the fall. No more waiting in huge copier lines with the back-to-school rush!
2. Try Something New
The second end of school year task for teachers to do is to try something new. Is there a teaching method or educational practice that you've had on your radar, but never tried? Teachers often think, "Maybe I'll do that next year". Why wait? Your current class has established norms and is up and running. They are the perfect group to try things out with because they know your expectations. 
When I first started using a Math Workshop with Guided Math approach in my classroom, I was going to wait until the new year for a "fresh start." Instead, I introduced it in the spring. This was perfect because it let me iron out the details, figure out the best ways for traffic to flow in my classroom and get feedback from my students. It was fantastic! Not only was I ready to hit the ground running in September, but it enabled me to identify and fine tune the specific math skills each individual student needed before progressing to the next grade.
What have you wanted to try? Think about things like book clubs, reader's theater, paragraph of the week, socratic seminar, STEM projects or perhaps even alternative seating and jump in with your current cohort. You'll be glad you did!
3. Prepare Your Walls and Bulletin Boards
If you are fortunate enough to be staying in the same classroom next year, then you may also be fortunate enough to take advantage of the opportunity to set up your wall space. I always recommend starting with a blank slate at the start of a new year. Hanging fabric and bulletin board trim on your boards will provide a colorful backdrop for the first day of school and make it easy to start displaying anchor charts and student work right from the start.
You can also set up your schedule area, birthday board, calendar and any other year-long displays. Some teachers enjoy having their current class create a "welcome board" for the incoming students. If you plan to decorate with a classroom theme, you can use the time to print and laminate materials and gather supplies. If you are looking for ideas on how to set up and decorate a classroom, check out these other posts:
4. Fine Tune Your Procedures and Routines
Strong classroom management is essential to student learning. The key to good management is to plan, practice, and implement classroom procedures and routines for everything. Think about how things are running in your classroom now and identify areas that could be improved. Experiment with new routines and traffic flows until you find the ones that are most effective. Prepare a classroom routines journal by writing all the steps for everything you do. Include photos or better yet, video your current class modeling those routines. Show those video clips to the new class as you teach the procedures. It will help them visualize the expectations and make them a habit.
5. Declutter Your Classroom
The last end of school year task for teachers to do is to declutter your classroom. Having an organized learning space will help keep children on task and focused. It will also save you time and money by enabling you to quickly find what you need. Students LOVE to help and are perfect for tasks like sorting, testing markers, sharpening pencils, etc. Just be sure not to use class time for these jobs. I suggest setting up a day to have your kids stay after school and help out. They will be thrilled with the privilege and you'll appreciate the things they get done for you.
I have tons of ideas here on The Clutter-Free Classroom blog to help you get your classroom looking great and functioning effectively. I would love for you to stay for a while and look around!
I hope you found this post about making the most of the end of school year for teachers to prepare for the upcoming school year helpful! If you did, then I recommend clicking the button below to join my Clutter-Free Classroom Facebook Group! It's a community of thousands of teachers who are eager to share ideas and answer questions. Head on there!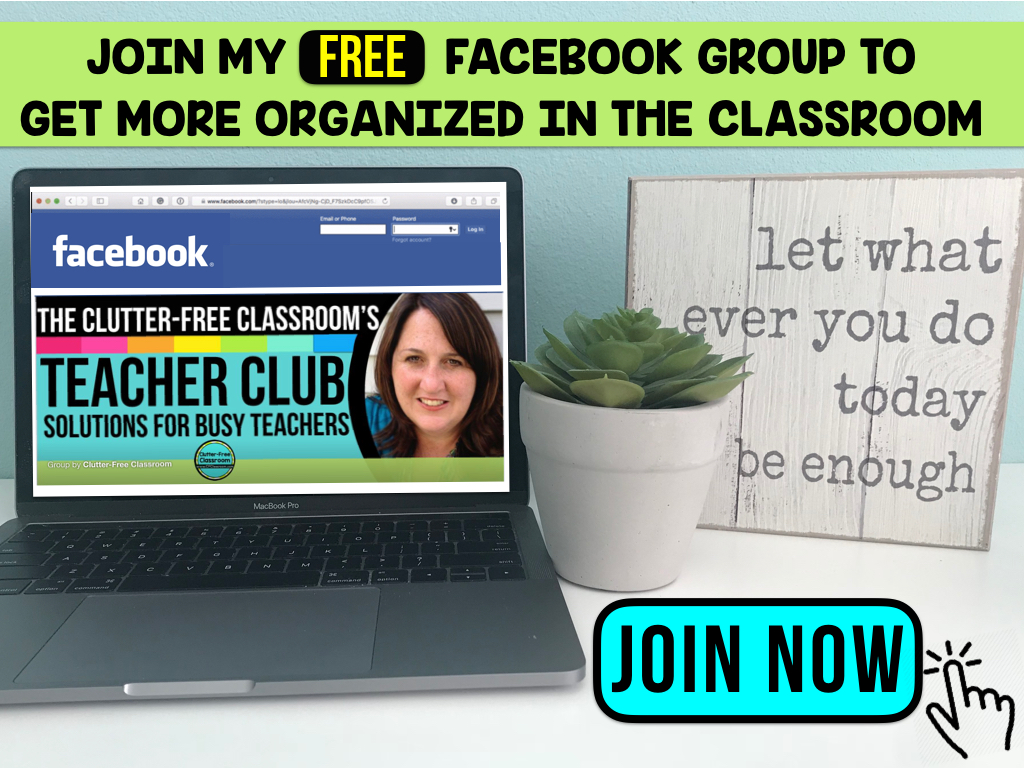 I've written a companion post to this one titled, 3 Boxes Teachers Should Pack Before Summer Vacation. You can find it on the the Upper Elementary Snapshots Collaborative Blog. My hope is that the combined tips shared will allow you to enjoy your vacation, recharge your teacher batteries, spend time with family and friends and then hit the ground running for the new year.