So it's the end of the school year and we all know there ain't no tired like teacher tired in June.
Let's be honest…your mind is racing with all the things you need to cross of the never-ending to do list that stands between you and summer vacation. You can almost taste the salt air and smell the sunscreen and you are probably spending almost every waking moment counting down the weeks, days, hours and minutes to those glorious two months where "Everyday is Saturday!"
Even if you have the best intentions of engaging and educating those sweet little minds right up until the final dismissal bell of the school year, the nature of June in an elementary school makes that goal challenging.
The kids are riding their bikes, swimming and doing anything else they can think of to simulate summer vacation after school and on weekends. The parents are sending in complete randomness in the lunch boxes and are done arguing with their offspring about homework and reading logs because they've checked out too. Your already more-challenging-than-almost-any-other-career-on-the-planet job gets 10 x harder during those last few weeks of school.
But the good news is this is the final sprint and the reward for crossing the finish line comes in the form of Netflix binges, lazy days by the pool and the rush that comes with shutting off your alarm clock until the fall. You've got this!
I'm not only writing this today to give you a pep talk. I'm actually here to help you make the most of the end of the year by sharing with you a list of five things you should take the time to clean out before this school year ends to help with your classroom organization for the new year.
The Classroom Library
Go through all the books. Remove any that are damaged. Repair them if you can or recycle them if they have lived a full life and are not worth resuscitating. If you are changing grade levels take this opportunity to store or donate any books that won't be needed.
The School Supplies
First of all if you have any supplies left at this point you should do a victory lap around the school.
And if within the supplies you have left over there happens to be at least one glue stick that
A) has it's original cap
B) is not disgustingly sticky on the outside and
C) has more than a cm of glue showing when you crank it all the way out
well then you are fully entitled to yell some obnoxious, "Boo yeahs" and "In your Face" taunts at your colleagues while you make said victory laps.
Have your students inspect and remove things like 1 inch, wrapperless crayons, inkless markers and color pencils that looked to have been whittled or attacked by beavers.
Puzzles and Games
There is nothing like spending 30 minutes working on a 100 piece puzzle only to discover it's really a 97 piece puzzle. Have your kids assemble the puzzles to determine if they need replacing. Have them also assess the game piece situation. Is Connect 4 really Connect 3? Does the Aircraft Carrier and Destroyer appear to be lost at sea from the Battleship Game? If your free choice/ indoor recess supply is hurting now is the perfect time to send a note home to families asking if they have any games to donate to the classroom.
Math Manipulatives
By definition "hands-on" math means the kids are touching everything. After 9 months of learning those things are grubby! Need I remind you that those 9 months included cold and flu season? Enough said. Have you students sort and organize them. Consider taking things like unifixcubes, base 10 blocks, counting bears, links, and anything else that can tolerate a good soaking home to run through the dishwasher or else wash them by hand. Use antibacterial wipes to wipe down the others. You'll be all set for guided math next year!
Arts and Craft Supplies
Do you have empty Pringles cans and egg cartons oozing from your closet? Do the watercolors have more empty spaces in the palette than actual colors? Pull out all the things you've squirreled away. In my experience I have found that a quick email to the staff and my students' parents enabled me to stock up on as many toilet paper tubes and styrofoam trays I could possibly need for a project with very short notice. Your closet space is too valuable to serve as a glorified recycling bin.
Make the most of the things you have by putting them all out and letting your class create something fun. It's June you can get away with that. Let them use the nubby colored pencils and crusty glue sticks while they are at it. If you must then read them The Lorax and fill in your plan books with some learning goals about the environment.
On a related note, if you missed my post detailing the 5 things you should do before this school year ends to be super prepared for next year you can read that here: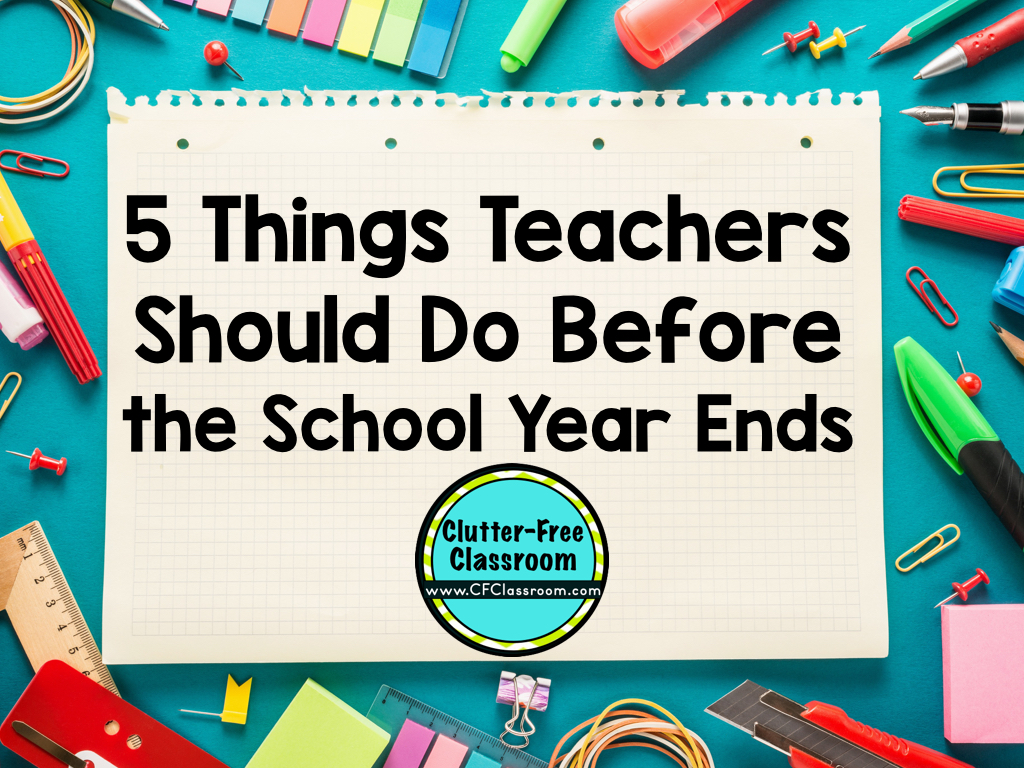 And if you are looking for some ideas to keep your students engaged in purposeful learning activities that lend themselves to June in an elementary classroom here are my top three favorite ones I loved using year after year in my classroom…
We also spent a bit of time each day working on the END OF YEAR MEMORY BOOKS which got sent home in a folder with the booklets they made throughout the FIRST WEEK OF SCHOOL.