I honestly feel strong classroom management is the most important thing teachers need to do in order to create the best, most-effective, learning environment that they possibly can. I love classroom organization. I adore classroom decor. But, if you don't have a solid plan for how you will consistently run your classroom the rest is moot. Read below to snag some ideas for your classroom!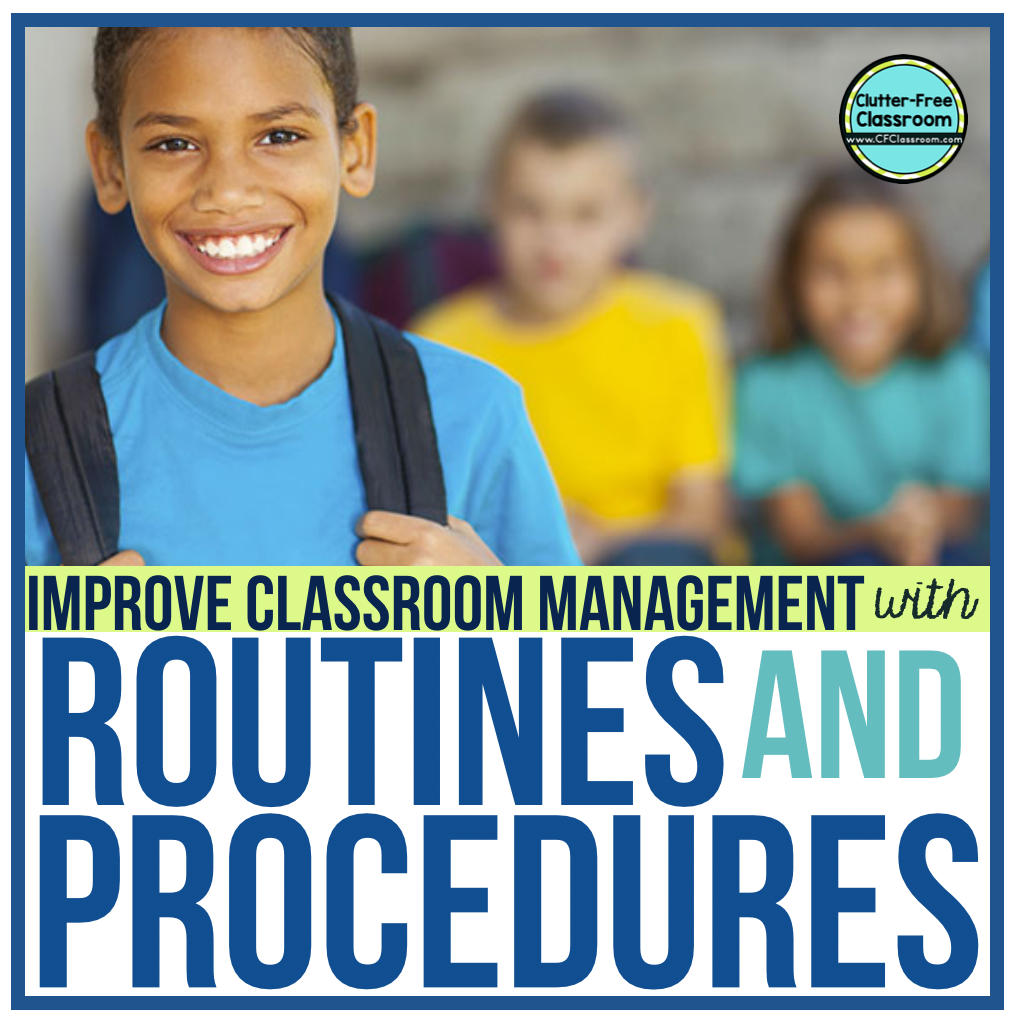 This blog post will…
explain the importance of planning and consistency
recommend 4 steps for strong classroom management
offer a free resource to help you get started
suggest a resource to save you time and relieve your stress and headaches
highlight 5 fun math routines you can start using in your classroom today
Why are Procedures and Routines Important?
Being able to successfully manage a classroom comes down to two things: planning and consistency. You need to have very clear expectations and a solid foundation for how you want your room to run. That's not to say you won't make changes and tweak things along the way, but you need to go into the year having thought through each and every aspect of a school day. Here are 4 specific reasons why classroom procedures and routines are essential:
Effective Teaching: A disorganized classroom without routines and expectations makes it difficult for the teacher to do her job. Students don't know what to do, so they might get off task or cause disruptions. When the teacher is constantly redirecting students or handling behavior problems, she loses crucial teaching time. Classroom management strategies help create an organized classroom environment that's conducive to teaching. Kids know the expectations in different types of learning situations. For example, kids would know that when working in small groups, they talk in quiet voices and take turns talking. They might each have a specific job within the group.
Efficient Use of Time: Taking time before school starts to create routines and procedures saves you time in the long run. When the children know what to do, it becomes a natural part of the routine. After a few weeks, you don't need to tell them what to do. The students know they get their planners out, write in homework assignments and gather all of their materials at the end of the day, for example. You can get your kids out the door faster at the end of the day. When you train them how to do each part of the school day, you don't spend as much time giving directions.
Consistency: A teacher with strong classroom management skills creates consistency for his or her students. The kids know what to expect every day when it comes to the routine activities. Your students may fare better when you're gone if you have set expectations for everyday tasks. They know how the classroom runs so they are able to help the substitute run the classroom. For example, if the kids know they're supposed to enter the room and start working on a math problem on the board, a substitute doesn't have to spend his time corralling the kids or trying to keep them occupied while everyone arrives. You can also create consistency throughout the school by aligning your management strategies with the school-wide standards. If your school focuses on respect and responsibility, incorporate them into your classroom management techniques. The students will hear those words throughout the school and know that the expectations are the same anywhere in the building.
Fewer Behavior Problems: The main goal of classroom management is to reduce misbehavior in the classroom. Effective classroom management gives the students little time to misbehave. Because the expectations are clearly explained, the students know what they need to do. Transitions in particular are easier to control when a teacher has strong classroom management skills. For example, if you have dots on the floor for lining up and call one group at a time, the students know to listen for their groups and stand on a dot when called. Kids aren't bunched up since the dots help space them out. They won't rush and push if you only call a few students at a time. The expectations for behaviors that are part of a classroom management plan give students boundaries, as well as consequences.
4 Easy Steps to Classroom Management Proficiency
List out all of the procedures and routines that apply to your teaching situation.
Create a detailed expectation for each of them.
Teach them to the students and communicate them to other adults that will be working in your classroom.
Hold students accountable when they are not meeting the expectations.
Create a Binder
You may be wondering, "How do I make sure I don't miss any routines?" "Is there a list I can find somewhere that has all of the routines I need to teach my students?" Well, you're in luck! Check out my Teaching Procedures and Routines Packet – It has EVERYTHING you need!
After purchasing this resource, you can create a binder that houses every nitty, gritty detail for yourself and for your classroom aide if you have one. It may be helpful to cut and paste from that document to create a smaller manual for the students and parents to access and an additional version that you leave with your substitute teacher plans. This allows you to have all players on the same page. In addition, it provides a sense of security and safety for the students because they know exactly what to expect and when to expect it. Lastly, it establishes a framework to your day so that the classroom runs itself and zero time is wasted with the issues that arise from downtime and inconsistency. This can sound like a daunting task, but with the help of this resource, you will be ready for the school year like a champ!
The Resource You Need For Teaching Procedures & Routines
If you are saying, "Do I really need it? What does this resource include? Tell me more!" The answers are YES you REALLY need it. Hundreds of teachers have shared that it has transformed their classroom and teaching life. Check the feedback on Teachers Pay Teachers. This packet includes over 150 routines and procedures so that you don't overlook a single, itty bitty thing when planning for how your classroom will run. The packet will also provide you with a pacing calendar for pacing and teaching the routines, planning sheets to detail out how you envision each procedure in your classroom, 3 different styles of covers for your manual with matching stationary to print onto. It includes my tried and true method for teaching any and all procedures in just a few easy steps and details on how to create your manual. The best part is that it is editable! Not convinced yet? Click the yellow button below that says "LEARN MORE!"
5 Fun Math Routines to Start Using In Your Classroom Today
Count during transitions. Think about what is appropriate for your grade level and the time of year. For example, first graders might count up from 78 to 100. Third graders, on the other hand, might count by multiples of 11 to 99.
Count when cleaning up. Again, think about what is appropriate for your grade level and the time of year. Second graders might skip count by 5's to 110. Fourth graders, on the other hand, might divide by 2's starting with the number 2,048.
Invite students to set a timer (or use a sand timer) at their center. The primary grades could benefit from a visual timer or sand timer instead of a standard timer. This isn't only helpful for students for knowing how much time they have remaining at each center and when they need to transition, but also for developing a conceptual understanding surrounding time. For example, they'll learn what 10 minutes feels like.
Include a visual representation (analog or digital depending on the grade level) for the starting time of each content area on your schedule. Grab it here!
Assign student numbers to your students. Call students to line up based on number categories (even numbers, 2 tens, multiples of 5, etc.)
IMPROVE YOUR CLASSROOM MANAGEMENT BY PURCHASING THIS TIME-SAVING RESOURCE: