Kwanzaa is an African-American holiday that celebrates family, culture, and community. Kwanzaa lasts for seven days. It begins on December 26th and ends on January 1st. The holiday was started in 1966. One of the best ways to teach students about this holiday is by reading Kwanzaa children's books.
This post includes the 4 best Kwanzaa books for children in 1st, 2nd, 3rd, 4th, and 5th grade. This books are both informational and engaging. Your students will really enjoy listening to you read these Kwanzaa books for kids and learning about this holiday!
Check out the list of Kwanzaa children's books below!
Seven Spools of Thread
Together for Kwanzaa
The Story of Kwanzaa
The Kwanzaa Miracle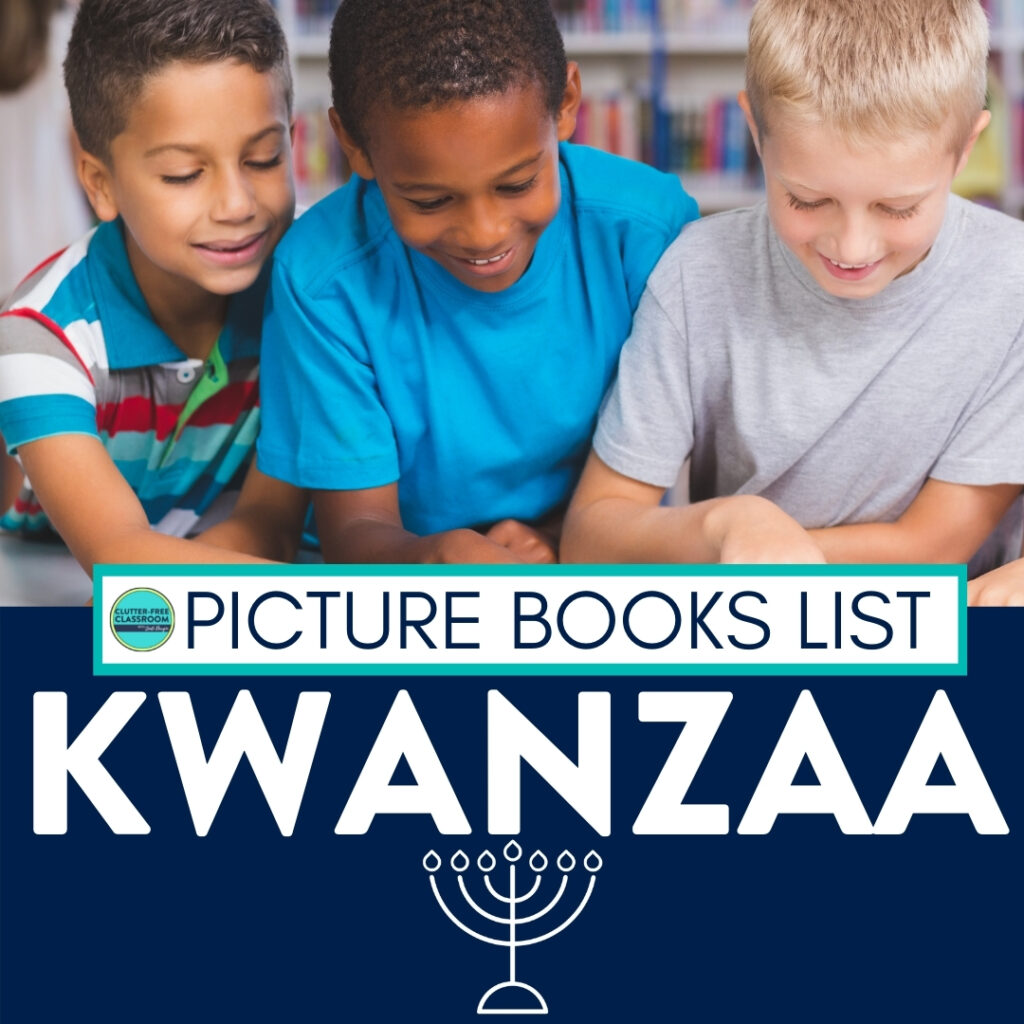 4 Kwanzaa Children's Books
Below are 4 great Kwanzaa children's books. Your elementary students are going to love these Kwanzaa read alouds!
Seven Spools of Thread by Angela Shelf Medearis
The book Seven Spools of Thread is a folktale that takes place in Ghana. There are seven brothers that live in a village and they argue day and night. When their father passes away, the village Chief tells them that their father has left them his inheritance. However, in order to receive it they must do two things: turn seven spools of thread into gold, and do so without arguing. The brothers return home and come up with a plan together.
Eventually, they decide to try creating something with the thread to sell in exchange for gold. The brothers create a colorful fabric, which is different than the single colored fabric in their village. A treasurer for the King gives the brothers gold for the fabric and they earn the inheritance. The brothers show compassion to their village by teaching others to turn thread into gold. The seven threads in this story symbolize the seven principles of Kwanzaa. This story will quickly become one of your favorite Kwanzaa picture books! I liked it so much that I added it to my Starts With a Story collection.
Together for Kwanzaa by Juwanda G Ford
In the book Together for Kwanzaa, Kayla is excited to celebrate Kwanzaa with her family. However, she is upset because her big brother Khari will not be able to make it home this year due to a snowstorm. Now, her family would have to celebrate without him.
Trying to cheer herself up, Kayla begins doing her family's traditions for the holiday. She dresses in colorful clothing and begins to set the Kwanzaa table. Then, she places the kinara on the table. Each night of Kwanzaa, families light one candle on the kinara to celebrate one of the seven Kwanzaa principles. Then, Kayla's parents help her place fruits and vegetables on the mkeka, which represents the harvest. After lighting the first candle on the kinara, Kayla remembers greeting her brother using the Swahili greeting. This year, her father greets her. Kayla continues celebrating her family's Kwanzaa traditions each day.
Finally, on the fourth night of Kwanzaa, her brother can begin his journey home since the roads have been cleared. However, his car breaks down so he is delayed even more, and it looks like he might not be able to make it. On the last day of Kwanzaa, however, Kayla is delighted to see him walk through the door!
The Story of Kwanzaa by Donna L. Washington
The Story of Kwanzaa tells readers about the creation and history of Kwanzaa, as well as the seven principles associated with the holiday. These principles serve to remind those who celebrate the holiday of the struggles of the past, focus on the achievements of today, and goals for the future.
The Kwanzaa Miracle by Sharon Gayle
In The Kwanzaa Miracle, Ashley and her brother Darryl are excited to celebrate the upcoming holiday Kwanzaa with their family. This year, they decide to include their neighbor, Mrs. Jackson, since she has nobody to celebrate with. With the help of their parents and apartment community, they make Mrs. Jackson the special honorary ancestor, giving her a Kwanzaa miracle. This story also discusses the seven principles of Kwanzaa at the end.
If you are looking for lesson ideas, worksheets, and activities to go with a Kwanzaa book, check out this Seven Spools of Thread book companion. It includes reading comprehension questions, digital activities, printable worksheets, and much more!
Grab the Free Reading Resources!
We hope you found this list of Kwanzaa children's books helpful! I really think your students are going to enjoy these Kwanzaa kids books. They are great winter read alouds! If you want to get more book ideas to read aloud to your elementary students, then grab this reading freebie. It includes read aloud books lists, reading logs, and reading challenges for 1st, 2nd, 3rd, 4th, and 5th grade classroom teachers. It will have you covered for the entire school year, as well as the summer months! Grab this free elementary reading packet now!