You are going to love this list of penguin books for kids! It includes informational books about penguins like Pierre the Penguin by Jean Marzollo and entertaining penguin picture books like Tacky the Penguin by Helen Lester. You will definitely find some children's books about penguins that you will want to read aloud to your elementary students and add to your penguin kids' book collection!
My favorite time of year to share these penguin children's books is the month of January. December is filled with gingerbread man read alouds and my holidays around the world unit. February is always a short month and has lots of holidays and special days including Groundhog Day, Valentine's Day, Presidents' Day, and sometimes Leap Year. Because of the busy natures of December and February, I find that January is the perfect month for sharing a book about penguins or planning a full penguin unit. In either case, check out these penguin books for kids so you can find read alouds that fit your needs!
6 Penguin Books
Below are some of my favorite penguin books for elementary students! They are great winter read alouds!
1. Penguin Problems by Jory John
Penguins can have lots of challenges, but this character seems to only focus on these problems. He feels it is too cold, it gets dark too early, the ocean is too salty, and his friends squawk way too much!
One day, a wise Walrus comes and provides insightful reasons of why Penguin should be grateful for what he has. After listening, Penguin changes his mindset. After all, he is happy to have friends and family, and place to call home. Check out these Penguin Problems activities!
2. Tacky and the Winter Games by Helen Lester
It was the time of year when penguins got ready for the Winter Games. From far and wide, teams trained and came to this special event. Tacky's home team of Team Icy Nice Land trained for each event with no avail. When it was finally time for the games, it seemed that Tacky continuously ruined each event!
That is, until the Relay Race. Each member passed the baton, and when it was time for Tacky's turn, he ate the baton to make it faster. With this, the team finally got a medal. Although Tacky is an odd bird, the team celebrated the victory. Check out these Tacky and the Winter Games activities!
3. And Tango Makes Three by Justin Richardson and Peter Parnell
The book, And Tango Makes Three, tells the true story about a pair of male penguins living in the Central Park Zoo. Roy and Silo spend all of their time together. They swam together, walked together, and sang to each other. Roy and Silo were similar to the other penguin couples in many ways. However, unlike the other penguin couples, Roy and Silo did not have an egg of their own. Although they had built a nest together, they still did not have an egg to care for.
When Mr. Gramzay noticed this, he brought Roy and Silo an egg of their own! The two penguins cared for the egg just like the other penguin couples did. They took turns sitting on the egg while the other went for food. Eventually, the egg hatched into a penguin chick! Mr. Gramzay named the chick Tango. Roy and Silo took good care of Tango and she learned to swim just like the other young penguins. Visitors to the zoo loved watching Tango and her two fathers play!
This story teaches readers that although some families may look different, at the end of the day all families love and care for one another. Check out these And Tango Makes Three activities!
4. Tacky the Penguin by Helen Lester
The book Tacky the Penguin is a fun story abut how a penguin named Tacky lives in an icy land with his companions named Goodly, Lovely, Angel, Neatly, and Perfect. Compared to the others, Tacky is a bit odd. While the others are quiet and polite, Tacky is loud and brash. Where the others march in a line and count in order, Tacky doesn't seem to quite grasp the pattern. Tacky's companions are graceful and musically inclined, while he is not. One day, the penguins hear hunters coming for them. Tacky's companions run away in fright, but he stands strong, and soon he finds that being different can have its benefits. Check out these Tacky the Penguin activities!
5. Flight School by Lita Judge
Penguin arrived at flight school excited to finally accomplish his dream of learning to fly. Despite his teacher, Flamingo, and her confusion to see a penguin in flight school, he joined the class anyway. Penguin went through all of the lessons with his classmates and it was finally time for their first flight. When it was his turn though, Penguin didn't soar into the air like the others. Instead, he fell right into the ocean. Discouraged, Penguin decided it was time for him to go home.
As he was leaving, Flamingo called him back and had a plan. She allowed Penguin to experience flying by pulling him behind her. Although Penguin fell out of the air during flight, he was thrilled he finally accomplished his goal of soaring through the air. Soon after, Penguin returned to flight school with his friend Ostrich, who wanted to learn to fly too! Check out these Flight School activities!
6. Lost and Found by Oliver Jeffers
The book Lost and Found is about how a boy finds a penguin at his door. He knows that he needs to return it to the place it came from, so he sets off to the South Pole after packing everything they'll need in a rowboat. They row for many days and many nights, and during this time the boy and the penguin form an unlikely friendship. When they finally reach the South Pole, the penguin looks sad to see the boy row away. The boy soon realizes that he had made a terrible mistake, so he returns for his new friend. If you need resources to go with this read aloud, check out these Lost and Found activities!
Penguin Book Activities
Check out the penguin book activities below!
These penguin books are great read alouds for the month of January! Your elementary students will love listening to these stories about penguins and participating in thoughtful conversations surrounding the books' plots, characters, settings, and more. If you need read aloud activities and lesson ideas, then head on over to my Starts With a Story collection!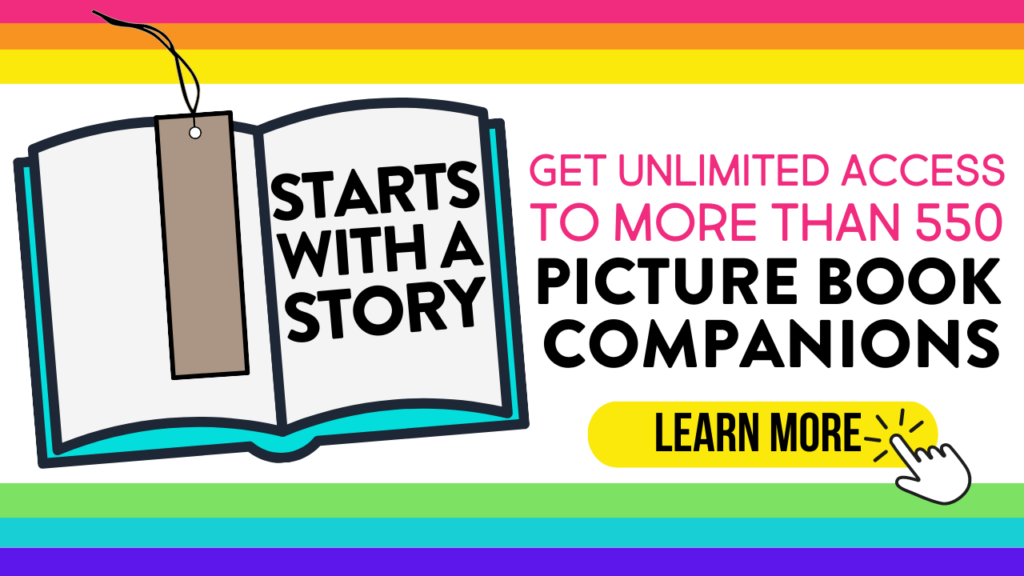 Grab the Free Monthly Book Lists!
Scoop up the free monthly book lists shown below!