You guys. I now know A LOT about penguins. I spent the entire winter break researching and creating a HUGE printable resource packet. It is jam-packed with standards-based penguin activities for all subject areas. You are going to love this penguin unit! And now if I ever find myself on Jeopardy, I'm hoping the final category is "Birds from the Southern Hemisphere" because I could answer anything.
I have to say the time invested was worth it. The kids were engaged throughout this unit. It has been great to see them applying their reading and writing strategies in a way they enjoy.
Penguin units are plentiful in classrooms across the country in January. However, those classrooms usually fall into the primary category. I'm so proud of this packet because it takes all the fun of those cute black and white little waddlers and kicks it up a few notches with content for bigger kids, too.
Learn more about my two week interdisciplinary penguin unit below!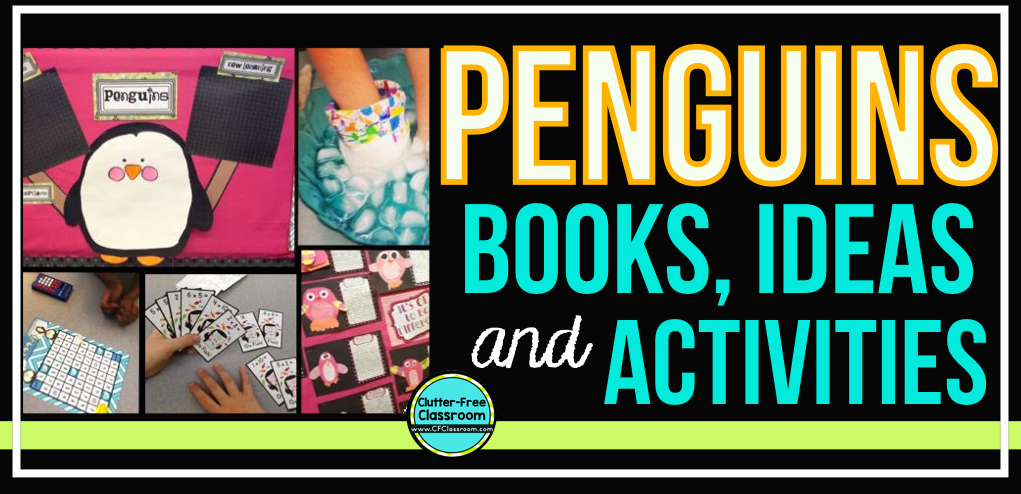 What is Included in this Penguin Unit?
This integrated penguin unit includes the following components:
Introductory Activities
This penguin unit includes several resources to help you kick off your unit. The following activities are included:
Penguin package activator activity
Penguin diagram
Schema chart
K-W-L chart
Reading Activities
The following penguin-themed reading activities are included:
Can Have Are interactive reading printables
Leveled reading passages
Close reading written response sheets
Venn diagram chart
Non-fiction penguin Thinkmark
Mr. Popper's Penguins fiction Thinkmark
Writing Activities
The following emperor penguin research printables are included:
Cover sheet
Two-column notes
Criteria for success scoring sheet
Draft paper
Final copy paper
Report cover sheet
Table of contents page for student report
Glossary template
Word Study Activities
The following penguin-themed word study activities are included:
Making words activity (Emperor Penguin)
Penguin Verbs (past tense)
Penguin Nouns (plurals)
Parts of Speech Penguin Activity
Penguin Dictionary Skills
Penguin Collective Nouns
Alphabetizing Penguin Species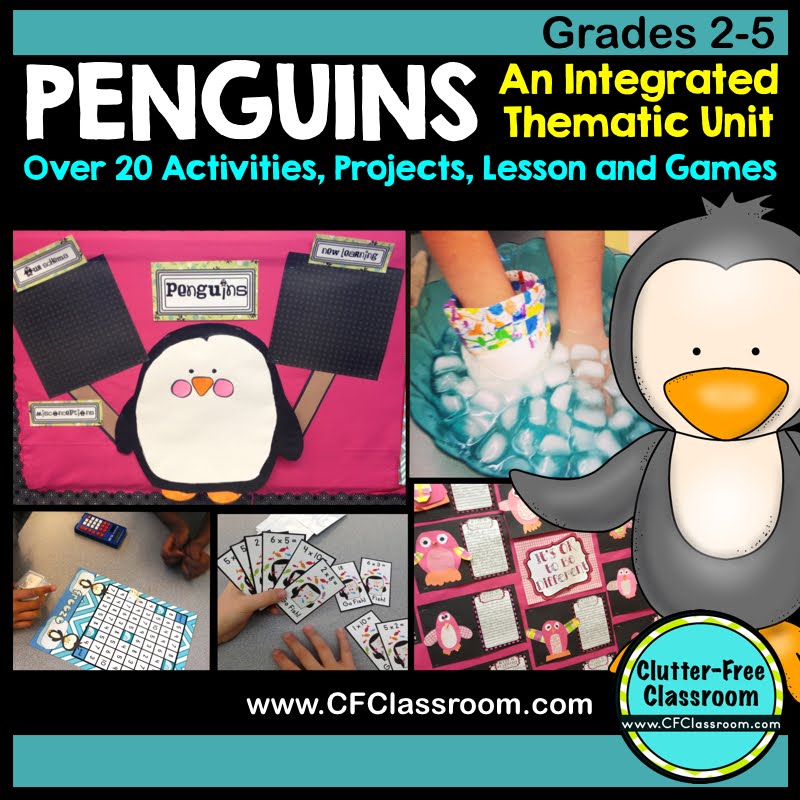 Math Games
The following penguin-themed math games are included:
Multiplication
Direction Sheet Printables
ORCA
Penguin Bump
Polar Opposites
Go Fish!
Antarctic Freeze
Addition
Direction Sheet Printables
ORCA
Penguin Bump
Polar Opposites
Go Fish!
Antarctic Freeze
Science Activities
The following penguin-themed science activities are included:
Blubber Glove (Understanding How Penguins Stay Warm)
Penguin Feathers (Understanding How Penguins Stay Dry)
Social Studies Activities
The following penguin-themed social studies activities are included:
Social Skills Activities
The following penguin-themed social skills activities are included:
Writing Activity and Penguin Craft to Use with the books, It's Okay to be Different by Todd Parr and/or Pink! by Lynne Rickard.
Crafts
The following penguin-themed crafts are included:
Samples of Penguin Themed Crafts
Additional Teaching Resources
Additional teaching resources in the resource include:
Online Video Links to Stream
Fiction Books
Non-Fiction Books
What Grades is this Penguin Unit Appropriate For?
This integrated penguin unit includes differentiated materials so it can be used with second, third, fourth, and fifth grade students. There are different templates to choose from, which allows you to differentiate with ease.
Why do Teachers Love this Penguin Unit Resource?
This resource is a big hit among elementary teachers! They love this penguin packet because it…
promotes student engagement because of the high-interest topic
guides students through the writing process
includes differentiated materials so you can meet the needs of all of your students
facilities a fun learning experience for students in the month of January
offers students a break from your formal curriculum program which often includes structured, predictable formats
requires little prep
is not holiday specific so all students can connect with and enjoy the lessons and activities
provides students with practice opportunities for essential grade level concepts and skills
How to Use this Penguin Unit in your Classroom
You have the flexibility to implement the full unit or choose parts of the unit depending on your goals.
Penguin Craft Ideas
Here are some penguin craft ideas that are perfect for elementary students:
Additional Penguin Resources for Teachers
Here are some additional penguin resources you may find helpful:
Kids LOVE Penguins! This 100+ page penguin-themed packet has enough quality printables to last for over 2 full weeks of instruction. There are activities for reading, writing, math, science, social skills, and more. The packet also includes a list of fiction and non-fiction penguin themed books, links to online videos, and sample penguin crafts. The crafts and videos are students" favorites!
Everything has been done for you. All you need to do is add literature. I used my local library to gather over 50 books. In addition, I printed individual student books free using a trial membership on the Reading A to Z website.