The beginning of the school year is for getting to know your students, helping them to get to know each other, and to begin building a classroom community. One of my favorite ways to do this is through an All About Me Bag activity. Learn about what an All About Me Bag is, why teachers do this activity, and how to implement it in your elementary classroom below!
What is an All About Me Bag?
An All About Me Bag is an activity that helps students get to know each other. Each student fills a paper bag with items that describe them. The teacher can fill a bag too. Each person shows the items in a show-and-tell fashion. Students are able to make connections with you and their peers based on what they included in their bag.
What's Included in this All About Me Bag Resource?
This All About Me Bag resource includes student directions to attach to the paper lunch bags, several versions of graphic organizers to plan out the writing process to explain their bags, differentiated writing papers with a space for a picture, a display sign, and class book cover.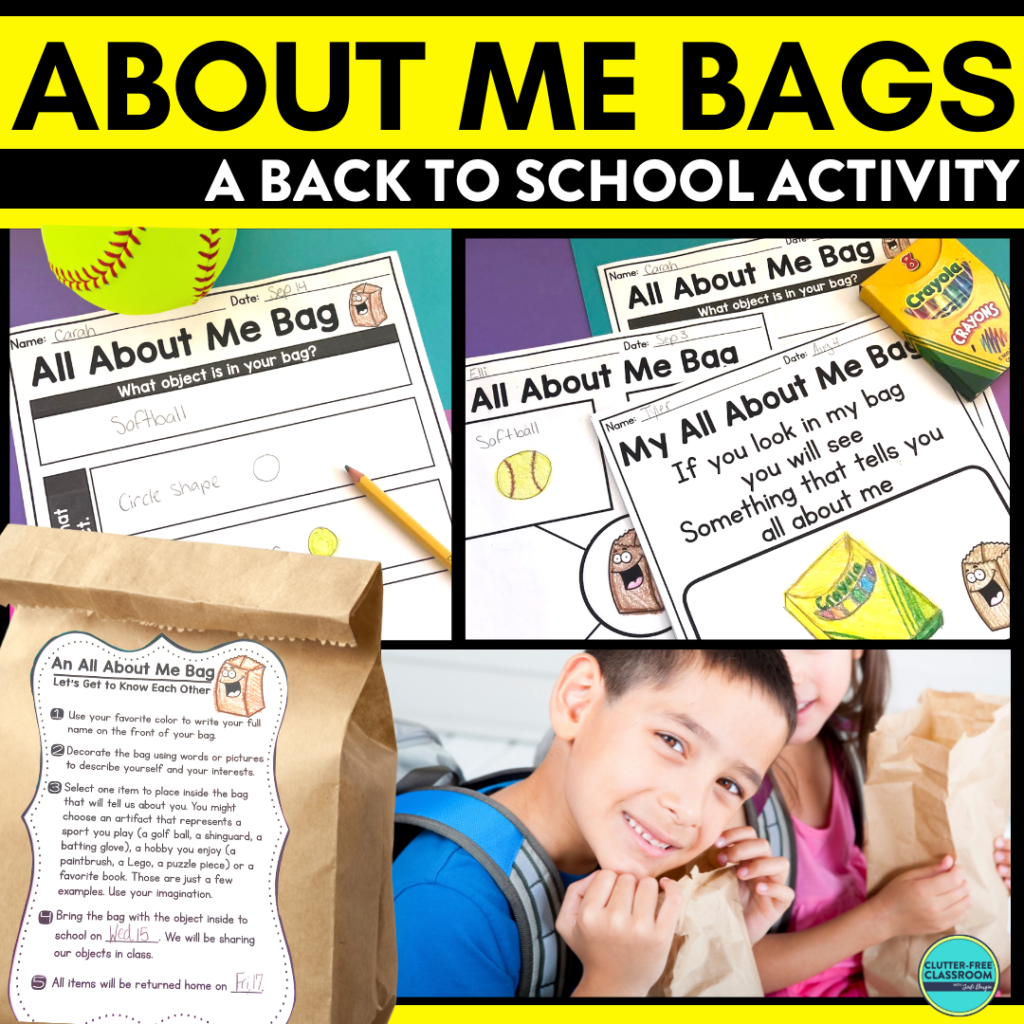 Why Teachers Love this All About Me Bag Activity
Some of the reasons teachers love an All About Me activity include:
An All About Me Bag is a great way for students to share information about themselves.
It's a good way to build community at the beginning of the school year.
It's a low-cost activity that you can use year after year even if you change grade levels.
It helps you get to know your students better.
Students love it and are highly engaged during the creation and presentation process.
How to Implement an All About Me Bag Activity
1. Download the All About Me Bag Resource
Download this All About Me Bag resource from our Clutter-Free Classroom Teachers Pay Teachers store.
2. Read Through the Teacher Guide
Read through the teacher guide included in the resource. It shares step-by-step directions, as well as some helpful tips for implementing this resource in your classroom.
3. Gather Supplies
You will need 1 brown paper bag per student and a stapler.
4. Prep the Bags
Each student's bag will need a directions printable. Print and then staple the directions page onto the brown paper bag.
5. Send the Bags Home With Students
Send each student home with a brown paper bag with the directions stapled to it. They will decorate the bag and then select one item to put in it that will tell their classmates one thing about themselves. This activity can be sent home on the first day of school and students can bring them in on an assigned day that same week.
6. Give Students the Opportunity to Share their Bag
You can have a block of time where all students share their bags with the class, or you can sprinkle them throughout the week and have 5 students share their bags a day.
7. Select and Print the Writing Pages
This resource includes lots of writing pages to choose from. Select which ones you would like to have students complete and print a copy for each student.
8. Have Students Complete the Writing Pages
All students will be able to complete the writing activities regardless of when they share their bag. The writing activities make a great writing center or activity for morning work.
In closing, we hope you found these All About Me Bags ideas helpful! If you did, then you may also be interested in these other posts: