Hanukkah is a popular choice when doing a holidays around the world unit. If this is not a holiday you celebrate personally, you may not know a lot about it. These Hanukkah facts for kids and resources will help you plan and prep a comprehensive unit.
Hanukkah in Israel is an interesting topic to explore with elementary students during the month of December. This Hanukkah in Israel resource can be used as a stand alone unit or as part of a larger holidays around the world unit. It includes everything you need to teach your students about this special winter holiday, even Hanukkah facts for kids to help you become more familiar with the topic.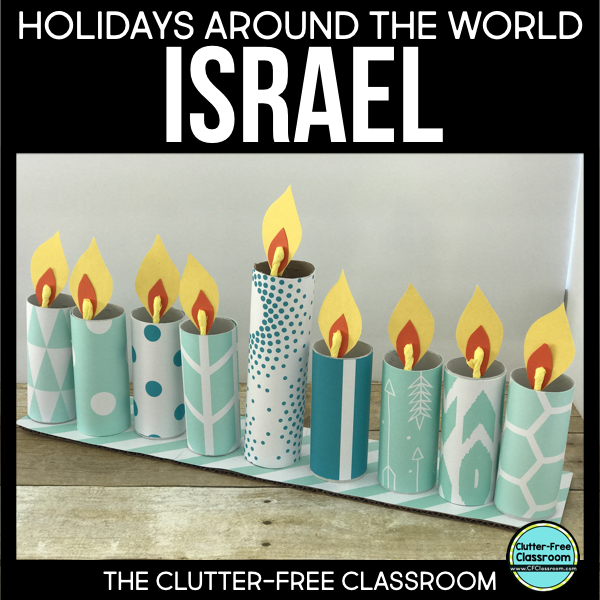 Why You Should Teach Students About Hanukkah
The month of December is a great time of year to teach students about the different holidays and celebrations that take place around the world this time of year, including Hanukkah. Students are already thinking about the upcoming holidays, so it makes sense to use this excitement to engage them in their learning. There are so many different ways to tie this topic into your curriculum – especially social studies and literacy standards!
Hanukkah in Israel is a particularly interesting topic to explore because some of your students may have never heard of it before. Students can learn about a culture and set of traditions that are different from their own. Learning about this holiday creates an interesting opportunity for students to compare and contrast this holiday's traditions and what their holiday traditions look like. For your students who do celebrate this holiday, it's a great way to invite them to share about their experiences and recognize the value in their holiday.
5 Facts about Hanukkah in Israel
Here are 5 Hanukkah facts for kids:
Hanukkah is "The Festival of Lights."
It lasts eight days.
Children play with a spinning top called a dreidel.
Potato pancakes, known as latkes, are traditionally served during Hanukkah.
Children are often given a gift of money, which is called gelt.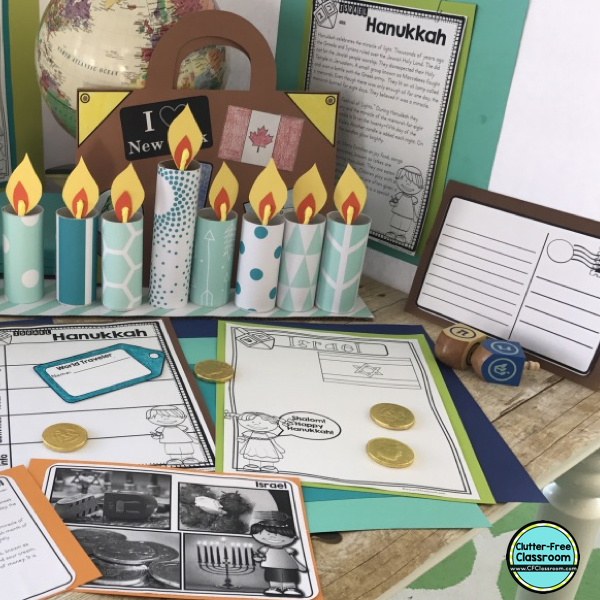 Hanukkah Unit
What's Included?
This Hanukkah resource includes the following:
resource overview that identifies all of the printables included in the product
teaching ideas that offer suggestions for how to implement the resources in your classroom
organizational tools to help you keep track of the resources you add to this thematic unit
book suggestions to help you find relevant read alouds you might like to use as part of your unit
close reading passage for both teachers and students to learn more about the holiday
printable book for students to use to learn about the holiday
two-column notes graphic organizer so your students can organize their ideas and the research they collect
top-down web graphic organizer so your students can take the information they collected and transfer it into a paragraph framework
cover pages that students can color in or design their own illustration
geography map to help students make sense of where the country is in relation to themselves
flag bunting that looks great displayed on a bulletin board
flag coloring page that pairs well with the writing project and makes a great bulletin board
postcards so students can show what they learned in a fun and creative way
travel scrapbook so students can show what they learned in a fun and creative way
travel journal so students can show what they learned in a fun and creative way
art project to engage your students in a fun learning experience based on an academic topic
recipe for students to bring home, share with their families, and enjoy a hands-on learning extension
digital version of the product so students can access the materials in school and at home
5 Reasons Why You Will Love It
This resource includes a bunch of activities, so it's a great value!
Many of the resources are completely print and go, which saves you lots of prep time.
You can customize it to fit your needs by selecting which included activities you implement.
The activities are open-ended, which makes it easier to differentiate and make modifications. It also enables you to use this in multiple grade levels.
It's a great way to keep students engaged during a month where that can feel extra challenging!
A Quick Summary
There are tons of interesting Hanukkah facts for kids out there! This is an excerpt from the Hanukkah reading passage and student mini-booklet that can be found in the unit:
"Hanukkah celebrates the miracle of light. Thousands of years ago, the Greeks and Syrians ruled over the Jewish Holy Land. They did not let the Jewish people worship. They disrespected their Holy Temple in Jerusalem. A small group known as Maccabees fought and won a battle with the Greek army. They lit an oil lamp called a menorah. Even though there was only enough oil for one day, the menorah burned for eight days. They believed it was a miracle…"
Tips for Activating Schema
Like all lessons, you will want to begin by activating student schema and engaging them in their learning. It's a great way to see if your students are familiar with the holiday, celebrate it personally, or know any facts about Hanukkah. You can do this by:
Locating Israel on a map.
Discussing Israel's climate.
Inviting students to participate in mapping activities that help them understand where your students are in relation to Israel and the rest of the world.
This Me on the Map project has long been the most effective way I know to teach students where they are located from a global perspective.

 

Many teachers use it as part of a map skills unit at the start of each school year, but it also works so perfectly as an introduction to your Christmas Around the World or Holidays Around the World lessons.
Printable Resources
Please note that you can either choose to get these resources specific to Hanukkah in Israel on their own or as part of the popular cost-saving holidays around the world bundle which includes the following countries and holidays:
Australia
Brazil
China
France
Germany
Mexico
Italy
Israel
Holland / The Netherlands
Sweden
Spain
The United States
Christmas
Chinese New Year
Boxing Day
Diwali
Epiphany
Hanukkah
Kwanzaa
Las Posadas
St. Lucia's Day
The bundle also includes the following bonus materials:
Access to a digital portal for easy planning
Passports and country stamps
Luggage craft activity
Boarding passes
Travel map
Compare and contrast countries with Venn diagrams
Craft ideas
Scrapbook cover
Recipes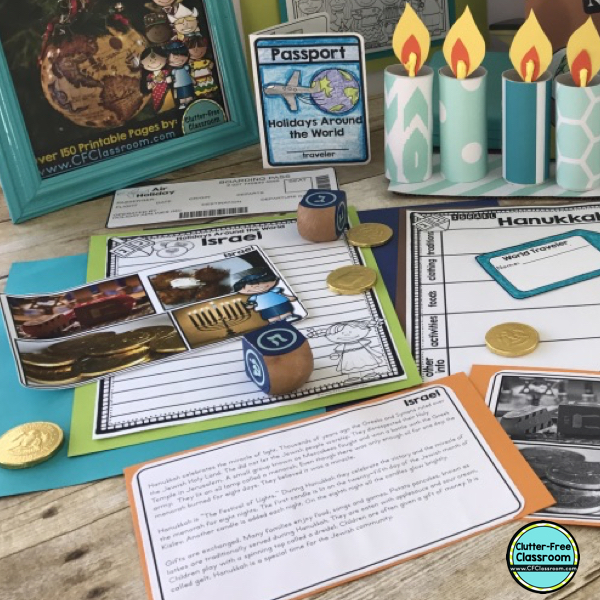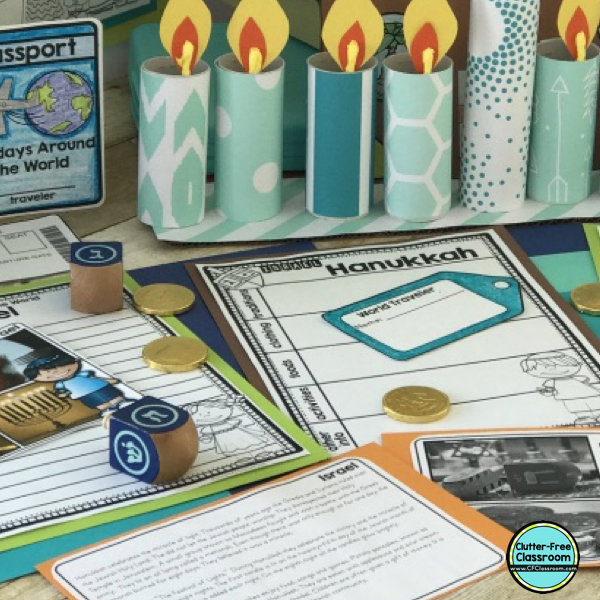 3 Craft and Project Ideas
In addition to the holidays around the world resources spotlighted above, a study about Hanukkah lends itself to a variety of other complementary projects like travel brochures, an animal research project and crafts.
1. Travel Brochures
You could have your students create travel brochures by researching the country. It's a fun and creative way for students to share the facts about Hanukkah they learned. This can be done in class or as a homework assignment to complement what you are doing in school. These printables travel brochures make it super simple!
2. Animal Research Projects
You could have your students learn about the wildlife native to Israel. This print and go animal research resource packet can be used over and over again through the school year because it was designed to be used when researching any animal.
If you need ideas specific to Israel, I suggest:
Asian elephant
Sable
Dugong
Pallas cat
North China leopard
Binturong
3. Hanukkah Crafts
Take some time to do a craft with your students to represent the country you are focusing on. It is so hard to fit in creative activities, but this is a perfect time.
Here is what we made when we studied Israel:
You can see the instruction if needed for how we made this (as well as these other crafts we made to complement a study of many other countries) on my holidays around the world Pinterest board.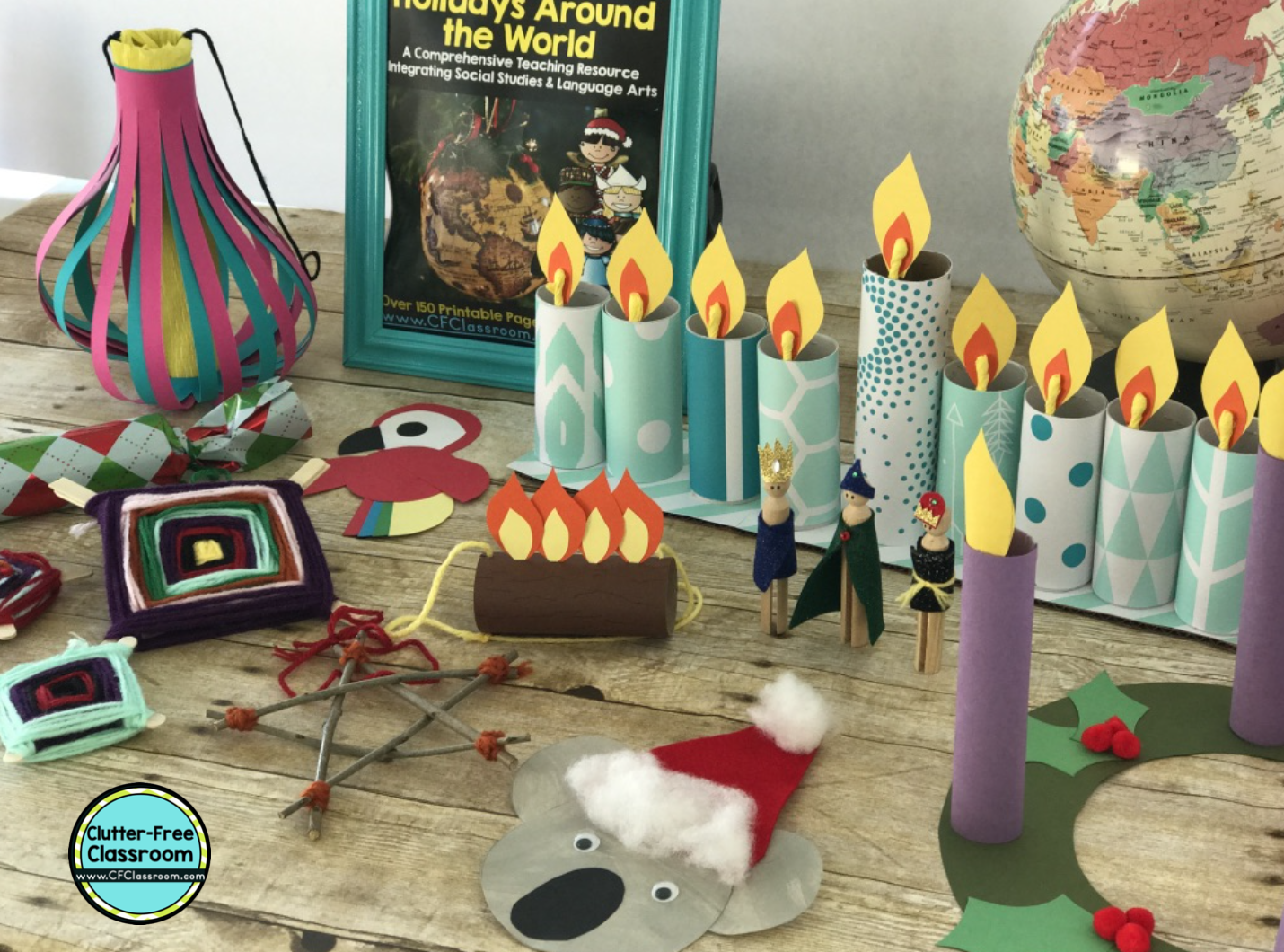 Hanukkah Books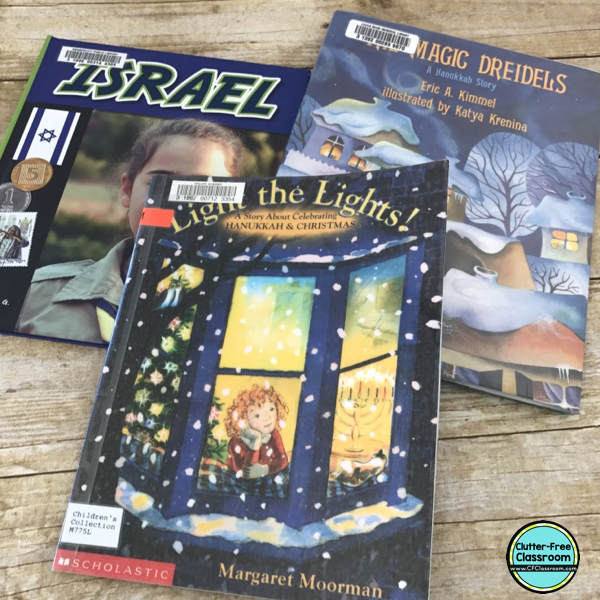 Click on any of the images below to learn more about each title:
Check out all of the other country's holidays around the world books!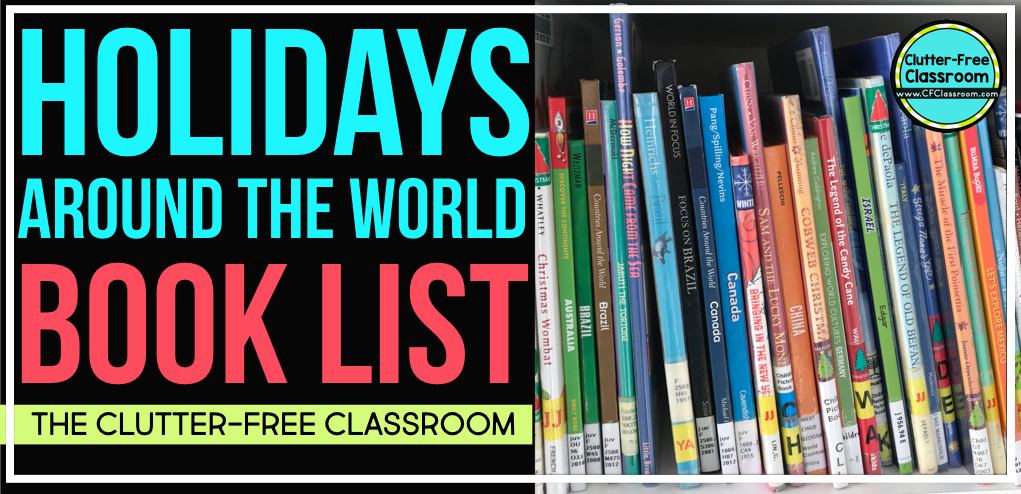 Check out the holidays around the world videos!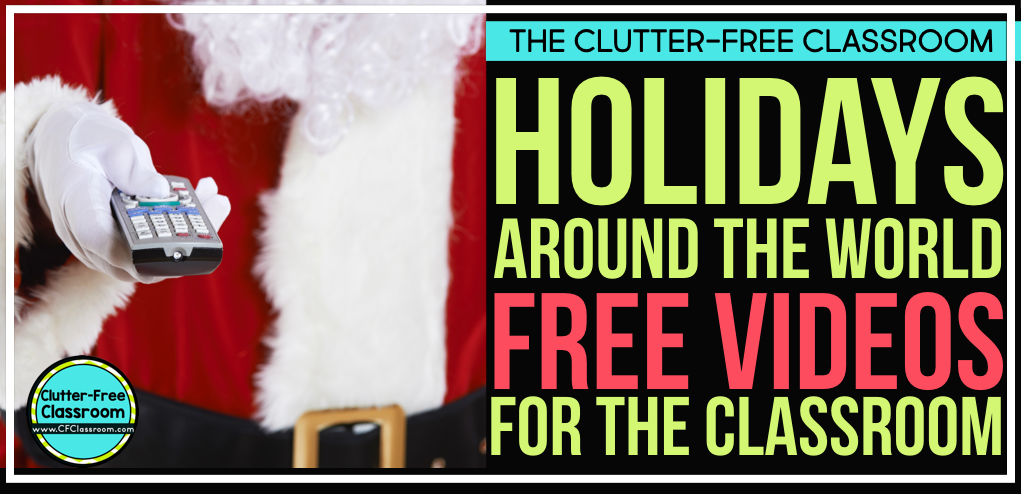 Other Holiday Posts
This post is part of a series designed to help teachers and homeschool families. Other posts can be found below as well as the links to my other posts that you may find helpful in the month of December.
These Hanukkah facts for kids and resources will help you plan a comprehensive unit on Hanukkah in Israel. Another helpful resource to check out is this article, which offers suggestions for how to manage a holidays around the world learning experience in your classroom. It will help you with planning and teaching lessons about Hanukkah in Israel, as well as a comprehensive holidays around the world resource.