If you are in search of free printable pumpkin activities, then you found the right place!
In my mind, pumpkin activities for kids used to only mean simple math activities such as estimating and counting seeds. While that may be great for the preschool and kindergarten crowd, there are so many learning lessons and hands-on activities that can be used with upper elementary students in third, fourth, and fifth grade as well.
Older learners will be motivated and engaged by STEM challenges, science experiments, fun math practice, and descriptive writing projects based on a pumpkin. This post is full of ideas that can be used on their own or as part of a pumpkin unit of study. It also includes free printable pumpkin activities that teachers can print and use in their classrooms.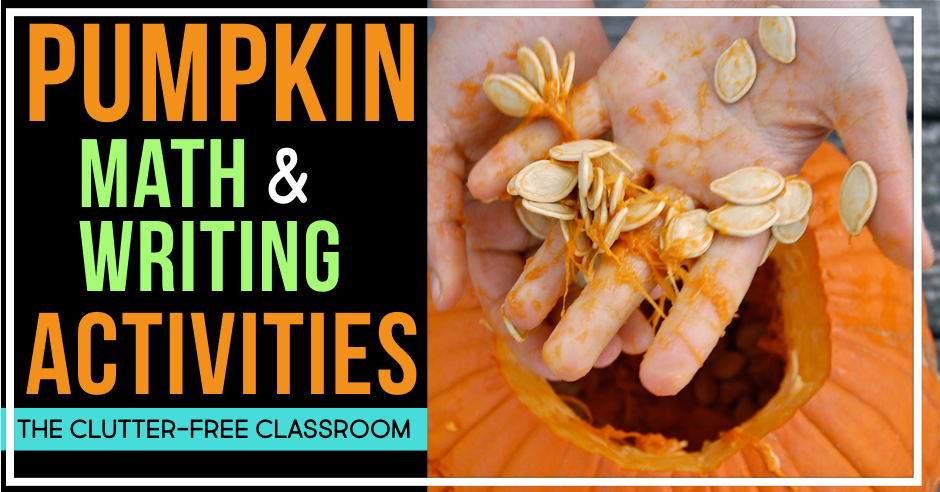 As we work our way through the month of October, the kids become more and more excited about Halloween. I've worked in a school where everything stopped and all focus was put on costume parades and classroom parties. I've also worked at a school where you were not allowed to even mention the word Halloween. It's different state to state, district to district, and even school to school.
Luckily, between both ends of that spectrum, you'll find some amazing learning opportunities. In my class, we do Haunted House Writing Projects, October writing prompts, Halloween read alouds, pumpkin book projects, an integrated spider unit, and more. I tie in all things October, Halloween, pumpkins, bats, and spiders because harnessing that seasonal enthusiasm results in tons of student engagement. I even introduce rounding using pumpkin-themed number lines and task cards. Check out this pumpkin-themed rounding activity!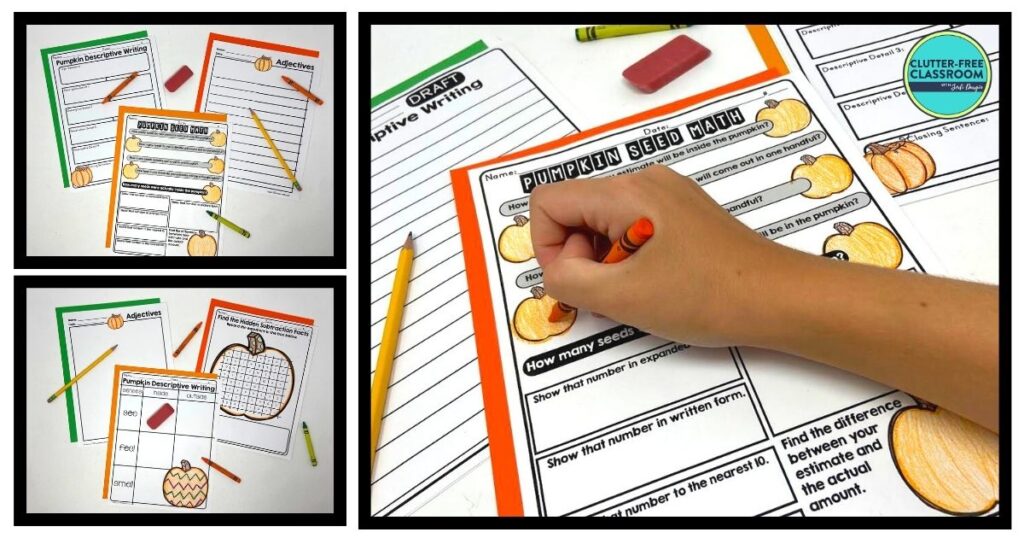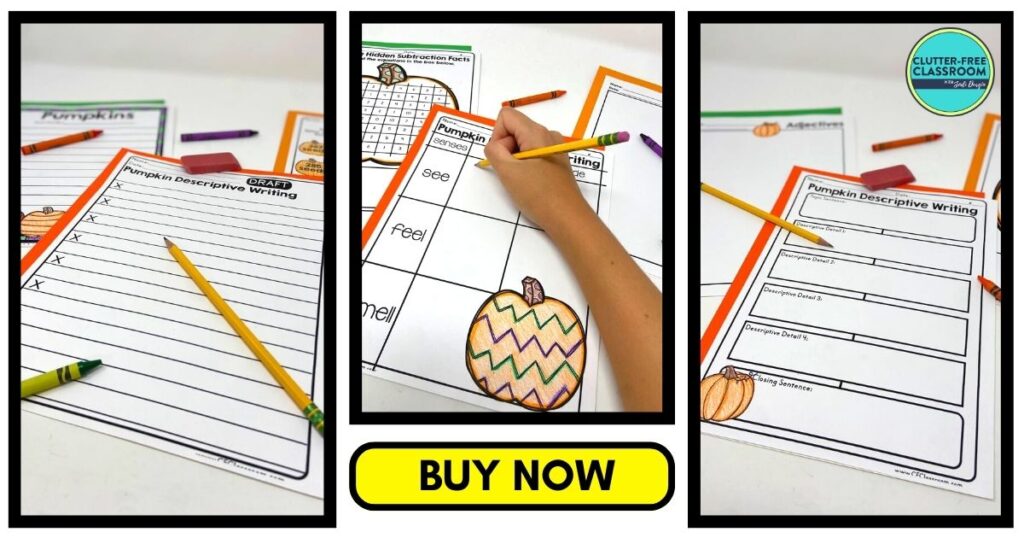 So it should not have been a surprise when I spontaneously brought a pumpkin to school and it sparked a wonderful and fun day of learning. As a K-2 teacher, pumpkin carving was an annual tradition. I don't know why it never crossed my mind to have my 3rd graders do it before, but I am so glad I did!
On Thursday night, I was at the store and saw a big bin of pumpkins. I thought, "My class has been awesome this week. I want to do something fun with them tomorrow. I'll buy a pumpkin!"
And that is how I work best.
I am a planner at heart. In fact, I tend to be an overplanner.
But, my best lessons have always been the "scrap the plans and go with it" kind. This was no different.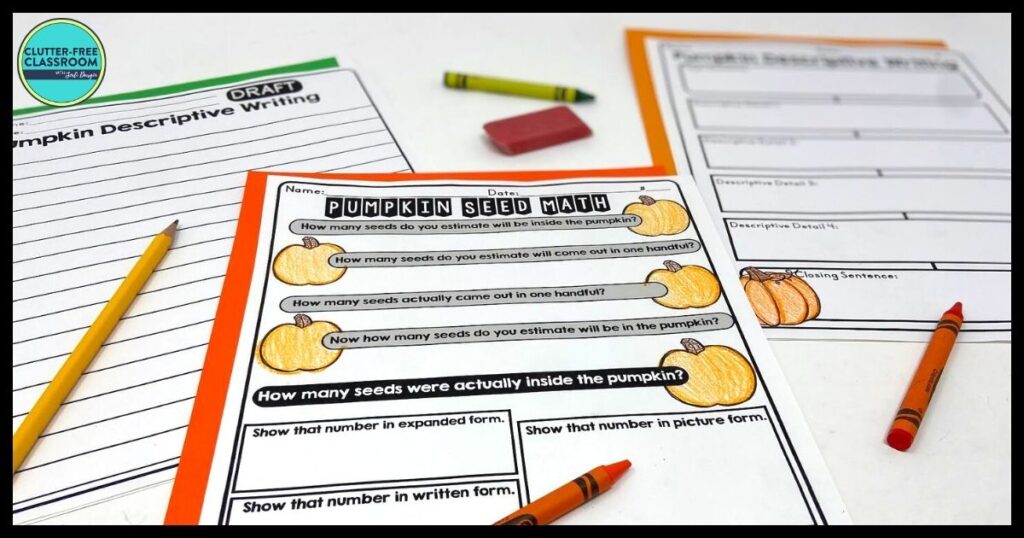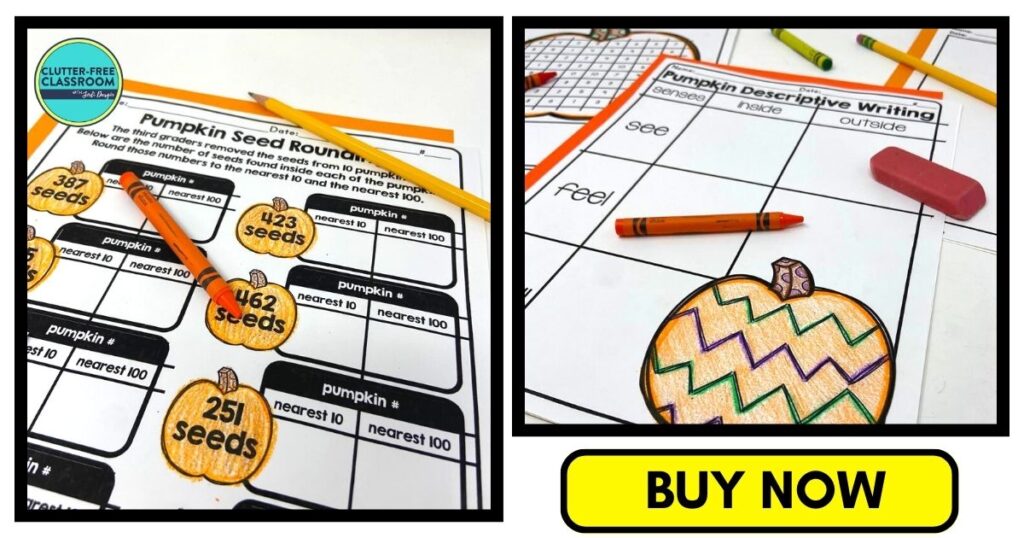 I woke up the next morning and created a packet of printables to use with the pumpkin. Check out these pumpkin activities! We had been working on rounding so I was sure to incorporate that as well as a subtraction activity they could do independently while I assisted with pumpkin dissection. We've also been focusing on descriptive writing so I simply tweaked the template I had recently made as part of an update to the Haunted House for Sale writing activity.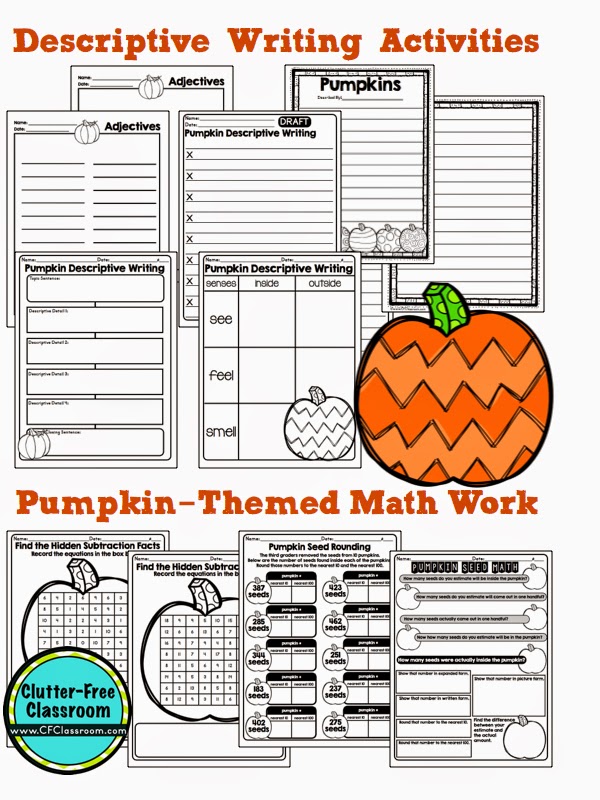 I didn't want my kids to enter the class and go 5 kinds of crazy upon seeing the pumpkin, so I covered it with a sheet. That's when I decided to take it a step further. I put the pumpkin in a milk crate, placed a black cloth over it and taped a giant question mark on the front. The kids came in and instead went 10 kinds of crazy. But the excited buzz was the perfect activator to an unplanned lesson on making inferences. Check out this mystery mail inferring activity too!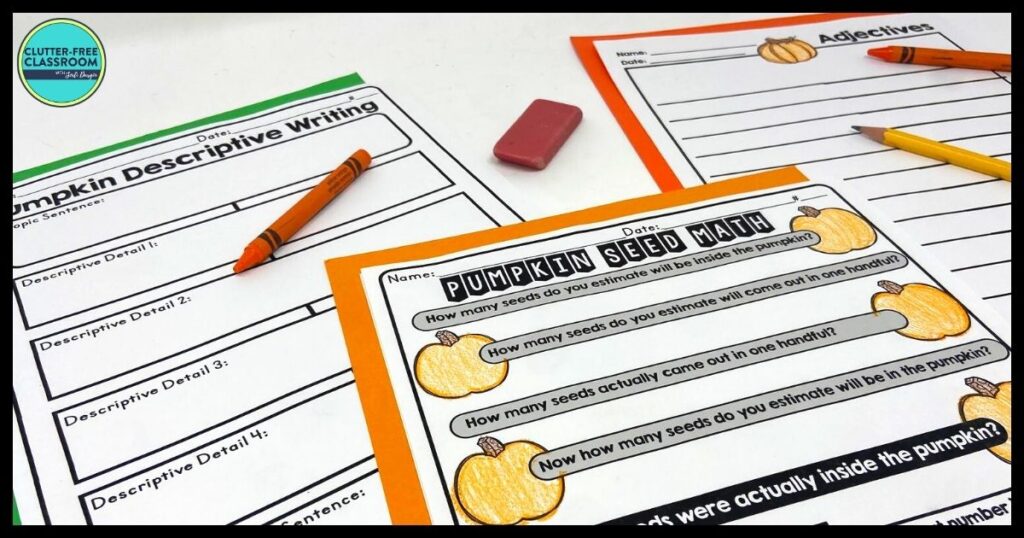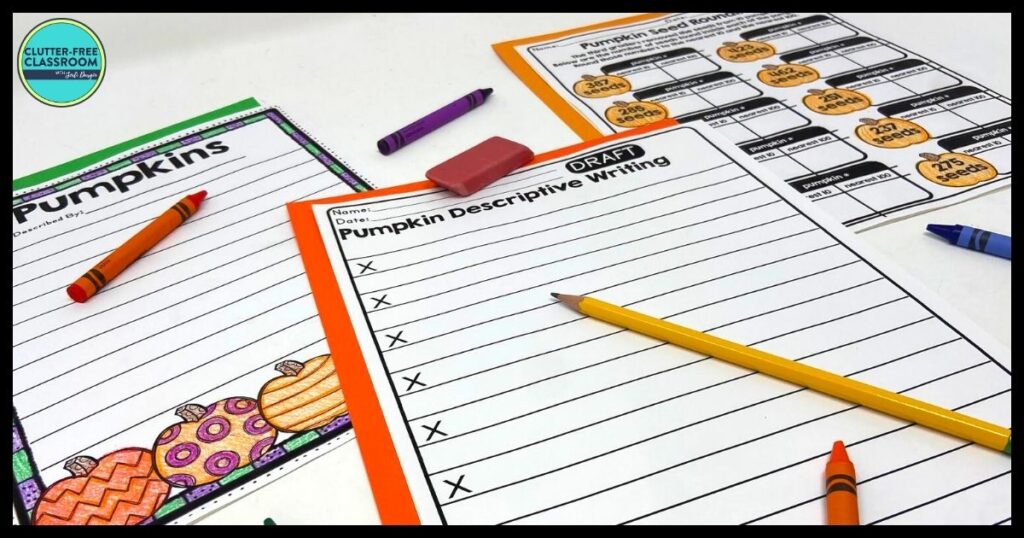 We talked about using what we know to infer what could be inside. Each student made a guess. I began giving them "pieces of information" and they continued to infer what it could be based on that info.
After the pumpkin reveal, we talked about estimation. We discussed about how many seeds we thought might be inside. I took the top off (which I highly recommend cutting at home) and they looked inside and made new estimates.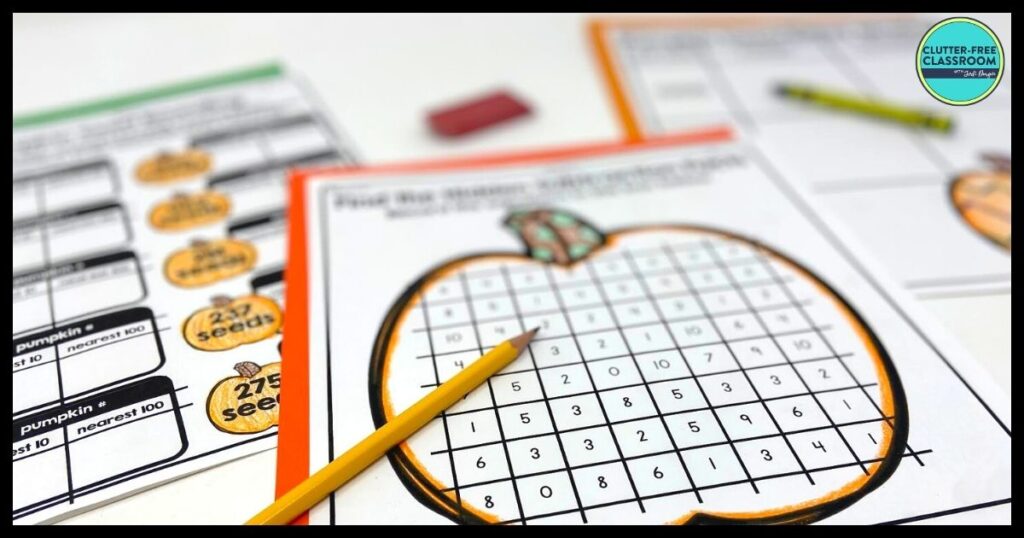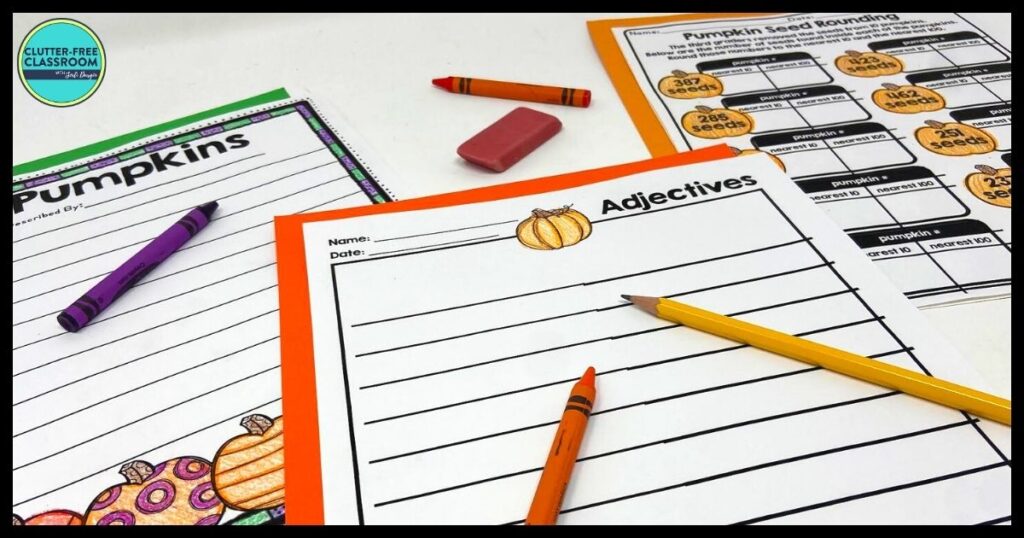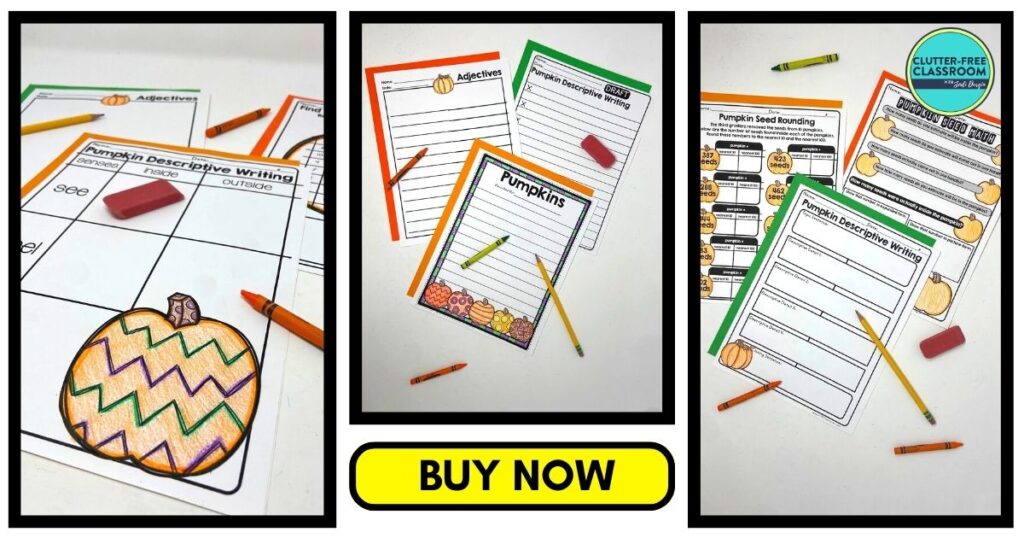 While they worked on the pumpkin-themed rounding and subtraction activity pages, I invited a few students at a time to come to the table and remove and count a handful of seeds. I had them generate descriptive words about how it looked, smelled, and felt while they were doing so. This became the base of their descriptive writing.
We added up all the individual student seed amounts to find the sum of all the seeds inside. This was great review of our prior work with place value and addition strategies. The students used that information to complete the math page. Students who finished early had the choice between rounding their classmates estimates to the nearest 10 and 100 or finding the difference between estimates and the actual sum. I left these charts posted throughout the week as easy extension activities for early finishers.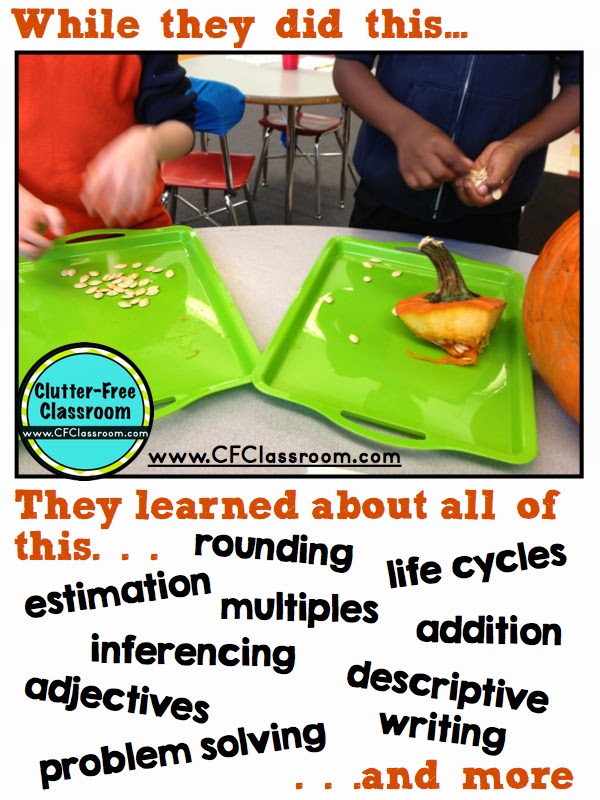 During our language arts time, they began their work on the descriptive writing pieces. They talked with their peers and brainstormed lots of adjectives. Next, I guided them through a graphic organizer to plan ideas. Finally, they worked independently on a draft.
In third grade, we do a comprehensive science unit each spring that focuses on the life cycle of plants. This year I did a mini-unit on the life cycle of an apple and will spend some time this week learning about the life cycle of a pumpkin. I am excited to see how that schema will enhance their understanding during our spring unit.
I love when everything comes together neatly. Are you looking for a way to entertain your students' Halloween giddiness without losing time on learning? I highly suggest simply bringing in a pumpkin. However, you can still use most of the printables even if you don't want to bring in an actual pumpkin.