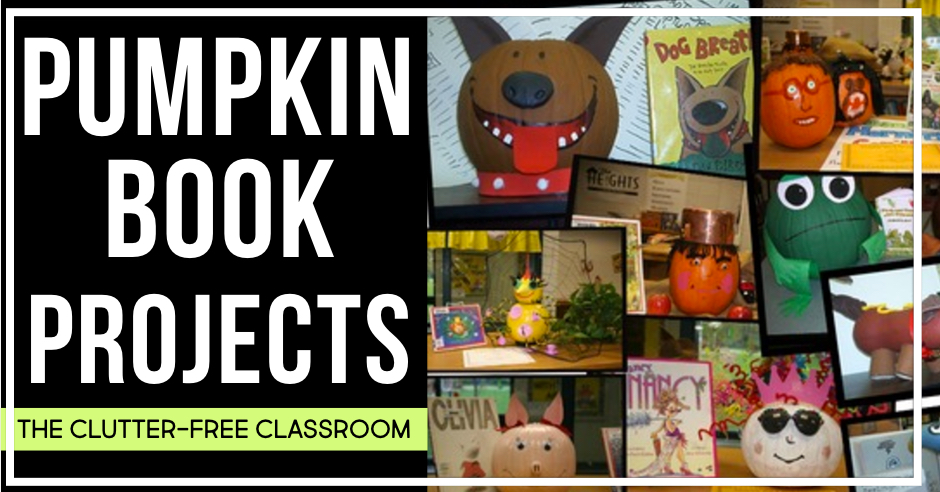 Have you ever noticed how easy it is to motivate your students in the month of October? When you add a bit of Halloween fun to literacy activities, even your most reluctant readers become enthusiastic about books. This post will explain how I use PUMPKIN BOOK PROJECTS each year to get my students excited about reading while giving them a chance to express their creativity.
Much like my popular Haunted House for Sale writing project, Pumpkin Book Projects are an annual favorite in my classroom. I've personally used both with first, second and third graders with great success.
Learning how to identify a character's actions, thoughts, and motivations is an important reading skill because it increases comprehension and inferencing skills. It also helps students improve their writing by reinforcing the concept of "showing, not telling" when drafting stories.
When teaching your learners about character traits it is important to be clear about the fact that character traits come from the inside and are part of a character's personality. They are determined based on dialogue and actions.
HOW TO TEACH ABOUT CHARACTER TRAITS:
It is helpful to provide your students with a list of character traits. This will guide their thinking and improve their vocabulary. If you are using my Pumpkin Book Project Packet you will find an included list of traits. I suggest printing a copy for each student. You can also make an anchor chart to display in the classroom for students to reference throughout the year when they are asked to identify traits and also when they are writing.
While identifying a character trait is an important skill, being able to support the claim by citing evidence from the text is key. Teach your students to refer to events from the book when discussing the traits. Get them in the habit of saying things like, "I think Charlotte is giving because she continued to spin the web to help Wilbur even when she was not feeling well." Each claim should be followed by evidence.
I find it is best to have the kids respond verbally until they become more proficient. By taking the act of recording in writing out of the equation, the children will be more willing to share lengthier responses.
Once they demonstrate an understanding of the skill, you can begin to have them cite their text-based evidence in writing. More advanced learners can take the information from the book and elaborate further by explaining how the characters words and actions contribute to the events of the story.
One of my favorite books for teaching about character traits is "The Paper Bag Princess" by Robert Munsch. It provides clear examples which allow students to draw conclusions about the characters' traits and emotions. I have my students do their own independent 3D Pumpkin Book Report at home with a book of their choice, I find it is helpful to model the project together in class and that book is perfect. I even have my students create a 2D version of the book project. Although it is not necessary because the project does include comprehensive print and go instructions (they are editable if you want to tweak them), parents do appreciate having a sample to reference.
HOW TO TEACH SUMMARIZING:
Summarizing a story helps children understand how to recognize the most important details in a text. It trains them to ignore information that is not relevant to the store. Most importantly it greatly improves reading comprehension.
Teaching students to summarize is an ongoing task. As they begin to read higher level texts, the process of summarizing what they have read become more complex.
Providing students with a framework for summarizing is helpful. I have found success using a story map format. Younger learners can use illustrations and older learners can record the details in writing. Story maps are great graphic organizers for summarizing both verbally and when composing more detailed accounts. I use our Pumpkin Book Project as another opportunity to practice summarizing.
Now that I've highlighted the two main reading skills I focus on when I do the project, we come to the best part…Creating a Pumpkin Book Character!!
These projects are so much for the kids and even after over a decade of doing this annual activity, I never cease to be amazed by their creativity each year.
I always suggest using the foam pumpkins found in craft stores because of their longevity.
I made the process of this activity in your classroom as easy as possible.
This best-selling packet has been completely updated and now includes crisp fonts, new clipart, additional pages and EDITABLE resources to make it quick and easy for teachers to implement a fun book project. Each page in the back is also now available in both COLOR and ink-saving BLACK & WHITE. I LOVE giving teachers and homeschool families lots of options.

You can pick and choose from the different activities included to have your students do as many as you feel is best appropriate for your class.

Because not all students have the support for home projects and also because I knew many teachers wanted to complete the activities in class with their students, I have added a 2D option in the packet that can be done in class or at home with limited supplies and will look AMAZING displayed on a bulletin board with the completed printables.

THE BENEFITS OF THIS RESOURCE:
✓ Simple for teachers – just print the no-prep pages
✓ There are different options included so you can meet your students needs.
✓ Kids LOVE it. They are so motivated to read and writing because it includes a Halloween craft.
✓ Your principal, colleagues and school librarian will be impressed by the creative book projects.
✓ It is differentiated which means you will be able to use it year after year even if you change grade levels.
✓ It integrates reading activities with writing activities and a creative craft project.
✓ The scoring rubric makes it easy for parents and students to understand the expectations.
✓ It has been used by thousands of different teachers with rave reviews.