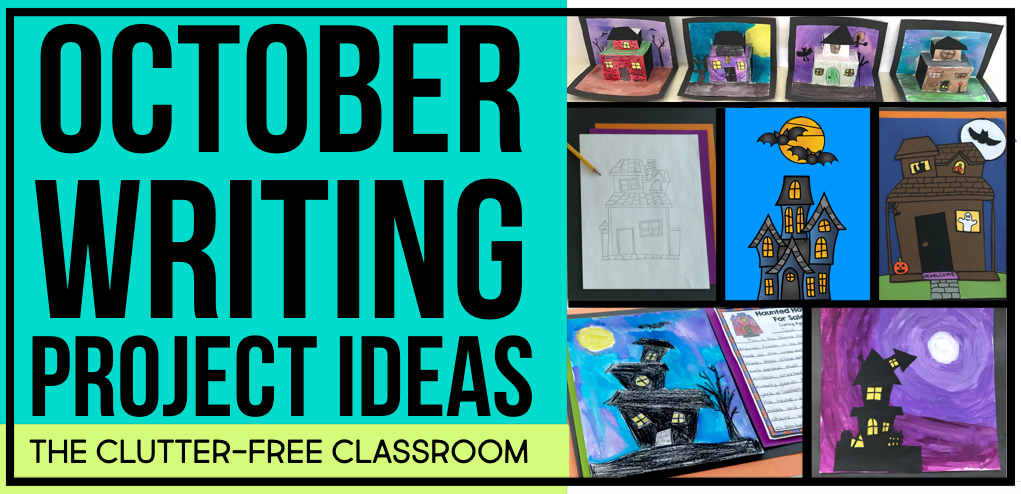 Haunted House for Sale Writing Project
Halloween writing activities make October one of the best months for engaging and motivating kids to improve their craft as authors. This post will share Halloween writing prompts, craft ideas, and even a FREE printable resource to help elementary teachers with their lesson plans.
I came up with the idea for the Haunted House for Sale writing project as a first year teacher and (after MANY years of use and improvements in my own second grade and third grade classrooms) made it available for other teachers to easily download, print, and use too. These lessons and activities focus on descriptive writing and the power of adjectives.
Since then, it has been used in over 10,000 classrooms, has proven to be a favorite Halloween writing project by teachers and students, and the haunted house craft projects (described and shown below) that complement it add even more fun (plus they look great as an October bulletin board or display).
What Does Writing Look Like in My Classroom?
It is important to provide a lot of writing opportunities for your students throughout the school year and there is great value in documenting their progress by comparing similar writing samples over the course of the school year. I do this through a combination of
Consistent weekly writing activities: I use Paragraph of the Week and Monthly Writing Prompts in journals that are ongoing all year
Four seasonal pieces to truly show their growth as writers.
One monthly writing project complemented by a craftivity

that is displayed in the classroom.
The annual September project is a descriptive piece based on the book, A Bad Case of Stripes. In October, they expand their descriptive writing skills with the Haunted House for Sale project.
#1 Build Schema for the Haunted House for Sale Writing Project
Although it is optional, I always love to start any activity by reading a related book. I used to opt for Inside a House that is Haunted by Alyssa Satin Capucilli or In the Haunted House by Eve Bunting. Both are great options.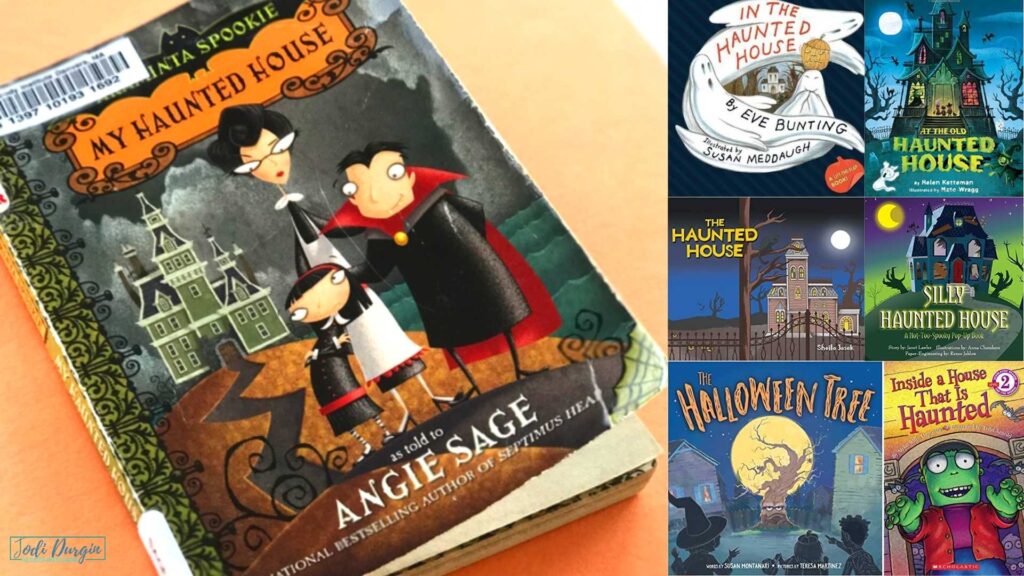 However, once I discovered, My Haunted House by Angie Sage it quickly became my favorite. It is a fabulous choice if you have a bit of time to work in a short chapter book read aloud. I also fill my seasonal thematic library with related titles to maximize their interest and motivation to read. Reading these books helps to get them engaged and to activate their schema, so they are ready for the activities that follow.
#2 Engage Your Students with a Haunted House for Sale Writing Craft Project
In the past, I always began with the writing portion and then we did a creative craft project to display with their final copies. In more recent years I found great value in starting with a Haunted House Art Project before introducing the writing portion. There were a few benefits to this.
It increases their interest in the project as a whole.
It gives their hands something to do while I read aloud the book.
I do not display individual artwork until the writing is finished which is a motivator for completing the writing portion.
There are so many fun options for October craftivities. Here are five I have personally done and recommend.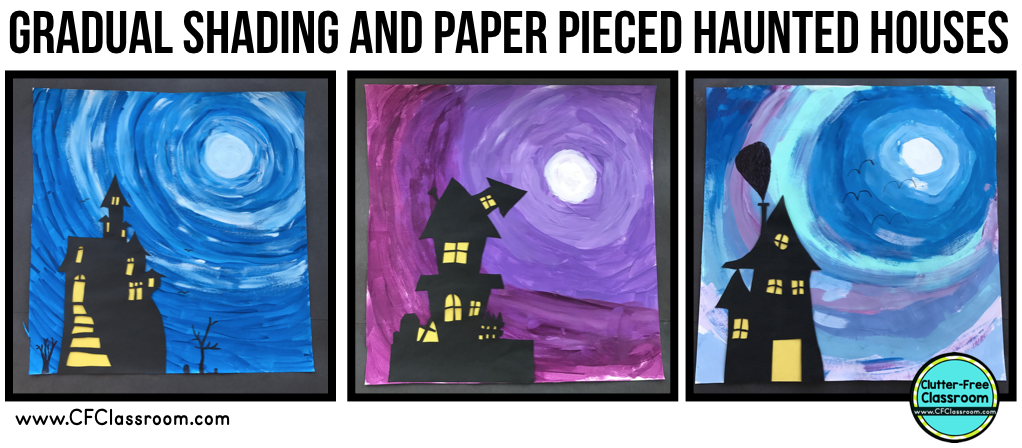 These come out beautifully and look amazing when all displayed together. You could do these in your classroom, or ask your art teacher to collaborate with you and have the students work on them in the art room.
Start by making a circle with white paint. Add a bit of color (blue, purple, or teal look best) to the white paint and make an outer circle around it. Continue adding a bit more color and making circles until reaching the edge of the paper with the paint becoming increasingly darker as you go.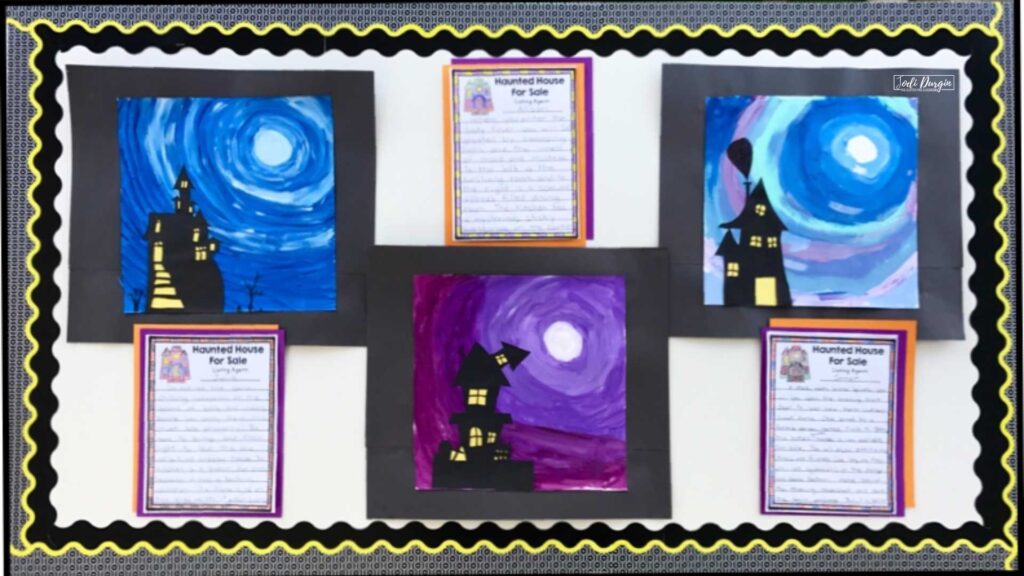 When the paint is dry, the students can add a paper cutout of a black haunted house with yellow paper windows and doors for an illuminated look.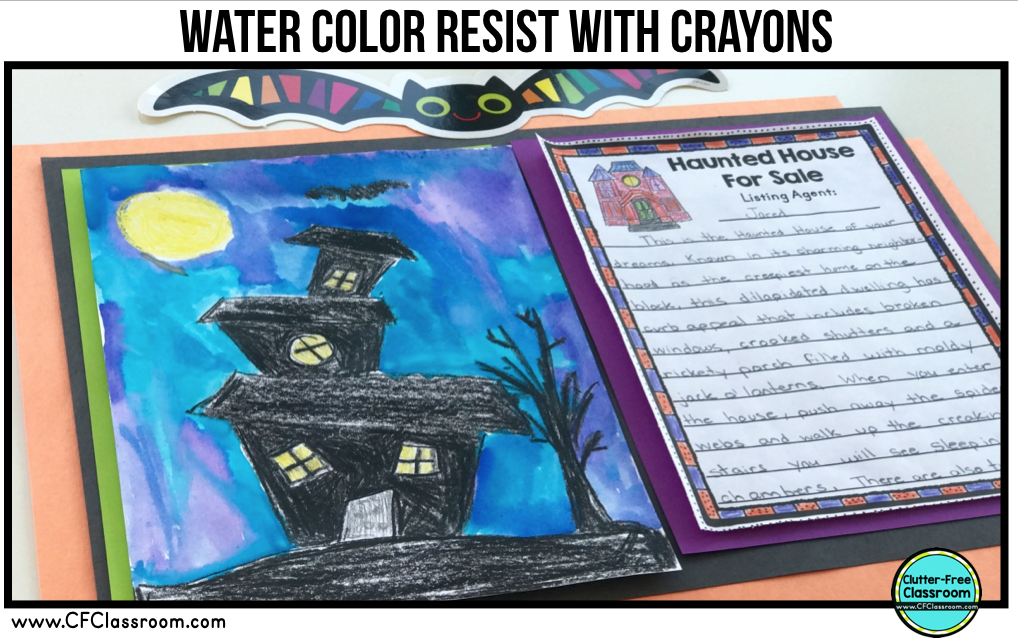 If you don't want to break out the full "roll up your sleeves" and paint kind of paints from the first project, but still want a really cool looking project these watercolor resists are a perfect option.
Have your students outline a haunted house and moon lightly in pencil. Instruct them to color the house in with a black crayon and the moon in yellow. They may want to add details (like the tree and bat above) to the picture as well. Then they simply paint over the entire page with watercolor paints. The wax from the crayon prevents the color from sticking in those areas.

I love how these look like a cute, little, haunted town when displayed altogether because each looks a bit different. I opted to stand them up and place each writing sample in front of the house. Another option would be to make a reduced-size copy of the writing and attach it to the top so it opens like a card.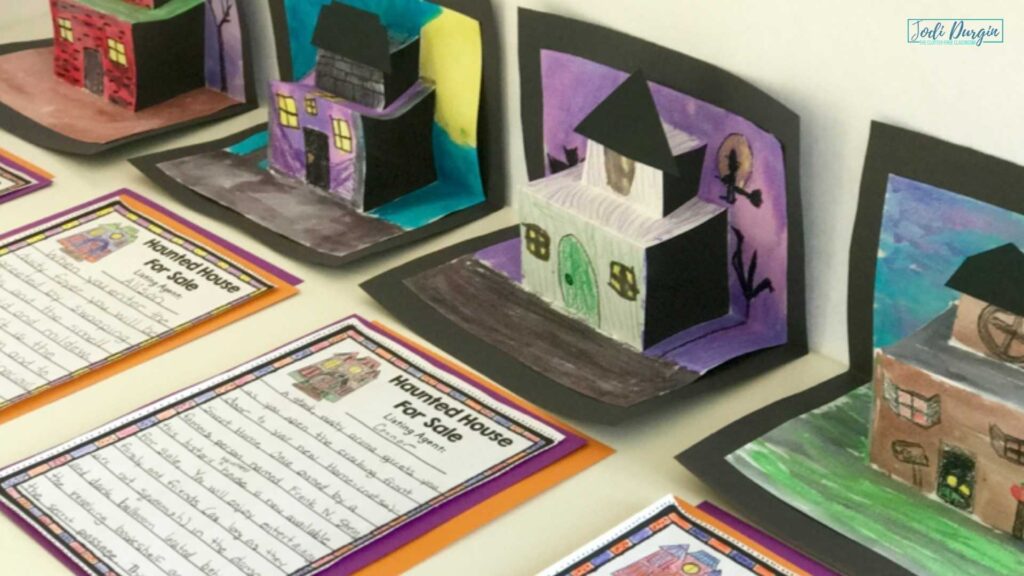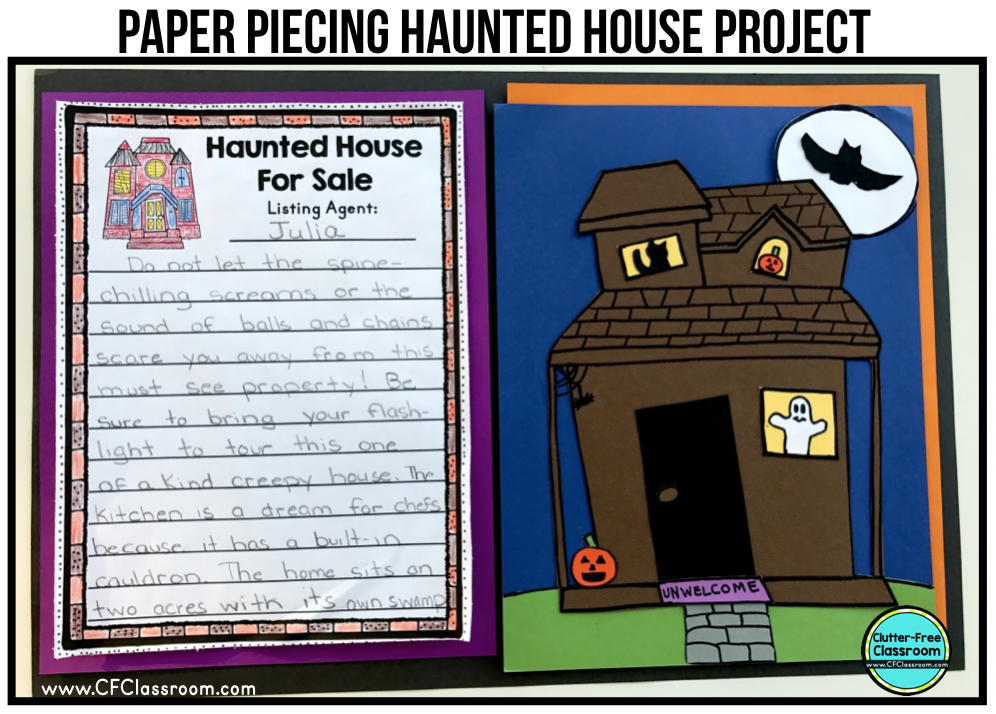 This was my tried and true original craft activity that I used for many years as the complement to the Haunted House for Sale writing project. Have your students sketch a haunted house onto paper (brown, grey and purple look good) and then outline it in black Sharpie. This makes the project pop. Next, have them add elements to create a scene. Some suggestions include bats, pumpkins, cats, bats, trees, etc.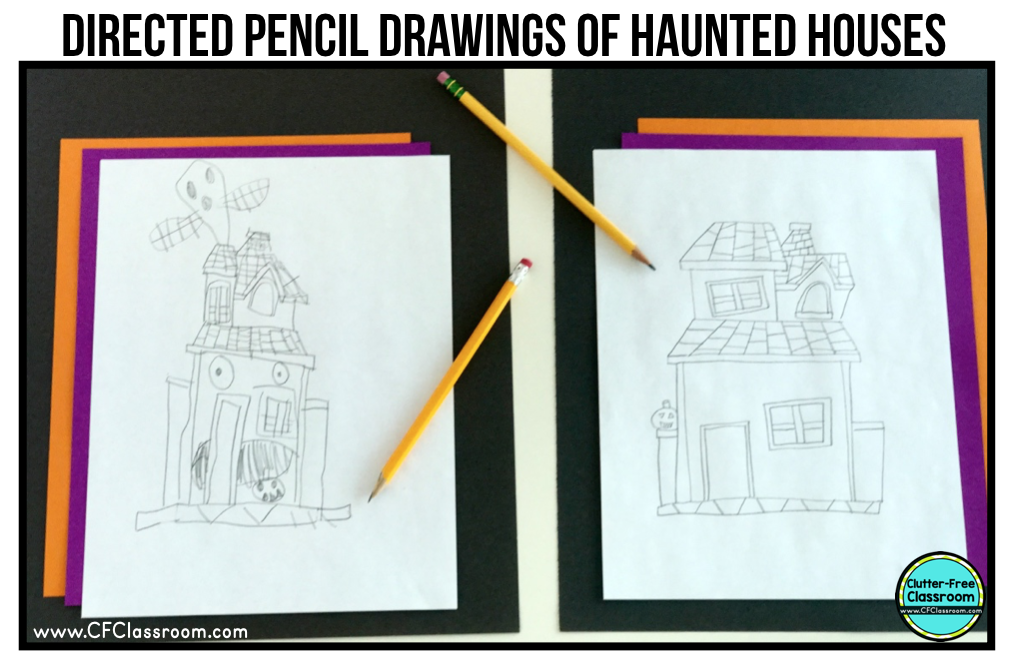 I would love to say I was responsible for directing fantastic pencil drawings, but artwork is not my area of expertise. Instead, I had my kids follow along with a YouTube video. It worked out so well and they enjoyed the experience so much I made it a regular activity each week. It only takes a few minutes and being able to observe your students take direction from someone tells you a lot about them and their skills.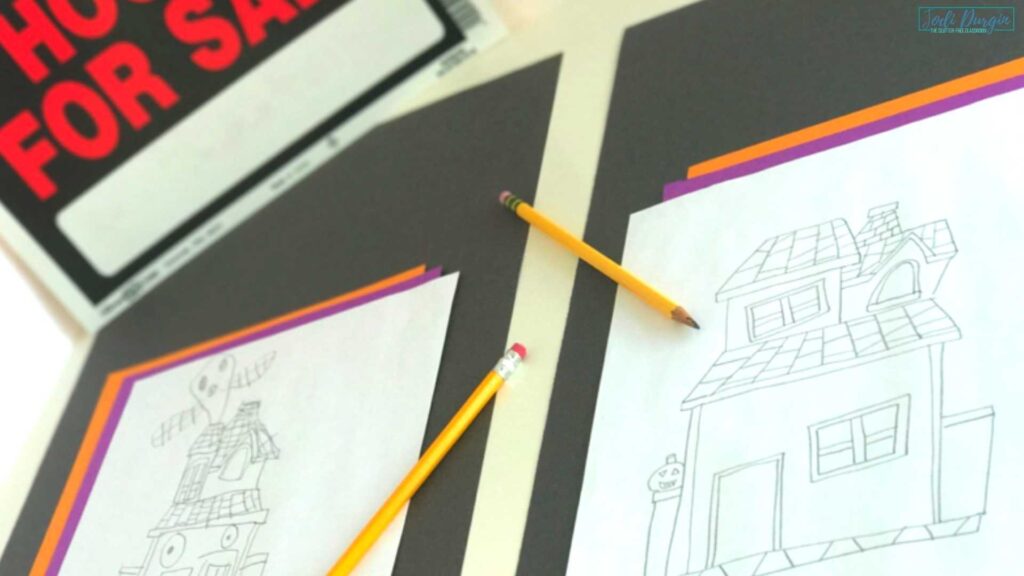 # 3 Review Nouns and Adjectives With This Free Halloween Activity
Let's be honest friends. Every single teacher on the entire planet teaches nouns, verbs, and adjectives. That is a fact.
Another fun fact is that every single kid on the face on of the Earth who is asked about a noun, a verb, or an adjective will claim that no teacher prior to you has ever uttered any of those three words to them. My point is that you will probably need to review them.
Start by having your students listen to the song, "Witch's Brew" by Hap Palmer. Use the lyrics from that song to identify nouns and adjectives. It's chock full of those two parts of speech and has a fun, catchy beat. It's perfect for kicking off some Halloween writing.
I like to also create an anchor chart with my students to brainstorm what is found inside and outside of a haunted house.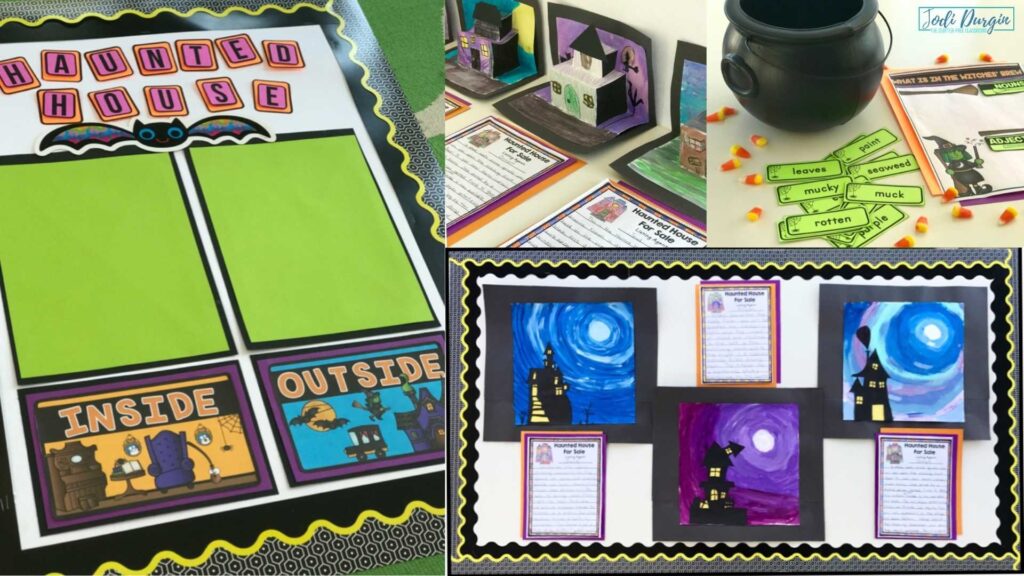 Next, give the students the Haunted House for Sale nouns and adjectives brainstorming pages. I find it helpful to give them some time to come up with ideas independently and then work collaboratively as a whole group to expand on their thinking. This activity is great because it not only reviews the concept, it also develops vocabulary, helps the kiddos who struggle with idea generation, and serves as a word wall for spelling (which then enables them to write without getting caught up on how to spell words). After the whole class lesson, the students can then add to their own pages or access the words from the reference charts we created together as needed.
#4 Use the Printable Activities to Work Through the Haunted House for Sale Writing Process
Students' struggles as writers typical stem from three reasons:
not having ideas to write about
getting caught up by wanting to spell words correctly
not knowing how to start and stop or even what to include
If you choose to use my Haunted House for Sale Resource Packet you will find it includes everything you need to take the project from start to finish.
As a teacher who has changed grade levels many times, and knowing that teachers typically have many levels of ability within their classroom each year, I strive to include differentiated options, so you can use the resource year after year in any grade level. This specific resource includes several styles of organizers and writing papers for that reason.