Effective classroom management skills are the key to success in the classroom. Developing a classroom management plan, fine tuning your classroom management strategies and strengthening your classroom management techniques will make you a more productive, efficient teacher. This will increase student learning, decrease your stress level and make your job even more enjoyable. This post will share five steps to improve your classroom management as well as classroom management tools that have helped other teachers.
I'm going to be completely honest, but I'm probably not telling you anything you don't already know.
As a classroom teacher you are constantly being judged by students, parents, administrators and colleagues on your classroom management skills. It doesn't matter how well-educated, well-planned or dedicated you are. If your classroom management skills are lacking, you may be unfairly viewed as a "bad teacher."
These days this accusation goes beyond gossip on the soccer field among parents. In more and more districts, teacher evaluations and student performance is weighing heavily into teachers' pay rates. Newer teachers, or experienced teachers new to a district, are especially at risk of being unfairly penalized as the increased ease of termination can put your job in jeopardy.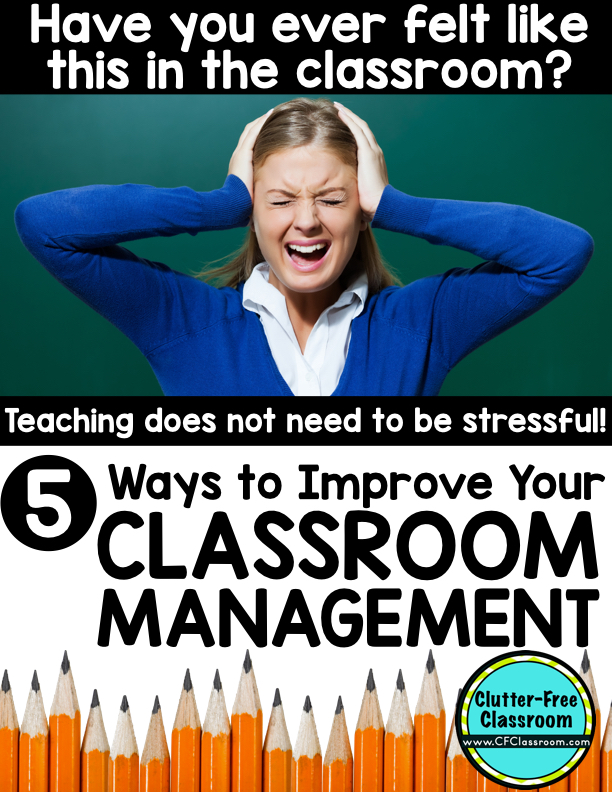 Classroom management is so much more than discipline and behavior management. Classroom management includes all of the things a teacher is responsible as part of the job. It is important to map out all of your procedures and routines before the school year begins and invest the time into teaching them to the students as soon as the first day of school rolls around. Be sure to think through every aspect of the school day / year and all that you need to manage. Develop systems for documenting communication, sending things between home and school, and handling requests to go to the nurse and everything else that needs to be on your teacher radar.
You are going to be interrupted throughout the day. Students will blurt things out, your phone will ring, the intercom will come on and people will stop by your classroom. Plan ahead for these events to minimize the disruption. In my classroom, I found that assigning spots in our line and seats for whole group, establishing clear expectations regarding bathroom breaks, setting guidelines and routines for sharpening pencils, and implementing hand signals for non-verbal communication all greatly attributed to a positive environment.
There is a lot to consider as a classroom teacher, but the good news is that you don't need to think of everything. I tried so many different things over the years. Some worked and some failed (they are all explained in detailed here). After you have listed all the things that need managing you should see what others have done successfully. Find a veteran teacher and run your ideas by her. Ask what worked well for her. See if she sees any obvious flaws with your plans. Go to teacher forums online and seek additional advice. Typically there are lots of experienced teachers willing to help you by responding to your posts. Join my Facebook group called The Clutter-Free Classroom Club: Solutions for Busy Teachers – It's a community of 4,500+ teachers who are eager to collaborate and answer your questions.
Create systems and routines that enable your learners to navigate the day independently. Having procedures in place for everything from ordering lunch and taking attendance to packing up and being dismissed will ensure a smooth day for all. Establish parameters and expectations for behavior and be clear and consistent. Clear rules and consequences decrease the need for teachers to discipline students. This creates a positive environment and builds relationships between the student and the teacher. Enabling a classroom to run itself helps prevent teacher burnout and fatigue. It also allows the teacher to have better, more positive rapport with the students, which increases trust and student learning.
Classroom decor is important when it comes to creating a cohesive and organized space, but while classroom themes or color schemes play a big role in the aesthetics of the space, it is also important to include purposeful resources. Birthday charts, tooth tallies, assignment management boards, dismissal charts, and interactive positive behavior systems all deserve some prime real estate too. These tools will help you reach your goal of improving your classroom management skills and will involve students in the process.
Do you want to learn more about classroom management?
Putting together a classroom management plan, thinking through the details and creating classroom resources to make sure the room runs smoothly is a big undertaking. I've spent months putting together a resource that will save you a lot of time while improving your classroom management skills. The Clutter-Free Classroom Management Bundle contains an abundance of resources and tools to make it easy to improve your classroom management abilities. It includes all of the items shown in photos throughout this blog post as well as…
a 57 Page Printable Teacher Workbook to Complement the Guide: This resource will walk you through the process of thinking about classroom management via prompts and reference to the eBook. It includes designated space for organizing your to do list and supplies needed to put the plan into action. There are even notes in the workbook directing you to the pages in the eBook specific to that topic as well as a note identifying when there is an included product to help you.
30 INDIVIDUAL Classroom Management Products: The bundle is jam-packed with some of my best-selling resources (which have all recently been completely updated) as well as some new ones. These tools have been used in many classrooms with great success. Most of these resources include multiple versions so you can elect to use one with clip art or not and the majority have editable components to enable you to customize them for your own classroom.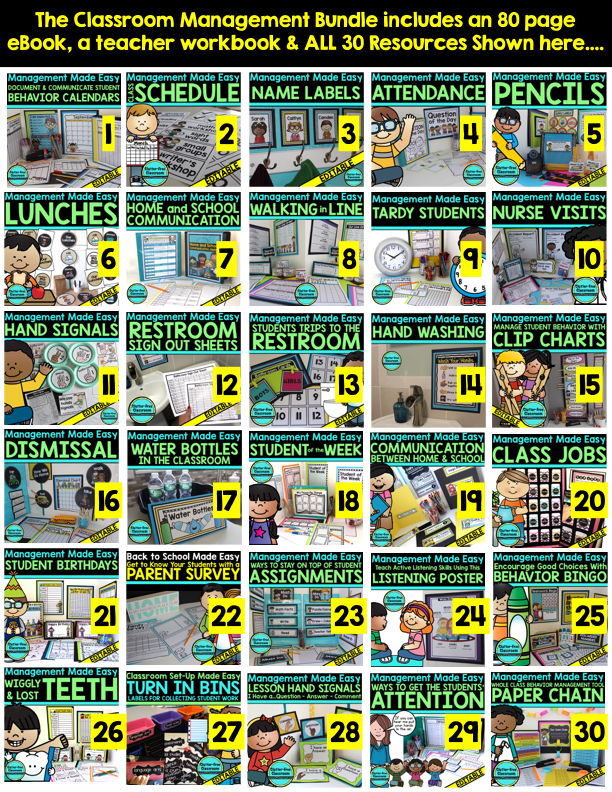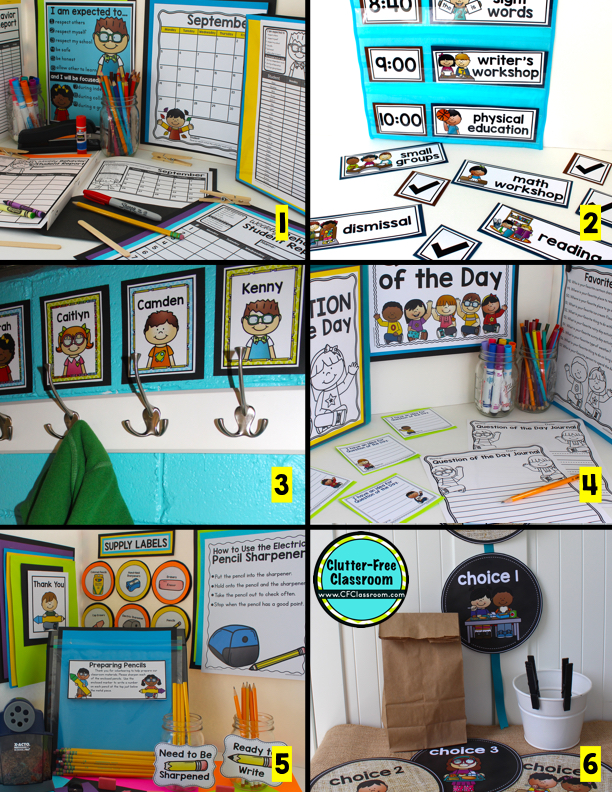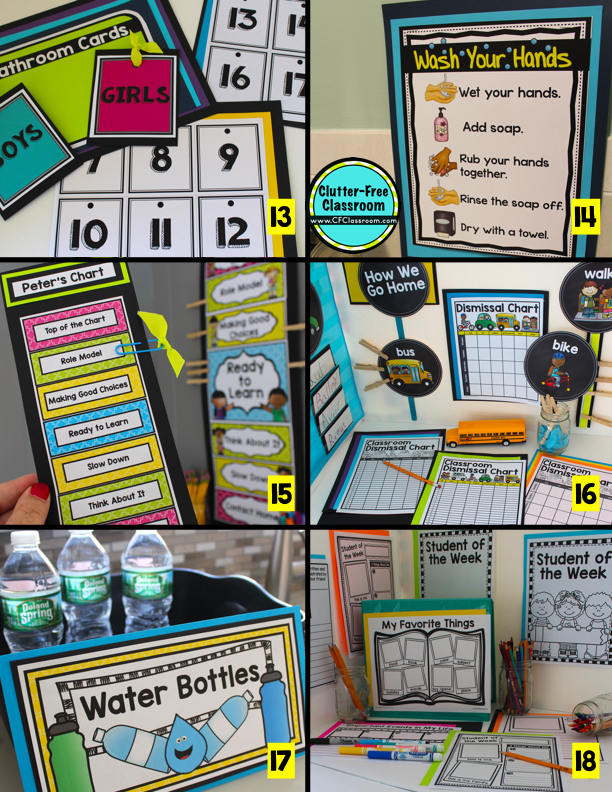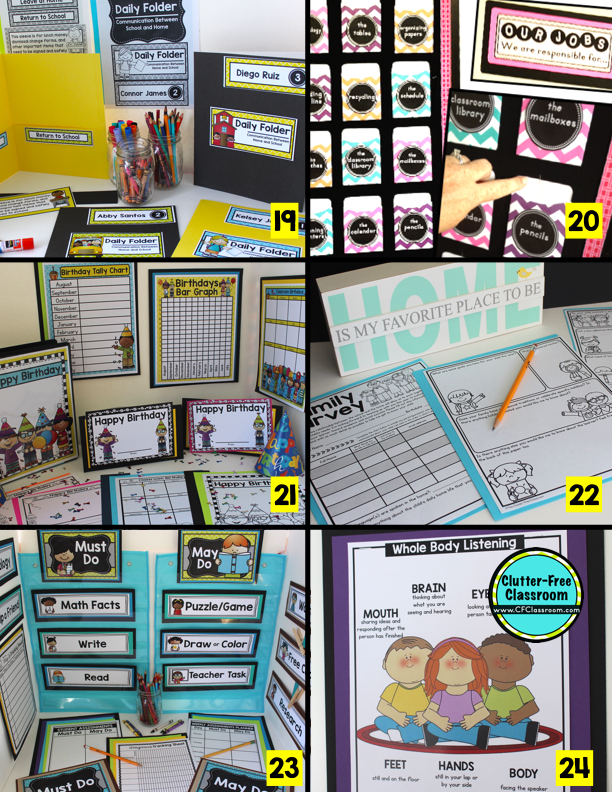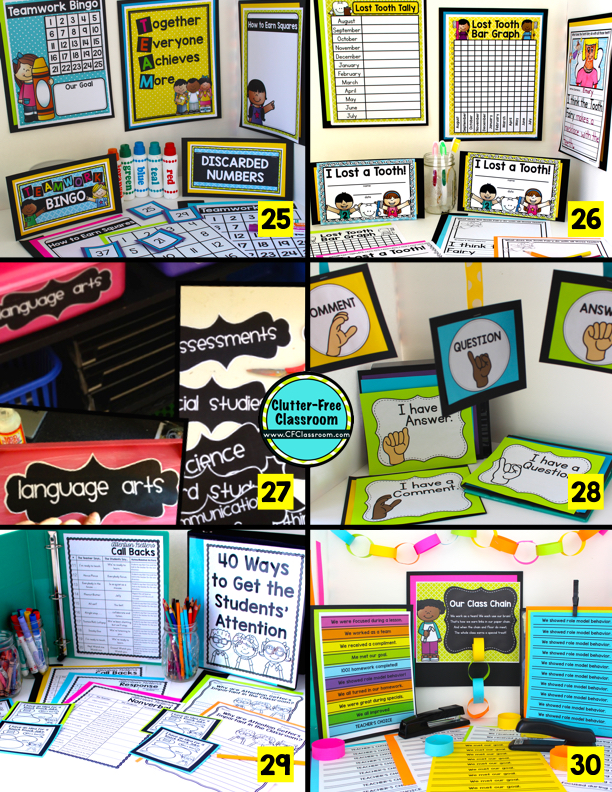 Not sure if you want to purchase the entire bundle? Good news! The Classroom Management Guide eBook + editable Teacher Workbook and the 30 Management Resource Collection are now available separately!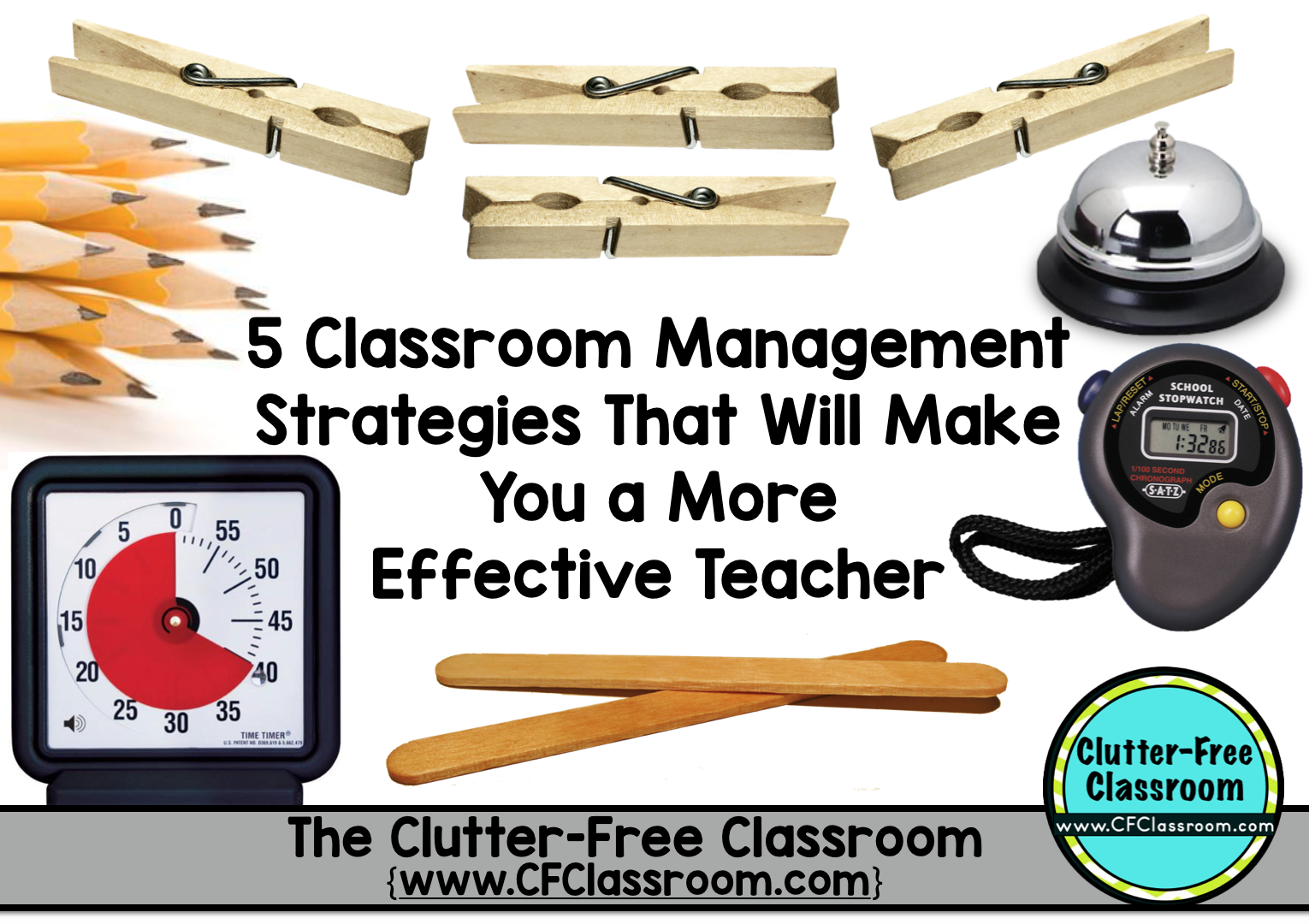 READ ALL THE BLOG POSTS IN THE CLASSROOM MANAGEMENT SERIES:
SaveSave