One of the keys to being a successful and happy teacher is the consistent use of strong classroom management strategies and tools. The resource highlighted in this blog post will help you develop a classroom management plan, fine tune your classroom management strategies, and strengthen your classroom management techniques. This is a must-have for all kindergarten, first, second, third, fourth, and fifth grade teachers. Read below to learn more!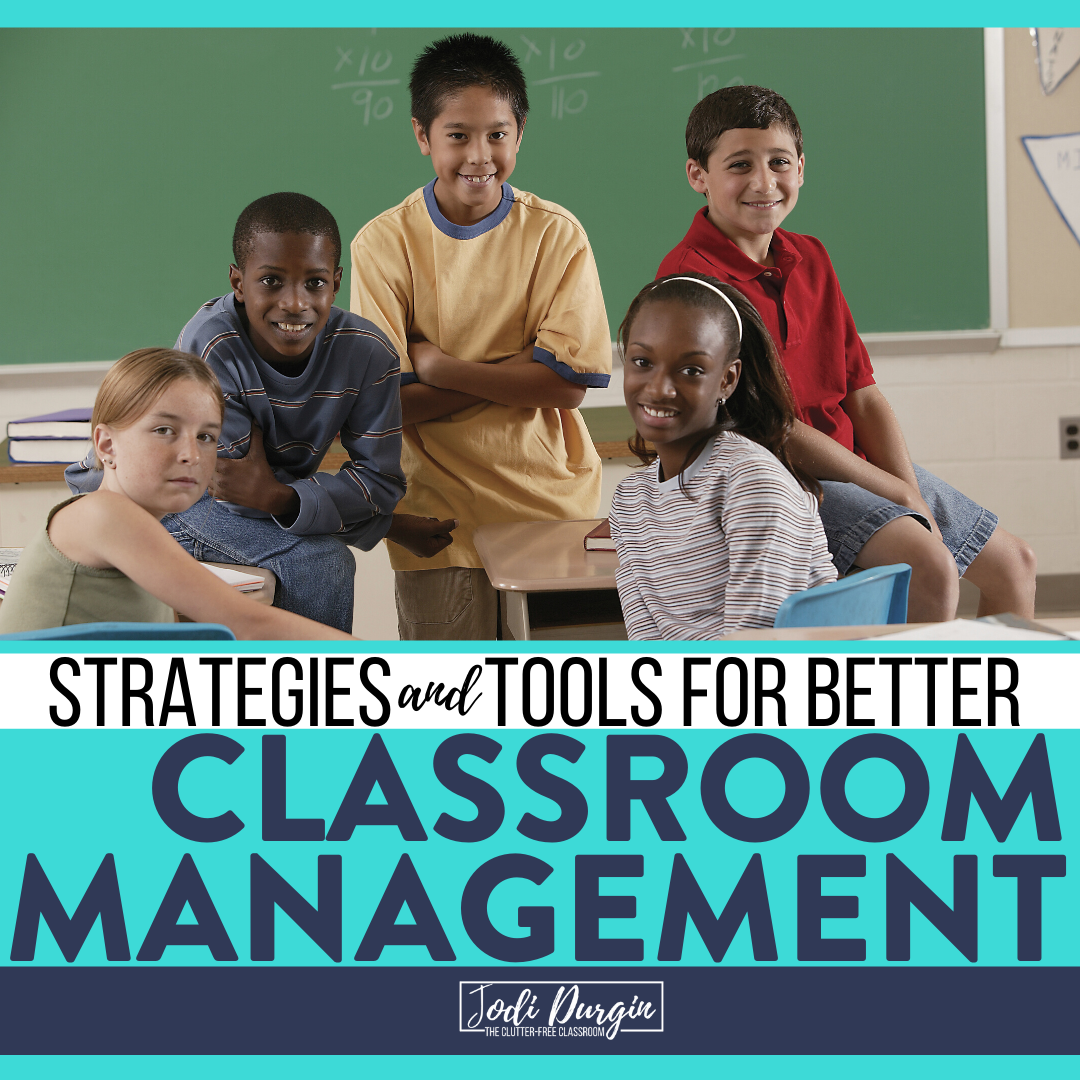 This classroom management bundle includes the 80-page Clutter-Free Classroom Guide Management Made Easy, 57-page Editable Classroom Management Teacher Workbook, and 30 individual classroom management products. It is filled with tons of tips, ideas, and printables that will help you perfect your classroom management skills.

Putting together a classroom management plan, thinking through the details and creating classroom resources to make sure the room runs smoothly is a big undertaking. I've spent months putting together a resource that will save you a lot of time while improving your classroom management skills. The Clutter-Free Classroom Management Bundle contains an abundance of resources and tools to make it easy to improve your classroom management abilities.
Reduces student anxiety because of the consistent routines and procedures offered in this resource.
Creates more learning time for students because of the strategies for smooth transitions.
Positively impacts student growth and happiness.
Promotes an easy transition for students when a substitute teacher is there because the classroom runs itself.
Offers beautiful resources for the classroom that students can enjoy.
Includes the tools to make you a more productive and efficient teacher.
Streamlines all of your classroom management procedures.
Includes strategies that will Increase student learning.
It is editable so you can make adjustments so it fits your individual needs.
Offers tools and strategies to decrease your stress level surrounding classroom management.
Provides a comprehensive collection of resources so you won't need to purchase other classroom management resources.
Fill out the workbook and use it to reflect on your current and future practices. Read the classroom management guide and apply tips and ideas to your classroom. Print and post 30 printables in your classroom. Teach classroom management procedures and routines.

Check out these testimonials from teachers who've used it in their classrooms…
Best. Purchase. Yet. As someone returning to a classroom position after a number of years, I was so worried about "forgetting" something. This bundle literally has EVERYTHING in it! Everything I need is here and with so much information explaining how to use it. To top it off, virtually everything is editable so I can add my own verbiage if I prefer.
-Diana L.
As a first year teacher, I cannot begin to describe the value of this product. It is worth the price. This product is going to make me feel totally prepared for my classroom. She includes things that I didn't even think I would need to plan for! Amazing!
-Victoria B.
This bundle is awesome!!! I am always hesitant when it costs a little bit, but after checking out the product's preview, I went for it and bought it. I am SO GLAD I DID. There are SOOO many brilliant ideas and tweaks that I am going to use this year. Thank you very much for all your hard work. You will make my job easier this year and will help my classroom run more smoothly. Thanks!!
-Jayme N.
I have been teaching 18 years and have been complimented by admin for having a well organized and well managed classroom. Having bought many items from you in the past, I couldn't resist this bundle to be able to have "go to" resources in one spot for easy reference. What an invaluable resource!!! I learned so much from this and and am so excited to have so many fantastic ideas to bring back with me to the classroom this fall. This resource was well put together, well organized, and has excellent, suggestions, ideas, and resources for veterans and new teachers alike. Every teacher should own this! In fact, bound in a cute binder it would make a great gift for a student teacher. I have been busy putting pages in a binder since downloading it. It is a resource I will refer to often and keep for many years. Without a doubt, one of the THE best purchases I have made on TPT and believe me there are a TON of them! Excellent job!
-Julie P.
This is life changing for me as a teacher. My first year teaching was a disaster because of management issues, my second year was better having had an example first hand of what not to do, and now I'm hoping my third will be the best yet. I know we always grow more and learn more as we gain experience, but this resource is exactly what I needed. I am someone who struggles with having a plan in place, staying consistent with it, and utilizing all of my resources to their best ability. That is no longer the case with this amazing bundle. I am so glad to have gotten it on sale, but in reality would have paid full price for it if necessary, that is how important it is. There is so much to be said about strong procedures and routines. They are the heart of the classroom, allowing everything else to function as it should. They keep the rhythm steady, the kids focused and confident that they know what to expect each day, and this resource is now my new life-line. I have just barely begun to dig into it, but I know it is going to be so valuable for my classroom. Thank you for not only sharing your wisdom, resources, and passion for teaching, but helping to support new and experienced teachers alike with how to establish a well-working classroom through procedures and routines. Thank you, thank you, thank you!
-Liz S.
You can read more great feedback from teachers just like you here!
It includes all of the items shown in photos throughout this blog post as well as…
a 57 Page Printable Teacher Workbook to Complement the Guide: This resource will walk you through the process of thinking about classroom management via prompts and reference to the eBook. It includes designated space for organizing your to do list and supplies needed to put the plan into action. There are even notes in the workbook directing you to the pages in the eBook specific to that topic as well as a note identifying when there is an included product to help you.
30 INDIVIDUAL Classroom Management Products: The bundle is jam-packed with some of my best-selling resources (which have all recently been completely updated) as well as some new ones. These tools have been used in many classrooms with great success. Most of these resources include multiple versions so you can elect to use one with clip art or not and the majority have editable components to enable you to customize them for your own classroom.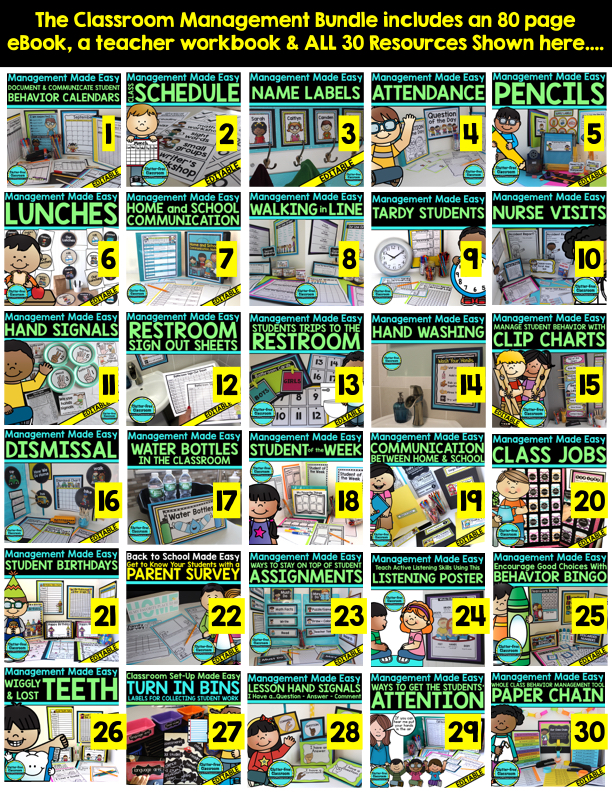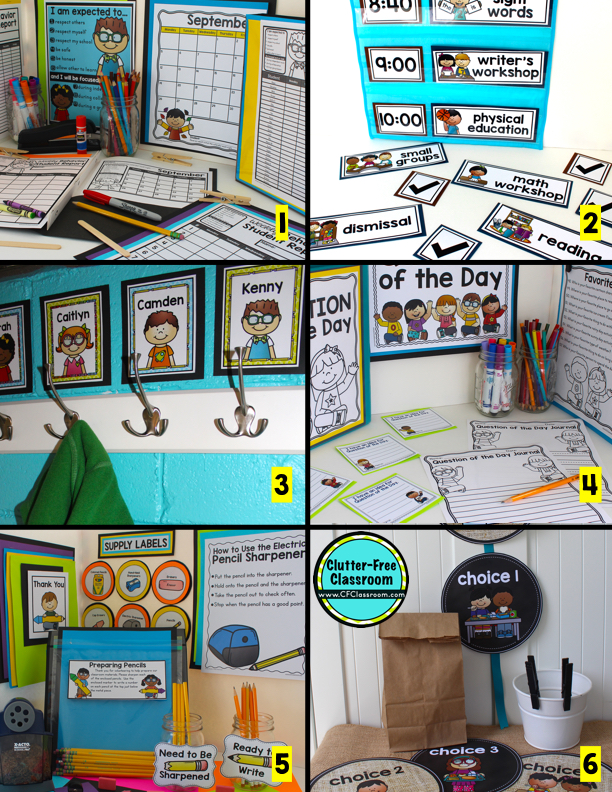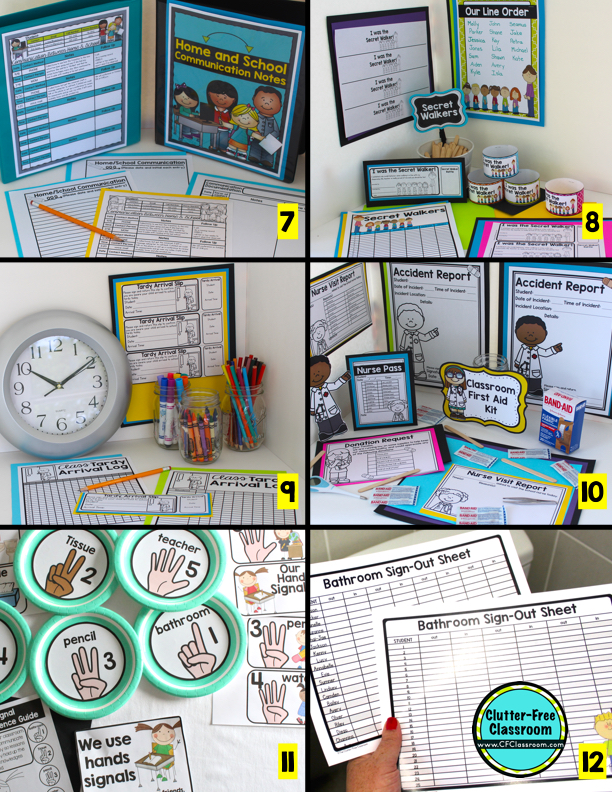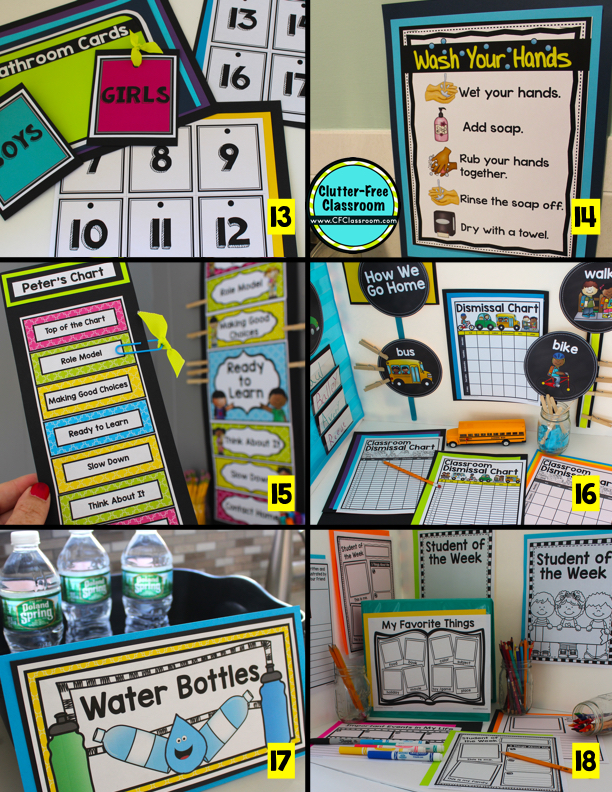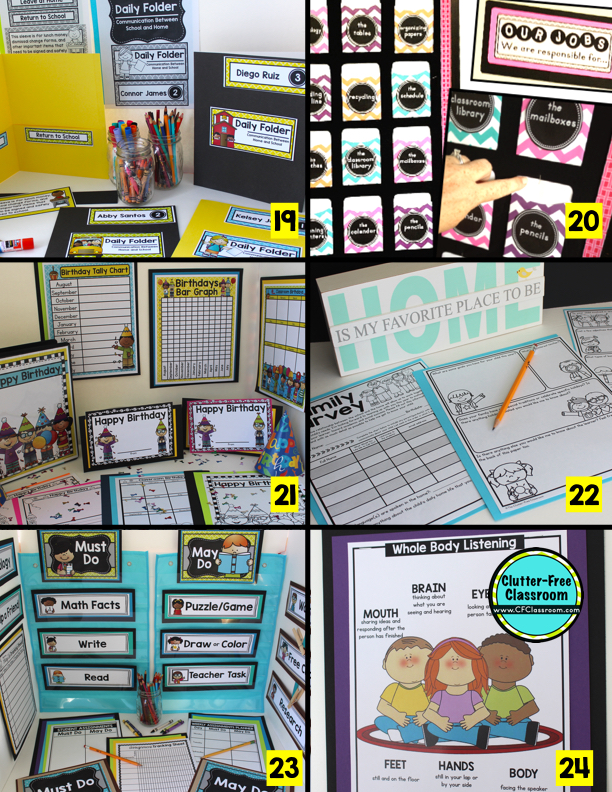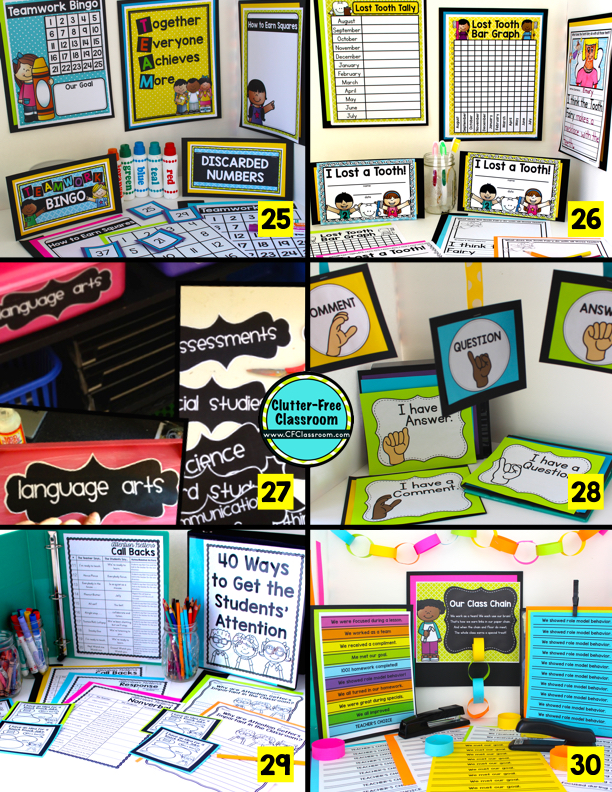 Not sure if you want to purchase the entire bundle? Good news! The Classroom Management Guide eBook + editable Teacher Workbook and the 30 Management Resource Collection are now available separately!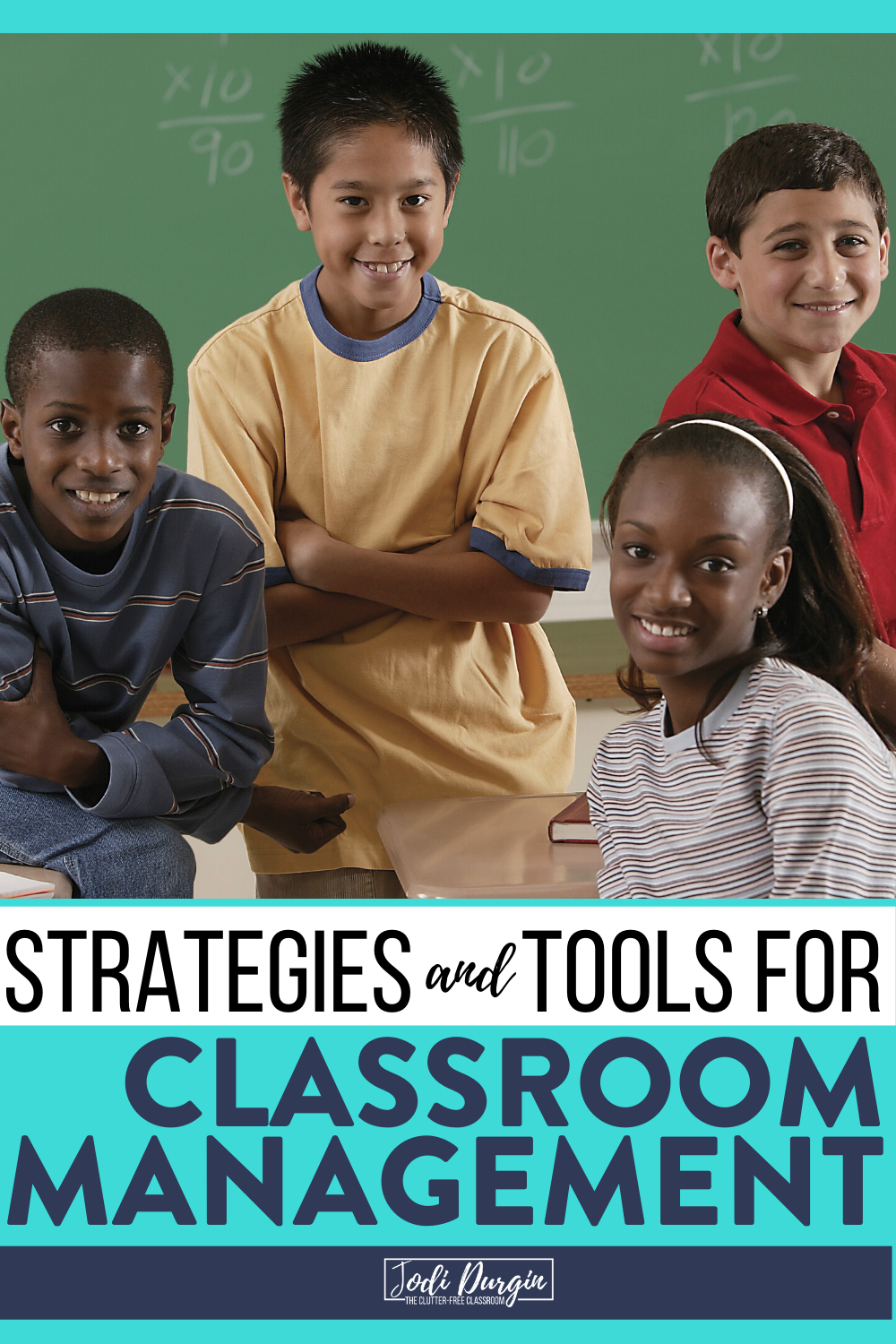 SaveSave