By having consistent and predictable routines, your classroom will run itself… Right? Unfortunately, not everything is predictable. Like when a kid needs to use the bathroom. It's going to come up all day everyday. While you can't control the wee little bladders of kids who have sucked down too much Capri Sun at lunch, having a plan in place will prevent both disruptions to your class and accidents. Read below to snag some ideas about how to develop classroom bathroom procedures.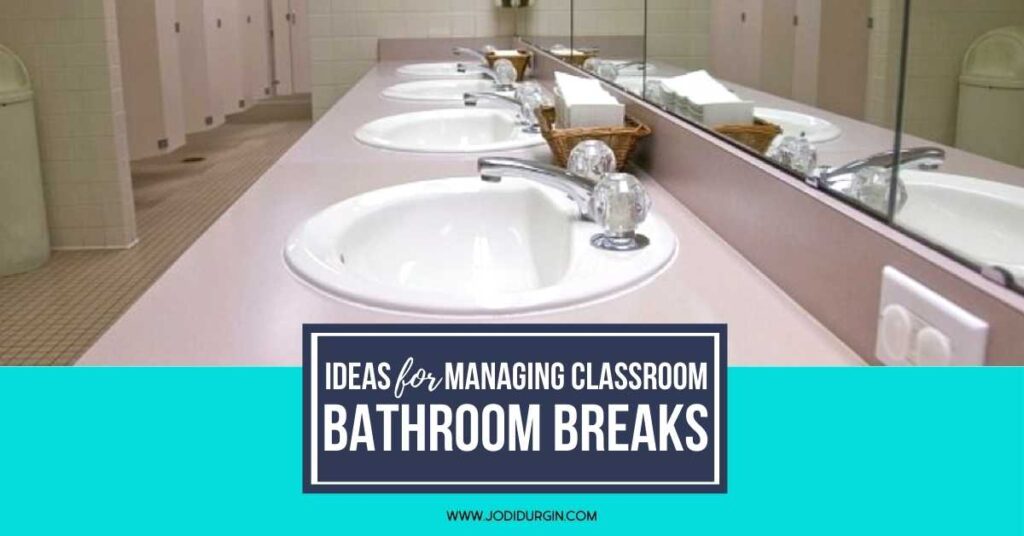 5 Ways to Manage Classroom Bathroom Procedures
Below are 5 strategies to make managing classroom bathroom procedures a breeze!
1. Set Expectations
The expectation is that nobody uses the restroom when I'm teaching (direct whole-group) instruction, reading a story or during a small group lesson UNLESS it is an absolute emergency.
I've found that you need to really define what the word "emergency" means because their go to phrase will be, "I need to use the bathroom. It's an EMERGENCY." This phrase will be said with crossed legs while the child bounces up and down for dramatic effect. I explain that an emergency means that if you don't get to the bathroom immediately you will have an accident. That seems to do the trick. Simply saying "unless it is an emergency" will not. Trust me.
So other than the times listed above, my friends pretty much can go when they need to. I should note that there have been some years that I also apply the absolute emergency rule to independent reading time. Some friends will go every day at that time to avoid reading.
I do only let one boy and one girl go at any given time. This policy reduces the likelihood of social hour going on in the bathroom. They leave the classroom at different times, but mysteriously always return at the same time. Hence, my rule.
2. Teach How to Wash Your Hands
It's important to explicitly teach your students how to properly wash their hands because some of your students may not know and others may need a reminder. This wash your hands poster is part of my classroom management bundle.
3. Introduce Hand Signals
My students use our classroom hand signals during whole group instruction and when I am working with other students (one-on-one, with a set of partners, or with a small group). The one finger raised signal is used to let me know they need to use the bathroom and allows me to quickly acknowledge them without interruption. My hand signal display is available individually or as part of my classroom management bundle.
4. Utilize a Card System
To keep track of the whereabouts of my littles and to let the students know if the bathroom is "available," I created a card system. Each of my students is assigned a number. I use this numbering system for everything. I print out a set of cards, laminate for durability and punch a hole in the top. I sort my number cards into boy numbers and girl numbers and put them in numerical order. Next, I add a colorful cover and attach them all together with a metal ring. These cards hang on the wall.
From a glance the students can see if someone is already in the bathroom or if they can go. They request to use the bathroom using a hand signal, which I will go into more detail on below. The student then goes over to the cards and flips it to the correct number. This allows me to easily see who is out of the classroom which is especially handy if you have an aide or a student teacher or any other adult who may send a child to the bathroom without you knowing. This bathroom card system is available individually or as part of my classroom management bundle.
5. Use a Bathroom Log
Some schools require that teachers keep a bathroom log. Even when it is not required, it is a convenient way for students to practice telling and writing time. This data can show if a student is using the bathroom as an avoidance strategy, a self-breaking strategy, or who was in the bathroom during an incident. This bathroom sign out sheet template is available individually or as part of my classroom management bundle.
In closing, we hope you found this classroom bathroom procedures post helpful! If you did, then you may also be interested in these posts: