The beginning and end of the day can be the most hectic times during school. Without consistent procedures and routines for classroom arrival and dismissal, these transition times can be noisy, unproductive, and chaotic. Start and end your day smoothly with the classroom arrival and dismissal procedures below!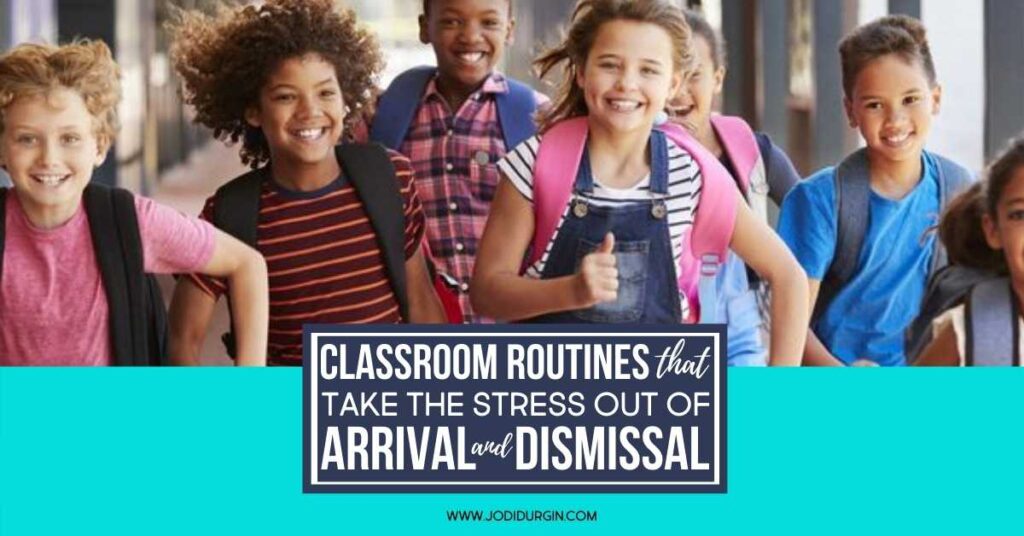 5 Classroom Arrival and Dismissal Procedures
Below is a list of ideas for classroom arrival and dismissal procedures and routines.
1. Greet and Say Goodbye to Students
Whenever possible, greet and say goodbye to each student individually as they enter and leave the classroom for the day. Use eye contact, smile and let the children know you are happy they are in your class. Consider standing in the doorway to ensure you don't miss a student.
2. Play Music
There is always a buzz at the start and end of the day. It is usually a fairly unstructured time, but students have tasks they need to do. Use a song to signal how long students have to get ready for the school day or to pack up to go home. Students love music and you'll love how it calms the chaos.
3. Start and End the Day the Same Way Each Day
The third idea on this list of classroom arrival and dismissal procedures is to start and end the same way each day. By having a consistent arrival and dismissal routine, students quickly learn what is expected of them and these parts of the day will practically run themselves. Maintain your routines throughout the year and you'll never have to worry when a substitute teacher covers your room.
4. Hold a Meeting
Consider holding a meeting at the beginning and end of your school day. Having your entire class routinely come together to begin and end each school day is a great way to create a strong classroom community and a positive learning environment. There is no right or wrong way to hold a class meeting. Instead, it is a matter of finding what works best for you and the cohort of students in front of you each year. That means that not only will your meeting be unique to you, but it may also look different each and every year.
5. Invite Students to Engage in a Quiet Activity
Whether you are starting or ending your school day, invite students to participate in a quiet and relaxing activity or read aloud a book to them. At the beginning of the day, it helps students make the transition from the hustle and bustle in the hall to being ready to learn. At the end of the day, it provides an opportunity for students to decompress and hear the announcements with ease.
In closing, we hope you found these classroom arrival and dismissal procedures and routines helpful! If you did, then you may be interested in my classroom management bundle, as well as these posts: